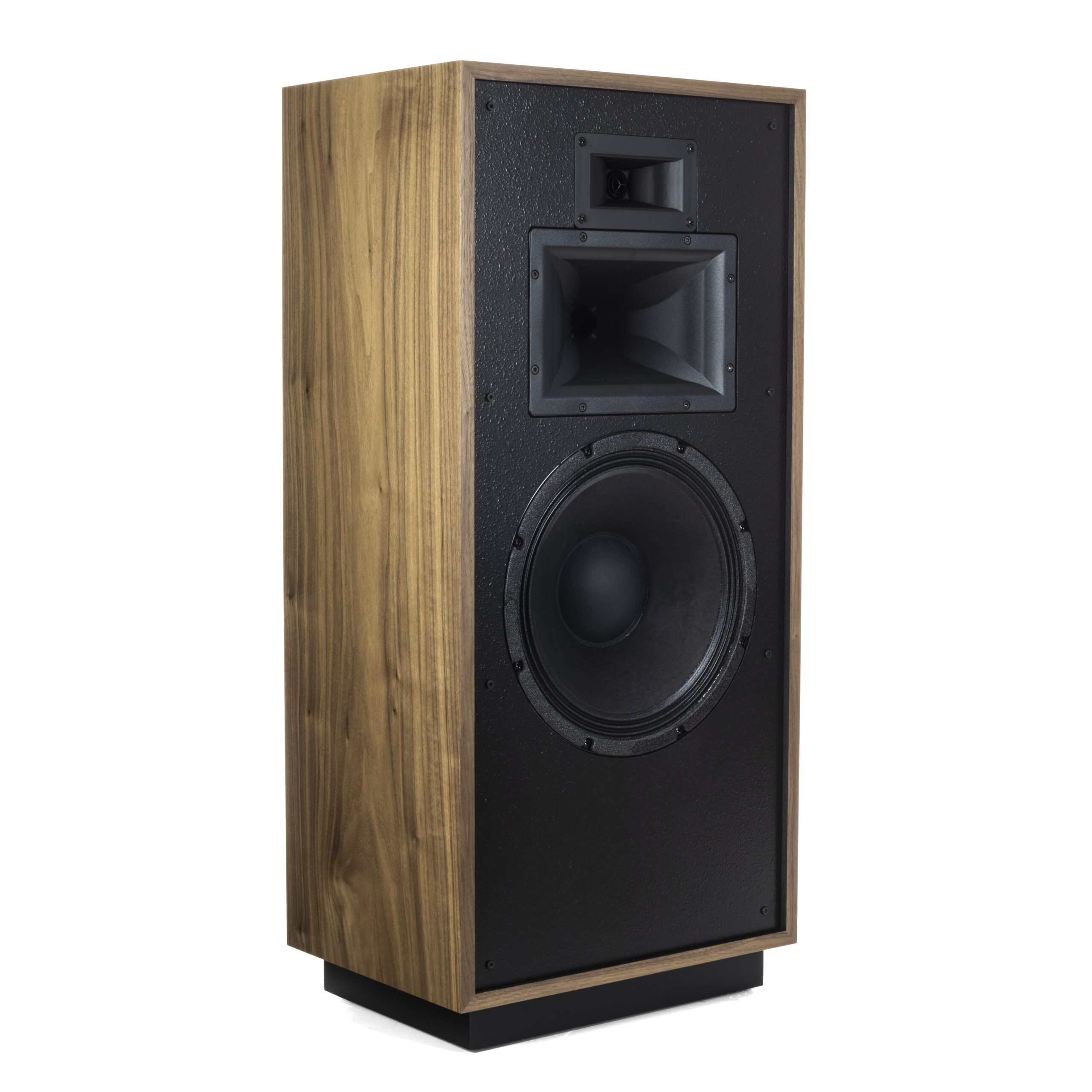 With their vintage-looks and historic-pedigree, the Klipsch Heritage series seek to recreate the glory days of hi-fi's golden age when speakers were Large, Loud, and Proud. There are five models, from the entry-level Heresy to the huge and hugely-aspirational K Horn.
A cynic might dub Klipsch Heritage 'The Ultimate Dad Speakers' – the go-to brand for aging Boomers seeking to extract every last hidden-nuance from their old Neil Young, Led Zeppelin, or Herbert von Karajan albums…
Well, maybe… As an aging (and aged) Boomer myself, I can't deny being drawn by this aspect of Klipsch. But it seems younger enthusiasts with a taste for fast, clean, lifelike sound also like the Heritage series. Good sound is good sound; it's beyond fads or fashion.
Priced at £5,749, the Forte IV sits immediately above the £3,995 Heresy model, and below the £7,299 Cornwall. A tall slim floorstander, the Forte IV – while a fairly big loudspeaker – has a surprisingly-small footprint. It's flexible over placement, and can be positioned close to rear or side walls.
Maverick genius
Each model in the Heritage range is based on an original vintage design by company-founder, audio-pioneer, and all-round maverick-genius Paul Wilbur Klipsch (1904–2002). His masterpiece, the mighty K Horn, first saw light of day as far-back as 1946 and is still in production. Top that!
The Forte was introduced in 1986 and was soon the most popular model in the Klipsch range. A decade or so later, the Forte II was discontinued, but in 2017 a Forte III was launched. The revised and improved Forte IV came along in February 2021.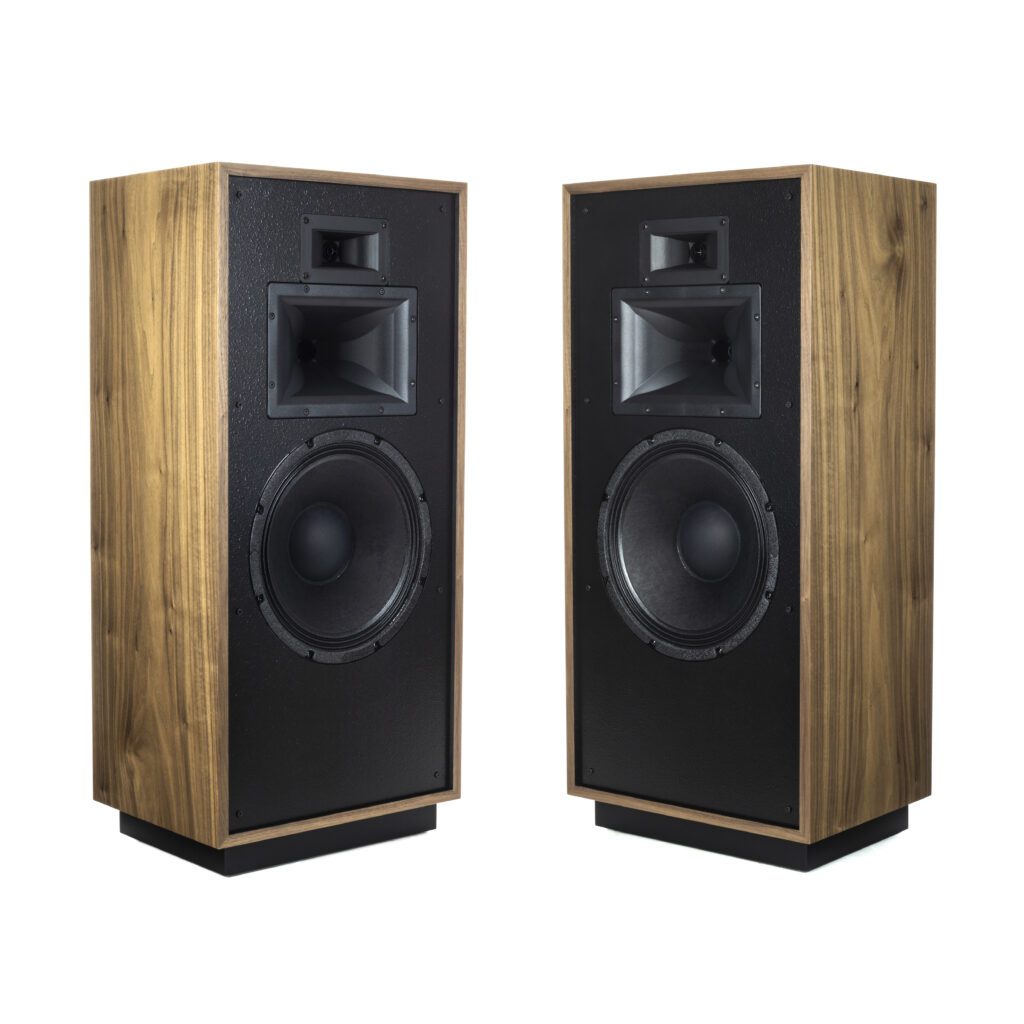 Features common to all Klipsch speakers in the Heritage series are; high efficiency and horn-loaded midrange and tweeter drive units. The Forte IV has a sensitivity of 99dB for 1W @ 1m, so you don't need a hugely-powerful amplifier to create a big room-filling sound.
Klipsch loudspeakers typically deliver a keen forward lively sort of sound, but older models were a bit peaky and unrefined. Compared to smooth, well-damped, inefficient designs, the earliest Klipsch models could be a bit raucous and colored – not unusual for older horn designs…
Such flaws gave early horn-loaded loudspeakers something of a bad name. Sure, horns offered high sensitivity with excellent attack and presence. But didn't these benefits come at a price? In a word, horns lacked refinement; peaky-brightness and boxy-coloration came with the territory…
However, in recent years, chief designer Roy Delgado has successfully upgraded and improved the Heritage line. These changes were aimed at reducing the coloration and brashness of earlier designs while seeking to retain all the energetic immediacy that characterised the original models.
Today's Klipsch Heritage speakers sound far more natural and well-balanced. That bright peakiness, which some horn speakers are prone to, is barely evident with the Forte IV. True, they do produce a forward lively direct sort of sound, but it's akin to the crisp-immediacy you hear live.
 Choosing the right amplifier is important in any context, but with horns, it's vital. Lively sensitive speakers can be surprisingly revealing of sonic-differences between amplifiers, letting you hear subtle changes in tonality and dynamic attack that less-responsive more heavily-damped speakers tend to smooth-over.
The ideal amplifier for Klipsch sounds warm, clean, and refined. Because huge power reserves are not needed, low‑powered valve amps work very well with the Heritage line. I used a Consonance M100S Plus integrated; its' paired 300B output tubes delivering around 22W per channel.
I also tried a Perreaux 200iX solid-state integrated with excellent results. As someone who listens mainly to classical music, I find the Forte IVs sound very natural and uncolored, with an exceptional ability to recreate the wide dynamic swings and crisp-attack you hear in a live performance.
Re-voiced – re-tuned – re-vamped
The Klipsch Forte IV is a three-way design featuring a 12-inch woofer coupled to a rear-facing 15-inch passive radiator (ABR) to increase bass output and extend depth. The horn-loaded midrange and tweeter feature all-new titanium compression-drivers for smoother, sweeter highs.
The Forte IV has been completely revised over its predecessors. A new crossover-network featuring fourth-order filtering results in a truer more-open, natural-sound, with reduced-coloration, crisp powerful dynamics, and fast life-like-attack.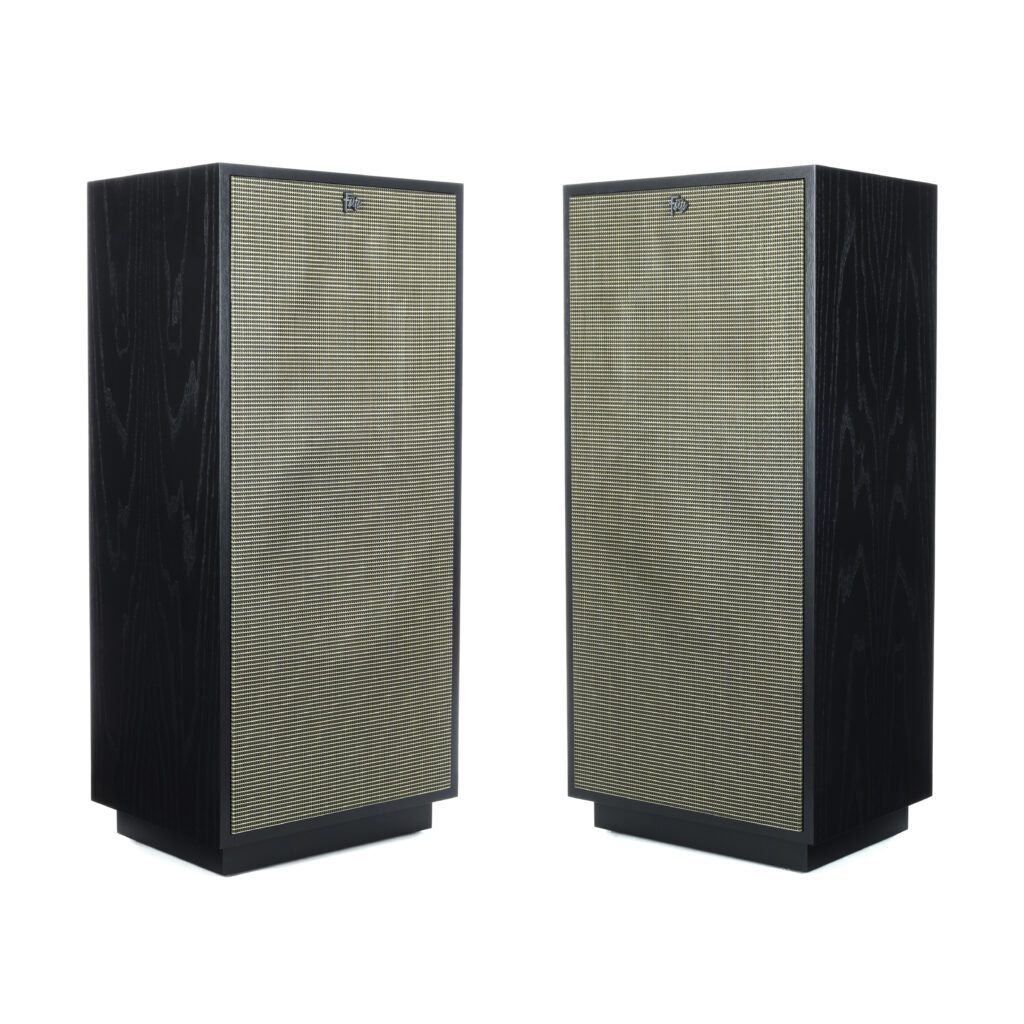 The new K-702 midrange compression driver features a modified proprietary Tractrix horn with patented Klipsch 'Mumps' technology to create smoother more-even mid-frequencies, while ensuring a wider more-consistent dispersion throughout the listening area.
A newly designed wide-dispersion high-frequency phase plug helps ensure the top octaves match the coverage pattern of the midrange and high frequency horns. This results in a smoother, truer, more-natural sound that offers excellent clarity and fine detail.
At just 31cm (12in) deep, 42cm (16.5in) wide, and 92cm (36in) tall, the Forte IV's narrow, shallow footprint takes up very little space, yet results in big room-filling sound comparable to much larger enclosures. A rear mounted panel contains four binding posts for bi-wiring.
The Forte IV shares a few things with the larger, more expensive Cornwall IV. Both use the same mid-range and tweeter, but the Forte has a smaller woofer (12in rather than 15in), and a reduced-size cabinet. The Cornwall is a reflex design, while the Forte a sealed-box with an ABR.
Claimed bass depth between the two models is similar, but overall the Cornwall is about 3dB more efficient. Despite using similar drive units, the crossover points are slightly different – the Forte crosses over at 650Hz and 5.2kHz, while the Cornwall does so at 700Hz and 5kHz.
As with all Klipsch Heritage speakers, each pair of Forte IV loudspeakers features grain-matched real wood veneers. There's a choice of Cherry, Walnut, Black, or Distressed Oak. The enclosures are built in pairs and given sequential serial numbers.
The magic of Horns
As a long-time fan of horn-loaded speakers, the Klipsch Heritage range inevitably caught my eye – and ear. Having faithfully used Impulse H1 horns for over 30 years, Klipsch seemed like an obvious step-forward when I sought something better. But – which model to choose?
The Klipsch La Scala and K Horn are true full-range horns, but very large, heavy, and expensive. Access to my living room involves a flight of stairs. It wouldn't be easy to manoeuvre such big weighty enclosures down my stairs, though not impossible either!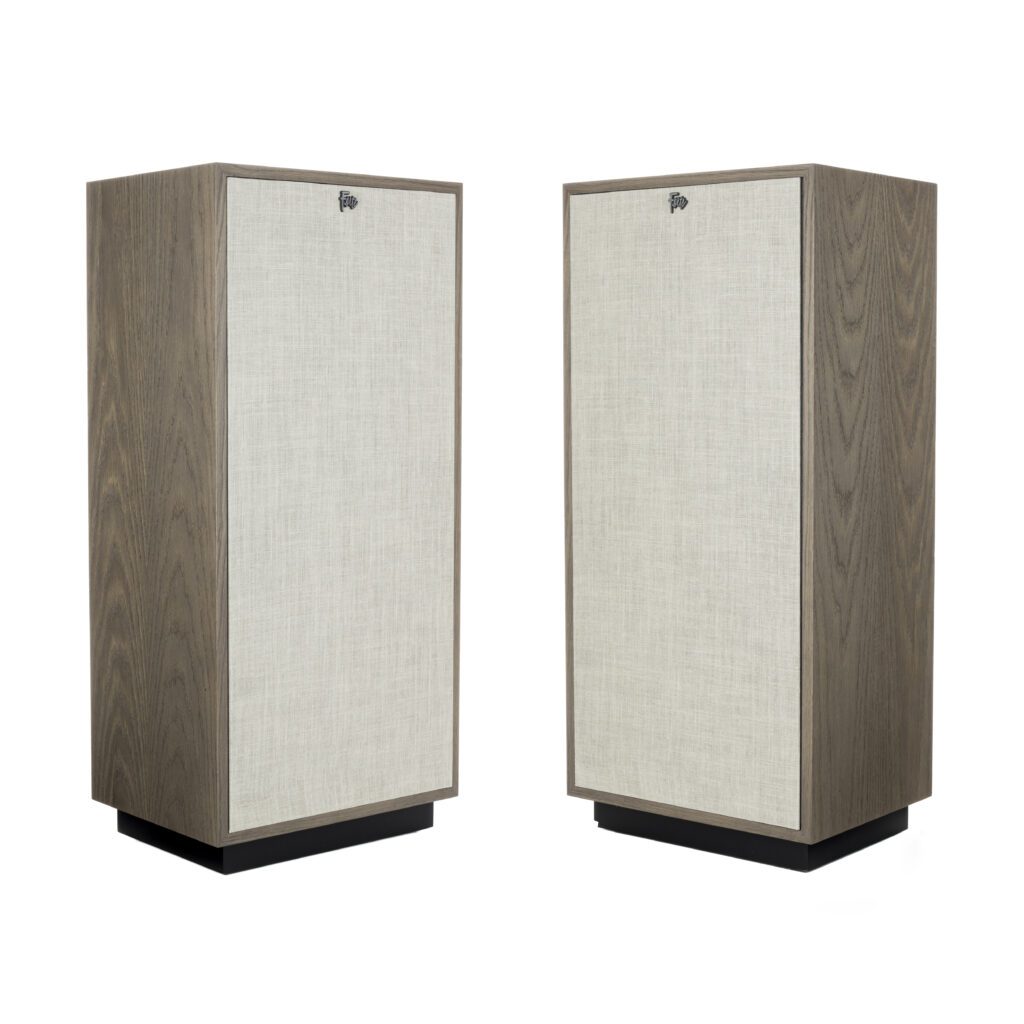 After much deliberation I choose Cornwall IVs as the best and most practical option. I've had them just over a year now and am very pleased with the sound. But, before deciding on Cornwalls, I also considered the Forte very carefully. It ticked a lot of boxes.
For me, a big plus-point for the Cornwall was their suitability for placement close to corners or walls (hence, Corn-wall). Might the Forte need a bit more surrounding free-space to prevent the bass from becoming heavy or boomy? One review I read suggested as much…
However, this proved not to be the case – at least not in my room. Klipsch actually suggest placing Fortes between 2 and 10 inches from a rear wall. At such distances the bass was well-controlled and firm. There was no boom or overhang. Bass-depth was impressive and satisfying.
The Forte IVs I received for review were brand-new, but – unlike my Cornwalls – they sounded pretty clean and smooth straight from their cartons, albeit a tad thin/hard. The Cornwall needed several months' use for their bright frisky treble to ease-up and became less prominent.
This extra-smoothness boils-down to crossover differences. It seems the Forte's Mid and HF drivers may have a tad more resistive-attenuation to ensure the highs balance-better with the slightly reduced output of the smaller 12in bass driver.
Bass depth between the Forte and Cornwall is broadly similar, but the Cornwall's lower frequencies sound bigger and more-voluminous. I do most of my listening at a distance of around 25ft, and this increase in bass richness and heft is very noticeable and welcome.
Impressive Bass Slam
That said, the Forte IV offers impressively tight, powerful bass-slam. Playing track one from REM's New Adventures in Hi Fi, I was genuinely startled by the solid impact and weighty depth of the kick drum. For a brief moment, I thought my KEF KC62 sub must be connected – but it wasn't!
From a far-field listening seat some 25ft back from the speakers, the Cornwall delivers a big room-filling sound that's very satisfying. However, when I sit at my writing desk (about 5ft away from the speakers), this extra-scale and projection is a mixed blessing.
In the near-field, the Cornwall can be too-assertive – even a bit overpowering. Volume levels need lowering to avoid an oppressively 'loud' sound. The Forte's slightly smaller-scale presentation proved more-comfortable for near-field listening – more akin to a conventional (non-horn) loudspeaker.
In my experience, the larger Klipsch models definitely benefit from mid-field or far-field listening distances in big rooms. Sure, you can reduce volume levels when sat closer, but this can lead to the music sounding constrained and emasculated.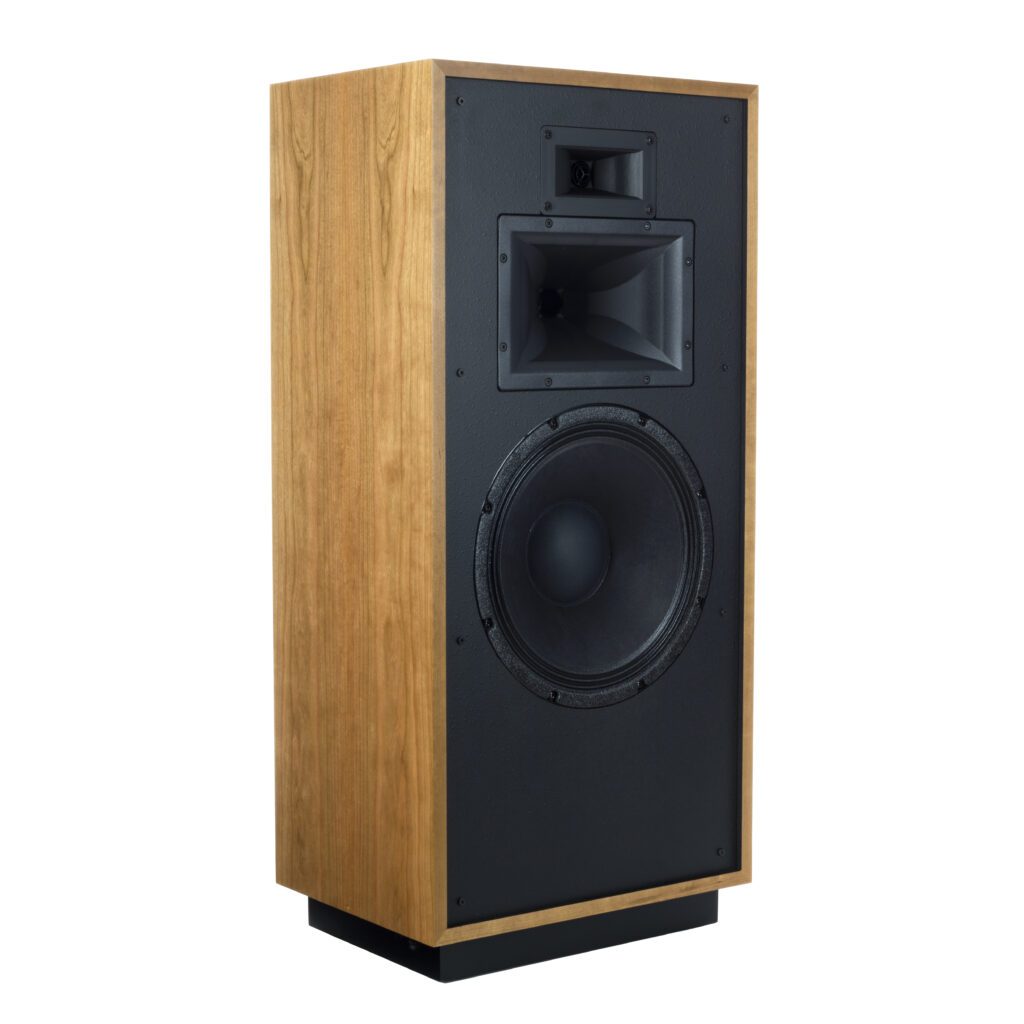 Despite the Forte's top-end being slightly less-forward than that of the Cornwall, I still found it beneficial to toe the Forte in quite sharply. Initially, I listened to the speakers for a week or so slightly toe'd by 20 degrees, then tried toeing them more acutely to about 45 degrees.
This helped make the sound slightly richer and fuller. It added warmth to the midband, while increasing low-frequency heft. However, bear in mind I was listening at a distance of 25 feet; your room may produce a different result, especially if you sit a lot closer…
Precise stereo imaging
Helped by a narrower cabinet, the Forte produces more-precise stereo images than the Cornwall. Being such a dynamic speaker, the Forte really projects voices and instruments, creating a very vivid, holographic, three-dimensional, 'out of the boxes' soundstage that has palpable width and depth.
I noted the Forte's precise imaging soon after I first started listening to them. Playing a 1960 LP Jumpin' with a Shuffle by the Jonah Jones Quartet on Capitol, I was surprised to hear how firmly the piano located in the soundstage compared to my Cornwalls.
This particular LP (a reissue bought in the early 1990s) didn't make much impact on me, musically or sonically, when I first bought it. But hearing it again (decades later) on the Cornwalls IVs – and the Forte IVs – I was surprised by how detailed and three-dimensional the recording sounded.
This is something Klipsch Heritage models do; they highlight what's right with the sound, not what's wrong with it. Their clarity and responsiveness help bring-out hidden details in recordings that might otherwise sound muddy and nondescript on many regular speakers.
The Forte IVs fast, crisp, lively-sound engages your interest and touches the emotions. There's nothing cerebral about the Forte IV. The sonic presentation is full-blooded and immediate, with impressive scale, depth, and clarity. It's exciting and visceral; agile and responsive.
Playing Elbow's The Seldom Seen Kid, the Forte conveyed a rich deep soundstage from high to low. It reproduced deep-bass passages cleanly and powerfully, but remained comfortable and refined during the louder more strenuous sections, sounding impressively-firm and focused.
Some Riot
Try track nine, 'Some Riot', and soak-up the luminous, sparkling, multi-faceted, three-dimensional effect created at the start. Then go and play this same track on a conventional, low-efficiency, non-horn-loaded loudspeaker and notice how flat and constrained things sound by comparison…
On a wide variety of music, from acoustic to electronic, the Forte sounds great. It really gets the best out of a broad range of material. From historic to modern, Pergolesi to Punk, these speakers let you enjoy all kinds of music and recordings. Their 'Window of Acceptance' is very wide…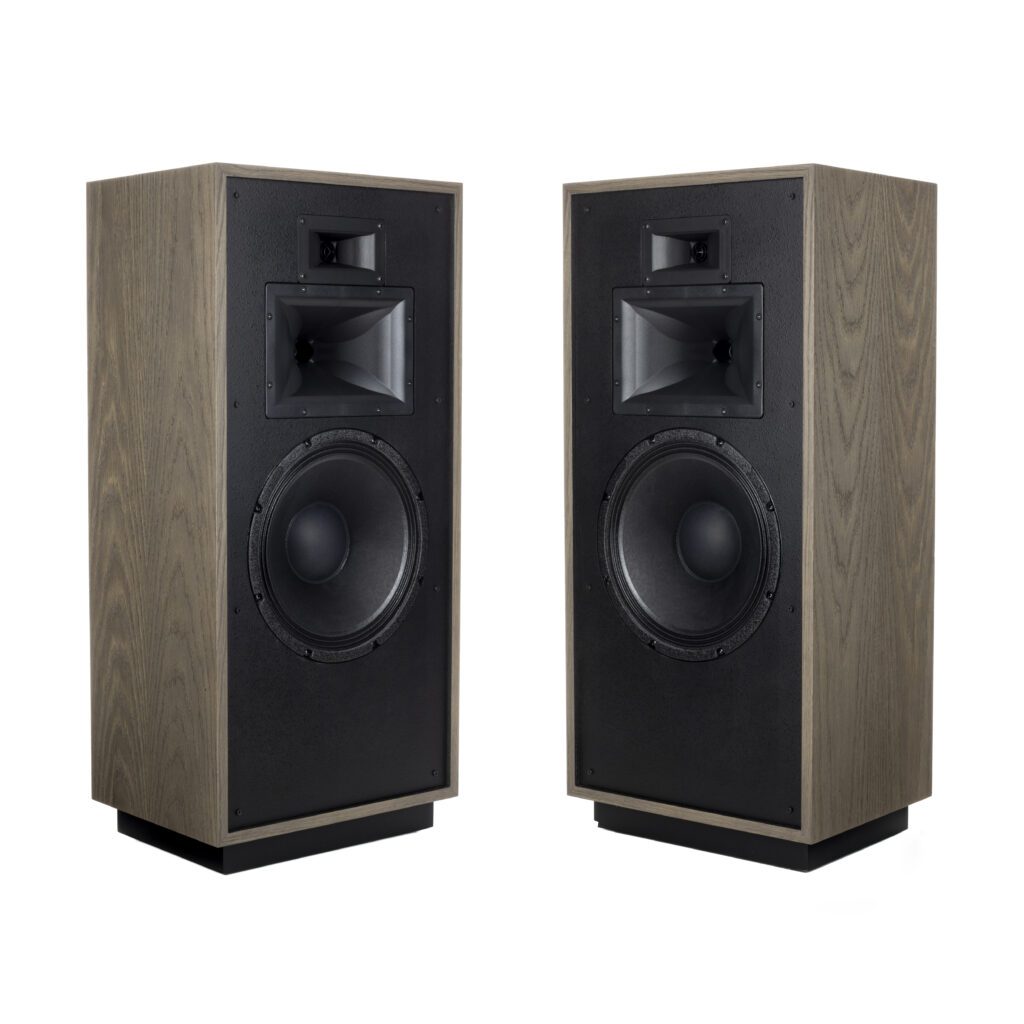 The Forte IV has a deserved reputation as the Goldilocks of the Klipsch Heritage range. It delivers a noticeably bigger, better sound than the smaller Heresy, is very comparable to the larger Cornwall, yet costs quite a bit less and doesn't take up nearly as much space.
At £5,749, Klipsch Forte IVs represent good value. With a saving of £1,550 over the Cornwall, you get a lot of loudspeaker for your money – an outstanding performer that punches well above its weight. Despite loving my Cornwalls, I'd be more than happy to live with Forte IV's – no hesitation.
Technical specifications
Type three-way horn-loaded design with passive radiator
Drive units 25mm titanium-diaphragm horn-loaded compression tweeter; 44mm titanium-diaphragm horn-loaded compression midrange; 300mm fibre-composite bass cone, 380mm passive bass radiator
Frequency response 38–20,000 Hz (±3dB)
Power handling 100 watts (400 watts peak)
Sensitivity 99 dB
Nominal impedance 8 ohms
Finish book-matched American walnut wood veneer
Dimensions (W×H×D) 42×92×33cm (each)
Weight 32.7kg (each)
Price £5,749 per pair
Manufacturer
Klipsch
UK Distributor
Henley Audio
+44(0)1235 511166