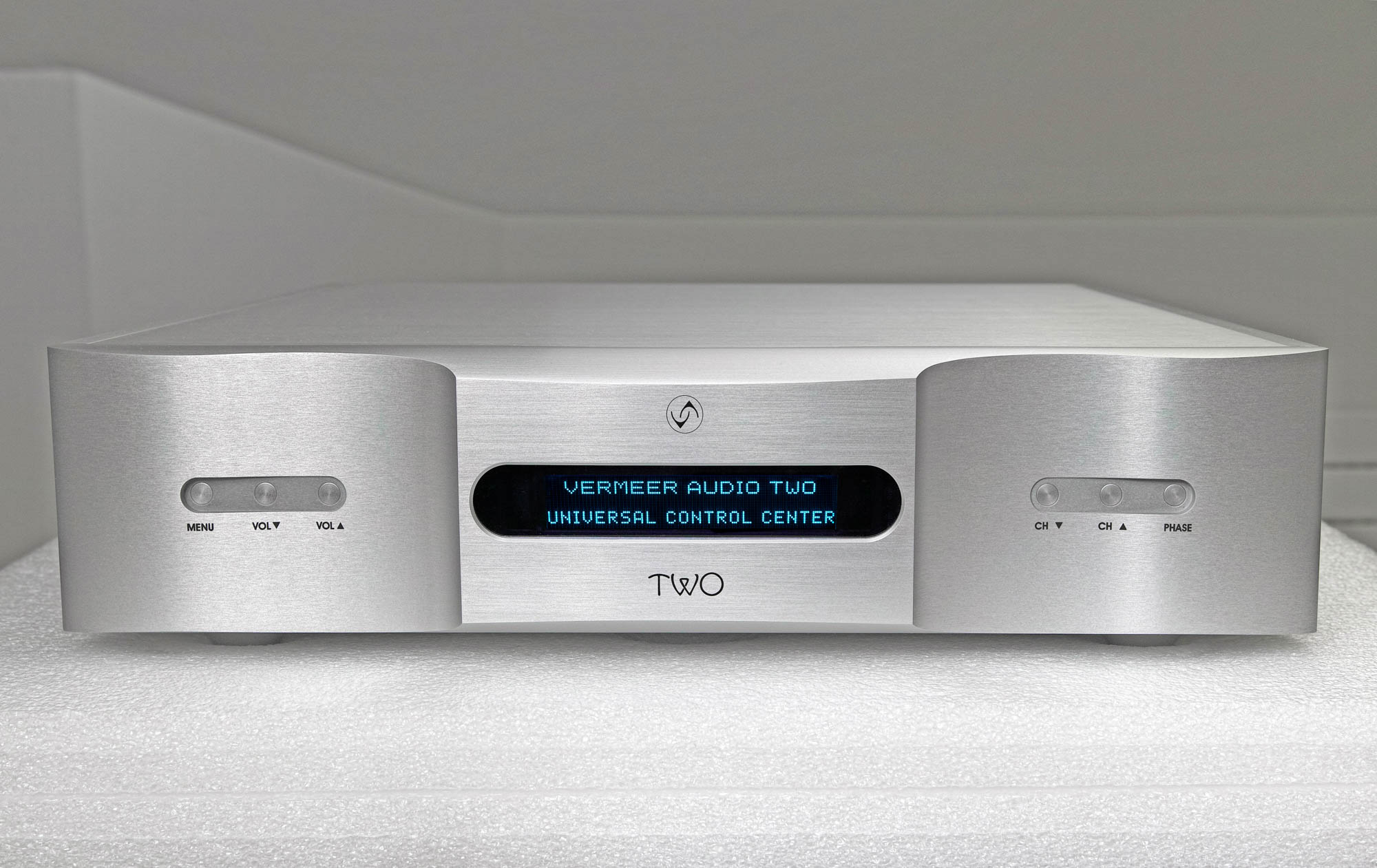 If the Vermeer Audio name seems new, the heritage is not. Audio Aero was one of the great, late, lamented French hi-fi brands of recent years. Although Audio Aero made some lovely valve and hybrid amplifiers, the company's digital products were exceptionally well received. However, the digital products were strongly associated with spinning discs when everything was online, and the company's excellent LaSource and LaFontaine players were casualties of the change. Those who remember the Audio Aero LaFontaine will see a lot of external family resemblance with Vermeer Audio, especially that super-thick front panel. More keen-eyed box-openers will see some shared tech between the two. Of course, things have moved on in digital tech, but at its core, what made the LaFontaine so right-sounding a decade or more ago still applies today in the Vermeer Audio Model TWO.
Of course, simply cloning the LaFontaine wouldn't do; time and audio formats have moved on. So, the Vermeer Model TWO supports 32bit, 384kHz PCM audio and DSD128 (on LAN, 24/192 and DSD64 on other inputs). Model TWO upsamples these signals using an improved version of the company's 'S.T.A.R.S. Module' to bring signals to 32bit, 284kHz precision. MQA is not on Vermeer's palette. While I don't want to bog things down in the often unnecessary arms race that requires every DAC to process ultra-high-resolution files (irrespective of whether such files exist), this need to cope for the last decade or more with ever-larger files has become dominant. I applaud Vermeer Audio for taking the position of 'what sounds good' rather than 'ticking spec boxes', but I can't help but wonder if this will hold back sales of what is, in reality, a really good 'Universal Control Centre'.
Power supply performance
What Audio Aero also did so well that Vermeer Audio echoes is power supply performance. Vermeer Audio takes the design and implementation of power supply extremely seriously, re-engineering the switching power supplies with separate power supplies for analogue and digital stages, each with its own optimised regulation. Since Model TWO is essentially three units in one, this isolation of power feeds is vital in making a good design sound great. As is building those analogue and digital circuits appropriately. Vermeer Audio uses 70ppm copper circuit tracks with 24-carat gold-plated contacts throughout. These thick PCBs are then further isolated from the environment thanks to that solid aluminium chassis and thick front panel. The Model TWO sits on three cones. Let's be honest; with that super-thick front panel and all-around beefy build, the Model TWO is an 'absolute unit' of a digital device.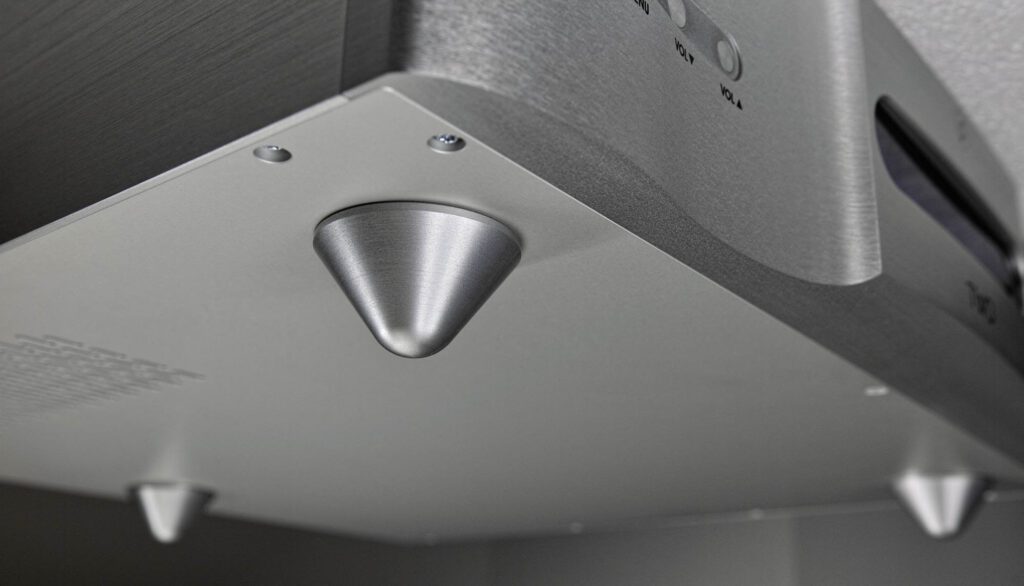 There is a temptation to go 'all in' with digital front ends today, and if that is your thing, Vermeer Audio's Model THREE has it covered. Model TWO, by way of contrast, straddles the analogue and digital domains with an RCA single-ended and XLR balanced input for analogue devices. In today's world, that probably means 'phono stage', but regardless, as it's dubbed a 'Universal Control Centre', it's good that universality extends to the world of LP too.
Something old, something new…
That balance of old and new is relevant throughout. The 'new' is that Model TWO will stream data from a laptop via USB if you want or through its LAN board with full UPnP and DLNA compatibility. Vermeer recommends Audirvana Music Player for laptop users and either Mconnect or the Technics Music App UPnP player for tablet smartphone users. It also recommends C5 Stream DLNA for internet radio play. Once again, I applaud Vermeer Audio's selection of third-party options rather than trying to make its own (that way lies crazy expense and a near-constant state of trying to keep up to date with OS upgrades). However, some think a bespoke app is like some badge of honour. I'd go with the more robust third-party option over waiting for a month while the coders play 'catch up'.
Meanwhile, the 'old' is cryogenically-treated NOS (new old stock) Thomson 6021 sub-miniature double-triode valves soldered directly to the circuit board. These act as cathode followers with Black Path and CAT coupling caps. Given that 6021s were designed as shock-resistant military communications valves able to withstand impact forces of up to 450G and had a life expectancy measured in decades of field-combat use, wiring them directly to a circuit board at once does without the sonic interaction of a valve seat, and will likely outlive the person buying the Vermeer Audio Model TWO.
The new/old mix even extends to the control surfaces. While the app can control a lot, the left side of the panel also has a set of recessed soft-touch buttons labelled 'MENU,' 'VOL (down)' and 'VOL (up)'. On the right are buttons labelled 'CH (down)', 'CH (up)' and 'PHASE.'  The two-deck blue LED panel allows navigation of the onboard menu system. This isn't 'touchscreen' convenience but allows easy access to the essential functions of the Model TWO in set-up and operation. Meanwhile, on the rear, there's a USB input for firmware upgrades. Finally, in its list of good things, the Model TWO has a Roon-chummy USB port.
Best sound wherever possible
This is a simple product to discuss in audio terms, as it's clear that any decisions about the product were made specifically to get the best sound wherever possible. That doesn't mean it's clunky to use (far from it; the simplicity of the system makes it a stable and easy platform to use), but means where some systems think in terms of achieving abstract goals in product design, Vermeer Audio is first and foremost a music-oriented company. It shows in every recording you play through the Model TWO, whichever way you play it.
The art of a good streaming product is slightly different from that of a conventional DAC. In the days when a DAC's main job was 'CD-wrangling', you had a pretty good idea of what was being fed to your converter; 16-bit, 44.1kHz uncompressed LPCM files. Today, all bets are off; one track might be a carefully massaged high-quality DSD file, and the next could be a rough MP3 feed from a radio station. A good streamer needs to get the best out of the latter without compromising the quality of the former. It's a big ask, but one the Model TWO does with aplomb.
It's just on neutral's warm and encompassing side, with a sound that draws you in. Not simply for music; I was playing this in the background listening to some middle-of-the-afternoon BBC Radio Four play. It wasn't my thing at all (something about mid-18th Century creepy supernatural bodice-ripping, but set in modern times, and I didn't hear the name), but I became drawn into its staging and foley work… as well as how cheesy the dialogue was and how random the dialogue coach's work seemed. For a while, something that I couldn't be bothered about kept me captivated and diverted for its latter half. This was down to Model TWO's work!
Intimacy and presence
In musical terms, the sound was just as beguiling and satisfying. There's an intimacy and sense of presence to the sound, which is especially noticeable in small-set jazz; playing 'Nuages' from Paul Desmond's Pure Desmond album [CTI, Tidal Masters], the interplay between Desmond's sax and Ed Bickert's guitar playing is sublime and subtle… and beautifully rendered. It makes you wish Canadian guitarist Bickert had been better recognised during his career. It feels like you are in a club listening to these masters at work.
My problem with the Vermeer Audio Model TWO was finding things to say about it and putting them in note form. It made music sound good and never once drew attention to itself. It didn't put a foot wrong during my entire listening session and did everything very right indeed. But, that easy-to-listen-to nature made logging those things impossible: you try to listen out for imaging (which was excellent), and you just find yourself tapping your foot; try to zone in on the detail and find yourself taking in the fluidity and black backgrounds. And all the while, you keep playing track after track, album after album. In other words, the Vermeer Audio Model TWO ticks all the musical boxes.
TECHNICAL SPECIFICATIONS
Type: Streaming DAC preamplifier
Digital inputs: Asynchronous USB, AES/EBU (XLR), S/PDIF (optical and BNC coaxial)
Analogue inputs: Single-ended RCA, Balanced XLR
Analogue outputs: Single-ended RCA, Balanced XLR
Digital precision: to 32bit, 384kHz PCM (using Vermeer Audio resampling module), DSD 64/2.8Mhz
Output Voltage: 2, 3 or 4Vrms in fixed output mode. Up to 7Vrms in variable output mode
Output Impedance: 100Ω
Signal-to-noise ratio: 129dB
THD: < 0.1%
Dimensions (W×H×D): 450 × 130 × 440mm
Weight: 25kg
Price: £22,950
Manufacturer:
Vermeer Audio
URL: vermeeraudio.com
UK Distributor:
The Audiophile Club
URL: theac.co.uk
Tel: +44 (0) 20 8882 2822