Munich High-End 2022: The Highlights Part Two
There are so many ways to slice up Munich High-End. We went with the alphabetical for no other reason than sheer efficiency. And despite a possibly more subdued Munich than previous years, there was still a lot to see…
Hegel
In recent years, Hegel has revised every model in its electronics range… except for its preamp and power amplifiers. This year, Hegel announced its new P30A preamp and H30A power amplifiers, both expected later this year. The €7,995 P30A is a pure analogue line preamplifier, with only a single pair of hand-matched FETs in the signal path. Less is known about the power amplifier, except that it delivers 350W in stereo and 1,100W in bridged mono and will likely cost around €18,000.
HiFi Rose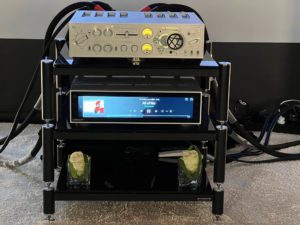 The Korean Hi-Fi Rose company is understandably best known for its excellent servers with large front panel displays. However, Munich was the first public outing of its equally impressive £5,499 RA180 integrated amplifier, with its clever Class AD amplifier delivering 800W per channel from its Gallium Nitride FETs in the output stage, it's adjustable EQ phono stage and 100kHz bandwidth. Yes, it has a wonderful retro look with its dimmable VU meters and whirring gears in the volume control, but beneath that cool exterior is a formidable amplifier in its own right.
Ideon Audio
Ideon showed its latest high-performance range, with the Absolute DAC was met by the Absolute Stream streamer and Absolute Time clock, in addition to Ideon's new and more affordable IΩN DAC playing through a prototype of the Project ENA loudspeakers. Both DACs use Ideon's dedicated USB solution that in essence hacks an ESS9281A DAC chip purely as a receiver. While I felt the loudspeakers were possibly overdriving the odd-shaped and relatively small room, this system had a great deal of potential and IΩN (with a clock) is a formidable inclusion to the line, getting very close to the performance of the Absolute.
Innuos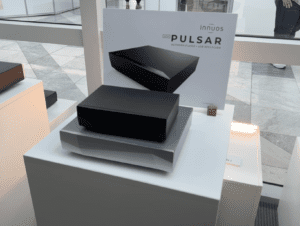 Having become one of the leading lights in music servers with its Zen range, Portuguese brand Innuos launched its new Pulse network player range. Like most companies in this field, Innuos has noticed a migration away from home servers to using online streaming sources, and the Pulse allows listeners to connect to streaming services and internet radio as well as music stored locally on a NAS drive, using the company's Sense app in Standalone mode. It can also be used in Endpoint mode, to act as a local zone for a system using a music server. There are three models in the new Pulse range; the €999 Pulse Mini with S/PDIF, €2,599 Pulse (with custom power supply, additional AES/EBU output and more RAM) and €5,499 Pulsar (that replaces the conventional digital outputs with a reclocked USB output and uses the highest-grade components throughout). The Pulsar network players will be available from September.
Ixoost!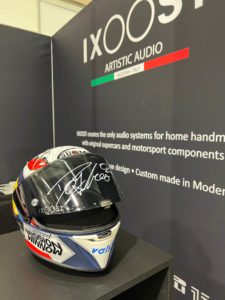 The zanier side of Munich High End has often been expressed through the medium of sheer size, but Ixoost! changes that. The Italian company takes real components from high-end cars and from motorsport and builds Bluetooth-enabled active loudspeakers into these bits of esoterica. This means you too can bring your supercar into the living room without deploying the air bags. Prices start at €4,000 for a Bluetooth-enabled driver's helmet to €20,000 for the exhaust panel of a Lamborghini.
Kuzma
We've been hearing a lot about the new €20,000 reference-grade tonearm from Kuzma, but to see it in the flesh is very different. As the name suggests, the SAFIR 9 is a nine-inch tonearm featuring a conical tube of artificially-created white sapphire, with a solid aluminium and brass arm-base block and using a bearing featuring four spikes in sapphire cups in a manner akin to the company's excellent 4Point design.