Munich High-End 2022: The Highlights Part Two
There are so many ways to slice up Munich High-End. We went with the alphabetical for no other reason than sheer efficiency. And despite a possibly more subdued Munich than previous years, there was still a lot to see…
Hegel
In recent years, Hegel has revised every model in its electronics range… except for its preamp and power amplifiers. This year, Hegel announced its new P30A preamp and H30A power amplifiers, both expected later this year. The €7,995 P30A is a pure analogue line preamplifier, with only a single pair of hand-matched FETs in the signal path. Less is known about the power amplifier, except that it delivers 350W in stereo and 1,100W in bridged mono and will likely cost around €18,000.
HiFi Rose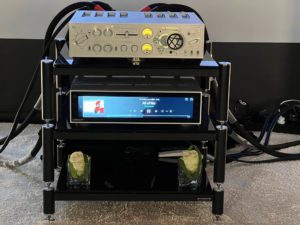 The Korean Hi-Fi Rose company is understandably best known for its excellent servers with large front panel displays. However, Munich was the first public outing of its equally impressive £5,499 RA180 integrated amplifier, with its clever Class AD amplifier delivering 800W per channel from its Gallium Nitride FETs in the output stage, it's adjustable EQ phono stage and 100kHz bandwidth. Yes, it has a wonderful retro look with its dimmable VU meters and whirring gears in the volume control, but beneath that cool exterior is a formidable amplifier in its own right.
Ideon Audio
Ideon showed its latest high-performance range, with the Absolute DAC was met by the Absolute Stream streamer and Absolute Time clock, in addition to Ideon's new and more affordable IΩN DAC playing through a prototype of the Project ENA loudspeakers. Both DACs use Ideon's dedicated USB solution that in essence hacks an ESS9281A DAC chip purely as a receiver. While I felt the loudspeakers were possibly overdriving the odd-shaped and relatively small room, this system had a great deal of potential and IΩN (with a clock) is a formidable inclusion to the line, getting very close to the performance of the Absolute.
Innuos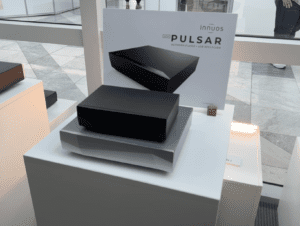 Having become one of the leading lights in music servers with its Zen range, Portuguese brand Innuos launched its new Pulse network player range. Like most companies in this field, Innuos has noticed a migration away from home servers to using online streaming sources, and the Pulse allows listeners to connect to streaming services and internet radio as well as music stored locally on a NAS drive, using the company's Sense app in Standalone mode. It can also be used in Endpoint mode, to act as a local zone for a system using a music server. There are three models in the new Pulse range; the €999 Pulse Mini with S/PDIF, €2,599 Pulse (with custom power supply, additional AES/EBU output and more RAM) and €5,499 Pulsar (that replaces the conventional digital outputs with a reclocked USB output and uses the highest-grade components throughout). The Pulsar network players will be available from September.
Ixoost!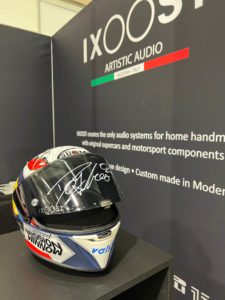 The zanier side of Munich High End has often been expressed through the medium of sheer size, but Ixoost! changes that. The Italian company takes real components from high-end cars and from motorsport and builds Bluetooth-enabled active loudspeakers into these bits of esoterica. This means you too can bring your supercar into the living room without deploying the air bags. Prices start at €4,000 for a Bluetooth-enabled driver's helmet to €20,000 for the exhaust panel of a Lamborghini.
Kuzma
We've been hearing a lot about the new €20,000 reference-grade tonearm from Kuzma, but to see it in the flesh is very different. As the name suggests, the SAFIR 9 is a nine-inch tonearm featuring a conical tube of artificially-created white sapphire, with a solid aluminium and brass arm-base block and using a bearing featuring four spikes in sapphire cups in a manner akin to the company's excellent 4Point design.
Lumley
A blast from the past, British turntable maker Lumley returned with the fully revised €35,000 Stratosphere Mk III turntable, with custom arm and vdH cartridge, as well as a pair of active Lyravox loudspeakers. It was a delight to see this model both brought up to date with improved bearing and isolation, and a delight to see it still being made by John Jefferies, after short 20 year hiatus. While the big-ticket item in the room was the outstanding HSE Audio Master Phono Preamp 7 (which at €77,000 was almost as much as the rest of the system combined), the sound was perfectly poised and very well balanced.
Meze Audio
Meze has made a lot of headphone designs recently, but it had never made a dynamic, open-back headphone… until the 109 Pro. Combining the high-quality materials – including a 50mm beryllium/cellulose driver – and top-notch design that has been a common thread through all of Meze's designs, the 109 Pro is a lot more than simply an open-backed version of its ever-popular 99 Classic. Even in the company's booth it was hard to listen critically, but the characteristic Meze warmth and extremely musically inviting sound was there in spadeloads. The 109 Pro price is still to be confirmed, but the new product is expected in three to four months.
Monitor Audio

Genuinely new loudspeaker designs don't come along too often now, but Monitor Audio's Concept 50, with its DSP-controlled central tweeter/midrange array coupled a force-cancelling arrangement using twin inward firing bass drivers on each tower of the loudspeaker, was as novel as it looked. Originally intended more as the audio equivalent of a concept car to mark the company's 50th year, the positive reception to the Concept 50 means it will go into production later this year.
Moon
Simaudio Moon has made its first loudspeaker. Called the Voice 22, the €3,000 two-way stand-mount uses a clever Curved Groove Damping system for the cabinet walls and has a very neat way to match to both bookshelf and matching stand mounting. Designed to work with Moon's lower to mid-end audio equipment, this was one of the surprises of the show. At Munich, one quickly gets used to seeing big equipment with huge price tags and often a sound that's a bit 'Meh!'… but the Voice 22 produced a surprisingly big, easy to love sound in a package that's small enough for most rooms and a price to match.
Moonriver Audio
We loved the Swedish made Moonriver Audio Model 404 integrated amplifier when we first saw it at the 2019 Warsaw Show, and loved it a lot more when we got a chance to review it. On both occasions, we looked forward to the soon-to-be-released Model 505 phono stage. Supply chain issues meant we are still looking forward to the Model 505 but it should available in Autumn this year at €5,000. The dual-mono design allows for four MM or MC inputs, offers a high degree of adjustment to suit those cartridges and supports other EQ curves alongside its passive RIAA circuit.
Musical Fidelity
Off site, Musical Fidelity showed its upcoming reborn Nu-Vista range, with both revised and reissued models (such as the Nu-Vista CD Player and Phono Stage) and wholly new models. The Nu-Vista Pre and PAS Power Amplifier, each with their own large power supply box. Capable of delivering 300W into four ohms and coupled to a 12 input (six balanced, six single-ended) preamp. Given the new owner of Musical Fidelity is also the owner of Pro-Ject turntables, it might come as no surprise to see this system being fed by the upcoming M8xTT turntable, a follow-up to 2004's Musical Fidelity M1 turntable. Price and availability on all are to be confirmed.
Nagra
Nagra Audio went BIG at Munich, with a large system in an equally large room. The show was the first outing of the company's front to back HD electronics, with a Nagra CDC CD player and both VII Anniversary digital recorder and IV-S analogue tape recorder, HD DAC-X, Prototype HD Phono, HD Preamp (all fed by a Classic PSU) and two sets of mono HD Amps driving a pair of Wilson Audio Chronosonic XVX loudspeakers with WATCH Dog subwoofers, all fed by CrystalCables Da Vinci interconnects, a Shunyata Research Everest 8000 power distributor and Omega power cables and Modulum stands. The show was also the public premier of Nagra's $175,000 Reference Anniversary turntable. This dual direct drive brushless motors but is a belt-drive using a system developed in that classic IV-S open reel tape machine. One of the high-end high points of the show.
Neat Acoustics
The 2021 limited edition Petite 30 to celebrate the 30th Anniversary of the little loudspeaker legend sold out fast, and such was its success that Neat Acoustics decided to launch the £1,995 Neat Petite Classic, which uses the same cabinet dimensions as the original Petite with the AMT tweeter and cone driver from the Petite 30 and a wholly new crossover network. On static display only, the textured black and satin white bass reflex stand-mount could just be the next giant-killer if past Petites are anything to go by.
Nordost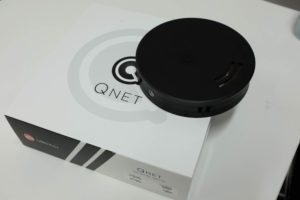 Nordost had several new products on show and display. Perhaps the most important product on show – and on demonstration – was the £2,850 QNET, a network audio switch that addresses many of the audiophile concerns still currently unmet by existing switches (such as isolation between ethernet inputs), with Valhalla 2 Ethernet cable (also new) helping to connect the devices together. This was very effectively demonstrated in a dCS/D'Agostino/Wilson Audio system that had the resolution to spare.
Pro-Ject
Alongside a slew of new and revised products across many of its existing lines, Pro-Ject showed off the lightning bolt-shaped Metallica limited edition design. Made in conjunction with the metal band, the €1,299 design comes complete with S-shaped arm and cartridge, and has a number of audiophile features to separate it from just another tie-in design. Elsewhere on the large stand, Pro-Ject showcased several prototype models, including the both belt and direct drive Signature models with a 12.2 arm.
Raidho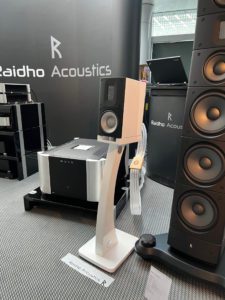 Danish speaker experts Raidho went big and small at the show, introducing both the €210,000 TD6 Statement loudspeaker (sporting two midrange and six bass drivers per side) and the diminutive but surprisingly room-filling X1t Super Mini Monitor. At €5,800 per pair, these sophisticated two-way ported stand-mounts with tantalum-coated ceramic drivers were deeply enjoyable and had surprising levels of bass response. Whether big or small, Raidho's sonic output was impressive.
T+A
T+A Elektroakustik's new headphone is the Solitaire T, a wired or Bluetooth wireless noise-cancelling dynamic headphone system, designed to work with digital assistants, but also designed for the 'one-and-done' listener who isn't prepared to have different headphones for home and travel use, but who also isn't willing to sacrifice quality for either. Provided with conventional headphone and USB-C connections for wired use, the €1,300 Solitaire T system might just tick a lot of boxes in one convenient travel case.
Trafomatic Audio
The Rhapsody PSE 300B integrated amplifier from the Serbian Trafomatic Audio uses two parallel single-ended 300B and a single 6SN7 valve to deliver 20W per channel, has three single-ended and one pseudo-balanced XLR inputs, a handy pair of VU meters on the front panel, weighs in at a healthy 32kg and costs €18,000. Used with a pair of large TuneAudio Epitome horns, a top Rockna Wavedream transport and DAC, wired with Signal Projects cable, this system sounded both fun and cohesive.
Triangle
Triangle is celebrating its 40th year with two models in its Magellan range; the Quatuor floorstander and Cello stand-mount. Changes include a move to magnesium alloy in the tweeter horn, change to the cone shape and dust-cap and new French-made SCR capacitors in the fourth order crossover. Both are a limited edition of 500 pairs worldwide, prices to be confirmed.
Vertere Audio
Back in 2011, Vertere Audio shocked the audio world with the performance (and price) of the company's Reference Tonearm. At Munich, the company showed off its new Gen III version of this statement piece, with improvements to its flexibility, ease of use and ability to fine-tune its set-up, resulting in improved performance. The arm retains its unique split geometry (where the arm is effectively longer in the vertical plane than it is in the horizontal), use of Kevlar fibres to create noiseless vertical and horizontal bearings and articulated counterweight, but all aspects of the arm benefit from 11 years of development. The price of the Gen III arm is a cool £43,900!
 Western Electric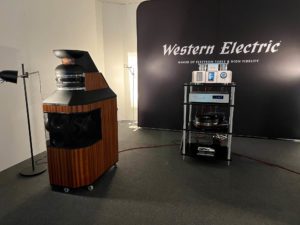 One of the most interesting loudspeaker designs at the show was built around the still work-in-progress 777 midrange driver. This is the world's first curved Air Motion Transformer driver and first AMT with the size and firepower to act as a legitimate midrange unit. Driven by Western Electric's $15,000 91E integrated amplifier (also new to the show), it's still unclear whether the '777' loudspeaker will ever be more than just a proof of concept, but if it does ever come to market, don't be surprised if it comes with a $100,000 price tag.