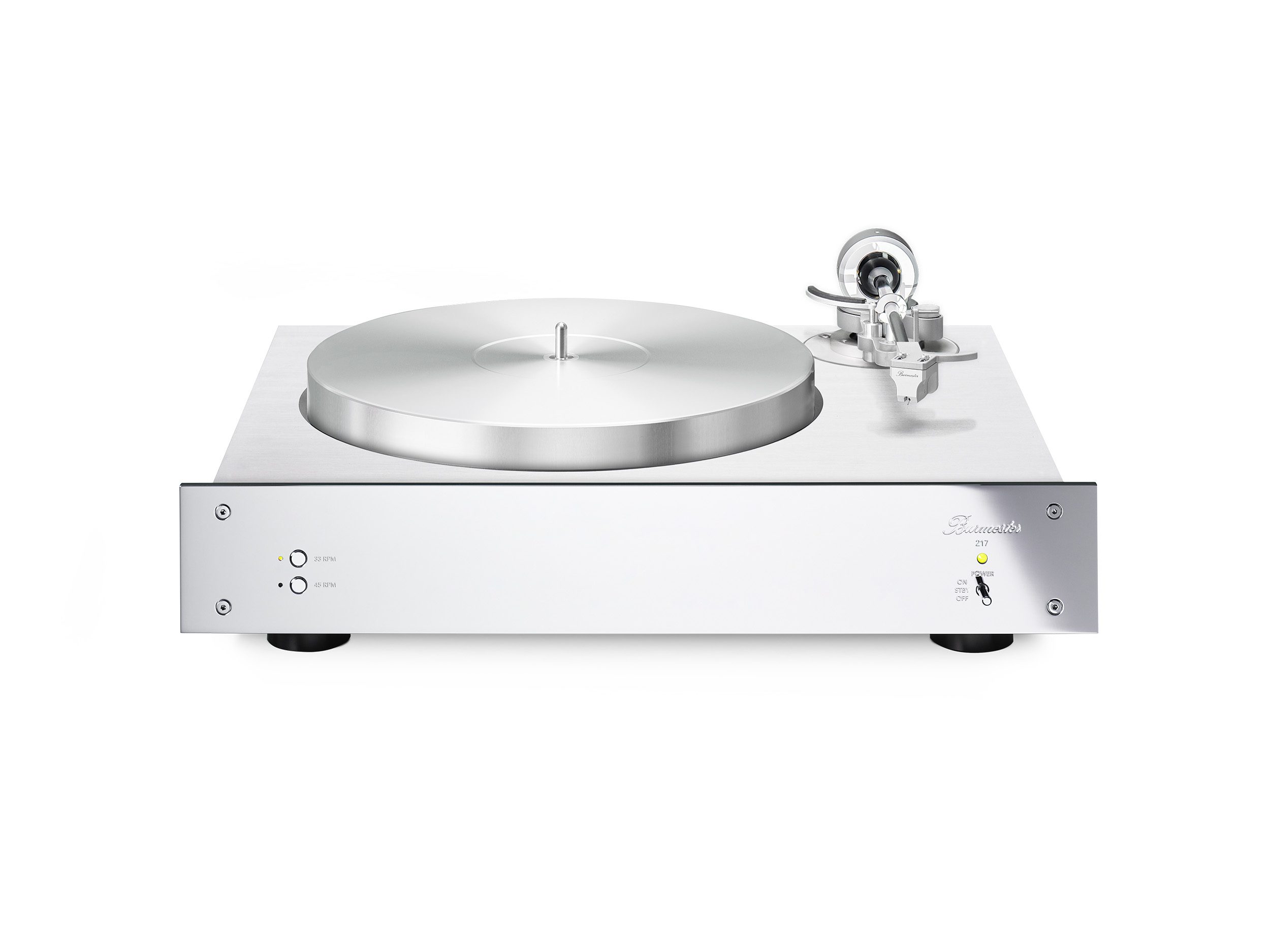 Given Burmester's reputation as a manufacturer of complete audio systems, the 217 is only the company's second turntable in the brand's 45‑year history. That first turntable, the 175 from five years ago (reviewed here) is part of the company's Reference Line and includes a built-in phono stage. The 217 – from Burmester's Top Line – is the first product the company has ever made to take advantage of the awesome 100 Phono Preamp, that we reviewed way back in issue 77.
However, I want to extricate the review from a potential trap of its own making at the outset. The way I described the 217 makes it sound like it's simply the record-spinning add-on to the Top Line electronics. The implication that it's the turntable for Burmester completists rather than a good turntable in its own right. This is wrong. The 217 is a turntable, arm and cartridge combination designed as a turn-key vinyl 'rig' that works well at the head in many systems. The fact that I suspect it will be the turntable of choice for so many Burmester owners shouldn't detract from its performance as a standalone package.
Easily fooled
As you unbox the 217, you would be forgiven for thinking it a direct-drive design. In fact, it features two belt-drive motors, the belts and pulleys of which are supplied pre-fitted. You can't see them even in installation because the belts sit beneath the drive axle upon which the platter sits. It has one switch for power and two buttons for 33 and 45-rpm play. An indicator light flashes as it reaches the set speed and stays constant when it reaches that level. That's the sum of its controls; no 78, no speed control, and no more extensive displays or strobes. That's all you need.
This drive axle and motor arrangement are housed in a massive, low-resonance unibody housing of solid aluminium. This effectively makes the 217 a sealed unit, and even replacing the belts is beyond the listener's scope. This is the Mercedes-Benz connection rubbing off on the brand (even putting coolant in the radiator is a service-level job today), but it does mean the product is functionally fuss-free once installed. The final links in the chain are the three adjustable feet the deck sits upon and a bituminised leather composite mat.
The turntable is matched with a straight, gimbal-mounted 9″ tonearm, which features an arm tube of 'unidirectional fibre composite material' (carbon fibre, to its friends) and an aluminium headshell and arm base. The cartridge is also housed in an aluminium body and is a moving coil design with a Shibata stylus profile. The arm exits to a standard five-pin SME tonearm cable connector, and a high-grade tonearm cable (exiting, in this case, to two XLRs for the 100 phono stage) is supplied, which fits in a recess on the back of the turntable.
Ready to roll
For such a high-grade turntable, it's a remarkably ready-to-roll design. Burmester recommends professional installation, but much of that is more about lifting a relatively heavy turntable into place rather than a complex installation. Burmester sets up everything from speed control to cartridge alignment, even downforce and anti-skate are put in place in the Burmester factory. You plug and play.
While I said earlier that the Burmester 217 is not simply a front-end for the Top Line system, the company is not too forthcoming with resistive and capacitive load or the cartridge gain. This is not a problem for Burmester 100 owners because the system allows automatic set-up using the test LP provided with the phono stage. For the rest of the world… it's guesswork time!
Build quality is off the charts. Normally, I'd preface that by saying, "Naturally, as a Burmester product…" but vinyl enthusiasts might not have had the same exposure to Burmester's product line. They might assume it's some shiny chrome bling thanks to that front panel. They would be assuming incorrectly. I'd say this is built like a tank, but that doesn't go far enough. This is built to an uncompromising standard, putting the 217 among the shining stars of turntable construction like SME and Transrotor. It's the consistency and attention to detail that will grab you; some of the best-loved and highest-end turntables have a 'three-foot rule'; they look great from a metre or so away, but up close, there are some rough edges. You'd need to analyse every panel with an electron microscope to find a poorly finished edge. I guess when your products end up in the interior of a Maybach, 'good enough' isn't in your vocabulary.
Seven Layer Army
That attention to detail extends to the packaging itself. Built across seven numbered layers, it allows you access to everything in a logical order, beginning with the manual, then the case candy with a pair of grey Burmester-logoed gloves and cleaning kit, then cables, then the platter and so on. I find it a little odd that the platter is the first part of the turntable out of the box (the other logical way is to place the platter underneath the main unit, so it comes out of the box and straight onto the installed turntable. However, the platter's mass is such that if it is housed that close to the edges of the box, it could create undue stress on the packaging. Placing it in the middle of the unboxing (and to the left of the turntable) makes the load more evenly distributed and prevents any risk of an accident.
It might seem like a small touch, but Burmester has a clever way of installing the platter. It recommends installers use a double cup suction lifter, the sort of things glaziers have to move panes of glass around. Installers can place the heavy platter on the spindle and bearing housing. Given the only other way of placing this by hand involves either dropping the whole platter the last centimetre or so – or sacrificing a few fingertips to the Dark Gods of Vinyl – the use of a simple suction lifter is a neat trick. It's absolutely going in my box of tricks for the next heavy platter lifting session. You could say I'm a sucker for this kind of thing.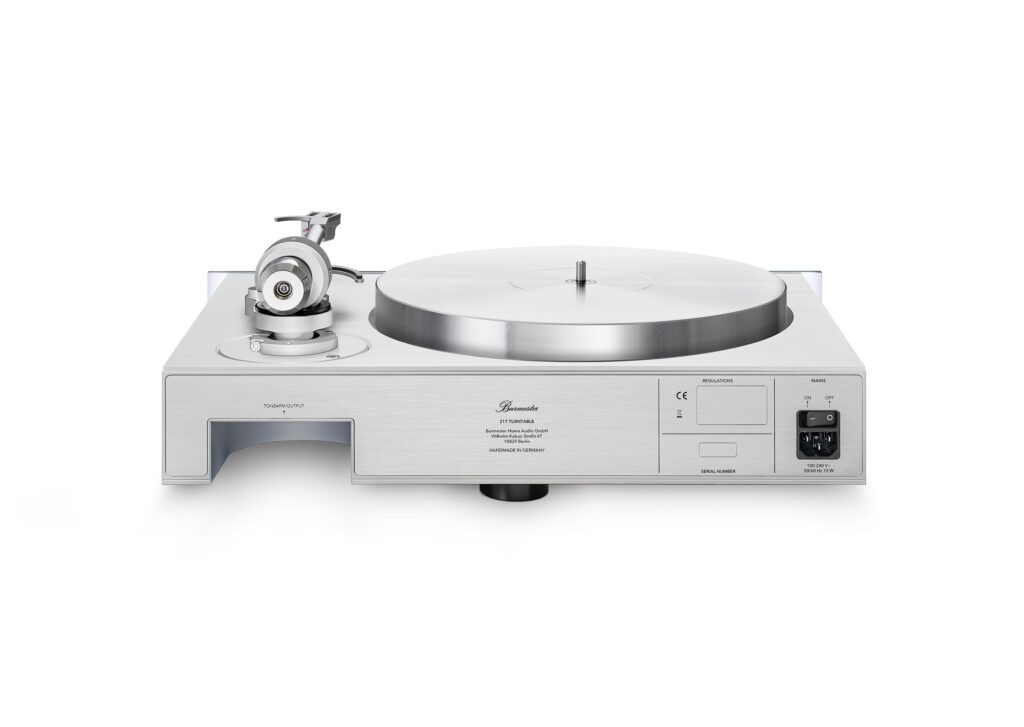 There's a commonality to Burmester source devices, be they CD players, music servers, or turntables. There is a clever combination of extraordinary refinement with a stentorian bass that takes the listener a little time to process. You are so overwhelmed by the information going on it takes two or three tracks to realise just how good the sound really is. Curiously enough, in finalising the review, I looked at my notes and compared them with the ones written for the 175 five years ago. Two things sprang out at me; my handwriting is worse than ever, and there were so many echoes between that review and this one. Yes, of course, the 175 is the bigger (and, especially, heavier) hitter and the process of re-educating your ears took a lot longer with the Reference Line turntable because there was so much more information to process. But the two are very much in lockstep sonically.
Shining naturalness
Back then, I wrote about 'effortlessness' and 'naturalness' to the 175's sound, and those elements shine out in the 217 too. The deceptively simple lines of 'Paper Tiger' from Beck's Sea Change [Mo Fi] require a turntable of both precision and absolute fidelity to get right, otherwise, it overstates the guitar sound or his close-mic'd vocals. Get it right (as happens here), and it's at once fluid, morose, slightly creepy, and brilliant. Get it wrong, and it sounds like an out-take. That can only happen with a turntable with outstanding effortlessness and naturalness. Especially the latter; any hint of brightness is met badly.
The very natural sound of the 217 extends to its dynamic range, and it's here where I think the newer model might even score over the 175 it's clearly based upon. The Reference Line turntable is designed for similarly uncompromising systems. Its monumental sense of scale can be overpowering in some cases, and it's in those cases where the 217 sounds right. That still means large full-range systems, but not those top-of-the-tree designs that require a barn of a room and leave you intellectually and emotionally drained after an hour or two of playing. In the 217, the ultra-dynamic recital by Alexander Toradze playing Prokofiev's Piano Sonata No 7 in B flat [EMI/Angel] is portrayed with force and grace at once, but the same in a system befitting the 175 might make you run for cover.
Record playing through the 217 is both a voyage of rediscovery and a lithe and articulate performance, with the large-scale soundstage that's a Burmester trait. Music is fully three-dimensional with excellent solidity of instrument images within that stage. Each of these instruments is right sized too. That ability scales well as you move from Dylan, a guitar and a harmonica through chimey PCM synthesisers that dominated 1980s recordings, back to well-recorded 1950s jazz and out to full-blown orchestral pieces. If each of these has its correct scale and shape, it's clear the 217 is doing many right things, sonically.
Close harmony
Vocals are a strong point with the 217, whether they be the close harmonies of the Beatles singing 'You Never Give Me Your Money' [Abbey Road, EMI] or the truly beautiful folk voice of Nic Jones singing 'Canadee-i-o' [Penguin Eggs, Topic], the articulation and detail of the voices in both cases cut through the years.
Breaking down the sound of the Burmester 217 is ultimately self-defeating because it's an extremely coherent sound. Going back to that Nic Jones album once more, his voice, guitar and fiddle playing demand a system that communicates music well, and that's precisely what the 217 does so well. This album normally shows up a higher-mass turntable as being a bit ponderous and rhythmically challenged, but on the 217, it's light, tight and beautifully ordered. Swap Nic Jones for Frank Sinatra singing 'It Happened in Monterey' [Songs For Swinging Lovers, Capitol] and the 217 nails it; both Nelson Riddle's excellent scoring and Sinatra's uncanny passing tones meld together exactly as you always knew they should.
My only real issue with the 217 is more 'philosophical' than 'musical'. I'm still unsure if the high-end turntable market 'gets' the notion of a turn-key turntable like this. While there was a long hiatus when turntables were starting to be discussed in the past tense, audiophiles before and after the vinyl revival almost universally selected the turntable, arm, and cartridge from a selection rather than select them as a single entity. Even brands that provide all the links in the chain (Clearaudio, for example) don't specify their high-end models as a turnkey solution.
All-in-one
However, I think the trend is more toward this kind of all-in-one solution, even if there is an implication of choice; Linn offers a range of decks, arms, and cartridges… but has them in three distinct packages that most listeners choose. In fact, I find this preset option to have great validity as it allows the manufacturer to make very nuanced decisions about the performance of all three turntable components as a complete unit. It also removes some of the difficulties of successful system matching and installation. Finally, it solves the ongoing problem of finding a demonstration facility willing to perform cartridge demonstrations.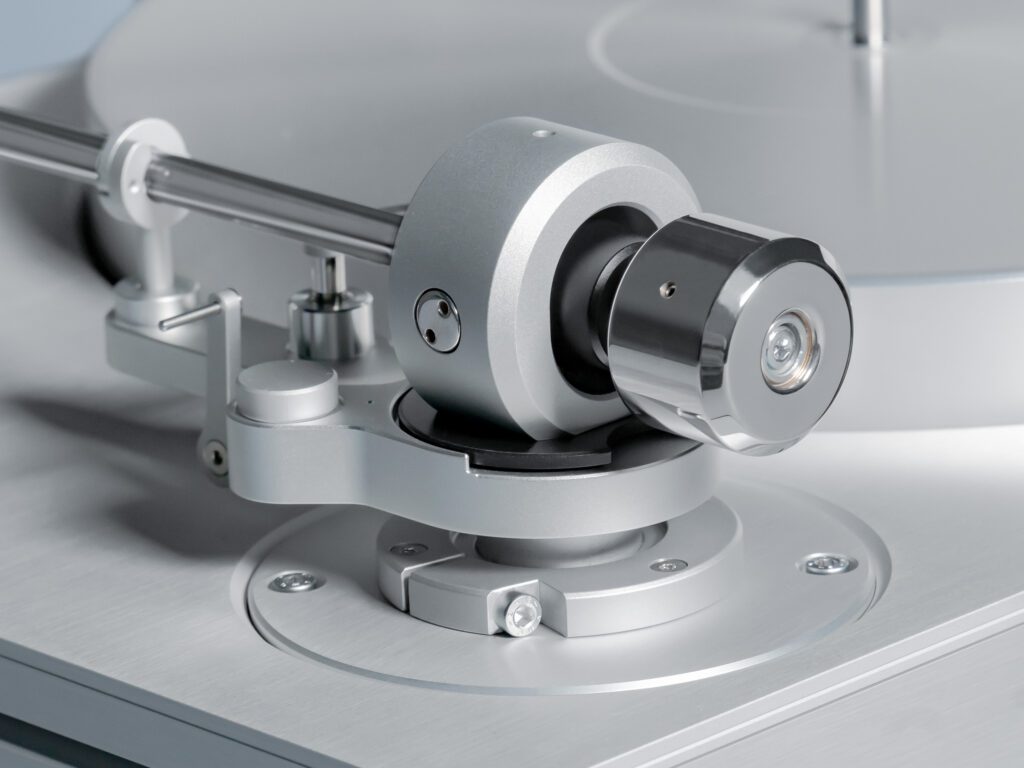 The Burmester 217 is a formidable turntable like the 175 was before it. And yet, it is not a turntable that delivers a formidable sound. Instead, it makes the sort of sound that will keep you listening to vinyl for years and is built so well that it will still be doing the same for your great-grandchildren. In sound and build, it's consistent and exacting. It's the ideal partner for a Top Line Burmester system, and yet its standalone performance makes it a turn-key high-end turntable for almost any system. In short, it's a stellar performer.
Technical specifications
Type Belt drive record player with arm and cartridge supplied and set
Speeds 33, 45 rpm
Motors Two AC motors with belts, no user access
Arm Aluminium and carbon fibre, 9"
Arm bearing system gimballed bearing
Cartridge type Moving coil
Stylus profile Shibata
Dimensions (W×H×D) 482 × 165 × 283mm
Weight 31.5kg
Price £18,700
Manufacturer
Burmester Audiosysteme GmbH
URL: burmester.de
Tel: +49 (0)30 78 79 68 0