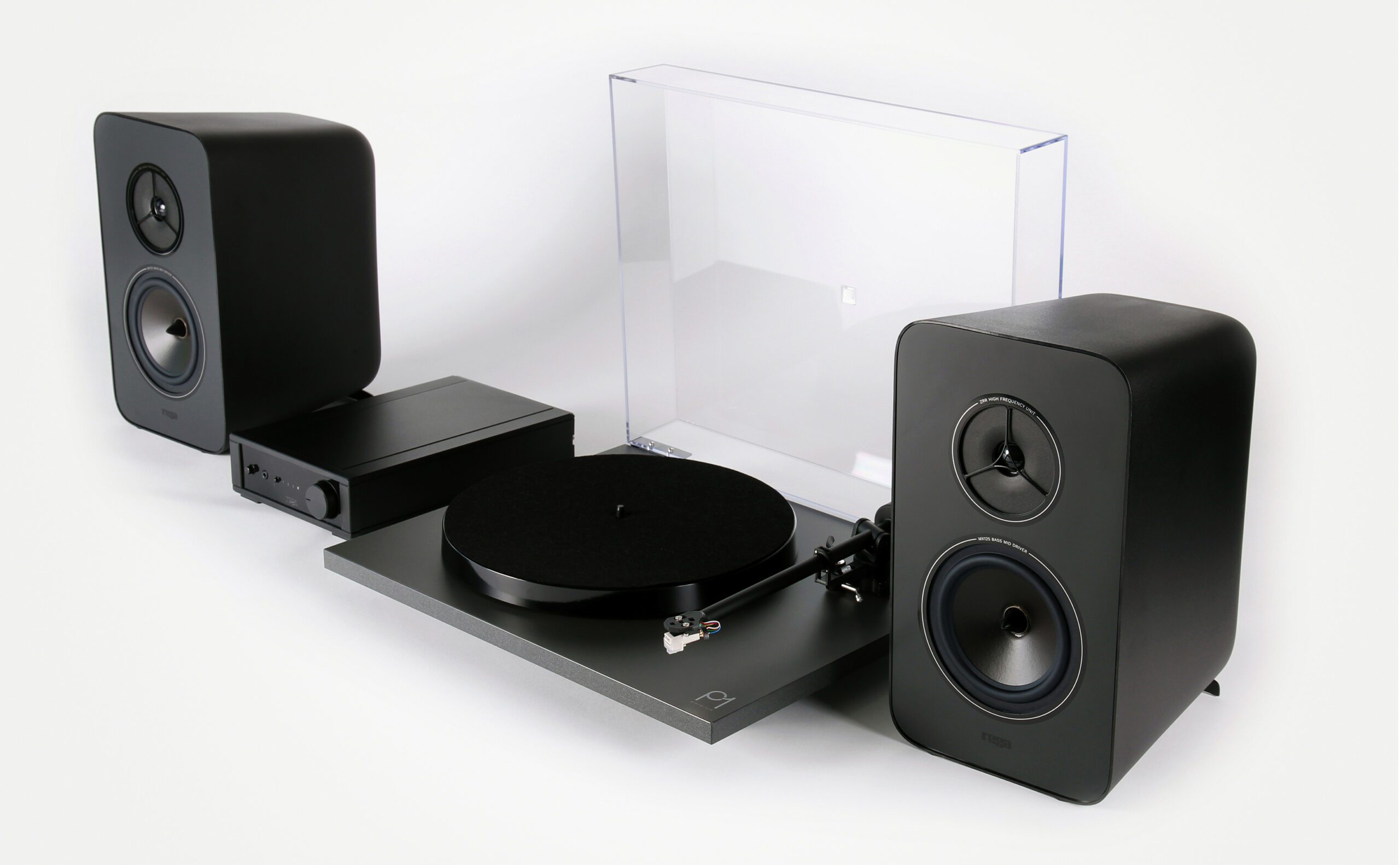 I was talking to a former executive at Technics recently who told me about the way the business worked in the days when separates sold in the sort of numbers that only headphones and Bluetooth speakers do today. For Technics, the game was all about market share and the way to achieve that was with advertising. This meant double-page spreads in Sunday supplements and back pages on every hi-fi magazine. It worked… and the brand made a lot of hay in the shining sun. At the same time Rega was doing things rather differently; with the Planar 2 and 3 turntables, the company became one of the main turntable makers in British hi-fi without recourse to marketing but rather by building an excellent product at a competitive price. Those turntables still hold their value today, which is more than you can say for most hi-fi of the 1970s and 1980s, Technics turntables excepted.
Rega is now the UK's foremost independent manufacturer of complete audio systems has a broad range of turntables, electronics and loudspeakers and, in my humble opinion, makes one of the very best turntables in the world. But critically Rega also does its utmost to keep its products affordable to the man and woman in the street. There are numberless small companies in this business who make great products but because of the scale of their operations they are not able to bring them to market at prices that the casual music enthusiast would consider approachable. Rega has always looked for efficiency in production and built in sufficient numbers to achieve this enviable goal, one that only the larger brands which facilities in China can compete with.
My first Rega
The Rega System One is the epitome of this high value ethos. It is the company's first complete hi-fi system in a box and includes everything you need to make vinyl records sound great in your home, cables and all. The source is Rega's most affordable turntable; the P1 is a full-size record player with a proper dust cover and high quality motor, bearing, platter, plinth, arm and cartridge. The Planar 1 to give it its full title has a phenolic resin flywheel platter; this hard plastic offers a stiff and flat surface and has peripheral weighting to aid speed stability. Like all Rega turntables, drive is achieved via a smaller subplatter, an approach that can be found in the Linn LP12 among a few enlightened others and avoids the problems inherent in driving the periphery of the platter with a belt or idler wheel. The main one being considerably lower energy transfer from the motor to the platter. Remember that a turntable's job is to 'read' miniscule vibrations in a vinyl groove, anything that adds vibration to the system will distort the signal being read so extraneous vibration is to be avoided at all costs.
The Rega RB110 tonearm isn't based on the casting that forms more costly Rega arms but instead is a high quality piece of engineering that should last considerably longer than the flimsy looking options found on many budget turntables. Bias or anti-skate is described as automatic and cannot be adjusted, and this suits the Rega Carbon moving magnet cartridge supplied. Some consider this to be a limitation but given that bias is always a compromise (like tracking angle, no single bias setting is correct across the whole side of a record), it is an acceptable way of reducing cost. Downforce is, of course, adjustable but the RB110 has a stop to suit the requirement of the Carbon, making user set up very easy indeed. The arm also has a proper lift/lower system, that looks very much like the kind fitted to Rega's top models. The arm bearings use a patented combination of polymer casings and steel ball races and are found in both the RB110 and RB220 arms.
A 24V synchronous AC motor – as found across the Rega turntable range – powers the P1; the more expensive models get the motors that measure best of course but the basic design is the same. This motor drives a round section belt from an aluminium pulley with separate steps for 33.3 and 45rpm. This means changing speed requires the platter to be removed and the belt moved from one to the other, but in reality it's 'simples,' as that mysteriously Russian-accented African meerkat insurance salesman is prone to saying.
Motor switching is under the front of the plinth and easy to find by feel. Not a great deal is said about the plinth itself save that it comes in matt white or black finishes, it feels like furniture grade wood but is presumably some kind of particulate board with a finishing skin. The turntable sits on three rubber feet for stability and damping, and has a socket on the rear for the wallwart power supply. Its tonearm cable is fixed in order to provide a direct connection between arm and amplifier. Some brands offer RCA outputs on their turntables but the low power nature of the signal produced by a cartridge means that such interfaces are detrimental to sound quality.
The integrated amplifier that Rega developed largely for this system is called Io. It's (naturally) the least expensive model they make and yet offers the all important phono stage required for the P1. It is based on the same circuit as the remarkable Brio amplifier and while it has a smaller power supply and thus lower 30 Watt output, it is the least expensive amplifier that's made in the UK. Features extend to a headphone output and remote control with two line inputs alongside the MM phono stage. It's interesting to note that the first two incarnations of the Naim Nait offered only 13W; it wasn't until the Nait 3 in 1993 that it reached the sort of Wattage on offer in the Io. Another similarity is that the early Naits also had just three inputs including phono… coincidence, perhaps?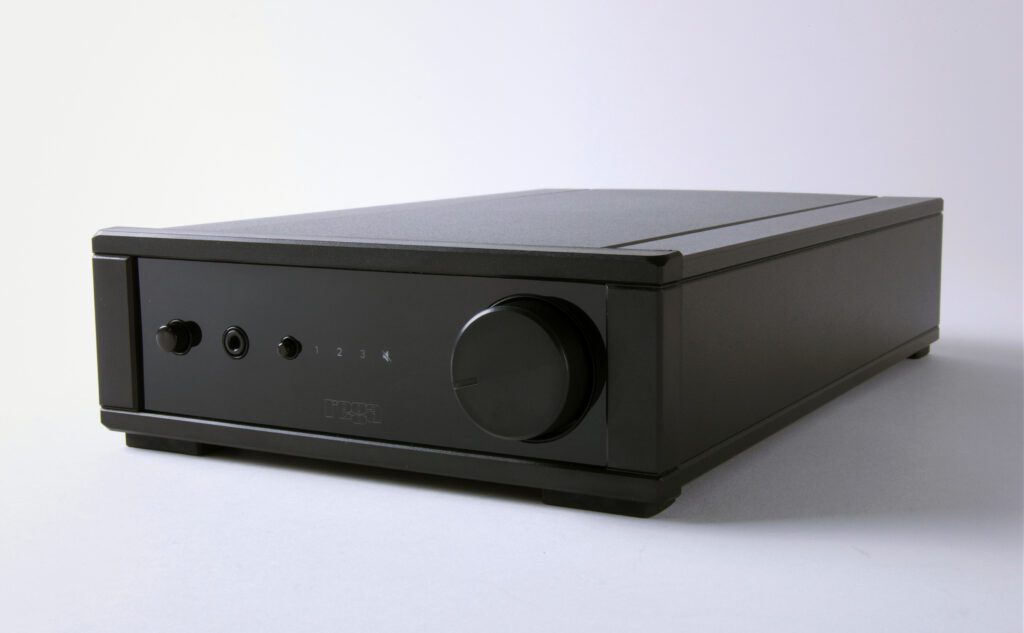 The most radical element in the Rega System One is the Kyte loudspeaker. This eschews wood almost entirely in favour of a Rega's favourite plastic, phenolic resin. This is the material that you find in light switches and mains sockets; it's not intrinsically expensive yet making such a large moulding proved a difficult process to get right and Rega doesn't make enough speakers to bring the price down that far. The box is stiffened using ceramic plates and a wooden cross brace.
The drivers are pretty much identical to those found in Rega's more conventional RX1 bookshelf model and consist of a 125mm mid/bass driver with a paper cone and the Rega ZRR soft dome tweeter. These have trim rings to hide fixings for a neat look and sit in a baffle set into the main cabinet. This has a reflex port moulded into the rear and a pair of cable terminals above one another and close to the fixing holes for a supporting leg. Because the cabinet moulding has to have sloping sides for manufacturing purposes the bottom is not at 90 degrees to the front as is the case with wooden boxes; the bolt on support means that the front baffle sits vertically but does make it nigh on impossible to Blu-tack to a stand. However, given Rega's dislike of damping this is probably deliberate. The other consideration is that this system is for regular folk who don't have or want stands but put their speakers on a shelf or sideboard… the weirdos!
Freedom from excitement
Being not averse to speaker stands nor particularly anti-damping I bucked convention and Blu-tacked the Kytes to a pair of Custom Design 60cm stands without using the T bar support leg. I reviewed the Kytes alone a couple of years back and discovered that this sounds better than using the leg or the metal adaptor that Rega sells for those who want to use conventional stands. This meant that the front baffle leans back slightly but plenty of speakers work like this by design and the base angle is only five degrees so the tilt isn't extreme by any standards. The turntable went on my regular rack – which is well isolated – so it got a better chance than a typical situation and in my experience solid plinth turntables do benefit from as much freedom from external excitement as possible. I connected the speakers up with the supplied cables which are three metres long and marked for polarity, they don't have plugs so you need to pull off the pre-cut insulation at either end and bind them to amp and speaker terminals.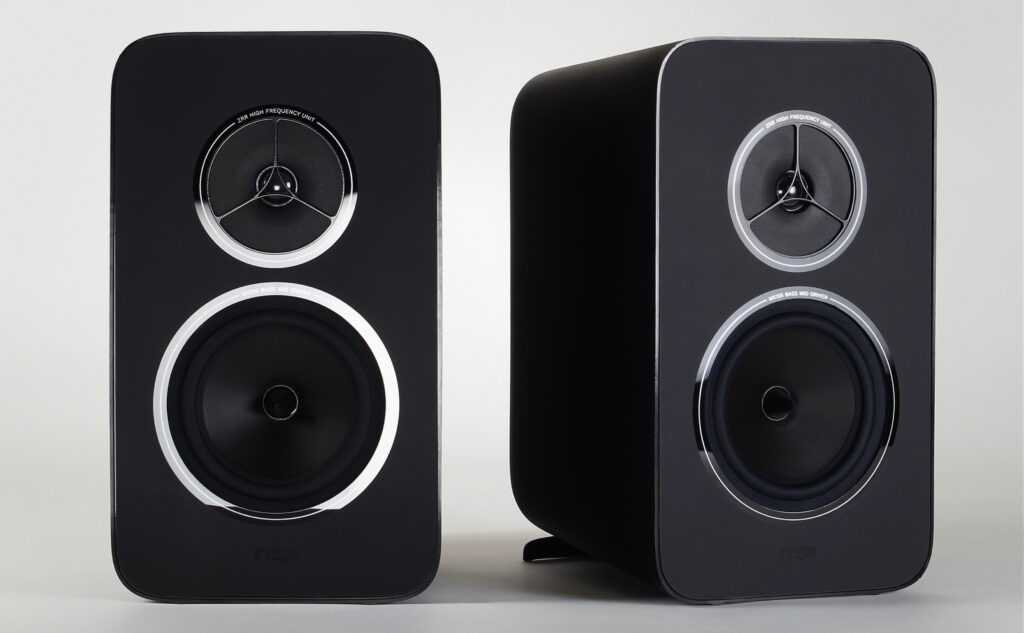 Being an audio nut I took the lid off the Planar 1; it's easy and removes a potential source of vibration (especially when left up), then dropped the needle carefully onto John Renbourn's Another Monday and soon became immersed in fabulous playing and singing. This system does what Rega components have always been particularly good at; producing a musically coherent and thoroughly engaging listening experience. It gets to the "crux of the biscuit" as Frank Zappa used to say, bringing out the heart of the musical matter in such a direct and unaffected way that you can't help but enjoy yourself. It's limited in terms of bandwidth, the Carbon doesn't quite soar to the heights of treble and the Kytes don't go down to the lowest octaves of bass, yet all the important musical cues are present and correct. Timing is spot on, vinyl has a huge advantage over digital in this respect because it's a real time, non-processed system involving converting a mechanical signal to an electrical one. There is plenty of potential for tonal aberration but little for errors in the time domain and those are the ones that get in the way of realism in my book.
Typically Rega
This system's balance is typically Rega by which I mean slightly lean, the Kytes are largely responsible for this because there is so little mass to store and subsequently release energy as is the case with wood based boxes. This makes them very fast and agile with no thickness which is not to all tastes but ultimately serves the music rather well. They do attack and decay very well and even reproduce depth of image to a decent standard, and bass is strong enough to make bass guitars, drums etc very convincing. I also tried the Io and Kytes with a digital source in the Silent Angel Munich M1 streamer. Playing Ronnie Size's 'Brown Paper Bag' on this proved a thrilling experience, the intensity of the drum and bass making for an adrenaline rush that left me wanting more. On the lush production of Beck's 'Paper Tiger' the scale came through with ease albeit the electric guitar seemed a little more eager than usual. It's not a rich tonal balance that's for sure, it's more about pace and engagement than polish but if you put a plush recording on you get a plush sound out. The caveat here is that the difference in level between vinyl and line sources such as a DAC can be quite large with some recordings so it's wise to turn it down when switching between them.
Vinyl is the natural source for this system of course and always the most rewarding, I found myself more distracted by the Rega System One than expected truth be told; its ability to provide all the detail that contributes to an engaging and rewarding musical experience outweighs its limitations by a large factor. That it costs no more than some of the cables in my usual system is remarkable and goes to show that if the manufacturer puts its mind to it there is no need to spend more. It is possible to put together a similar system from diverse brands for a similar price but it seems unlikely that you would end up with the sonic coherence, build quality and lifetime guarantee offered here. Rega is a very unusual company in many ways but its success in both commercial and product value terms means it competes with the very best.
Technical specifications
Rega Planar 1
Type Belt drive, manual operation turntable, arm and cartridge with dust cover
Rotational Speeds 33 1/3 RPM, 45 RPM
Tonearm Length 9-inch
Drive Mechanism EBLT belt driven via 24V AC motor
Speed Control Not specified
Platter Type 23mm phenolic resin 12‑inch platter
Platter Weight Not specified
Bearing Type Performance brass main bearing
Plinth Configuration Solid plinth
Dimensions (H×W×D): 117 × 447 × 360mm (lid closed)
Weight 4.35kg
Rega Io
Type Solid-state, 2-channel integrated amplifier with built-in phono stage
Analogue inputs One MM phono input (via RCA jacks), two single-ended line‑level inputs (via RCA jacks)
Digital inputs None
Analogue outputs None
Supported sample rates N/A
Input impedance line – 47kOhms, Phono – 47kOhms, 220pF
Output impedance (preamp) N/A
Headphone Loads 32–300 Ohms
Power Output 30Wpc @ 8 Ohms
Bandwidth Not specified
Distortion Not specified
Signal to Noise Ratio Not specified
Dimensions (H×W×D) 68 × 180 × 290mm
Weight 2.9kg
Rega Kyte
Type 2-way, two-driver stand-mount with rear-ported bass reflex enclosure.
Driver complement One 19mm soft dome tweeter, one 125mm paper cone mid-bass driver
Frequency response Not specified
Crossover frequency Not specified
Impedance 6 Ohms nominal
Sensitivity 89dB/W/m
Dimensions (H×W×D): 325 × 188 × 232mm
Weight 3.7kg/each
Finishes Black
System price £1,199
Manufacturer
Rega Research
+44(0)1702 333071
Tags: AMPLIFIER IO KITE PLANAR 1 REGA SYSTEM ONE STAND-MOUNT LOUDSPEAKERS TURNTABLE