New Models for Tivoli Audio's Chic System Lineup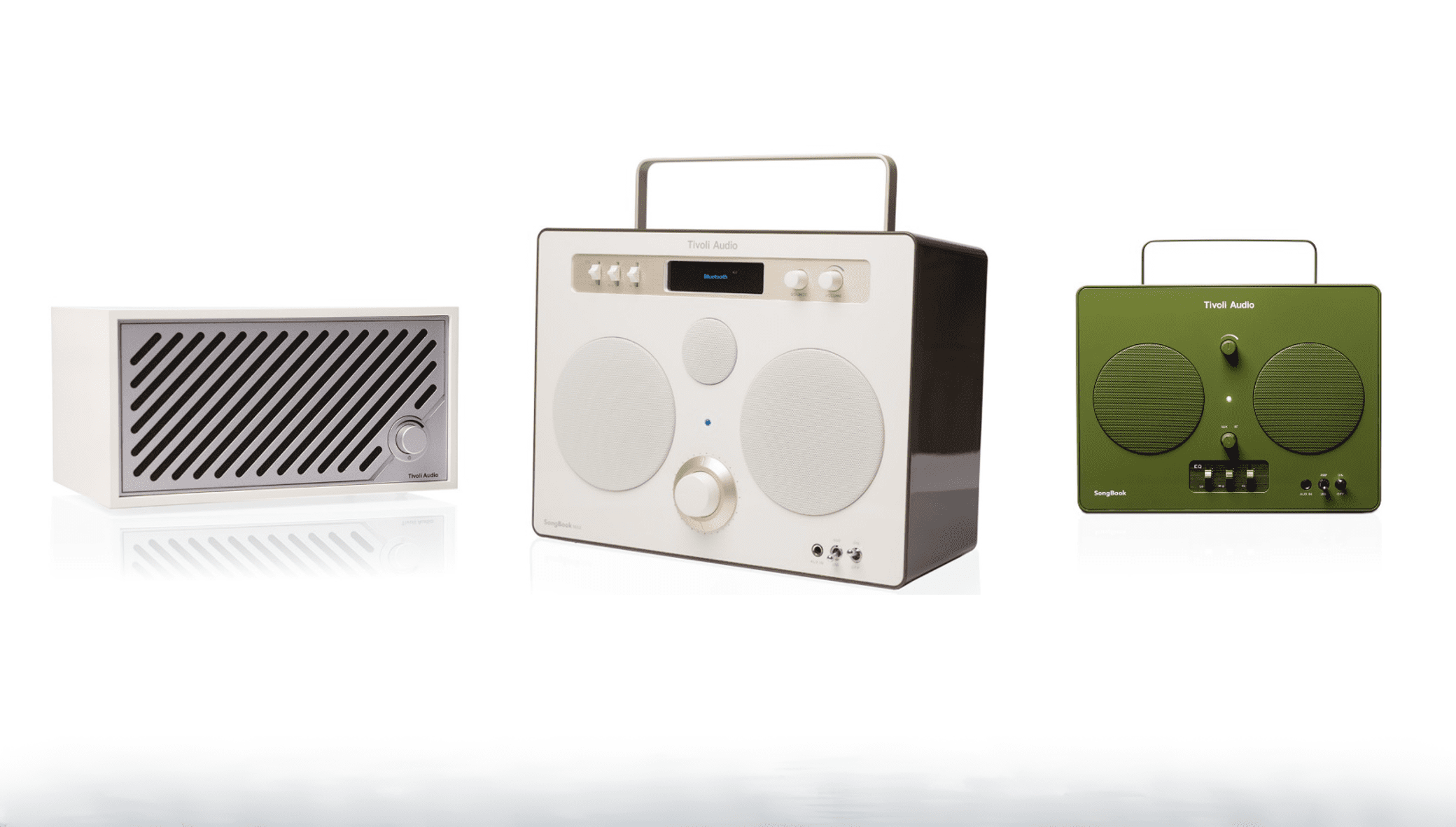 The Model 2 Digital is a design-driven Wi-Fi and Bluetooth speaker that blends beautifully with any space. Using Wi-Fi streaming with Google Chromecast built-in and AirPlay 2, users can play music or podcasts through supported services including Spotify Connect, Q Play, Apple Music, Google Play, Tidal Connect, Deezer, Pandora, and TuneIn. In addition, they can connect Model Two Digital with other supported speakers using Google Home or Apple Home to listen to music in multiple rooms or play peer-to-peer through Bluetooth 5.2.
A chic retro design combining aluminium grille and rear-ported real wood cabinet in three colourways (White/Silver, Black/Black, Walnut/Gold) houses a 20-watt amplifier driving one full-range speaker and a single tweeter, while a multi-functional volume/source dial and LED strip status display combine for easy control. Connect additional wired audio devices via a 3.5mm Aux input.
The substantial SongBook MAX portable music system combines streamlined mid-century styling with the latest Bluetooth 5.3 tech and a choice of FM or DAB+ radio. Its 'analogue' user experience complete with toggle switches, EQ sliders and tuning dials exudes retro charm while the carry handle and durable frame make it a perfect portable device.
A powerful 50W amp design drives a multi-driver configuration of 4″ subwoofer, 4″ midrange driver and 0.75″ tweeter, delivering impressive audio scale and detail for entertaining at home or hosting outdoors (the built-in lithium ion battery lasts up to 10 hours). Use the scan button to store up to five favourite FM or DAB+ radio stations or the ¼"/ 6.35mm auxiliary input to plug in a turntable, guitar, or keyboard for instance. The Tivoli Songbook Max is available in two grille/cabinet colourways of high-gloss Green or Cream/Brown.
The SongBook is a more compact Bluetooth-only portable sound system offering the similarly classic retro styling of its MAX version, with a similarly tactile array of 'analogue' controls and EQ sliders. Exploiting enhanced Bluetooth 5.3 data bandwidth, speed and range is an audio system of 3.5″ full-range driver and 3.5" Woofer driven by a 40W amplifier. Once again, a built-in pre-amp is fed by a ¼"/ 6.35mm auxiliary input for external sound sources. The Tivoli Songbook is available in two grille/cabinet colourways of high-gloss Green or Cream/Brown.
Specs and features:
Model 2 Digital
Wi-Fi
Google Chromecast and Airplay 2 built-in
Bluetooth 5.2
5 mm Aux input
AMP Power: 20W
Driver output (driver spec) power: 1*15W + 1*5W – (1) 8.89 cm Full range driver – (1) 1.9 cm Tweeter
Frequency range: 60Hz~20kHz
Max SPL output: 94+/- 3dB @ 1m
Available in three grille and real wood veneer cabinet combinations
White/Silver, Black/Black, Walnut/Gold
Dimensions (H x W x D cm): 12.3 x 25.2 x 15.8; weight: 2.2 kg
SongBook MAX
Bluetooth 5.3
DAB+ / FM radio (DAB+ in available market)
¼"/ 6.35mm Auxiliary input
5 Radio presets and radio scan button
Controls: Power toggle, Line / Amp toggle, Tuning dial, Source dial, Volume dial
Lo / Mid / Hi EQ adjustment sliders (+6/-6 dB for each range)
Battery & Power: Built-in lithium ion battery lasts up to 10 hours
Fast PD charging using USB-C (cable included)
Sound: 1 x 4″ Subwoofer 20W, 1 x 4″ Midrange 20W, 1 x .75″ tweeter 10W
Available in two grille and cabinet combinations: Green, Cream/Brown
Dimensions (H x W x D cm): 38.1 x 28 x 15.2; weight: 5.2 kg
SongBook
Bluetooth 5.3
¼"/ 6.35mm Auxiliary input
Controls: Power toggle, Line/Amp toggle, Source dial, Volume dial,
Lo / Mid / Hi EQ adjustment sliders (+6/-6 dB for each range)
Battery & Power: Built-in lithium ion battery lasts up to 10 hours
Fast PD charging using USB-C (cable included)
Sound: 1 x 3.5″ full-range driver 20W, 1 x 3.5" woofer 20W
Available in two grilleand cabinet combinations: Green, Cream/Brown
Dimensions (H x W x D cm): 30.5 x 22.7 x 12.6; weight: 3 kg
Typical UK retail prices (inc VAT):
Model 2 Digital: £399.00
SongBook MAX: £599.00
SongBook: £449.00
Available November 2023