Acoustic Energy is proud to announce the launch of their most significant loudspeaker to-date, CORINIUM.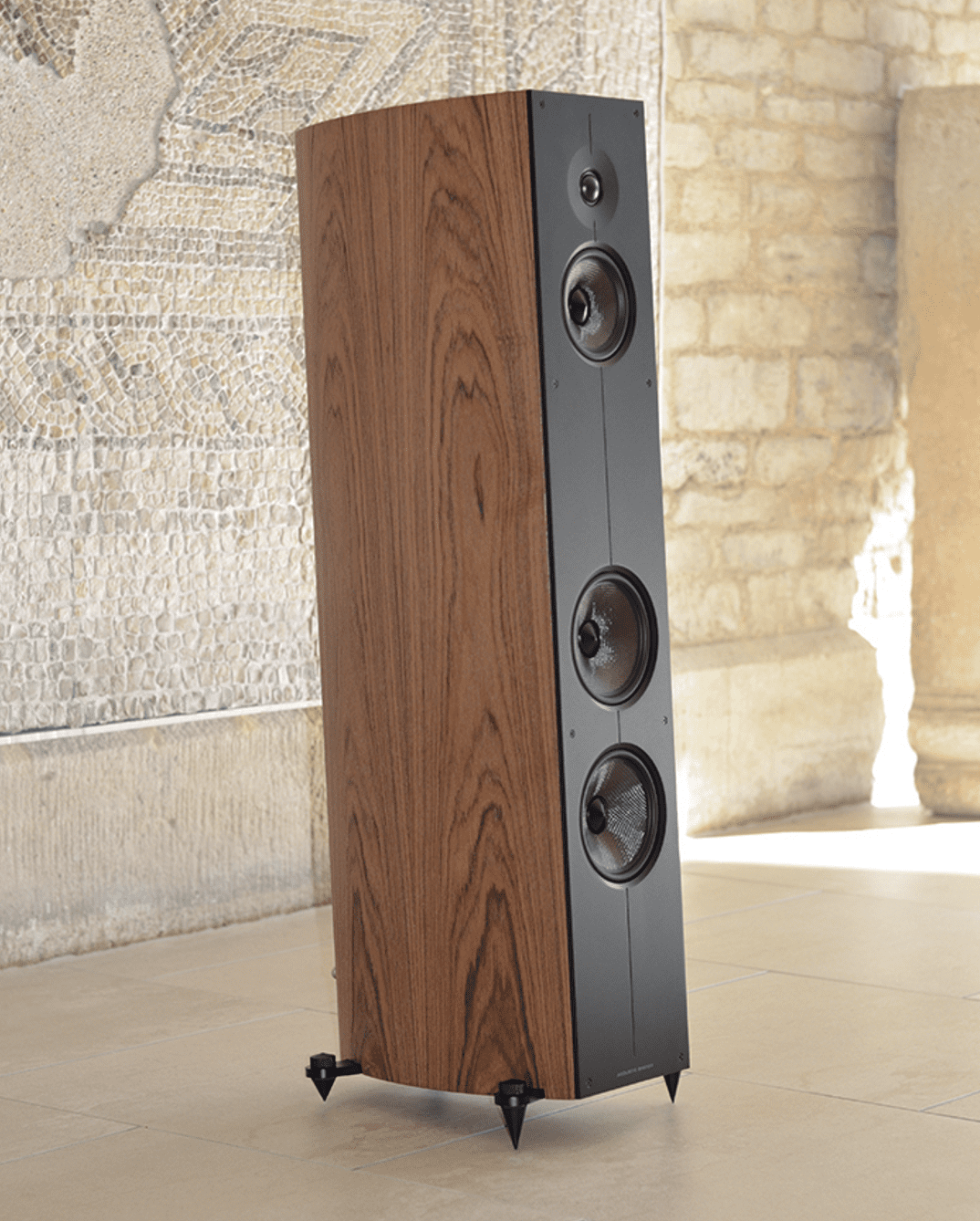 October 2023 – The culmination of a three-year project for our in-house design team, this brand-new, next-generation floor-standing loudspeaker is set to elevate the brand to a new level whilst setting new benchmarks for performance, design and value within the higher-end audiophile sector.
MD and Designer Mat Spandl commented "The new CORINIUM is a loudspeaker that's markedly more dynamic, more live sounding and more musically involving than any previous generation of product we've designed before. This has been achieved by developing brand new drive units, careful selection of crossover components and creating an enclosure that's both acoustically and aesthetically stunning."
The tweeter design is a new and unique soft dome material that's lighter than carbon fibre and proven to lower coloration, increase delicate high-speed transients and reproduce the very finest detail and refinement.
Derived from the same carbon fibre mid and bass drivers used in our 500 Series, a brand-new drive unit design was specially developed with an ultra-rigid version of the carbon fibre cone, driven by a long throw voice coil in a low hysteresis motor structure, to provide the best efficiency and greatest possible performance… the second generation of our carbon fibre drivers was born.
At the heart of the speaker is the mid-range driver where the new carbon fibre cone and surround helps provide specific tonal qualities, offering the most natural sound and realistic musical performance. For the twin bass only drivers, the extra cabinet width allowed development of a brand new 165mm driver to deliver a bass alignment that combines weight, speed and slam to produce a big, powerful, controlled and natural low frequency response.
Optimised for best transient performance, the 3-way crossover features high quality components connected to the drive units using audiophile grade internal wiring which features a patented arrangement of conductors to give the best possible musical detail and dynamic expression.
All these groundbreaking new drive unit and crossover developments are housed in a beautifully curved, exquisitely finished inert enclosure. The hybrid 'Resonance Suppression Composite' (RSC) cabinets boast a thickness up to 45mm for optimal performance. The 4-degree tilt improves the time alignment of sound to listener, whilst the 6mm ultra rigid aluminium front baffle firmly houses the drivers and isolates any cabinet resonances from the listening environment.
And finally, why the name? Cirencester in the beautiful Cotswolds, Acoustic Energy's hometown for more than 25 years, was an important outpost in Roman Britain. In fact, it was the most important town outside of London. The Romans named it 'CORINIUM' and AE's design team are proud to name their most significant and impressive loudspeaker to-date after their namesake.
The new CORINIUM loudspeaker is suitable for medium to large sized listening environments and will be available in real wood veneer, matt black, matt white and metallic British Racing Green cabinet finishes at selected authorised retailers next month from £6,000 per pair.
CORINIUM Technical Specifications:
Mid-Range Driver: 120mm Carbon Fibre cone
Bass Drivers: 2 x 140mm Carbon Fibre cones
Tweeter: 29mm Soft dome
Design: 3-way reflex loaded with curved RSC cabinet and aluminium baffle
Frequency Range: 32Hz – 30kHz (- 6dB) / 38Hz – 25kHz (-3dB)
Sensitivity: 92dB/m/2.83v
Power Handling: 200w
Crossover Frequency: 260Hz / 3400Hz
Impedance: 4ohms
Dimensions: 1100mm (inc. spikes) x 235mm x 385mm (HxWxD)
Weight: 40kg (per speaker)
Tags: ACOUSTIC ENERGY LOUDSPEAKER NEWS