DALI Rubicon 6C Wireless floorstanding loudspeakers
The wireless speaker system is nothing new. The desire for convenience drove the wireless speaker's earliest development and. Performance – beyond the 'does it make a sound?' requirement – was initially, at best, an afterthought. But as audio began stepping out of its decades-long 'prissy' phase, many venerable manufacturers of hi-fi electronics and/or hi-fi loudspeakers have been hard at work developing a high-fidelity wireless music reproduction solution, and with companies like BluOS realising that dream, the smart money is on a meeting of minds; the DALI Rubicon 6C floorstanding speakers and accompanying BluOS-based streaming hub is an obvious and logical result.
On the face of it, it's a straightforward enough exercise. From DALI's standing, take a pair of the well-regarded Rubicon 6 three-way floorstanders (which sell for around £3,400 per pair), strap on some amplification and wireless connectivity, and Bob's your close relative. Or, from BluOS's way of thinking, take your Tidal, Qobuz and high-performance network platform and amplifiers (not dissimilar to the £849 Gen3 Powernode), bolt a pair of high-quality loudspeaker towers and all your waterfowl are carefully aligned.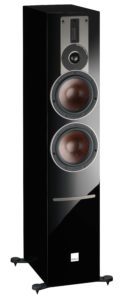 Each Rubicon 6C tower is fitted with a couple of 250w Class D amplifier modules – one powers the wood-fibre mid/bass drivers (which are in a separate chamber, and each of which is augmented by a rear-firing reflex port), the other the hybrid soft dome/ribbon tweeter. Before the amplifier modules do their thing, though, the incoming digital audio information is dealt with by a digital signal processor capable of running at 50m instructions per second. The audio processing aspect is capable of handling 1024 instructions per cycle, and output is governed by a 24bit/96kHz Burr Brown digital-to-analogue converter. The amplifiers are connected directly to the drivers, with all of the required crossover filtering handled by the digital signal processor.
Visual clues to this thorough overhaul of the speakers' innards are fairly subtle. At the rear of the cabinet there is a socket for mains power, naturally enough, and a 'power on/off' switch. A button marked 'Link/Connect' connects the speaker to the BluOS-based Sound Hub. There's also a USB port for firmware upgrades, a set-up display (just to let you know everything is going to plan) and a single RCA socket as a line-in. This last is just in case you don't want your wireless music system to be too wireless.
At the front the changes are, if anything, even more subtle. Each speaker now has a strip of numerous tiny LEDs across its lower portion, acting as tell-tales as to input status, volume level and what-have-you. Otherwise, though, it's business as usual: a cabinet more accurately described as 'purposeful' rather than in any way 'handsome', but built and finished with unarguable expertise. The gloss black finish of our review sample is lustrous, flawlessly applied and collects fingerprints like a particularly zealous scene-of-crime investigator. Each speaker stands on a couple of mildly angular bolt-on outriggers that can be fitted either with spikes or soft feet – both are supplied.
Getting information wirelessly on board the Rubicon 6C is a job for DALI's Sound Hub. It's a reasonably compact (7.6 × 30 × 21.3cm, H×W×D) box with a volume control front-and-centre. There's a small graphic display inside the volume control, giving an indication of volume level. It also shows which input has been selected, via a series of symbols, the most instantly recognisable of which is the Bluetooth rune.