DALI Rubicon 6C Wireless floorstanding loudspeakers
The wireless speaker system is nothing new. The desire for convenience drove the wireless speaker's earliest development and. Performance – beyond the 'does it make a sound?' requirement – was initially, at best, an afterthought. But as audio began stepping out of its decades-long 'prissy' phase, many venerable manufacturers of hi-fi electronics and/or hi-fi loudspeakers have been hard at work developing a high-fidelity wireless music reproduction solution, and with companies like BluOS realising that dream, the smart money is on a meeting of minds; the DALI Rubicon 6C floorstanding speakers and accompanying BluOS-based streaming hub is an obvious and logical result.
On the face of it, it's a straightforward enough exercise. From DALI's standing, take a pair of the well-regarded Rubicon 6 three-way floorstanders (which sell for around £3,400 per pair), strap on some amplification and wireless connectivity, and Bob's your close relative. Or, from BluOS's way of thinking, take your Tidal, Qobuz and high-performance network platform and amplifiers (not dissimilar to the £849 Gen3 Powernode), bolt a pair of high-quality loudspeaker towers and all your waterfowl are carefully aligned.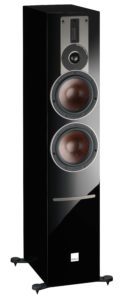 Each Rubicon 6C tower is fitted with a couple of 250w Class D amplifier modules – one powers the wood-fibre mid/bass drivers (which are in a separate chamber, and each of which is augmented by a rear-firing reflex port), the other the hybrid soft dome/ribbon tweeter. Before the amplifier modules do their thing, though, the incoming digital audio information is dealt with by a digital signal processor capable of running at 50m instructions per second. The audio processing aspect is capable of handling 1024 instructions per cycle, and output is governed by a 24bit/96kHz Burr Brown digital-to-analogue converter. The amplifiers are connected directly to the drivers, with all of the required crossover filtering handled by the digital signal processor.
Visual clues to this thorough overhaul of the speakers' innards are fairly subtle. At the rear of the cabinet there is a socket for mains power, naturally enough, and a 'power on/off' switch. A button marked 'Link/Connect' connects the speaker to the BluOS-based Sound Hub. There's also a USB port for firmware upgrades, a set-up display (just to let you know everything is going to plan) and a single RCA socket as a line-in. This last is just in case you don't want your wireless music system to be too wireless.
At the front the changes are, if anything, even more subtle. Each speaker now has a strip of numerous tiny LEDs across its lower portion, acting as tell-tales as to input status, volume level and what-have-you. Otherwise, though, it's business as usual: a cabinet more accurately described as 'purposeful' rather than in any way 'handsome', but built and finished with unarguable expertise. The gloss black finish of our review sample is lustrous, flawlessly applied and collects fingerprints like a particularly zealous scene-of-crime investigator. Each speaker stands on a couple of mildly angular bolt-on outriggers that can be fitted either with spikes or soft feet – both are supplied.
Getting information wirelessly on board the Rubicon 6C is a job for DALI's Sound Hub. It's a reasonably compact (7.6 × 30 × 21.3cm, H×W×D) box with a volume control front-and-centre. There's a small graphic display inside the volume control, giving an indication of volume level. It also shows which input has been selected, via a series of symbols, the most instantly recognisable of which is the Bluetooth rune.
At the back of the Hub there are a series of physical inputs: analogue 3.5mm, stereo RCA, a digital coaxial and a pair of digital optical sockets. There are also stereo RCA pre-outs alongside a subwoofer pre-out, and (naturally enough) there's a 'Link/Connect' button given due prominence. DALI has also included two expansion ports on the back of the Hub, allowing for later upgrades if and when they become necessary. Our review sample has one of its plug-in module slots occupied by a BluOS module that features an Ethernet socket and two USB inputs, and brings MQA certification with it too.
Given that BluOS is among the most stable, most logical and consequently most useful control apps out there, this is undoubtedly a good thing. But there's also a remote control handset included, which covers the obvious functionality.
No matter the source you feed into the Hub, the audio information is delivered to the speakers (using either the 2.4GHz or 5.8GHz band) at 24bit/96kHz. For the purposes of this test, the Hub is connected to a phono stage-equipped Cambridge Audio Alva TT turntable via the stereo RCA inputs, a Cyrus CDt disc transport via digital coaxial, and via Bluetooth (the Hub can handle AAC, apt-X and apt-X HD) using an Apple iPhone X. In other words, although this is notionally a 'next gen' wireless loudspeaker system, it's actually very easy to link to traditional audio equipment, without the haughty dismissal of calling these devices 'legacy'.
Set-up is gratifyingly straightforward – it's little more than 'press the 'Link/Connect' button on a speaker, and then press the corresponding button on the Hub. Then do it again for the other speaker'. After that it's simple to let each speaker know which side of the stereo pair it represents, and from there you're good to go.
An extremely worthwhile 180g reissue of The National's High Violet [4AD] is a good place to start, and the Rubicon 6Cs don't waste much time establishing their credentials. Firing more-or-less straight ahead (DALI has long since suggested this is the best way to position its speakers) and standing a good 30cm from a rear surface, the Rubicon 6C establish a large, easy-to-follow soundstage and, even when playing a slightly murky mix like this, lay it out unequivocally.
There's proper spatial depth and width to the DALI sound here, and a tasteful sort of tonality – just fractionally warmer than 'neutral', with a polite level of bite at the top end and an equally considerate serving of wallop at the bottom. Treble sounds are as airy as they are crunchy (not for the first time, DALI's hybrid tweeter arrangement proves its worth), while the bass equivalents are properly shaped, texturally diverse and marshalled, well, martially. There's just no overhang here; not a hint of blur or uncertainty where the entry into or exit from low-frequency sounds is concerned.
It's in between, though, that the Rubicon 6C is at its most impressive – and it's ably illustrated by a listen to Camera Obscura's Underachievers Please Try Harder [Elefant] as a TIDAL Masters file. A copious amount of detail is revealed in the midrange, and as a result the DALI are communicative at an almost forensic level. No detail of vocal technique, no indication of effort or toil is overlooked. The Rubicon 6C system delivers the complete picture, in an utterly non-judgemental manner.
There's considerable dynamic headroom available for when the going gets properly rowdy, but the DALI are capable of handing over the transient harmonic subtleties of Nils Frahm's The Bells [Erased Tapes] just as readily. And while this system is able to generate quite oppressive volume levels, it retains all its poise and, just as importantly, its full frequency range presence, even when playing at very modest background levels.
Ultimately, though, there's not what you'd describe as a huge difference between the performance of the Rubicon 6C with Sound Hub and a pair of passive Rubicon 6 driven by something like a Naim Nait XS3 integrated amplifier at a broadly similar price. Granted these are different solutions creating very different systems and connectivity options, but this misses the point. This is a wireless system that takes on a highly-respected 'conventional' audio system and stands toe-to-toe with it on performance terms. We started wireless on convenience terms, but just look how far we've come!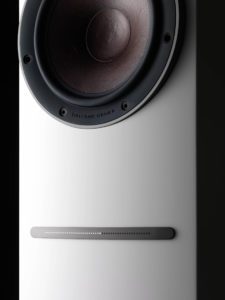 Take it on its own terms and there's plenty to admire about the DALI Rubicon 6C system. It combines an extensive specification (with upgrade potential), impressive workmanship (especially in the loudspeakers themselves, naturally), and expansive, robust and impressively balanced sound. Leveraging the power of BluOS makes it a very potent performer in sonic terms, too. If this is the future of wireless audio, it's in good hands.
TECHNICAL SPECIFICATIONS
 Type: Three-way, four-driver floorstander with ported bass reflex enclosure
Driver complement: 1 × 29mm soft dome tweeter, 1 × 17×45mm ribbon tweeter, 2 × 165mm mid/bass driver
Frequency response: 37Hz–30kHz
Crossover frequencies: 800Hz, 2.6kHz, 14kHz
Sensitivity (voltage strength): 1250
Dimensions (hwd, cm): 99 × 20 × 38
Weight (kg): 46
Finishes: Gloss black, gloss white, walnut
Price: £4,900 per pair, DALI Sound Hub, £549 (£649 with BluOS module)
Manufacturer: DALI
URL: dali-speakers.com
Distributor: DALI UK
URL: dali-speakers.com/uk
Tel: +44(0)1462 337320