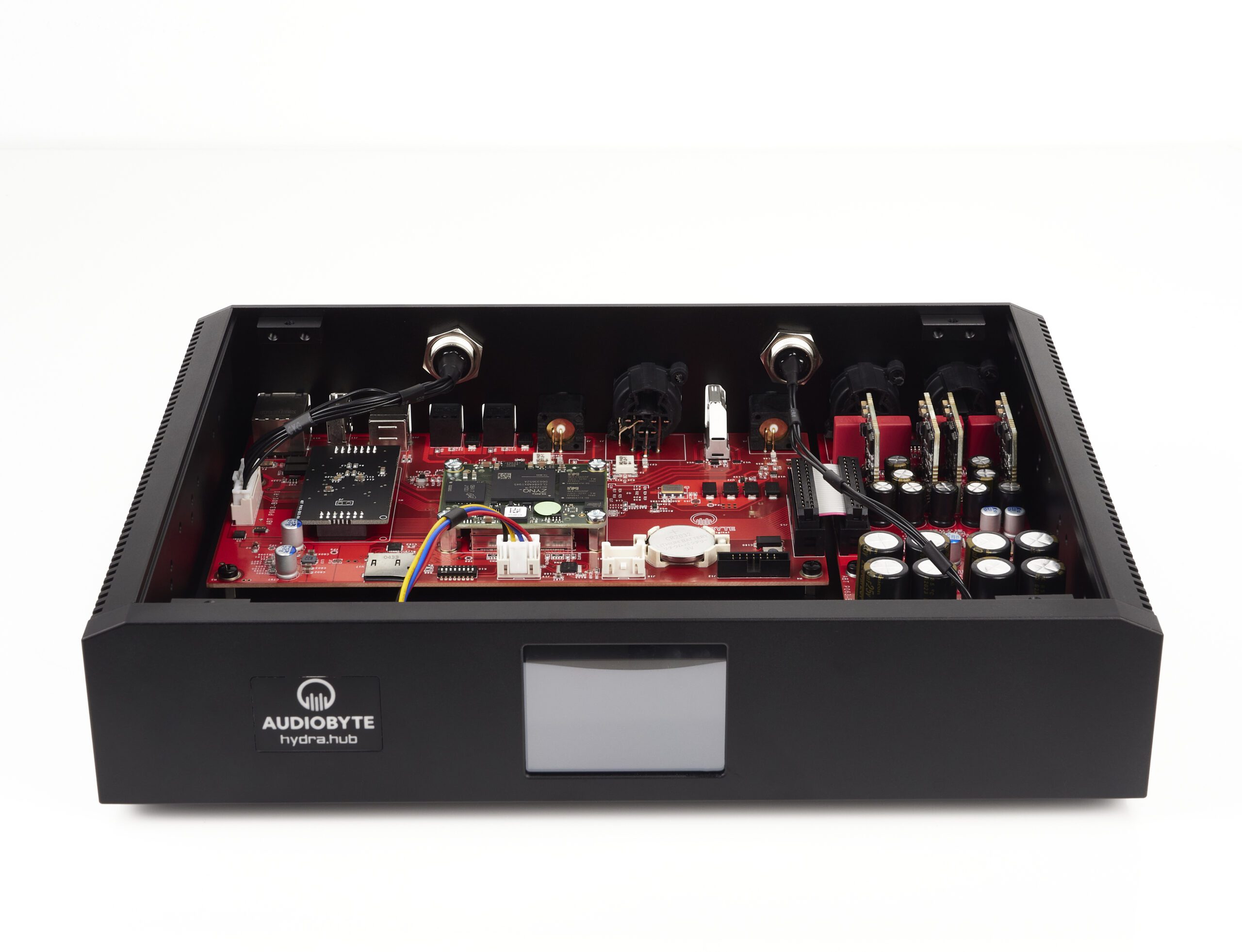 The next generation of digital audio is in full swing. It's an exciting time, but a time that can be tinged with frustration. Where before there was a relatively straightforward pathway to sound ('get CD player, play CDs, maybe add a DAC') there is no one answer to getting good performance from local and online streamed audio. Some of the better ways of addressing the 'good performance' concern take a multi-box approach, and the Audiobyte Hydra.HUB is a powerful new light on that path.
HUB is what it says it is, a digital hub or nerve centre. It's a comprehensive and complete digital audio file transport system, that will upsample, convert formats, reclock and bust jitter, and it includes a slew of old-school and zeitgeisty digital inputs. There's even an option for an analogue XLR input, although this is still on the drawing board, but it does include a 32bit volume control if you want to drive the HUB direct into a digital loudspeaker system or similar. However, in most settings it will be used as a digital administrator, performing its range of functions to let the DAC just do its job with some of the pressure taken off.
There was something of a delay in receiving the Hydra.HUB (when we reviewed Hydra.VOX and Hydra.ZAP its arrival was said to be "moderately imminent"). However, we'll give Audiobyte a free pass this time as we've all been in a strange place recently; just remember that if someone says to you "I saw him a few months ago", currently means "I saw him sometime in the last three or four years" due to the time-dilation effects of the early 2020s.
Naming and Necessity
Perhaps the biggest hurdle to a simpler post-CD digital life is nomenclature and the HUB is a perfect example. The digital audio transport is a network streamer (it's a Roon endpoint and supports HQplayer, Airplay and DNLA), it's a digital receiver (from signals fed through S/PDIF, Toslink and AES/EBU), a USB interface, and that makes it a 'network bridge' in some circles, a 'music streaming hub' in others.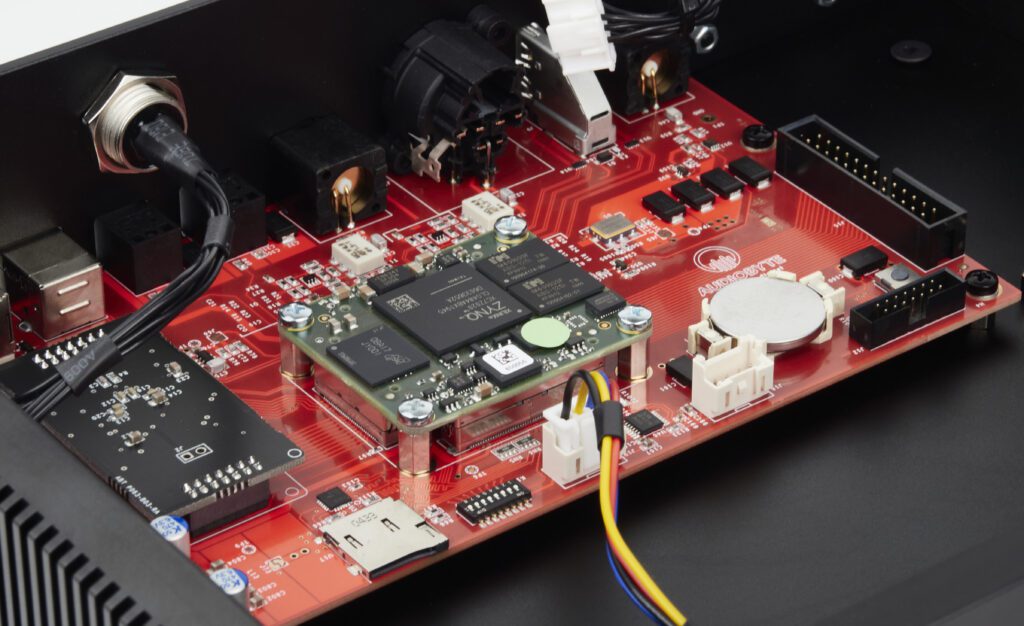 That flexibility goes some way to explaining the manifold naming or categorising of the HUB and I can see that causing some angst among the more linear thinkers among us. But the other way of looking at the HUB is this; if there are so many ways of naming it, doesn't make it more likely to be a necessary addition to our digital systems? If one person needs a product that is a Roon-friendly streamer, another needs a reclocking, upsampling source selector and a third just needs a way to bring modern inputs (like USB and Ethernet) and classics (like S/PDIF and AES/EBU) together… and the same device does these things, it's universally useful, whatever name you use for it.
Adding some ZAP
Audiobyte's Hydra range lives up to the name, with multiple products making an 'all roads lead to…' design. Back in Issue 187, we looked at the first two Hydra components: the Hydra.VOX digital converter and Hydra.ZAP power supply. The Hydra.HUB completes the trio and – like the VOX – requires a ZAP power supply to operate. Fortunately, the ZAP includes two sets of digital and two sets of analogue power supply feeds, so a single ZAP can power both VOX and HUB and those who bought the VOX/ZAP combination in anticipation of the HUB can rest easy knowing there's no need for an additional power supply purchase.
The Hydra.HUB is only an option for Hydra.VOX/ZAP owners. However, the fact that HUB and VOX 'talk' to one another using I2S (over HDMI connections) and share a power supply makes using both eminently sensible.
Hydra HUB is very easy to connect into the Hydra system as the digital power umbilical comes with the unit as standard. Assuming your ZAP is fully charged, the matching front panel display will let you know the unit is up and running, the rest being as simple and intuitive as on the other two Hydra components.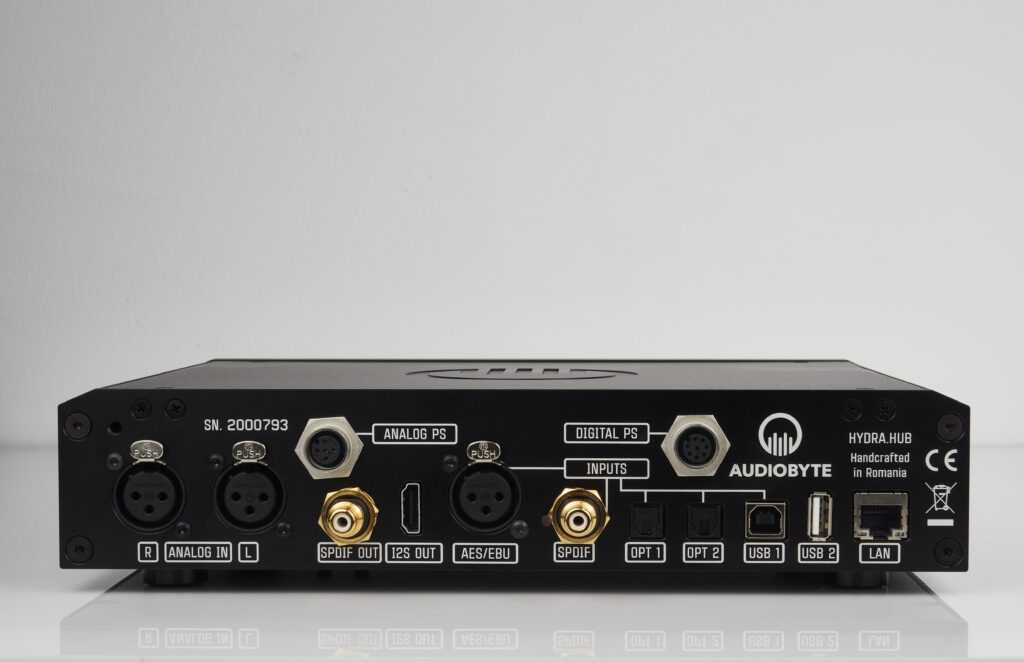 The rear panel is densely packed! Alongside the two power supply sockets, we have an RJ45 Ethernet connector, two USB (Type A and Type B 3.0), two optical (Toslink), one S/PDIF coaxial and one AES/EBU coaxial digital input. The HUB outputs to both S/PDIF and I2S across a standard HDMI lead, the latter being the ideal method of making HUB work with VOX. There are a pair of XLR analogue socket holes blanked off for future use.
The HUB comes into its own when connected to the Ethernet. It then becomes an endpoint for a network streaming system. There is an Audiobyte App (iOS and Android) and all firmware/software updates are easily done by the owner online through the Audiobyte Support Server. This is useful in fine-tuning the three products to work optimally with your choice of streaming services and system.
However, given the HUB's Roon Ready status and that it integrates so well with Roon, it cries out for being used with Roon. At which point, each link in the chain has its own 'heavy lifting' specialism; Roon handles the files, HUB shapes them into their best form, and VOX converts them to analogue. It all works seamlessly and all the performance benefits of the VOX and ZAP we highlighted back in September 2020. Using I2S to connect HUB and VOX isn't just the icing on the cake, but it substantially benefits both in using this pathway as the digital audio datastream is passed from product to product with no manipulation or translation.
Add some polish
There isn't much to say about the sonics of the HUB, because its purpose is to polish up and serve files to a DAC, rather than influence the sound of that DAC. Of course, in polishing up those files, it does have a mild influence over the DAC's performance because the DAC is ultimately doing less work. In the context of an all-Audiobyte system, that means all types of music sound fast and dynamically correct, while soundstaging and overall holography are very good indeed, with lovely depth and stage width and even some height rendition with complex classical material. Overall, that pleasant, very musical and almost ethereal quality and the overall resolution and transparency that marked out the Audiobyte Hydra.VOX as something special are brought into even sharper focus with the addition of the HUB.
Roon functions flawlessly here and Qobuz sounded particularly good, with the whole system easily defining differences in bits and sampling rates of various contents from their library demonstrated the differences through the system admirably.
In a way, it's impossible to view the HUB as a standalone product from a sonic perspective, as so much of what it does from a sonic perspective is wrapped up in the products its connected to. Also, as it makes so much sense to include the VOX and ZAP in the mix (because it's the only way you can buy the Hydra.HUB), any discussion of sonics has to be benchmarked against the Audiobyte trio. No, I don't think the HUB is merely an add-on to the VOX/ZAP combination and there will be people who use the VOX/ZAP with another network bridge or streamer. But if you plot this as a Venn diagram, the two circles would almost fully overlap.
Eagle-eyed observers of all things digital will note there's a family connection between Audiobyte and Rockna, with both product lines coming from the same parent company and even sharing a design team. That also means the same filters (developed for the Wavedream and Wavelight) are used across the two brands. I don't want to focus too much on this connection because the temptation to call Audiobyte 'Rockna-Lite' is as wrong-headed as it is irresistible. But the apple doesn't fall too far from the tree here; while you don't get the bespoke technology of the Rockna combos and that reduces the envelope of performance, but what you get with Audiobyte is an admirably high level of performance in Rockna's own sonic style but in a far more attainably-priced package.
Your digital butler
I started this paragraph thinking that the Hydra.HUB 'brings something special to the Audiobyte table' but in writing that, it unlocked the real power of the HUB. It's a digital butler. It provides you with the right digital sounds when you require while remaining discreetly in the background just making things better. I mean, who doesn't want a Jeeves in their lives, setting out today's clothes then pouring your breakfast without you even needing to go near the cocktail shaker? That's what the Audiobyte Hydra.HUB does for you, just with less gin. As a complete digital front-end, the Audiobyte trio offers one hell of a lot for the money, too!
Technical specifications
INPUTS 1x Ethernet/RJ45, 1x USB Host, 1x USB Audio device, 2x optical/Toslink, 1x S/PDIF coaxial, 1x AES/EBU XLR. 5V/2A fixed, 12..21/ 0.5A Vdc adjustable links for Hydra.ZAP. Optional Analogue XLR input not yet available
Outputs 1x I2S LVDS (HDMI connector) all sample rates, 1x S/PDIF coaxial up to 192kHz/DSD64
Upsampler Hub integrates a high-quality DSP engine (80 DSP blocks in parallel) which will upsample input signal to high rate PCM or DSD. The upsampler can be switched off (bypassed) through control menu
Format conversion PCM-DSD, DSD-PCM, controlled through menu
Jitter attenuation -60dB
Roon, HQplayer, Airplay, DLNA compatible
Price £2,295 (complete system including Hydra.VOX and Hydra.ZAP, £7,000)
Note: Hydra.HUB not available separately except to existing owners of Hydra.ZAP/Hydra.VOX.
Manufacturer
Audiobyte
UK Distributor
Audiofreaks
+44(0)208 948 4153