World exclusive preview: Moon North 791 and 761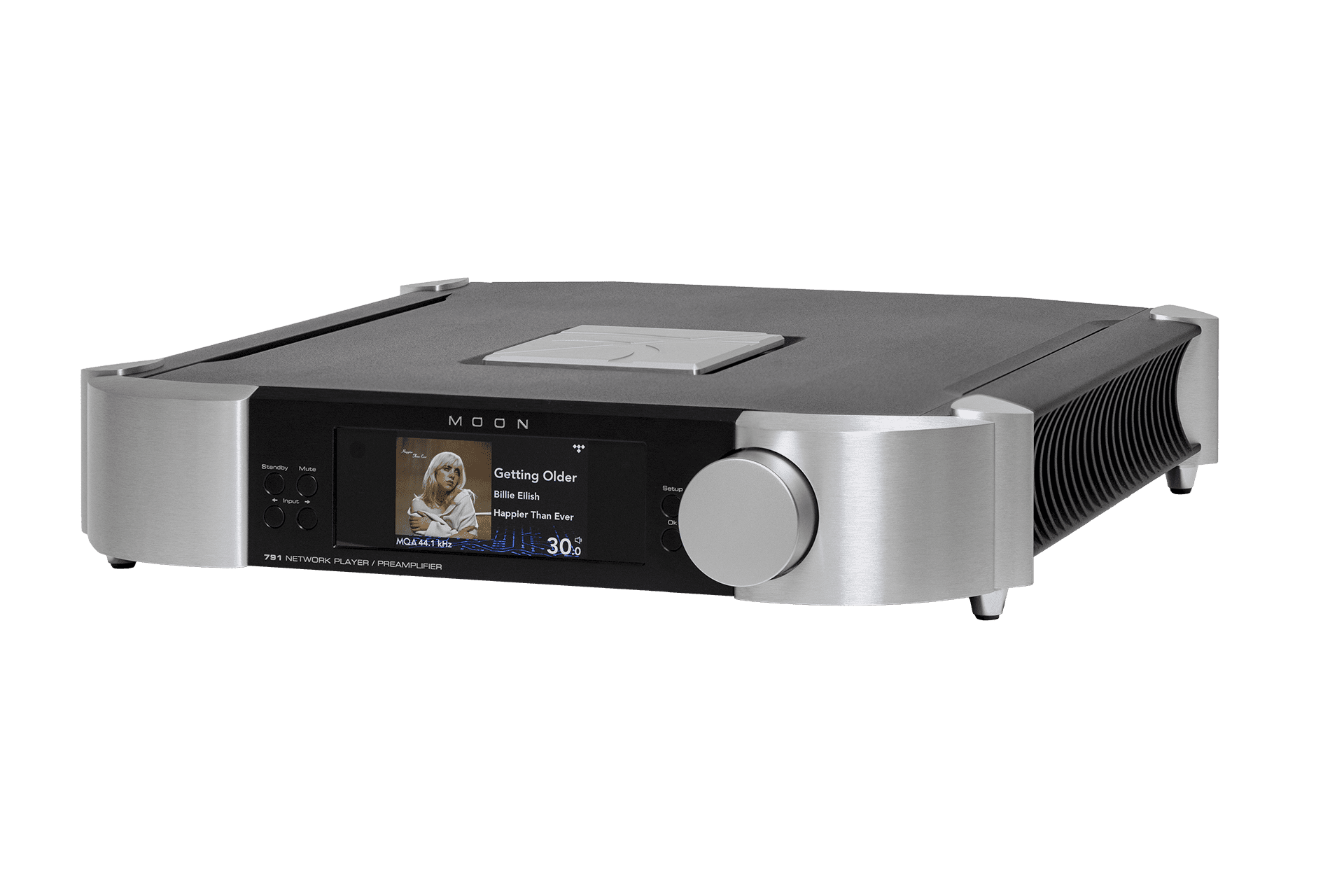 Canadian audio electronics expert Moon by Simaudio has revamped its top-end range. We have exclusive pre-Munich Show access to the new Moon North 791 streaming DAC preamplifier and 761 200W stereo power amplifier.
The new North range by Moon is a six-strong line of electronics. The 791 and 761 are the first two North designs out of the starting gate. They will ship in September. The 125W 641 integrated amplifier and 681 Network Player will follow in October. Finally, the top 891 streaming DAC preamplifier and 300W 861 stereo power amplifier are expected by the end of the year.
Product prices begin at $/£11,000 for the Moon North 641 and $/£12,000 for the Moon North 681. The 791 and 761 previewed here cost $/£14,000 and $/£16,000, respectively. Ballpark prices for the 891 and 861 are $/£25,000 and $22,000/£23,000 respectively.
Moon North: The Joy of Six!
Moon's North project comes with a lot of product consolidation. North's sextet of products replace many devices in the current Moon line-up. A few specialist products will likely join the line later. These should include a top-end phono stage and a power supply. However, a product like the 791 acts as a line preamplifier, network player, DAC and phono stage in one.
This is not distracting people with a new look while slimming down the product line. North distils what was good from previous designs while adding new technology and industrial design. Although the most visible difference is the move to a colour display screen on the 791, the amps bristle with new tech.
Moon's 891 also benefits from the brand's new Moon Damping Base to reduce vibration. Meanwhile, the whole North range underwent a complete cabinet redesign, with the logo on the top plate acting as a chimney. In the process, this made the whole top of the chassis screwless. The Moon North 791 also uses the company's new Moon Distortion Cancelling Amplifier circuit. This is claimed to reduce distortion to 'previously unattainable' levels. A new MoonLink also connects each product, allowing more intelligent control functionality between products.
The bars connecting Moon products are surprisingly popular and retained here. Different bars reflect the redesigned layout, meaning you can only stack existing Moon products with Moon North products if you use a rack. However, the North products look good on a shelf with their redesigned feet and more rounded look. The all-black and all-silver variants of Moon products are not carried North; from here on, it's the 'panda' look of silver edges with black centre panels.
It's all about volume
In speaking with Moon's team, it's clear there is some obsession over volume controls. Most engineers consider the volume control a log jam in an amplifier's design. Moon started from scratch, using an optical encoder that sends volume position data to an analogue circuit at the ideal point in the signal path for attenuation. This results in a claimed error of less than 0.1dB between channels and between volume steps. It also lets Moon remote control the volume using the Bluetooth-controlled BRM-1 handset with its OLED screen.
Moon's MiND 2 app helps a lot here, and the North models build on its strengths. Audio enthusiasts like obsessiveness, but these are products for a broader appeal. The Moon North range is simple to use but not dumbed down. The user interface is a vast improvement over the 'Big Red LED' of its predecessors. Installation is painless. Navigation is intuitive and quick. Operation is stable and bug-free. The only strike against the 791 and 761 is trying to move 36kg of power amplifier around without noticeable handles. This is why I am writing this hunched over in a chair, waiting for the painkillers to kick in instead of making a video. The video will follow.
Don't blame the Moon
I've always liked Moon products for their blamelessness. That's not faint praise. Getting out of the way of the music is more complicated than it seems, but Moon does it well. The amps don't exaggerate or underplay their hand. Music sounds good in all the right ways on Moon without accents and highlights. Stereo separation is good. The dynamic range is great. Detail retrieval is excellent. Vocal articulation is first-rate. And everything hangs together well in a musically entertaining manner. And those perceptions seem hopelessly outdated 10 seconds after hearing what Moon North amps can do.
This is a change of gear, a step change in performance. Moon North products still have that honesty and integrity to the sound. They remain blameless. But now they take that performance to the next level. And about 10 seconds into playing the New Moon, you understand the obsession with volume control. From a whisper to a scream, the amplifiers have consistency. This, too, is rare; amps that play loud often 'fall apart' at lower volumes.
Meanwhile, gentle sonic souls often lack the guts to wield a full orchestra playing Mahler or ear-bursting Motorhead. The precision of the Moon North 791/761 combination means you can play late-night jazz at keeping the neighbours' sweet levels. It also means you can send your Apple Watch into noise-warning apoplexy.
We want it all, and we want it now!
Things would be good if the Moon North 791 and 761 were merely last season's models with better volume control. But that's barely the start of things. Everything is improved. Everyone has a sonic trigger, whether soundstage, absence of noise floor, dynamic contrasts, rhythmic precision, or what have you. Unless your sonic motivation is "I'd like it more veiled and distorted", what pushes your buttons is likely dealt with here.
Above all this, however, the Moon North models make music sound like fun. They are incredibly detailed, and precise and patently come from a place of obsession. Yet, they don't sound sterile or overly accurate. Often, I find amplifiers that are extremely precise to be like that guy on a quiz night, the one that knows what brand of shoes Miles Davis wore but is only interested in music for its trivia. Like its predecessors, the Moon North 791/761 combo is not that guy.
I want to save a more thorough discussion of sound quality for the video (when my spine heals) and the review proper, but these amps live up to what Moon wants to do with its North range; these are products that satisfy the hardened audio enthusiast yet have an effortlessness and ease of use that makes them reach far beyond traditional audio listeners. Finally, the casual and intense listeners have something they can enjoy on their terms and with each other.
And finally…
There's one last thing. Moon has a reputation for long, slow running-in times. The electronics initially sound good but get much better over the weeks and months. Moon North changes that. While the review samples arrived fully run-in, they settled down fast and sounded good out of the box, and 48 hours later they were about 99% there. There will be an improvement over the first few months of use, but Moon North settles in quicker than its predecessors!
Moon's North launch is impressive. It combines flexibility and ease of operation with some clever design aspects (both product and electronics), making a product that redefines the high-end even more than Moon did with the previous range. Unless you like a separate box for each operation and big red LEDs, I can't see why you wouldn't want to head North.
Contact Details
Manufacturer:
UK Distributor
Tel: +44(0)131 555 3922
Tags: 761 791 MOON MOON BY SIMAUDIO MOON NORTH MOON NORTH 791 STEREO POWER AMP STREAMING DAC PREAMP