Thales TTT-Slim II, Simplicity II, X-quisite CA turntable, arm and cartridge
Switzerland is home to more than watchmakers, cocoa-wranglers and discreet bankers; it's also a hotbed of high-end audio manufacturers whose wares have been making their way to our shores for some time. Those with long memories will recall brands like Revox and its pro arm Studer, Goldmund and no doubt a few more. Another legend is EMT, which largely operated in the pro arena but now makes generators for MC cartridges. EMT might be the best known of the trio, but is actually now a sister brand to Thales and X-quisite owned by engineer/entrepreneur Micha Huber.
Thales started out making tonearms with the distinction of tangential headshells, that is the angle of the headshell changes as the cartridge traverses the vinyl. This is a clever way of getting around the fact that traditional pivoted arms are perfectly aligned at only two points on the vinyl, the rest of the time the stylus is not parallel to the groove and therefore tracking is compromised. Tangential headshells are not a new thing, I recall hearing a wooden one fitted to a Garrard 301 with a Decca MkII cartridge from the 1950s once, it was more than thrilling but probably less than accurate. However, it's uncommon to see them among today's high-end offerings. The intrinsic problem is maintaining rigidity whilst allowing the correct degree of movement.
The name Simplicity II does not indicate that it was easy to design, manufacture and build but rather that set-up is relatively straightforward, as long as you 'RTFM'. Thales has come up with an arrangement of two arm tubes that are joined at the bearing and headshell and share a split counterweight. The headshell such as it is fixed by two precisely tensioned bolts that allow it to change angle but remain as rigid as possible. Fitting a cartridge is a two-stage process, first you fix the cartridge to a shoe and then you slide that shoe sideways onto the plate at the end of the arm, fixing it in place with a very small grub screw. Thales supply all the tools required to set up the turntable and arm in this package but in practice, I only needed to use two, and of these the 0.9mm Allen key got the most use.
Installing and setting up expensive cartridges is nearly always a nerve-racking process, so it's good to see that Thales does its best to reduce the stress. In order to align a cartridge in the Simplicity II once it has been bolted to a shoe, there is a rather nicely finished and substantial jig that you slide the shoe into and align using a grid on its Perspex cover.
The TTT-Slim lives up to its name with an aluminium plinth that's only 27mm thick but thanks to some clever machining looks even thinner. It's suitably weighty, however, especially when the platter is in place. The drive system is neatly hidden beneath this aluminium platter and consists of a large Delrin hub driven by a motor that's decoupled to some extent by spring-like fixings on either side. Drive is from a DC motor via a thin, round section belt. The bearing is a hardened steel shaft in a bronze bushing set into a cast-iron case. The power for the motor is provided by rechargeable batteries within the plinth, which allow this turntable to run for up to 20 hours according to the manual. A charger is supplied and can be left plugged in at all times but equally, it can be removed during playback to achieve electrical isolation. I encountered hum problems with the Thales in my system and found that removing this connection cured them by breaking a ground loop.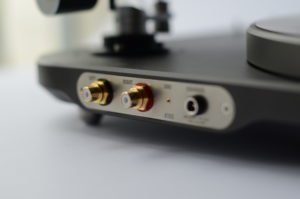 The TTT-Slim and Simplicity II combo can be had with full arm wiring or with plinth mounted RCA outputs, I reviewed the latter and used Townshend Fractal interconnects. Thales supplied an X-squisite CA, this is a moving coil cartridge with a micro ridge stylus on the end of a single piece or monobloc cantilever and coil body. The main cartridge body is made of wood and aluminium and the coils themselves are pure copper.
Tags: ARM CARTRIDGE THALES SIMPLICITY II THALES TTT-SLIM II THALES X-QUISITE CA TURNTABLE