Thales TTT-Slim II, Simplicity II, X-quisite CA turntable, arm and cartridge
Switzerland is home to more than watchmakers, cocoa-wranglers and discreet bankers; it's also a hotbed of high-end audio manufacturers whose wares have been making their way to our shores for some time. Those with long memories will recall brands like Revox and its pro arm Studer, Goldmund and no doubt a few more. Another legend is EMT, which largely operated in the pro arena but now makes generators for MC cartridges. EMT might be the best known of the trio, but is actually now a sister brand to Thales and X-quisite owned by engineer/entrepreneur Micha Huber.
Thales started out making tonearms with the distinction of tangential headshells, that is the angle of the headshell changes as the cartridge traverses the vinyl. This is a clever way of getting around the fact that traditional pivoted arms are perfectly aligned at only two points on the vinyl, the rest of the time the stylus is not parallel to the groove and therefore tracking is compromised. Tangential headshells are not a new thing, I recall hearing a wooden one fitted to a Garrard 301 with a Decca MkII cartridge from the 1950s once, it was more than thrilling but probably less than accurate. However, it's uncommon to see them among today's high-end offerings. The intrinsic problem is maintaining rigidity whilst allowing the correct degree of movement.
The name Simplicity II does not indicate that it was easy to design, manufacture and build but rather that set-up is relatively straightforward, as long as you 'RTFM'. Thales has come up with an arrangement of two arm tubes that are joined at the bearing and headshell and share a split counterweight. The headshell such as it is fixed by two precisely tensioned bolts that allow it to change angle but remain as rigid as possible. Fitting a cartridge is a two-stage process, first you fix the cartridge to a shoe and then you slide that shoe sideways onto the plate at the end of the arm, fixing it in place with a very small grub screw. Thales supply all the tools required to set up the turntable and arm in this package but in practice, I only needed to use two, and of these the 0.9mm Allen key got the most use.
Installing and setting up expensive cartridges is nearly always a nerve-racking process, so it's good to see that Thales does its best to reduce the stress. In order to align a cartridge in the Simplicity II once it has been bolted to a shoe, there is a rather nicely finished and substantial jig that you slide the shoe into and align using a grid on its Perspex cover.
The TTT-Slim lives up to its name with an aluminium plinth that's only 27mm thick but thanks to some clever machining looks even thinner. It's suitably weighty, however, especially when the platter is in place. The drive system is neatly hidden beneath this aluminium platter and consists of a large Delrin hub driven by a motor that's decoupled to some extent by spring-like fixings on either side. Drive is from a DC motor via a thin, round section belt. The bearing is a hardened steel shaft in a bronze bushing set into a cast-iron case. The power for the motor is provided by rechargeable batteries within the plinth, which allow this turntable to run for up to 20 hours according to the manual. A charger is supplied and can be left plugged in at all times but equally, it can be removed during playback to achieve electrical isolation. I encountered hum problems with the Thales in my system and found that removing this connection cured them by breaking a ground loop.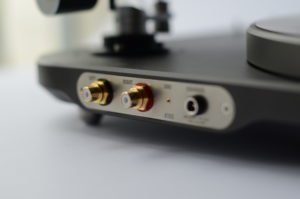 The TTT-Slim and Simplicity II combo can be had with full arm wiring or with plinth mounted RCA outputs, I reviewed the latter and used Townshend Fractal interconnects. Thales supplied an X-squisite CA, this is a moving coil cartridge with a micro ridge stylus on the end of a single piece or monobloc cantilever and coil body. The main cartridge body is made of wood and aluminium and the coils themselves are pure copper.
Setting up the Simplicity II arm is eased by the provision of a counterweight that's designed for this cartridge but what's unusual about Thales twin arm arrangement is that it doesn't inherently provide the same tracking weight at all points across the record. You need to check both inner and outer downforces and rotate the rearmost part of the counterweight to compensate; it was necessary to turn it such that the mass was entirely on the inside to offset higher downforce at the centre of the record. I also used the azimuth adjustment to make the cartridge vertical above the platter. The platter itself is covered with a smooth rubber-like material and this combined with the optional non-threaded clamp ensures that the vinyl is well damped.
The sound reflects this to some extent with a darker balance than average but one that has plenty of scope for delivering energy and solidity of sound. It has an appealingly unflappable quality that suggests it will cope with whatever is thrown at it, what you get is no more intense or aggressive than the recording requires and that is not something that all turntables can achieve. It also gives a sense of inky black backgrounds that allow the tonal character of instruments and voices to stand out.
Live recordings are delivered with a strong sense of scale and image depth and the better studio productions can sound superb. Joni Mitchell's Mingus [Asylum] being one clear example where everything sounded spot on, the voice stood out with beautiful tone and nuance and it felt as if you could hear right into the studio. Making it particularly easy to appreciate the efforts of the various top-notch musicians Mitchell gathered for this project; Jaco Pastorius, Herbie Hancock, Wayne Shorter, Peter Erskine being the best known but even the percussion playing is in the top flight. All of this is revealed by the way that this Thales record player shows you not only what and how each note is created but, equally important, ensures that those notes stop and start precisely and allow what artists call the negative space, the quiet between notes to be clarified as well. I forgot to put the clamp on initially with this album so got to hear the way it solidifies the bass and adds definition to leading edges when it's added. On some turntables clamps are not always beneficial but here it brings obvious increases in resolution.
Bass is a strong point on the Thales. The low-end is both solid and particularly articulate. I often play a hi-res digital version of 'The Drycleaner from Des Moines' on a streamer and digital usually has advantage in the bass but this record player made it clear that vinyl can compete in this arena where there is fine detail to be extracted from an analogue recording. Tonal character is usually an area where good turntables excel and that's certainly the case here, on Conjure's 'Skydiving' [Music For The Texts Of Ishmael Reed, American Clavé] instruments like congas really pop out of the speakers and there is strong contrast between the various horns, guitars and sounds in this rich mix with all elements getting to occupy a space in the soundstage. This is relatively easy with smaller ensembles but the Thales can do it with larger bands too.
With really big bands like the National Symphony Orchestra [España, Chasing the Dragon] you get a really inky black background that allows the solo voice of Rosie Middleton to project a powerful image, the backing delivering real dynamics thanks to the solid low end of the turntable. With the contemporary folk rock vibe of Ryley Walker's Golden Sings That Have Been Sung [Dead Oceans] it feels like the Thales is opening up the recording and giving a sense of expanded time, the relaxed nature of the songs and the depth of tone being particularly enthralling.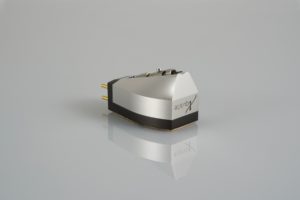 This Thales package combines technologies like battery power and a tangential headshell that few other record players offer. Build quality is in the premier league and finish superb, so there's a lot to like. But ultimately it's the way it makes all manner of music engaging and accessible that's important; these technologies have been harnessed in the service of the music, which is the way it should always be.
TECHNICAL SPECIFICATIONS
TTT-Slim II
Type: Battery-powered, DC-drive turntable.
Rotational Speeds: 33 1/3 RPM, 45 RPM.
Drive Mechanism: Belt driven via brushless DC motor
Speed Control: Closed loop controller with ultra-precise reference voltage
Platter Type: 12-inch aluminium platter with high density rubber mat
Platter Weight: 4kg
Bearing Type: hardened carbon tool steel in sintered bronze bushing in graphite cast iron housing
Plinth Configuration: Rigid, on optional damped base
Dimensions (HxWxD): 100 x 423 x 305mm
Weight: 12kg
Simplicity II tonearm
Type: Five axis micro bearing-equipped tonearm.
Tonearm Length: 9 inches
Effective mass: 18g
Offset Angle: variable.
Signal Cable Length: Various options available.
Weight: 650g
Price: £11,250 including Simplicity II arm
X-quisite CA
Type: Low output moving coil phono cartridge.
Stylus/Cantilever: Micro-ridge diamond tip on monobloc ceramic cantilever.
Tracking Force: 1.9 – 2.1g
Load: 400 – 800 Ohms
Compliance: 12µm/mN.
Output (at 5cm/s): 0.3 mv
Weight: 14.8g
Load: 400–800 Ohms
Compliance: 12µm/mN
Output (at 5cm/s): 0.3 mv
Weight: 14.8g
Price: £7,500
Manufacturer: HiFiction AG
URL: tonarm.ch
UK Distributor: Fi Audio
Tel: +44 (0)1563 574 185
URL: fiaudio.co.uk
Tags: ARM CARTRIDGE THALES SIMPLICITY II THALES TTT-SLIM II THALES X-QUISITE CA TURNTABLE