Sonus faber Lumina II stand-mount loudspeaker
There was a time not so long ago when Sonus faber was the only Italian loudspeaker brand that had any real profile in Britain. Thanks largely to the efforts of the distributor at the time, the brand enjoyed a high-end reputation matched only by the beautiful finishes of the speakers themselves. We now know there were many other Italian speaker builders many of whom employed the walnut stave cabinets favoured by Sonus faber, but they never cracked the UK to the same degree. The company became part of a much larger organisation a decade ago but its early success means Sonus faber still has a favoured status on these shores, one that should become more widespread with the introduction of the relatively affordable Lumina range.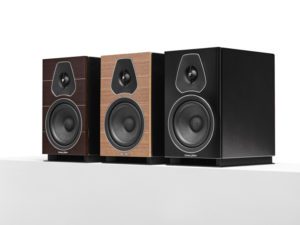 The Lumina II is the larger of two stand-mounts in the range and was introduced earlier in the year to cover a variety of roles for the music and movie enthusiast. A front-firing slot port is discreetly placed under the front baffle which means it can genuinely be placed in a bookshelf for stereo or surround channel duties, best results for music will of course be achieved with the Lumina II on a stand but it's nice to have this option. The cabinet comes in three variants, all of which look very swish; my preference is for the dark wengé veneer with maple inlays forming horizontal stripes but the lighter walnut with the same pattern of inlay is very nice too. The third option of piano black is probably more to British tastes, however, but it would be interesting to know what the market for a more sophisticated stand-mount actually buys. All three baffle finishes are complemented by a leather wrap and the cabinet sits atop a shallow fluted base that provides the reflex port. The back panel offers bi-wire terminals to keep the cable enthusiasts happy but one wonders how many of the style aficionados that go for a speaker like this will want more wire than is absolutely necessary for their minimalist condos.
Under the skin, this Lumina is more substantial than the fancy finish suggests with a multilayer wooden front baffle to give the pair of drivers a rigid foundation from which to operate. The main mid/bass driver is a six-inch (150mm) unit with a paper cone that's made by Sonus faber and appropriately but subtly branded, it's centred by a rubber roll surround. The tweeter is one of Sf's DAD or damped apex dome types which are designed to combat phase issues and thus provide better high-frequency results. It's a silk dome with a roll surround that brings the diameter up to a large 29mm.
The Paracross topology crossover is what Sonus faber calls a 'semi-balanced' circuit where some of the reactive components (capacitors and inductors) are placed in the negative rail of the circuit. Apparently, this reduces sensitivity to RF interference, which is not something that gets mentioned often in regard to speakers but has got to be a good thing. There is nothing specific about setting up the Lumina II in the owner's manual but there are some good basic set-up suggestions along the lines of putting speakers and listening position at points a third of the way from the front and rear walls. I used 60cm Custom Design FS104 Signature stands and started off with the Lumina IIs fairly close to the rear wall and toed in toward the listening position, a third of the way across the room approach doesn't usually work for me and gives a small speaker like this no help in the bass.
With a powerful modern recording from Christian Scott [Yesterday You Said Tomorrow, Concord Jazz] they sounded pretty potent, delivering a good deal of the torquey drum sound and the intensity of the trumpet without losing composure. The 86dB/4 Ohm load is not very sensitive but they seem to handle power well for their size albeit there is a tendency for the upper mid to project better than lower frequencies. This combined with good dispersion does enable them to deliver well defined, three-dimensional imaging and may also have something to do with the snappy sense of timing. It's not a bright sound but it is a fast one, bass extension is clearly limited by the foot high box an inch of which is taken up by the integral plinth, but the Lumina II is not a lean sounding speaker. Rather it's one that plays to its strengths, some small speakers are voiced to have bass that is impressive but because this isn't what physics likes they tend to fatigue with extended exposure. The Lumina II doesn't pretend to be a bigger box than it is but concentrates on delivering a revealing and controlled mid and treble with just enough low-end extension. The fact that there is a subwoofer in the Lumina range indicates that those after more bass welly but want a compact speaker would be best advised to invest in one.
I also tried putting the Luminas as close to the wall as the speaker cables would allow in an effort to extract a bit more bass but eventually realised that what they really need is space for the sound to unfold in. And at 60cm from the wall, everything came together with a sense of spaciousness that was very inviting appearing with nearly every track played. I also swapped the Moor Amps Angel 6 power amp for an ATC P2 which has, for want of a better word, a thicker sound. The deal with speakers is finding an amplifier that matches, and in this instance, the ATC proved the better choice because it took some of the emphasis of the upper notes and warmed up the lower end of the spectrum, which allowed the Sonus fabers to sing in very appealing fashion almost regardless of what was coming through them.
Bob Marley's 'Natural Mystic' [Exodus, Island] was perhaps asking too much given that it has some seriously low notes on it but when it comes to defining rhythms these speakers are bang on the money; picking up the rhythm guitar and giving a taste of the bass line's texture if not plumbing its depths. This in the context of an open and reverberant image that really seemed to be breathing in the room. Laurie Anderson's 'Gravity's Angel' [Mister Heartbreak, Warner Bros] was likewise beautifully spacious and pacey with both Anderson and Peter Gabriel's vocals beautifully defined. This is a great recording and allowed the system to be cranked up without the Luminas complaining; in fact, they seemed to excel and produced greater image depth under fire.
I've been revisiting Joni Mitchell's album Mingus [Asylum] a bit recently and have been playing 'Sweet Sucker Dance' in particular, this is a relatively sparse arrangement of voice, soprano sax, bass and drums but given that it's Wayne Shorter, Jaco Pastorius and Peter Erskine there's plenty to enjoy when these musicians are given a bit of space to work in. Then you have the voice of course and that is particularly well served by these Luminas, something that became apparent across a number of tunes, that said I play a lot of instrumentals and these worked well too. One example is the combination of Indian and jazz instruments on Sarathay Korwar's My East is Your West [Gearbox], which is a great live recording that abounds with energy when things get going. They really do this on the crescendo of 'Malkauns Part 2' when the ten musicians raise the roof in the reverberant church venue, and this worked surprisingly well on the Luminas. You can't wind the wick up all the way but they do deliver a strong sense of the excitement and vibrancy of the performance.
This was also present in some Haydn String Quartets to which these Sonus fabers seemed particularly well suited; their ability to articulate mid and high frequencies really came into its own with the gutty sound of original instruments and the scale of the soundstage dwarfing the cabinets themselves. This might be a bookshelf speaker in execution but like many others, it works wonders where there is some space for it to fill with sound. In the Lumina II, Sonus faber has managed to deliver many of the qualities that made its loudspeakers stand out from the crowd back in the day. The size brings its limitations but those do not get in the way of producing an inviting and spirited sound.
TECHNICAL SPECIFICATIONS
Type: Two-way, two-driver stand-mount monitor with front-ported bass reflex enclosure
Driver complement: One 29mm silk dome tweeter, one 150mm paper cone mid-bass driver
Frequency response: 55Hz–24kHz
Crossover frequency: 1.8kHz
Impedance: 4 Ohms
Sensitivity: 86dB/2.83V/1m
Dimensions (H×W×D): 304 × 180 × 263mm
Weight: 5.8kg/each
Finishes: Walnut/maple, wengé/maple, piano black
Price: £999 per pair
Manufacturer: Sonus faber SpA
URL: sonusfaber.com
Distributor: Fine Sounds UK
URL:finesounds.uk
Tel: +44 (0)1592 744710