Rosson Audio Design RAD-O planar magnetic headphones
Imagine for a moment you're in the happy position of being able to specify a custom finish for the expensive open-backed headphones you've ordered from one of the most significant new figures in the whole of Headphoneland. Within reason, pretty much any finish that takes your fancy is possible. What would you go for?
Whoever specified the finish of my review sample of Rosson Audio Design's superlative RAD-O open-back planar magnetic headphones apparently asked for 'Grateful Dead's kitchen worktop'. There's no accounting for taste, I suppose.
Still, no matter how your RAD-O end up looking, you can be sure they have hardcore hi-fi credibility. Alex Rosson has been around the music and electronics industries for decades – he's one of the founders of Audeze, he's put a significant shift in at Technicolor, he's a musician and a record-label owner. When Montblanc wanted to ensure its MB-01 noise-cancelling headphones weren't simply perceived as a vanity project by a company of dilettantes, it called Alex Rosson. And it ended up with a truly impressive-sounding pair of headphones as a result.
So after putting in the hard yards as a background mover and shaker, it's time for Alex Rosson and Rosson Audio Design to take centre stage. And as an opening salvo, the RAD-O are quite the statement of intent.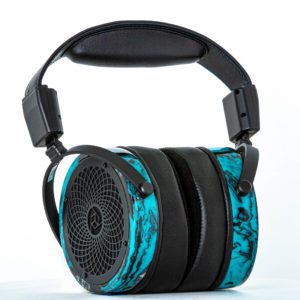 Psychedelic finish aside, the RAD-O are an extremely serious proposition. The entire arrangement orbits around a 66mm planar magnetic transducer that's both designed and manufactured by Rosson Audio Design in California. It's made from a low-mass composite material, and it's fitted with an array of 11 rare earth N52 magnets – the intention is to keep size and weight at manageable levels while offering as balanced, detailed and controlled a sound as possible.
The transducer is mounted in an open-backed frame, the retaining ring of which can be constructed from any material that can realistically fit into the Rosson casting mould. Micarta is a go-to material, but wood, rock and/or gems are all viable. Apparently one customer (whose anonymity is understandably guaranteed) requested the ashes of a departed loved one be incorporated. And, as I say, someone has acquired a section of Jerry Garcia's kitchen counter and had it turned into the housing of the RAD-O I'm listening to. If it can be cast, it can be used – and once it's cast, Rosson's team sand and polish the resulting ring zealously before the holes for input ports and yoke are drilled.
Despite offering a remarkably wide range of possibilities where materials are concerned, though, Rosson is anxious to keep the weight of the RAD-O manageable and the comfort uncompromised. Supposedly no pair will ever weigh more than 650g – which is nonetheless a not-inconsiderable number, so Rosson attempts to mitigate this figure by very carefully focusing on headband curvature, clamping force and earpad density. Certainly my review sample stays comfortable for literally hours on end (the rakishly angled earpads help no end in this respect), adjusts with real solidity and generally feels much lighter and less cumbersome than it looks. These are big headphones, though, no two ways about it – so don't go thinking RAD-O ownership is for everyone. Those of smaller cranial dimensions will have to look elsewhere.
You can take quality of assembly for granted, and ditto longevity. The parts of the RAD-O that are supposed to move do so with an almost decadent sensation of damping, while the parts that aren't supposed to move simply don't.
And to keep your RAD-O in tip-top condition, they're supplied with the sort of heftily padded, flagrantly over-engineered travel-case you might reasonably expect to see handcuffed to the wrist of a burly man in a suit and sunglasses. In the case there's a 2m length of nylon-shrouded OFC cable, terminated at one end with a 3.5mm plug and at the other end with two dual-mono 3.5mm plugs marked 'L' and 'R'. There's also a 6.3mm adapter. Alternatives are available, including 4.4mm and XLR balanced options.
The open-backed configuration, the price, the length of the supplied cable and the, um, idiosyncratic looks all dictate the RAD-O are for domestic (and, ideally, solitary) use. For the purposes of this test, they are connected to the headphone output of a Naim Uniti Star and of an EarMen TR-Amp attached to a MacBook Air. Sources extend to the Naim's disc drive, a Clearaudio Concept turntable with a Leema Elements phono stage sitting between it and the Naim, and Qobuz and Tidal top-tier, high-resolution streaming accounts.
It turns out there's nothing mysterious about the Rosson Audio Design RAD-O, no shyness of which they need to be disabused, no secrets of performance that can only be teased out after an extended listen. The RAD-O lay their cards on the table right from the off.
And it doesn't really matter if you (as I have throughout this test) are listening to a 180g reissue of Nina Simone's deathless In Concert (Live at Carnegie Hall, New York, 1964) [Philips/UMG], the MQA equivalent via Tidal Masters, a compact disc of My Bloody Valentine's Loveless [Creation], Prokofiev's Piano Concerto No. 3 [Deutsche Grammophon] performed by Martha Argerich and the Berliner Philharmoniker as a 24bit/96kHz Qobuz stream, or a vinyl copy of The Bug's London Zoo [Ninja Tune], the broad results are the same. The RAD-O are an uncoloured and unopinionated listen, seemingly on a mission to ensure you're completely and explicitly informed.
The implacable low frequencies of The Bug's 'Poison Dart' are served up with depth and substance, carry an absolute stack of information regarding both texture and their origin – and yet they're utterly controlled. Too often this kind of bottom-end presence is undermined by ill-disciplined entry into or exit from individual notes, but the RAD-O brook no argument – and as a consequence, Warrior Queen's imprecations in the midrange are beautifully poised and defined, alive with both detail and malevolence.
'Malevolence', in fact, is what the RAD-O extract, in quantity, from Nina Simone's hair-raising pass through Brecht and Weill's 'Pirate Jenny'. No detail is too transient or too minor to escape the attention of these headphones, and the result is a complete description of a vocal performance peerless in its intensity. Few are the singers who can inhabit a lyric like Nina Simone, and few are the headphones that will give you such a vivid account of her doing so.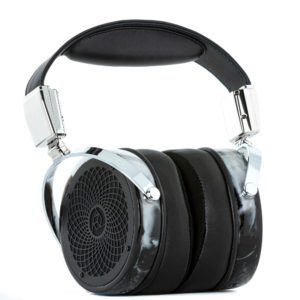 And when Martha Argerich extends her right hand towards the upper register of her instrument during her staggeringly eloquent run at the Prokofiev pieces, the headphones' treble response proves the equal of everything happening beneath it. The RAD-O has attack and bite to spare where the highest frequencies are concerned – but, yet again, the almost martial control these headphones exhibit means there's never any danger of hardness, or blurring of the edges of an individual key-strike.
The integration from the top of the frequency range to the bottom is seamless, consistency of tonality is unquestionable, and the impression of straightforward transparency is difficult not to admire. The RAD-O simply get out of the way of a recording and let it express itself, for better or worse – they do not stick their oar in. In fact, on this evidence one would question whether they even have possession of an oar in the first place.
Perhaps 'Only Shallow' by My Bloody Valentine is the most revealing of the myriad talents of the RAD-O. For 30 years this recording has been celebrated as a leading example of the 'pea-souper' school of mixing – always close to collapsing under the weight of its own overdriven amplification and ample feedback. But the RAD-O allow an insight into the structure, the harmonic dynamism and carefully arranged chaos of the recording, allowing greater understanding of the methods and intent of the band than is usually available. It's still a pummeling recording, of course, but in the hands of Rosson Audio Design that's no longer the be-all and end-all.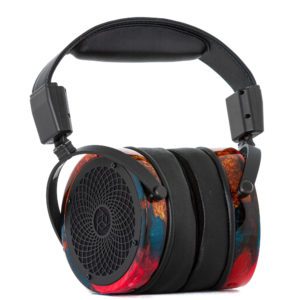 So you can be assured, then, that £2,495 put Rosson Audio Design's way buys you some extraordinarily capable and communicative headphones that will offer you a lifetime of sonic fulfilment. You need only make sure you select a finish you can live with for many years to come.
TECHNICAL SPECIFICATIONS
Type: Over-ear
Drivers: 66mm magnetic planar
Frequency Response: 5Hz – "beyond audible range"
Impedance: 28 Ohms
Noise cancellation: none
Distortion: <1% at 1mW/1kHz
Sensitivity: 95dB
Accessories: protective hard case; 2m dual-mono 3.5mm – 3.5mm nylon-jacketed OFC cable; 6.3mm adapter
Weight: under 650g
Price: £2,495
Manufacturer: Rosson Audio Design
UK Distributor: VAL HiFi
URL: valhifi.co.uk