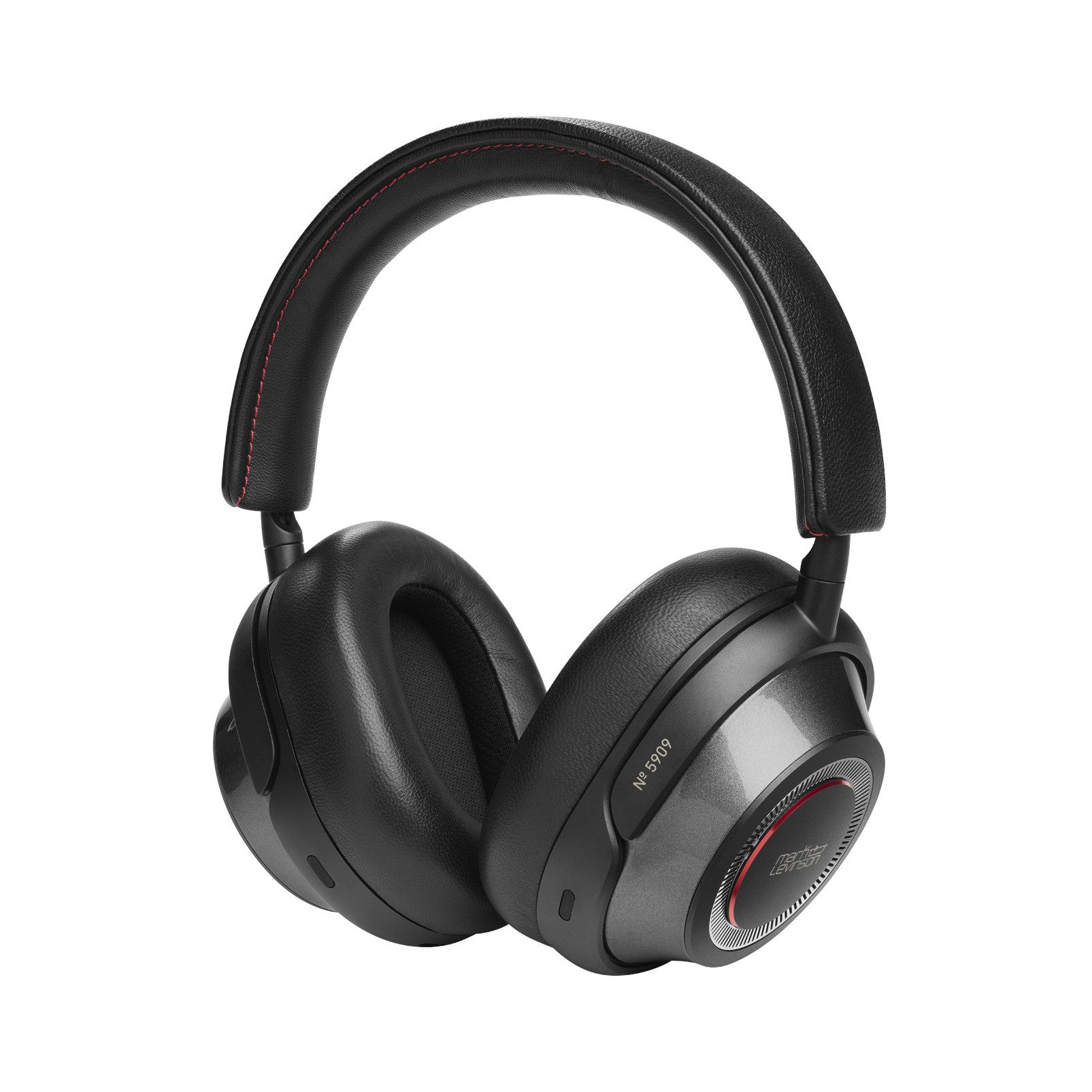 Sony? Bose? Much too commonplace. Bowers & Wilkins? Bang & Olufsen? A little bit try-hard, aren't they? So what's a well-heeled and informed audiophile to do when it comes to choosing a pair of wireless, over-ear, active noise-cancelling headphones with which to slay the other occupants of the Business Class Departure Lounge?
 Well, a well-heeled, informed audiophile could do a lot worse than investigate the many and various charms of the headphones-shaped hat that Mark Levinson has just tossed into the ring.
 The No. 5909 wireless, over-ear, active noise-cancelling headphones are currently the least expensive product in the entire Mark Levinson portfolio. 'Least expensive' doesn't automatically equate to 'affordable', though, especially not in this instance – a pair of No. 5909 will set you back a quid shy of one thousand pounds. On the other hand, this is Mark Levinson we are talking about; a decidedly high-end name, whether in its traditional two-channel audio guise, or as the ICE system of choice for owners of the distinctly high-quality Lexus-brand cars and SUVs. Looking it from the ground up, the No. 5909 is currently the cheapest way to gain entry to the Mark Levinson luxury brand lifestyle.
Whiff of premium
Which means the No. 5909 need to have a bit more about them than a desirable logo on the earcups and a whiff of premium leather when their packaging is first opened.
Mind you, there's no denying the olfactory impact the No. 5909 make when first you take them from their (unnecessarily colossal) box. Sitting in their own little tray above an equally lavish and tactile semi-hard carry-case, these headphones look the part as well as that high-quality and flawlessly applied leather across the headband and on the (replaceable, memory foam-filled) earpads, the automotive gloss metallic paint and the anodised aluminium that compromises the frame looks and feels the business.
Even the plastic bits (the earcups themselves, mostly) feel good and look relatively sophisticated. And when you add in usefully compact dimensions (the earcups are deep enough to protrude from the wearer's head in the classic Cyberman fashion, but at least the frame doesn't leave those acres of space between it and the sides of the head that are common in less thoughtful designs) the No. 5909 seem a thoroughly judicious proposition before you've even heard them. Heck, even the complement of cables and accessories in the carry-case's internal compartment (USB-C to 3.5mm in 4m and 1.25m lengths, USB-C to USB-C, USB-A to USB-C adapter, 3.5mm to 6.3mm adapter and two-prong flight adapter) look and feel upmarket.
But then you remember this is Mark Levinson and realise that 'upmarket' is exactly where it should be.
Attention to business
If anything, the amount of attention Mark Levinson has paid to the business aspect of the No. 5909 surpasses that of the aesthetic. Which, again, is as it should be. The No. 5909 use Bluetooth 5.1 for wireless connectivity, and it's compatible with SBC, AAC, aptX Adaptive and LDAC codecs. Battery life is a competitive 30 hours with active noise-cancellation switched on, rising to 34 hours if you keep it switched off – and you can score six hours of playback time with just a 15min mains-power pit-stop.
Sound is delivered by a pair of 40mm full-range beryllium-coated dynamic drivers. They're tuned to adhere as closely to the 'Harman Curve' as possible, and according to Mark Levinson they do so more faithfully than any other design.
(For the unenlightened the Harman Curve was created in 2012 by a Harman International team overseen by Sean Olive. It's a sonic signature preferred by 'most' people 'most' of the time – and it turns out to be a basically flat EQ with bass and treble elevated by just a few dB. Unlike most exercises in market research, though, where attempting to please 'most of the people most of the time' results in blandness that satisfies no one for almost the entire time, the Harman Curve has both credibility and proven efficacy on its side.)
As far as control goes, Mark Levinson has ignored the opportunity to include any capacitive touch-controls on the earcups of the No. 5909. To get your bidding done with your fingertips you're looking at a smattering of physical controls – on the right earcup there's a group of three buttons dealing with 'volume up/down', 'play/pause', 'skip forwards/backwards', 'answer/end/reject call' and 'activate voice assistant', while on the left there's a button for 'power on/off/Bluetooth pairing' and another to cycle through your noise-cancellation options.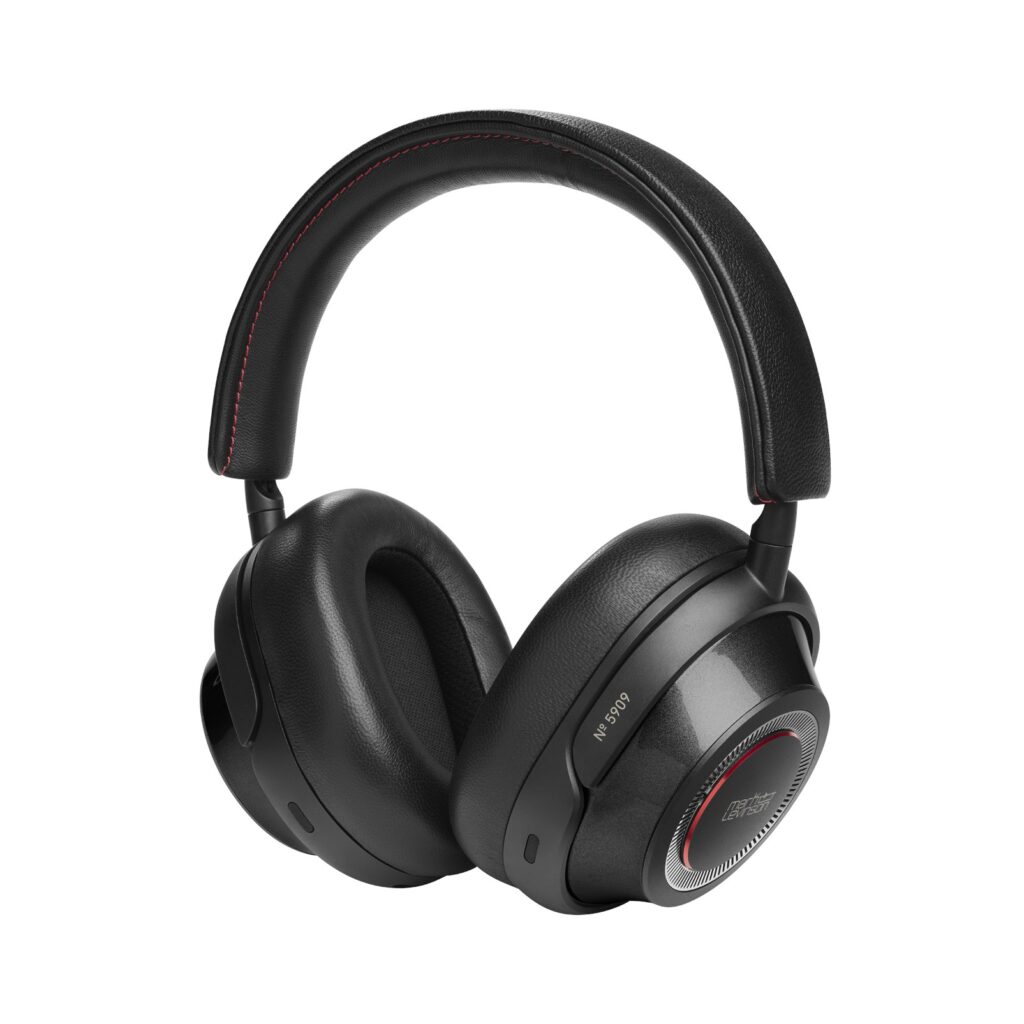 You'll have decided on the sort of noise-cancellation you're after (when it's 'on' it can be set to 'high', 'low' or 'adaptive', and when 'awareness' is selected it can be either 'voice pass' or 'ambient'`) in the Mark Levinson headphones app that's available for Android and iOS. The app also hosts three EQ settings (or, as the app insists, 'bass contours') 'neutral', 'attenuated' or 'enhanced', and lets you set an auto-timer for when you'd like the headphones to power down in the absence of any incoming signal. What else? Well, there's an 'on/off' control for on-head detection – but be aware its reactions are absolutely razor-sharp when it's switched 'on', to the point that your music will pause if you nod your head.
Voice-control is responsive, and call-quality is equally impressive – the No. 5909 may only have four mics (a trifling number when compared to all those cheaper alternatives already mentioned) but they most certainly get the business done.
I think we can agree that the No. 5909 are pretty well specified both inside and out – but not so much that they've got anywhere near justifying the asking price. So if the price tag isn't going to look expensive for its own sake, then sound quality is going to have to be pretty special.
Appropriately special
Happily, 'special' is a perfectly appropriate word to apply to the performance that's on offer here. Whether it's 'special' enough to part you from the asking price is very much down to the individual, but what's not really up for question is the ability the No. 5909 have to make even accomplished 'mainstream' alternatives sound a bit hazy and lacking in positivity.
A properly premium pair of headphones deserves a properly premium source, of course – so during the course of this test the No. 5909 are wired to an Astell & Kern A&ultima SP2000T as well as being wirelessly connected to an Apple iPhone 12. And while the most enjoyable and most convincing sound is to be heard when using the A&K, the broad results are fundamentally the same.
No matter if you play a 24bit/96kHz file of Fela Kuti's Ye Ye De Smell [Regal Zonophone], a DSD64 copy of Stevie Wonder's Blame It On The Sun [Tamla], an MQA-enhanced Tidal stream of Dexys Midnight Runners' There, There, My Dear [Parlophone] or a bog-standard file of Arvo Pärt's Cantus In Memoriam Benjamin Britten from the Hungarian State Opera Orchestra [Naxos], the No. 5909 don't alter their attitude in the slightest.
They're lavishly, almost fanatically, detailed – their insight into even the most minor or most transient elements of a recording is quite startling at first and never ceases to impress. They have the sort of lung capacity to make the most of big dynamic variances and the alertness to identify the fleeting harmonic differences lesser designs will ignore as insignificant. Their tonality, from the very bottom of the frequency range to the very top, is consistent, convincing and naturalistic – and the top-to-bottom journey is completely even and smooth, with nothing understated and nothing overplayed.
Personal pocket of space
The soundstage the Mark Levinson describe isn't the most expansive in all of headphone-land, but it's authoritatively controlled and consequently extremely easy to understand. Every element of a recording stands securely in a personal pocket of space, enjoys absolute positivity where attack and decay of its contributions are concerned – but is nevertheless integrated into the overall performance in an entirely believable fashion. There's nothing detached about the way the No. 5909 present music, any more than there's anything ostentatious or self-satisfied about the way they sound. More than anything, in fact, they sound uncomplicatedly and thrillingly musical.
The post-COVID-19 world has gone a bit mad; people are paying £35,000 for an £8,000 Rolex watch now. So, getting a foot on the Mark Levinson ladder without buying either a room full of expensive equipment or a well-specified Lexus suddenly seems eminently sensible in today's world. And if you're fortunate enough to consider the No. 5909 a realistic option then a) lucky you, and b) make sure you hear a pair as soon as possible. You won't regret it.
Technical specifications
Type wireless closed-back over-ear dynamic headphones
Drivers 40mm beryllium-coated full-range dynamic
Frequency response 10Hz–40kHz (wired)
Impedance 32ohms
Sensitivity 97dB
Distortion not quoted
Wireless connectivity Bluetooth 5.1
Codec support SBC, AAC, aptX Adaptive, LDAC
Accessories USB-C to 3.5mm (4m, 1.25m); USB-C to USB-C; USB-A to USB-C adapter; 3.5mm to 6.3mm adapter; flight adapter
Weight 340g
Price £999
Manufacturer
Mark Levinson
UK Distributor
Harman Luxury Audio Group
+44 (0)1223 203200