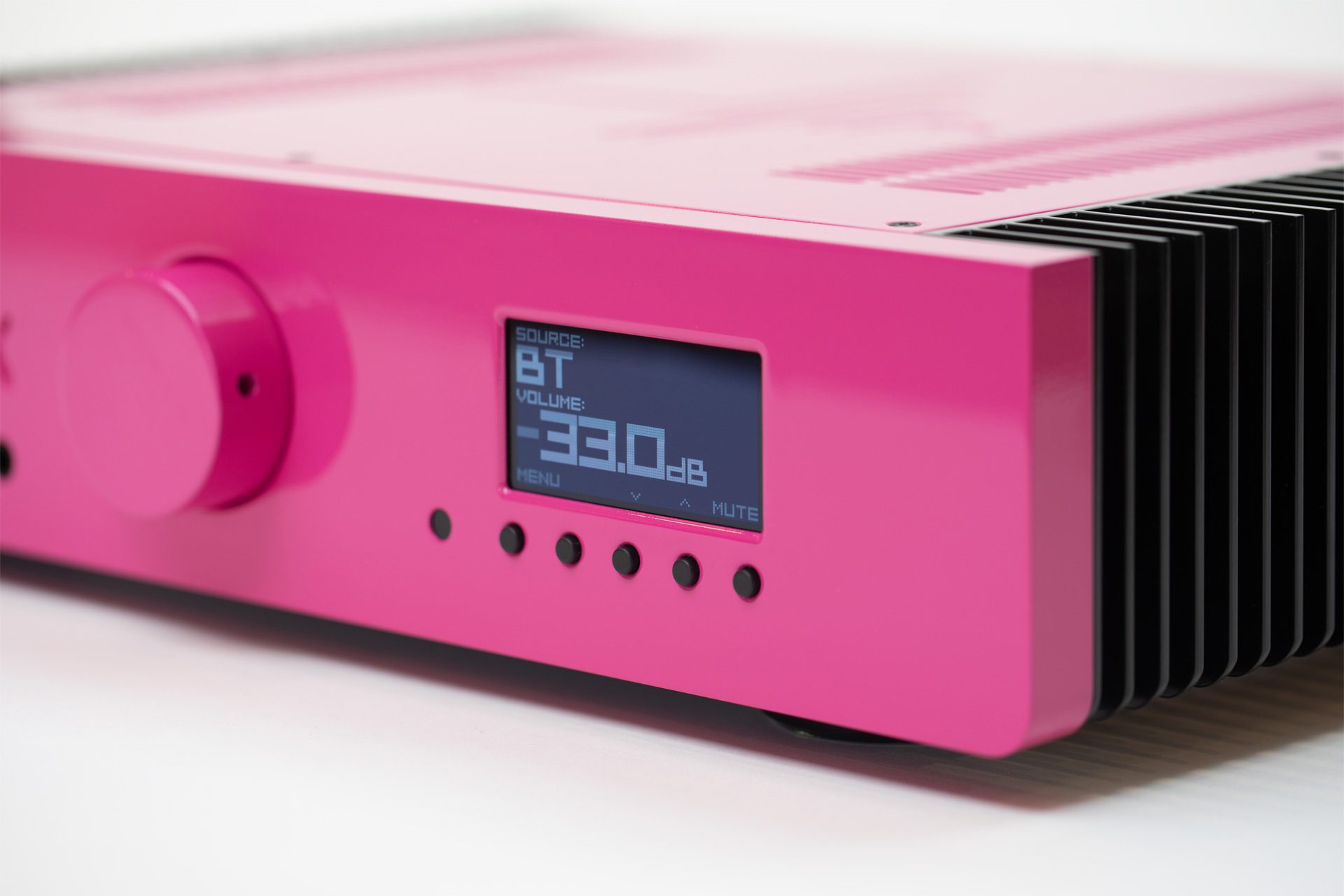 Perreaux hails from New Zealand. The company is based in Mosgiel – 15km west of Dunedin – on NZ's South Island. Formed in 1974 by Peter Perreaux, it's changed hands twice, and is now owned by electronics whizz Edwin Nieman, founder and owner of Kamahi Electronics.
The Perreaux 200iX is a compact microprocessor-controlled integrated-amplifier delivering 230W into 8 Ohm loads, and about 400W into 4 Ohms. Despite its trim size, the amp offers bags of power and a surprisingly comprehensive array of features and facilities.
First FET
You get a built-in DAC, an MM/MC phono stage, plus a balanced line input. A 6.5cm x 3.5cm LCD lets you to navigate the many features and options available. Historically, Perreaux were among the first to use Hitachi MOSFET output transistors when still quite new, back in 1974.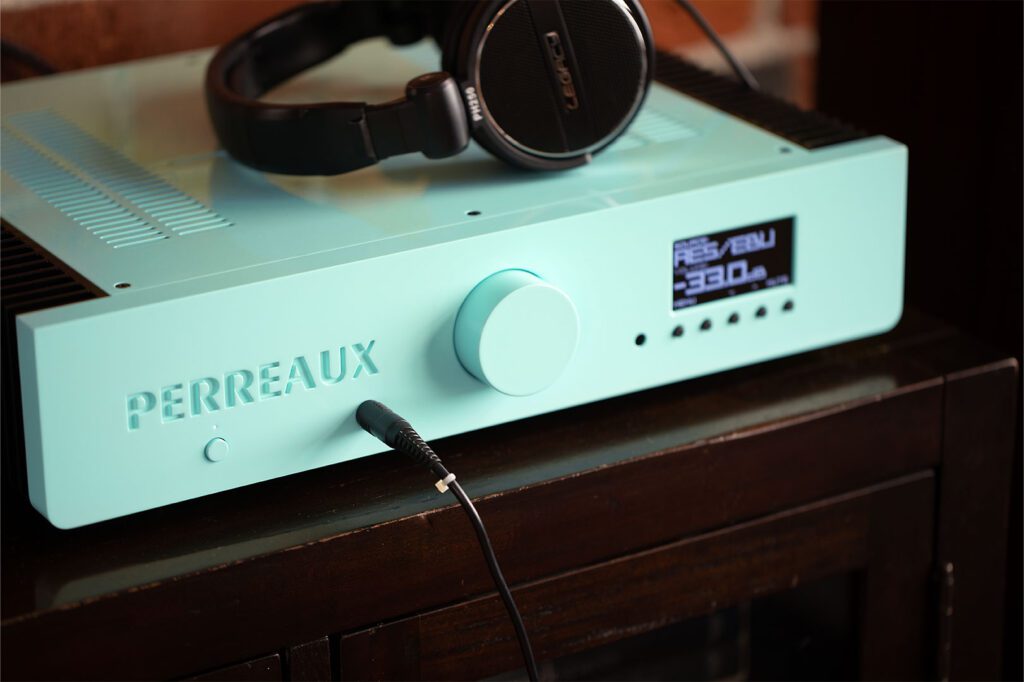 The tradition continues to this day with the 200iX/300iX integrated amps. MOSFETs have useful benefits over conventional bi-polar transistors. Subjectively, they offer something of the smooth open sweetness associated with tubes, but minus their foibles and shortcomings.
MOSFETs are also very stable and go 'open-circuit' if they fail. Bi-polar transistors short-circuit when they fail, which usually sends enough voltage to your loudspeakers to fry the woofers. The main downside with MOSFETs is price. The devices themselves are relatively expensive.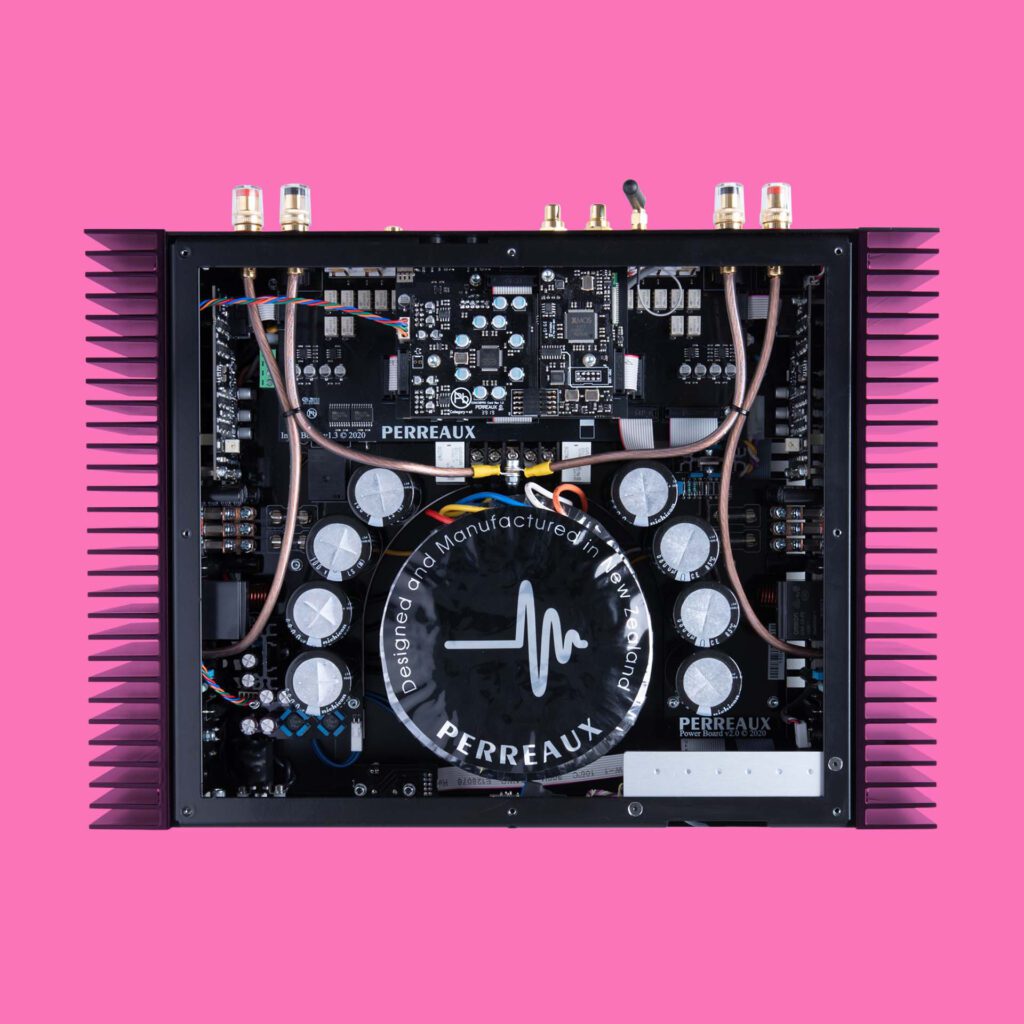 They're also more costly to implement. Extra circuitry and better power supplies are needed before MOSFETs can fulfil their maximum potential. But while all this is frightfully interesting, the most noteworthy thing about the 200iX is, of course, the huge choice of colours available…
She Comes In Colours
Most hi-fi is either black or silver, with maybe a bit of gold bling thrown in. Not the Perreaux 200iX; it can be had in a massive range of custom colours and will appeal to anyone attracted to svelte stylish design. Fortunately, under the bonnet, there also happens to be a very good amplifier/DAC.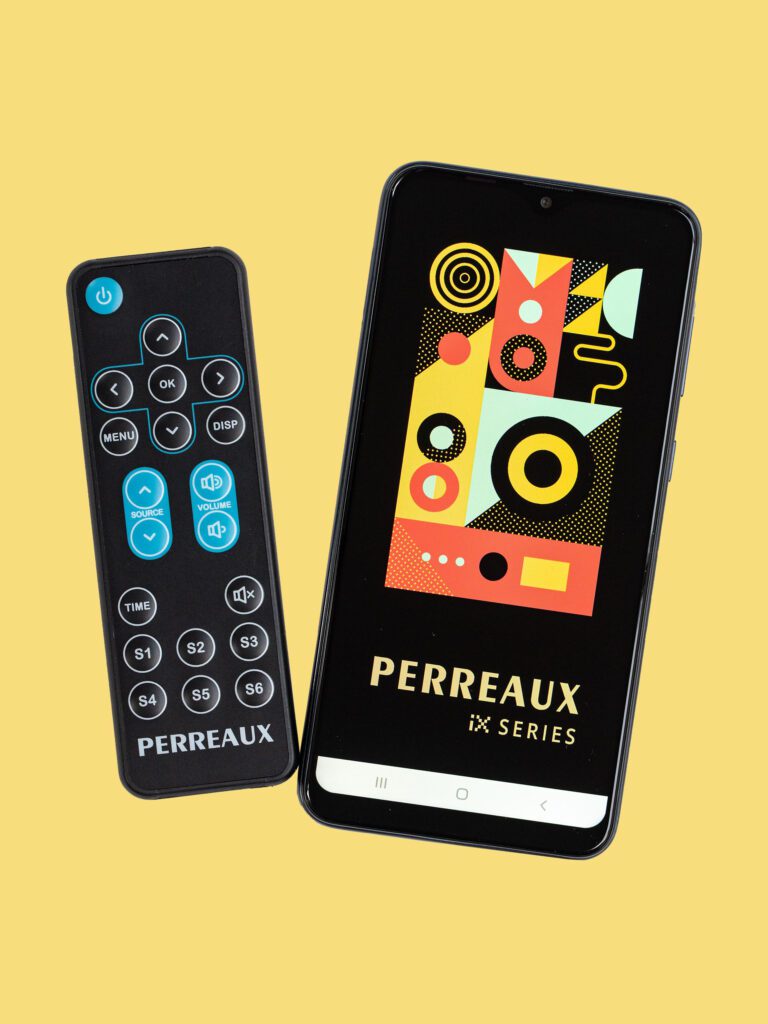 An infra-red remote control is included, but there's also a Perreaux App that lets you operate basic functions like volume up/down and input selection from your IOS/Android smartphone. The volume control is electronic with a total range of 127.5dB (from -96dB to +31.5dB) in 0.5dB increments.
This allows precise fine repeatable volume adjustment. The maximum level can be capped to avoid speaker damage and the display changes to large numbers when volume is adjusted, making it easier to see at a distance. The volume knob spins continuously, with soft indent points to give it 'feel'.
There are three unbalanced line-level analogue inputs, a single balanced input (XLR), an input for turntable with MM/MC cartridge, plus an HT Bypass input for Home Theatre use. You can stream hi-res files from a tablet or phone via Bluetooth. The USB is asynchronous and Galvanically isolated.
The built-in DAC employs an ES 9038 Pro Sabre chip. This has sampling rates from 32kHz to 384kHz at 24bit resolution (coaxial or optical S/PDIF) and 32bit (USB). DSD (62, 128, and 256) is also offered. Digital inputs include two S/PDIF coaxial (RCA) and two optical (Toslink), with one AES EBU (XLR).
Despite its pretty looks and diminutive size (just 426 × 344 × 149mm) the 200iX weighs in at a hefty 19kg – that's 42Ilbs in old money. A massive torroid transformer ensures a beefy power supply, and takes up a good portion of the innards. The 200iX feels solid and built to last…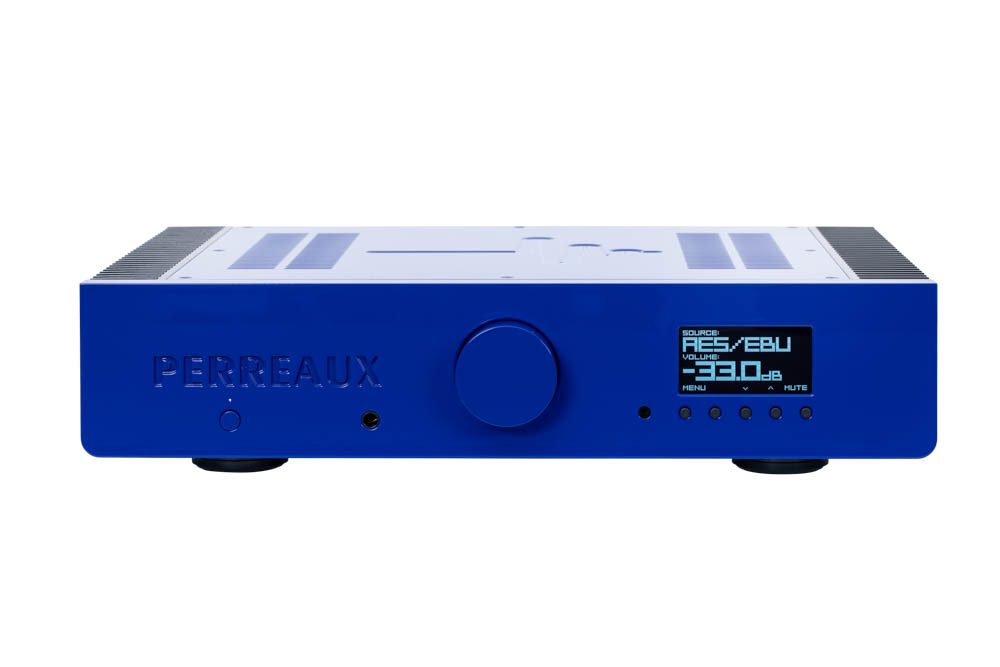 My (early) sample had a very faint buzzing just audible from the transformer, but this has been fixed in the latest production run of models. During extended use the amp gets mildly warm – around 35C. I partnered the 200iX with 102dB efficient Klipsch Cornwall IVs, so never really had to push the amp that hard.
The 200iX has a sophisticated microprocessor-controlled protection system that monitors things like the power supply while checking for excess-current, temperature, DC offset, internal AC supply and DC fuse. The protection is non-invasive and does not degrade the audio signal path.
For headphone fans, Perreaux have equipped the 200iX with their highly regarded SXH2 Class A headphone amp to ensure excellent results. This even has its own separate heatsinks, as a perfect indicator of just how seriously Perreaux takes headphone listening.
Prior to proper serious evaluation, I spent a week or so just listening to the Perreaux for pleasure. I liked what I heard but had to put the 200iX to one side because a couple more amplifiers (Audia Flight's FLS9 and the Jadis I70) arrived for review with a pressing deadline.
Both the Audia Flight and Jadis cost considerably more than the Perreaux. Once the reviews of both amps were completed, I returned to the 200iX. But, having just enjoyed two products of such exalted sonic performance, might the Perreaux prove something of an anti-climax?
Epiphany…
Fortunately, the 200iX held its own against its more-expensive rivals. Okay, there wasn't quite the same sense of scale or tonal opulence, but overall the sound was fine. Then – after a day or so – I had a strange epiphany; I realised I was really rather enjoying listening to the 200iX.
The 200iX' has a very smooth clean comfortable delivery. Clear and detailed without seeming pushy or aggressive, the sound is natural, effortlessly-open with little or no tonal hardness. Your attention is focused on the music, rather than the sound of the music. It's an important distinction.
I noticed this playing a jazz trio arrangement of Bernstein's West Side Story with Andre Previn, Red Mitchell, and Shelley Manne – a vinyl LP on Mobile Fidelity. The 1959 recording was rendered crisp, clear, sweet, and utterly unforced – detailed and brisk, without being forward or brash.
Art Pepper meets the Rhythm Section (recorded 1957) on Contemporary Records (Boplicity reissue pressing) had much the same flowing-naturalness; a very smooth open tonality with excellent detail. Only intending to play a track or two, I ended up listening to the whole side…
The 200iX's phono stage was excellent too; relaxed yet animated. Being picky, on MC a small amount of hum was present that could not be entirely eliminated – it wasn't an earth loop or a screening problem. Once music plays, the hum can't be heard. But I'd have preferred it gone…
For silver-disc, I used a Heed Obelisk CD transport into the 200iX's DAC. Like vinyl, results were clear, refined, and easy to assimilate. While definitely not a sharp brusque-sounding amplifier, the 200iX actually 'starts and stops' very quickly. It's very focused…
The Wife speaks…
My dear wife rarely comments on the sound unless I ask. But she spontaneously remarked on the Perreaux – twice! Interestingly, she found the 200iX's unforced naturalness more noteworthy than the FLS9's detail and scale, or the I70's richness and tonal refinement.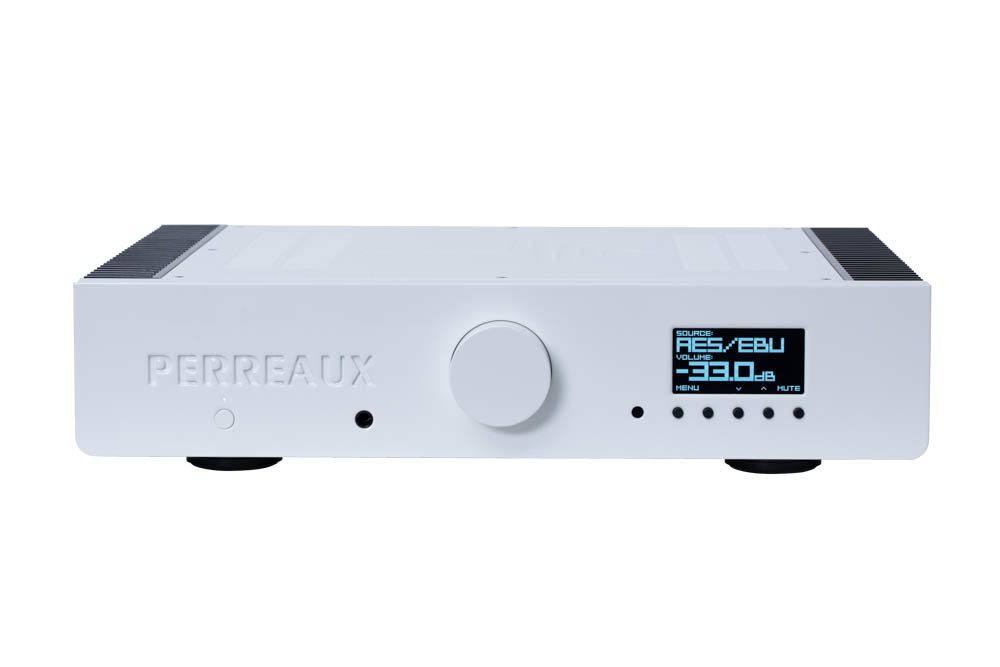 I'd been impressed by the way the Audia Flight FLS9 reproduced a jazz CD (New Blues by Barrie Norman and Friends). Could the 200iX match it? Up to a point; but I could definitely hear increased dynamic-contrast and greater projection with the Audia Flight.
For example, on 'How Deep is the Ocean', the sax solos projected more strongly via the FLS9, making the slightest dynamic-inflections very audible. Yet while the 200iX didn't quite equal the vividness of the FLS9, it reproduced the music with slightly more cohesion and organic unity. Interesting!
The FLS9 was definitely 'better' in terms of detail and clarity, but the 200iX just seemed easier to listen to. It was effortless and relaxed without being soporific. Its musical presentation drew you in. I found myself sitting back, quietly entranced.
Some audio components are like celebrity actors; their sheer star quality is massively impressive. Yet at the same time you never quite forget the actor playing a part. The Perreaux is more like an understated actor who simply becomes the part they're playing.
The portrayal is so natural and unobtrusive it feels real; you believe you're actually seeing the person they're depicting. In that sense, the 200iX's is more Gary Oldman or Alec Guinness than Lawrence Olivier or Jeremy Irons.
Simpler, Plainer
While vivid-sounding hi-fi is exciting and entertaining, a component which presents a simpler, plainer rendition can sometimes (paradoxically) draw you into the music better.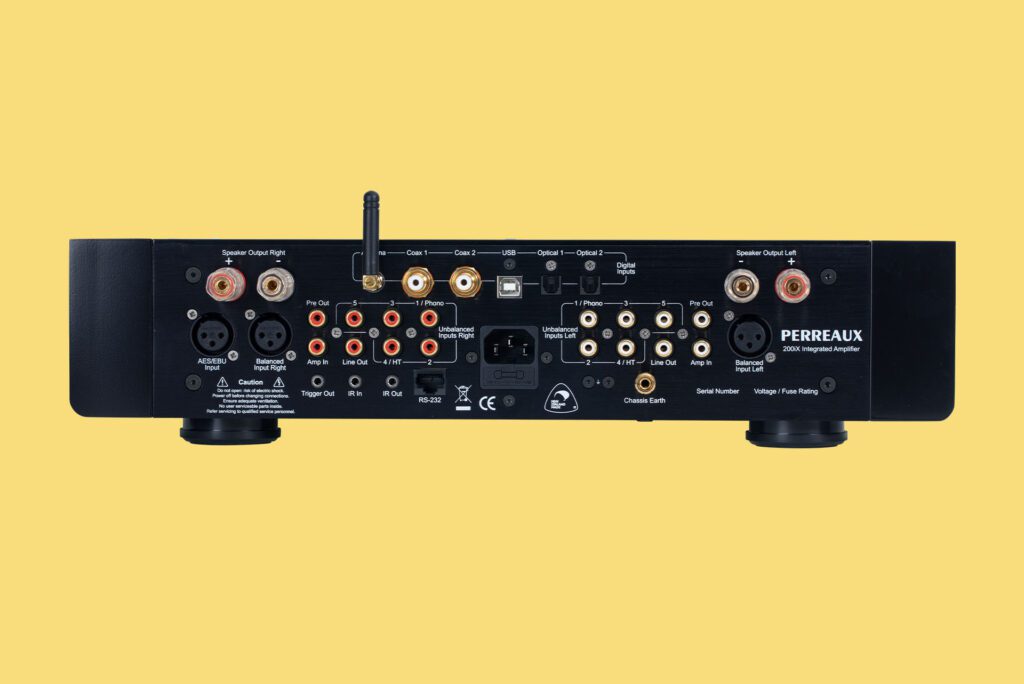 On first encounter, the Perreaux 200iX might not seem the most exciting or spectacular-sounding amplifier, but it delights and impresses the more you listen. It's exquisitely natural and musical. Over the long-term, it should prove hugely (albeit quietly) rewarding to live-with.
Its relaxed unobtrusiveness lets you concentrate on the music. For myself, I appreciated the quiet charm of the 200iX the more I listened to it. It beguiles, involves and educates. Given a chance, it wins you over. What more could one ask for?
Technical specifications
Type Integrated amplifier with DAC, phono input and headphone amplifier
Analogue Inputs 4× single-ended RCA (including MM/MC phono and HT pass through). Balanced XLR input, preamplifier in RCA, earth tag, trigger input
Analogue Outputs preamp output, line output for HT pass through, all RCA, trigger outputs, 6
Digital inputs 2× coaxial, 2× optical, 1× AES/EBU, 1× USB, 1× Bluetooth input
Rated power output per channel 200W/8Ω
Headphone amplifier SXH2 integrated module, pure class A operation, supporting 6-600Ω headphone impedances
Colour options Many!
Dimensions (W×H×D) 42.6 × 15 × 34.4cm
Weight 19kg
Price £5,840
Manufacturer
Perreaux
UK Distributor
Elite Audio UK
+44(0)800 464 7274