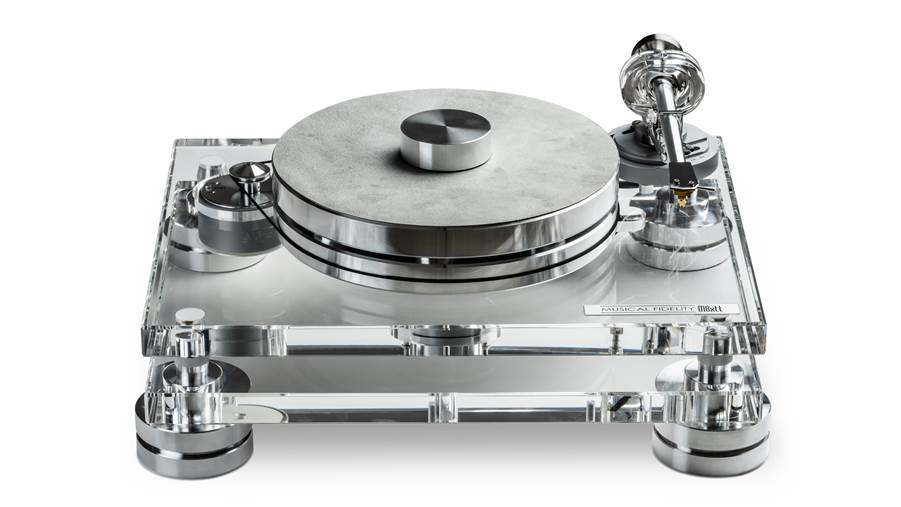 Didcot, Oxfordshire – 20th September 2023 – In 2002, then Musical Fidelity owner, Antony Michaelson, approached Heinz Lichtenegger for input on a new concept he was developing. The idea was to produce a true high-end turntable that matched the aesthetic, technical performance and sound characteristics of his amplifiers. The result was the M1, a substantial record player that employed first-class engineering in order to achieve the level of performance Michaelson expected.
Today, Heinz Lichtenegger is revisiting this project as the current owner of Musical Fidelity, and is seeking to bring back the legendary piece with the benefit of improved, modern skills and materials. The M8xTT (SRP £8,249.00) will begin shipping in October 2023 to vinyl aficionados around the world.
M8xTT product features include:
Dual-acrylic chassis isolates the motor support from the tonearm mounting
New Musical Fidelity 10" aluminium tonearm with azimuth and VTA adjustment
Decoupled motor assembly
Dual-layer main platter with aluminium joint inserts
Height-adjustable feet
RCA and XLR output terminals
Leather mat and heavy aluminium puck included
Handmade in Europe to exacting standards
M8xTT: £8,249.00 (SRP)
Stock will begin shipping in late 2023.
Turntable also available without a pre-mounted tonearm.
M8xTT in detail
 The M8xTT is a visually striking high-end turntable, combining high-mass and isolation design principles to produce a sound and technical performance capable of impressing any vinyl audiophile. From its bespoke 10" tonearm, through the multi-layered plinth and heavy aluminium platter, on to its height-adjustable feet, every part of the turntable is built to the highest standard.
The M8xTT's dual-layer plinth is made of non-resonant acrylic, mounted on four height-adjustable magnetic feet with Teflon spacers between the layers. The top layer houses the main bearing spindle and the tonearm mount for complete isolation from the stand-alone drive motor, which rests on the bottom plinth, isolated from the structure by a special foam material. The result is a turntable that effectively eliminates the transfer of resonances from the surrounding environment and from within itself.
The drive motor is connected to the TPE-damped main platter by a silicon drive belt. The unique platter also boasts a dual-layer construction, joined together by aluminium inserts which effectively improve the flywheel effect as the platter begins to turn. This, in combination with the purpose- selected motor, which also features automatic speed changing between 33 and 45rpm, results in a turntable that is capable of exceptional rotational stability.
The new 10" tonearm is a completely new model from Musical Fidelity, developed for the M8xTT. The ultra-low resonance design benefits from a conical aluminium tonearm tube and a transparent acrylic bearing ring. The arm is fully adjustable for azimuth and VTA settings, and comes equipped with two TPE-damped counterweights to support cartridges ranging from 6 – 20g. On the back panel are standard RCA phono sockets as well as balanced XLR connections for flexible system building.
The M8xTT is a true high-end record player. Thanks to its use of mass-loaded materials as part of a decoupled chassis construction, it is capable of a rock-solid performance, so any connected pick-up cartridge can perform to its highest ability. Designed with the "Musical Fidelity sound" in mind, this is a worthy addition to any serious hi-fi system. For added convenience, the M8xTT is supplied with a leather platter mat and heavy aluminium record puck inside the packaging.
Technical Specifications
Speed: 33 / 45rpm (electronic speed change)
Drive Principle: Belt-drive
Platter: 10kg sandwich aluminium platter with aluminium inserts and TPE damping
Platter Bearing: Inverted bearing with ceramic ball tip
Tonearm: 10" Musical Fidelity tonearm
Effective Tonearm Length: 254mm
Effective Tonearm Mass: 17g
Overhang: 16mm
Wow & Flutter: ± 0.05% (33) / ± 0.04% (45)
Speed Drift: ± 0.11% (33) / ± 0.10% (45)
Signal-to-Noise: -78dB
Dimensions (W x H x D): 533 x 245 x 413mm Weight:    31.5kg
Tags: ANALOGUE MUSICAL FIDELITY NEWS TONEARM TURNTABLE VINYL