Music First Audio Reference V2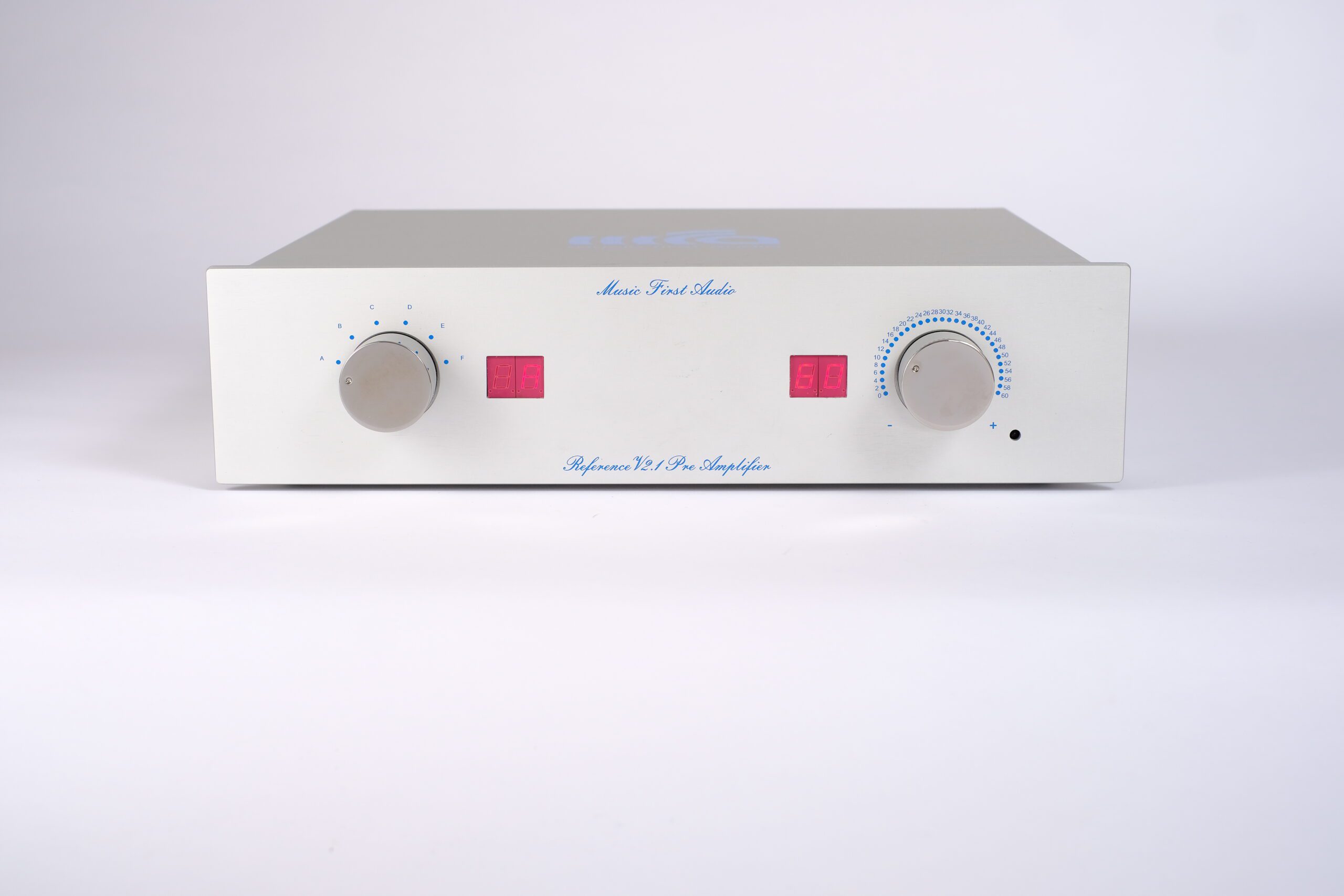 Music First Audio is Jonathan Billington, a transformer winding specialist who was born into a business started by his father and a partner way back in 1963 and carried on by his mother after his father passed away. It wasn't until audio tweak-meister extraordinaire Thorsten Loesch managed to find Jonathan and persuaded him to make some transformers with which to build a transformer-based preamplifier (or TVC as they have become known) that Billington got the idea to make passive preamplifiers and joined the hi-fi fraternity.
The rest is almost history, since then Music First Audio has established itself as the premium brand in TVCs with a range of preamplifiers and step-up transformers based on transformers wound in a workshop near Rye in East Sussex. Up until now all Music First Audio passive preamplifiers have been based on a mechanical switch that selects individual taps from a transformer for each channel. Each tap represents a degree of attenuation and the volume range of the preamp is defined by the amount of positions on the switch. I was under the impression that it was the number of taps rather than the controller that is the limitation, but it seems that no one makes a switch with anything near the amount of steps that Jonathan wanted to offer in the new Reference V2; even the Baby Reference V2 has a mechanical switch and offers 30 steps plus mute.
The Reference V2 achieves its 60 times 1dB volume steps by using relays in combination with a transformer that has 30 secondary taps and two primaries; the relays toggle between the two to give this unusually wide range. It's something that Townshend Audio has done with its top passive preamplifier and allows not only wider and finer gradations of volume but provides the option to display the level as can be seen on the Music First Audio. Given that the control knob itself is not motorised and thus doesn't move this is a useful indicator of what to expect in terms of volume. The second LED shows which input is selected, Music First Audio uses letters to denote inputs, which is unusual but easy to familiarise yourself with. Well it is if you only have two sources connected. Those who use all six of the inputs offered will need a good memory. Another benefit of the relay system is that it allows remote control of both input selection and volume, and Jonathan has had the good sense to supply an Apple IR remote for the job. Not only is this a beautifully made thing, it also has such wide dispersion that it will control the receiver almost regardless of which way it's pointed; you can literally be beside the preamp and point the remote at the opposite wall and it will work. No dedicated hi-fi remotes achieve this in my experience… and it even has a mute button.
Sensitive parts
The Reference V2 is notably larger than anything Music First Audio has built in recent times but it follows a pattern formed by the original Reference model which was usurped by the Baby Reference a few years ago. The extra space that the full width case provides is useful when it comes to spacing out the components inside, the relays used for level setting need power so there is the potential for stray fields and being able to keep sensitive parts away from them is a beneficial. There is no mains transformer, the power is supplied by an external Longdog Audio linear power supply. The original plan was to use a high quality switched mode supply (SMP) because the signal is not amplified and the power is only there to operate the relays, the problem with this is that an SMP if it's not designed for audio (see expensive) injects noise into the mains and that undermines the performance of active components such as the amplifier and source.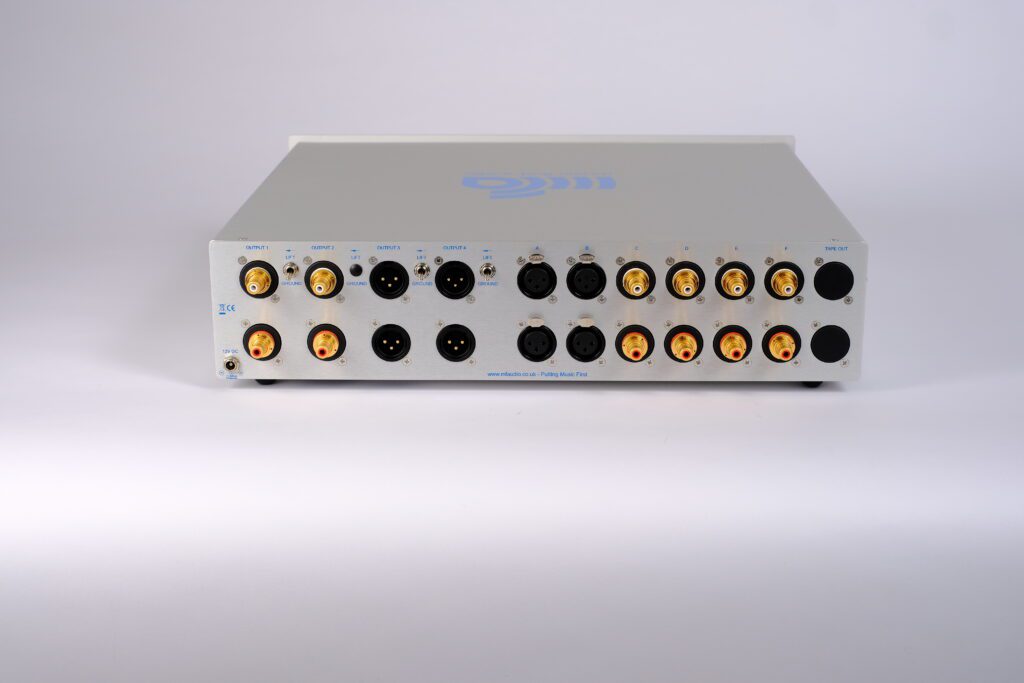 This preamp's six inputs are split into five single-ended pairs on high quality WBT sockets plus one pair of XLRs, the unit supplied for review had a pair of blank covers under the inscription 'tape out', suggesting that this is an option should it be required. On the output side, you get two pairs of RCA phono sockets and two pairs of XLRs, but the manual discourages using both RCAs and XLRs together. As each preamp is made to order, it's possible to have the Reference V2 with any combination of XLR and RCA connections. Each pair of outputs also has a ground/lift switch in order to combat hum issues caused by ground loops, which is a useful feature that's not seen very often outside of valve electronics.
I used the Reference V2 with a Moor Amps Angel 6 power amplifier and a variety of speakers including PMC twenty5.26is and Vivid Giya G1 Spirits, the latter proving particularly insightful as you might imagine. Being a passive device this preamplifier is very short on character. In fact, it seems to be totally devoid of the colorations and distortions associated with even high-end active designs. It's neither fast and forward nor slow and smooth; it sounds very much like the source you attach to it and its sins such as they are, are strictly of omission. In short, it doesn't add anything to the signal and a vast amount of that signal gets through to the power amplifier.
With an iFi Pro iDSD DAC it is both precise and natural in its presentation, very well defined but without any of the grain associated with all but the best active preamplifiers. That's the benefit of passive operation, you get rid of the challenges inherent in power supply design in one fell swoop. If the recording has good stage depth you know all about it; there is a real sense of sonic holography with live performances that have been well captured regardless of whether its Ryan Adams or Mari Samuelsen. The latter's album Mari is extremely well made and the Music First Audio lets you know all about it, delivering the finesse of her phrasing along with the tension and emotional impact of the pieces she plays. There's an electric atmosphere on many of the pieces that is fully revealed by the uncanny silence of the Reference V2.
Uncanny fidelity
I have noticed that some TVCs lack the bass punch and extension found with the better active preamplifiers, but this isn't one of them. That much became clear on a wide variety of tracks that were played. It goes down as far as you like and can kick like the proverbial mule when the signal requires it. Voices are also very well catered for, the degree of transparency on offer meaning that so much of the intonation and expression of the midrange comes through that it takes very little to suspend disbelief. With the best performances this gives you goose bumps such is the strength of realism and presence. But clarity is only one part of the equation, timing is equally critical to the end result and this is another area where the Reference V2 responds to the source with uncanny fidelity. There is none of the emphasis that some designers use to make a product sound pacey and exciting, just clearly defined leading edges that have impact but no exaggeration.
For a bit of contrast I hooked the Reference V2 up to a pair of Valvet A3.5 Class A power amps which are more in keeping with the sort of amps that Music First Audio use for dems and development. And it worked well, the extra openness and finesse made everything that was played that much more engaging and exciting. Keith Jarrett's piano playing was totally absorbing because of the ease with which the notes flowed through the system, the Reference V2 is clearly capable of delivering really fluent, cohesive music where the tonal depth and the expressiveness of playing take precedence over power and attack. It's all about the musical message, and for that matter the spoken one. Joseph Malik's 'Tavistock' combines spoken word with low key jazz backing to tremendously powerful effect, its understatement reinforcing the way he communicates a perspective that is so pertinent today. Clara Baker's 'Things to Burn' is also very effective in the way that it combines gentle vocals with aggressive guitar, the dynamic contrast being maximised by the extremely low noise of the preamp.
Music First Audio has done good with this new range topping preamp, it is among the very best in class yet thanks to respectable rather than elaborate casework the price is not stratospheric. It's not inexpensive either but preamplifiers that sound this good never are, and often what you are paying for is machined aluminium, here you get what it says on the tin: reference grade control par excellence.
Technical specifications
Type Passive transformer based preamplifier with remote control
Analogue inputs Six pairs of inputs which can be any combination of XLR connectors and RCA jacks
Analogue outputs Two pairs of XLR outputs, two pairs of single-ended outputs (via RCA jacks), optional Tape Output (via RCA jacks)
Gain 0dB
Dimensions (H×W×D) 100 × 410 × 355mm
Weight 7kg
Price £7,720
Manufacturer
Stevens & Billington
+44 (0)1424 858260