ELAC Varro subwoofers announced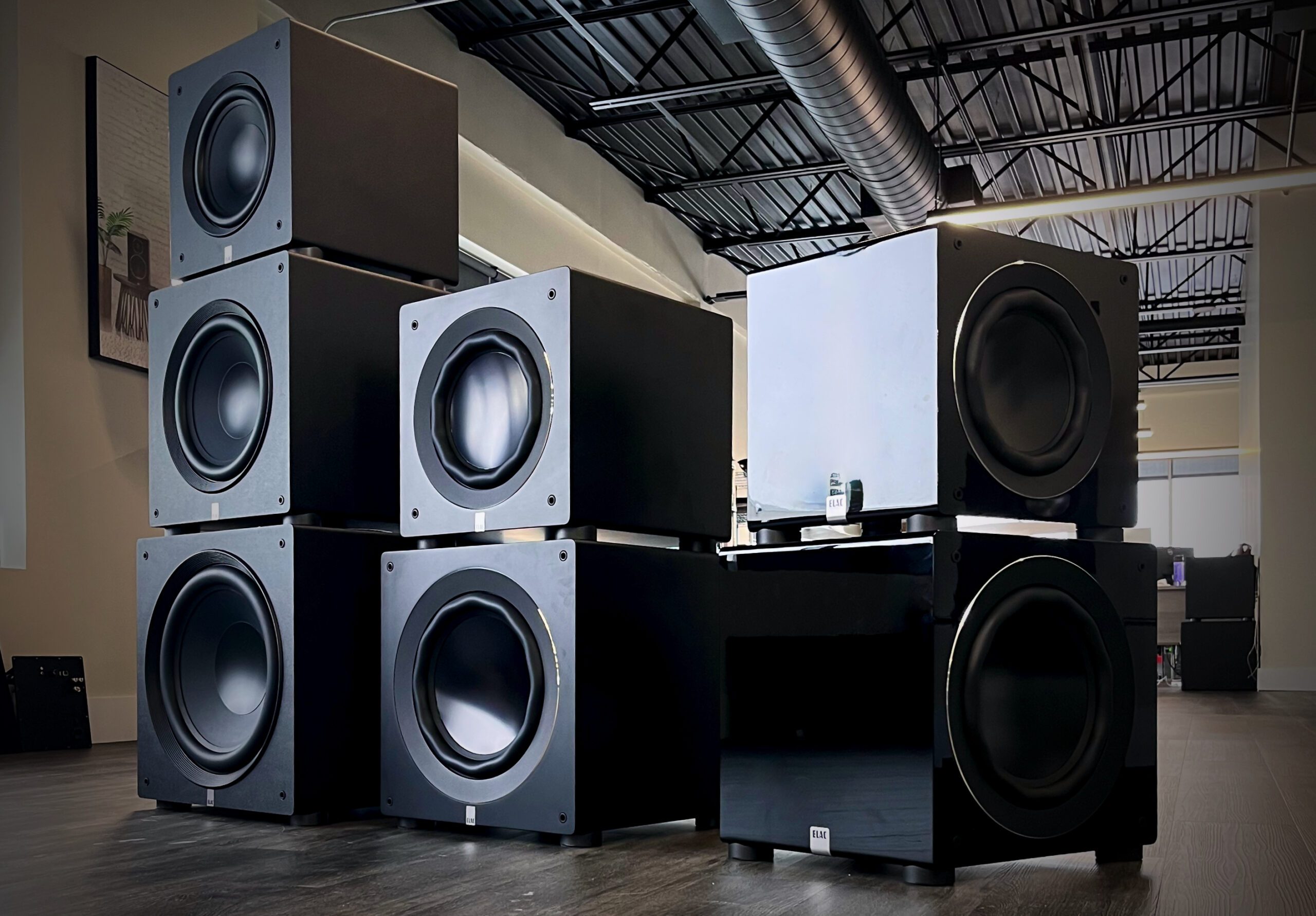 ELAC VARRO Subwoofer Series: for durable and strong bass performance!
*From the ELAC news release
The new Varro Series by ELAC combines three subwoofer line-ups with different designs and looks but the same acoustic philosophy. All of them guarantee dynamic, powerful, musical, and thrilling low-frequency performance that can be perfectly balanced for every application. The PREMIUM, REFERENCE and DUAL REFERENCE line-ups include a total of seven different subwoofer models, all of which live up to the name Varro, which is borrowed from Latin: durable and strong in every respect!
PREMIUM Series:
The Premium Series includes three models: the PS250-BK, PS350-BK and PS500-BK with different dimensions, amplifier outputs, and driver sizes. They utilize a 10″,12″ or 15″ driver respectively, which is paired with a large magnet and housed in a bass-reflex cabinet. Driven by powerful amplifiers that use efficient BASH® technology to deliver either 250, 350 or 500 watts, they lay the foundation for an impressive and powerful performance – ideal for completing stereo systems or home-theater installations. The ELAC SubControl 3.0 app provides extensive functions such as automatic calibration and convenient operation.
REFERENCE Series:
The two models RS500-B and RS700-B in the Reference Series offer impressive acoustic performance as well as technical refinements. The eye-catching new cone surrounds for the 10″ and 12″ drivers employ HEX technology for greater linear excursion and even lower distortion. Sealed cabinets constructed from 30-mm-thick MDF paired with either 500-watt or 700-watt BASH® amplifiers guarantee an incredibly accurate and dynamic performance. The black satin finish and removable fabric-covered grilles give the compact subwoofers a subtle appearance. Here too, the ELAC SubControl 3.0 app offers extremely convenient operation with an automatic calibration function that balances the subwoofer with the room's acoustics.
DUAL REFERENCE Series:
The DS1000-GB and DS1200-GB models in the Dual Reference Series utilize the same equipment as the Reference Series but with added special features. Firstly, both models feature two drivers with HEX technology, which are installed opposite one another in an impulse-compensated configuration. This means that mechanical forces inside the sealed cabinet made of 36-mm-thick MDF cancel each other perfectly…leaving nothing but perfectly generated airborne sound. The pairs of 10″ or 12″ drivers combined with the extremely powerful BASH® amplifiers rated to 1000 or 1200 watts respectively deliver an unbelievably precise yet musical presentation in the low-frequency range. An elegant high-gloss black finish and compact dimensions make the Reference Series the ideal choice for those seeking uncompromising HiFi performance from a room-friendly device.
ELAC VARRO Subwoofer Series: Prices and availability
All Varro Subwoofers are available by the end of March 2023.
DS1000-GB 2.499,00 € RS500-SB 1.299,00 € PS250-BK 749,00 €
DS1200-GB 2.799,00 € RS700-SB 1.499,00 € PS350-BK 849,00 €
PS500-BK 1.049,00 €
For more information about the subwoofers please use this link
https://bit.ly/3YXPNq5
The company
ELAC is passionate about driving innovation and refining its existing products. Throughout the 90 years of our company history, we have crafted products of unmistakable quality and sound that stand out from the crowd. Our latest innovations complete the ELAC experience, enabling our discerning customers to experience the passion in our products in the form of music and film.
To find out more about ELAC, please visit www.elac.com