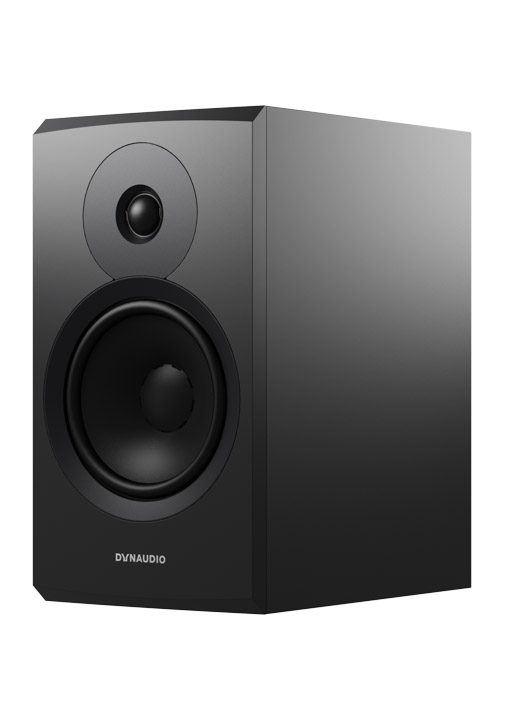 There are hundreds of loudspeaker companies now, but few have the clout of Dynaudio. The company is one of the big names in audio design for a reason; unlike many brands that are bound by the strictures of other people's drive units, Dynaudio has long made its own drivers. This makes a profound difference to the performance of its higher end models, but can it really make a difference to the more down to earth Emit 20 stand‑mount loudspeaker? Two words… hell yes!
The Emit series is Dynaudio's entry level range and the Emit 20 is the larger of two stand-mount models that sits alongside two pairs of floorstanders and a centre channel with prices starting at just over £600.
The Emit 20 replaces the Emit M20, which makes use of a 140mm main driver; the newcomer offers a long throw, 180mm drive unit that affords the new model deeper bass and greater power handling. Dynaudio uses magnesium silicate polymer drivers, which are bonded to the voice coil for maximum stiffness; that's not a dust cap in the centre, but an intrinsic part of the driver. The company also uses aluminium wire for voice coils and winds them onto two-layer glass fibre formers; the idea being to keep weight down and thus allow maximum control.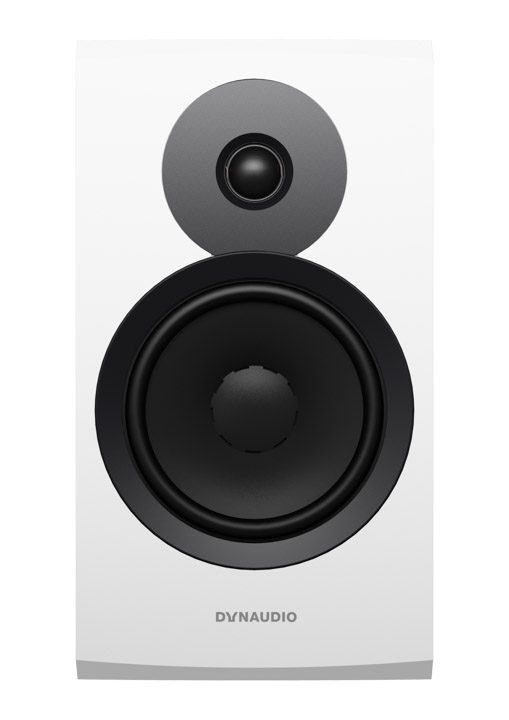 The tweeter is what Dynaudio call a Cerotar type; it's a 28mm soft dome that is derived from the HF unit found in the decidedly up-market Confidence range and incorporates a Hexis device, which sounds like a Star Trek McGuffin but was in fact conceived to smooth the response and reduce unwanted resonance. It's a 3D printed plastic latticework dome that sits beneath the fabric dome and therefore effects the airflow and looks like a relatively inexpensive yet cunning piece of technology.
Emit 20's cabinet has that Danish simplicity of design that looks so right when it's done well but – as other brands may have noticed – is difficult to achieve in an entry level product. Its cabinet has a thick front baffle with profiled top and bottom edges and driver fixings hidden beneath trims. The main wrap is not real wood but a good imitation thereof in the walnut version sent for review. On the back are single wire terminals in an inset tray and a reflex port with spiral sculpting on the flared exit, which both looks good and is a method for keeping output from the port smooth. The Emit 20s are supplied with robust magnetic protectors for the tweeters in transit, which is both laudable and unusual at this end of the market. There's also pair of foam bungs and these can be used to partially block the reflex port in situations where the speakers have to be placed near to room boundaries that might otherwise exaggerate the bass. Port bungs do not generally enhance dynamics, however, so don't use them if you don't need to.
Set course for Jupiter!
Ask any loudspeaker designer and they will (sometimes reluctantly) admit that an affordable two-way stand-mount is very easy to design and very hard to design well. One of the ways Dynaudio achieves this task is by not cutting any corners in the development… of course having access to the company's Jupiter free-field measuring facility in its Danish HQ helps! To the handful of speaker builders who know what that means, their interpretation might be a couple of long poles in a quiet field, but Dynaudio has a 13m cubed space with a device for placing a loudspeaker at its centre, as far away from boundaries as possible. I asked Dynaudio's senior acoustics engineer Stephen Entwistle how this works; "Jupiter uses a microphone arm which has 31 microphones mounted on a 3m radius and then time window out the reflections, we do the same for the low frequency reflections. These combined with a corner measurement (referenced to measurements made in true anechoic half-space conditions, outside at the local football club) allow us to measure a 'simulated free-field' response on-axis from 10 Hz–96 kHz and a full sphere around the loudspeaker with a 6° angular resolution up to 20 kHz in approximately 30 mins. The on-axis microphone has an extended high frequency response beyond 100 kHz, but the maximum sample rate we run is 128 kHz.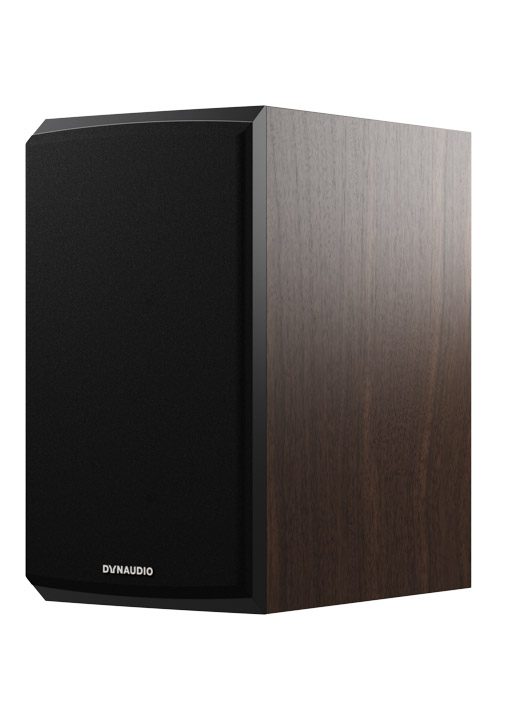 "Using Jupiter allows us more freedom in the room, but the most notable reason is the use of the large microphone arm which allows us to capture the full sphere in a reasonably short period of time." In other words, Dynaudio's approach is both highly accurate and fast, which is what you want when developing any product. Of course, having a large body of work to draw upon and some very high end designs that can trickle down into more attainable and affordable models all help, but the Dynaudio ethos begins and ends with extensive research and development in its product creation. And this shows in the loudspeakers Dynaudio produces, seemingly irrespective of price point.
I found that the Emit 20s needed more space than usual for their size; a gap of 40cm between them and the wall giving a good tonal balance when 60cm stands were used. Other speakers of this variety can often be placed much closer in my relatively lean sounding room. Initially I hooked them up to a Moor Amps Angel 6 power amplifier which is a bit of a beast for such affordable speakers but they certainly didn't mind, in fact the more I experimented with the Dynaudios the more it became apparent that they are extremely revealing of partnering equipment. They are more neutral than many loudspeakers at their price; if a speaker's balance changes with source and amplifier to the degree that this one does it must be pretty revealing and have minimal character of its own.
Unusually refined
The Emit 20s are also unusually refined for their price; the work that Dynaudio has done on the tweeter – and for that matter the crossover and main driver – has resulted in a degree of sophistication that is uncommon for a sub-£1,000 loudspeaker. This might need some care in the selection of matching entry-level electronics; where coarse-sounding electronics might be able to 'hide' behind a woolly sounding loudspeaker, that lack of high-frequency finesse has no safe harbour here. That being said, 'reports from the front line' suggest many good pairings with entry level electronics. Regardless, with my reference Angel 6, all was rather good with the sound being articulate and open right from the off; the sound being crisp, rhythmically coherent and unhurried. These first two qualities can be found in a range of competing speakers but the last is an indication of the sophistication on offer from this one alone . It allows the plushness of Steely Dan's 'Babylon Sisters' [Gaucho, MCA] to flood through with no addition of grain or edginess. This track also highlights how little run-in these loudspeakers need, but how much they gain from the process; it sounded a little restrained at first, but a week down the line this quality had all but vanished.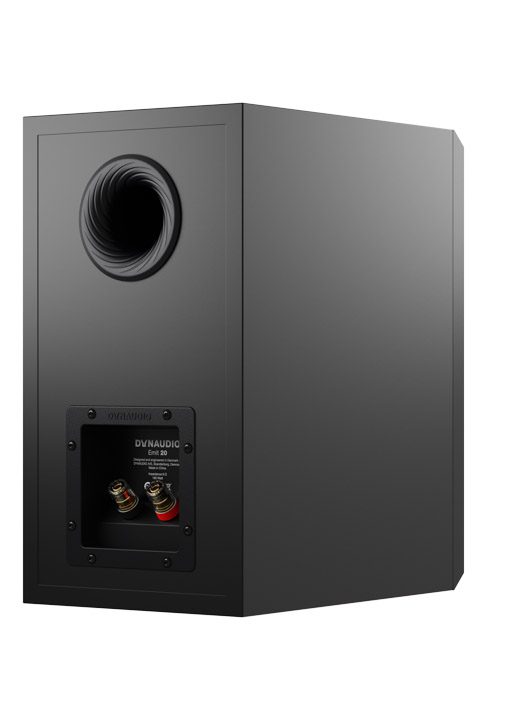 I found the best balance was with the Emit 20s directly on axis but this is a taste and room thing and it's always a good idea to experiment with orientation and placement with any speaker. The bass isn't 'prodigious' but it's clean and well extended and this is a good thing; it's common for ported stand-mount speakers to be designed with 'impressive' bass that sounds great on first exposure in the demonstration room but can be fatiguing in the long term because it's ultimately quite distorted. Dynaudio has clearly gone for a more sensible balance that allows these speakers to deliver bass you can feel but also bass that remains controlled and is thus tuneful. It doesn't mask what's going on in the midrange either; lyrics are clear and there's plenty of detail too. Radiohead's 'Decks Dark' [A Moon Shaped Pool, XL] washes over you in a more fluent fashion than is often the case; some pricier speakers present stronger imaging on this track but I like the way that the music comes before the sonic effects in the Emit 20s presentation.
A different class
I tried another amplifier in the form of Aavik's I-180, which is a Class D design with a very different sound to most of the Class A/B options I used in the review. This worked rather well delivering a distinctly open sound with impressively natural highs and precise bass, and once again the Dynaudio's ability to track those changes in amplifier are indicative of its class. The timing wasn't as strong through this amp, but it still had the power to engage especially with more intense pieces of music like Binker and Moses' latest album Feeding the Machine [Gearbox]; here the sax and drum duo lay down some blistering tunes that many similarly priced alternatives would struggle to deliver with such calm clarity. I rarely find affordable speakers that can do saxophone well, especially when that sax is played with vigour, but these delivered the power without any added glare.
Dynaudio are to be congratulated on the Emit 20. This is the sort of loudspeaker that will grow with a system, revealing the benefits of upgrades to source and amplifier. It's a very grown-up speaker in its own right; don't let the real-world pricing fool you, this is the real deal.
Technical specifications
Type Two-way, two-driver stand-mount monitor with rear-ported bass reflex enclosure
Driver complement One 28mm soft dome tweeter, one 180mm MSP mid-bass driver
Frequency response 53Hz–25kHz +/-3dB
Crossover frequency 3.8kHz
Impedance 6 Ohms
Sensitivity 86dB/W/m
Dimensions (H×W×D) 370 × 205 × 311.5mm
Weight 10.3kg/each
Finishes Walnut , Black, White
Price £825 per pair
Manufacturer
Dynaudio A/S
Distributor
Dynaudio UK
Tel: +44(0)7852 867661
URL: dynaudio.com