Audio Research Reference 80S stereo power amplifier
It's hard to think of a more iconic modern tube electronics company than Audio Research. Yes, there are rivals that make some excellent amplification, but few that make such a complete audio electronics package and have so immediately identifiable appearance as Minnesota's Audio Research Corporation.
The brand's models effectively differentiate between the lower cost Foundation range and the more up-market Reference line. The latter is larger, as it is designed to accommodate a wider range of up-scale performance parameters, but the new jumping-off point for ARC's top-dollar line is the Reference 80S stereo power amplifier. This builds on the (circuit and industrial) design of the hugely popular Reference 160 S/160 M power amplifiers, effectively lowering the power output to make a more flexible and affordable Reference-class power amp.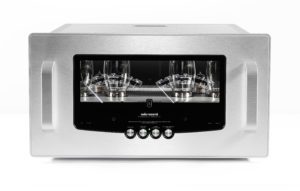 This means you get a power amplifier that uses an almost identical arrangement of two 6H30 double-triodes in the gain stage with multiple pairs of KT150 power valves/tubes in either push-pull or triode mode with auto-biasing, adjustable fan speed, those excellent look-through 'Ghost Meters' and all the trimmings. But by using just a single pair of KT150s per side, the Reference 80S is an amplifier that went on a bit of a power diet, as it puts out 70W per channel into an eight-ohm load. This also means it is ever so slightly smaller, some 17kg lighter and several thousand cheaper than its 140W per channel Reference 160S counterpart, which uses two pairs of KT150 tubes per channel, and the Reference 140M, which also uses two pairs of KT150 tubes per channel but separates them into individual mono cases. This is clearly something of a groove that Audio Research is enjoying!
This might seem like a lot of replication at first, but in fact, it's a fine way of making a 'good/better/best' set of power amplifiers, without undermining any of them in the process. The basic performance of all three is effectively identical, defined by that clever circuit, just you get more power for more demanding loudspeakers or bigger rooms as you go up the line.
In fact, the only real downside in this comes down to reviewers trying to fill space on the page and ending up going over the same descriptions about the amp and its circuit time and time again. On the other hand, if there really is 'nothing to see here' it's because the ground covered by the Reference 160 S and Reference 160 M has been so comprehensively mapped out, and that the Reference 80S continues that process. In fact, it continues the process so successfully and seamlessly that the biggest disconnects between this new stereo amp and the bigger mono and stereo models are the amount of heat each one puts out (unsurprisingly, given fewer power tubes per channel, the Reference 80S is the coolest, but not by much) and absence of a space between '80' and 'S' in the name. No, really, that's about it… the apple isn't falling far from the tree here.
This 'nothing to see here' is a surprisingly hard task to nail, because using the same tubes in a scalable configuration is no guarantee of consistency. Somewhere along the line, one of them sounds different… and it's often the smaller of the group, which ends up sounding bass light thanks to less transformer 'iron'. On the other hand, scaling a circuit up and down implies different loudspeaker partners, and an amplifier intended to 'see' a pair of mid-sized loudspeakers in a typical small(ish) listening space has a very different sonic 'fist' to one that is expected to be used with full-range flagship loudspeakers in a room that could double up as an aircraft hangar. Getting it right is a balancing act that requires some very reliable ears to work for the company.