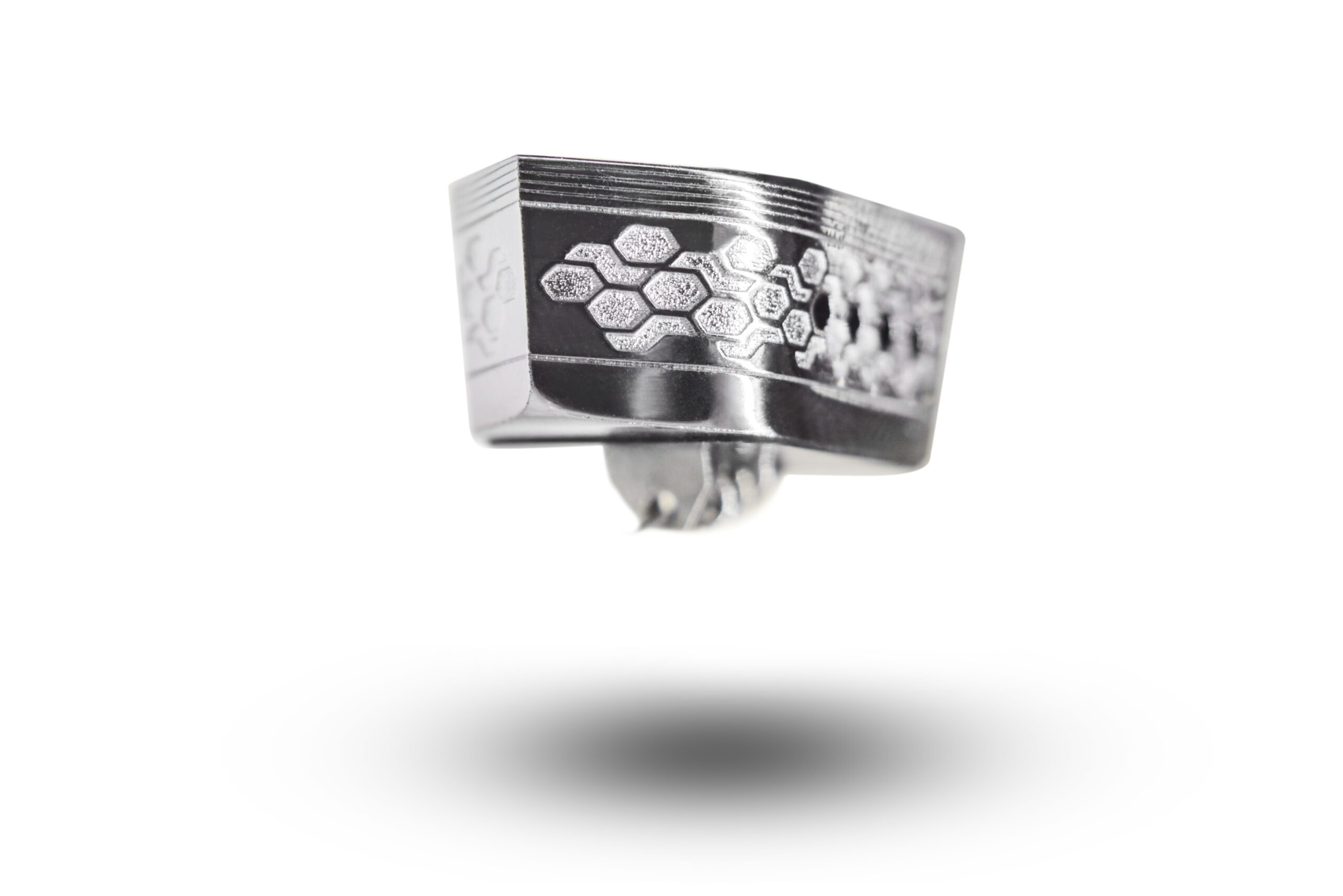 It's a bold move for a new cartridge maker; calling your product line 'Titanic Audio', shaping the cartridge to look like the prow of the Titanic and imprinting something akin to the ornamentation on the balustrades on that fateful liner. But, as an off shoot of Titan Audio and based in Belfast near the Union foundry where the iron used in those balustrades was cast, the link is less tenuous than first seems. I still maintain allying your brand to 882 feet of mankind's aquatic hubris is a challenging marketing position, but at least it gets you noticed!
However, there's another take to the Titanic Audio Model S, the Mother Bear of the three-strong line of cartridges from the new brand; the fact it's a new brand at all. The mere existence of the Model S is a function of new models of engineering and prototyping; it's not that this range of cartridges couldn't have existed 20 years ago, but the means whereby they happened would be beyond a small start-up. Also, such is the sustained interest in vinyl's comeback that such products are viable enough for a start-up brand. Regardless of what you might think of Titanic Audio (as a brand) or the Model S (as a product), the very existence of both in 2022 says good things about audio in general.
S Class
Titanic Audio claims the Model S "is a neat balance of distinguished performance and affordability". Each Model S body is manufactured using aerospace grade aluminium and finished in electroplated chrome. This material provides good resilience and durability by reducing vibrational interference. Both the entry level Model A and Model S make use of non-magnetic materials to remove any electronic interference throughout the cartridge.
Although the Model S is a physically large design, it's very well-balanced with 50/50 weight distribution, which is claimed to help tracking. Its 0.02mm coils are wound using Ohno Continuous Cast copper wire. This gives the Model S a useful 0.36mV output, which is about average for a MC cartridge. However, the 150Ω load impedance is relatively high and this both reduces perceived output slightly and – unless your phono stage can modify its impedance setting – does make for a more pitched up treble and decreased bass responses. Each body is CNC machined using aerospace-grade aluminium to very high tolerances, which also helps weight distribution and rigidity.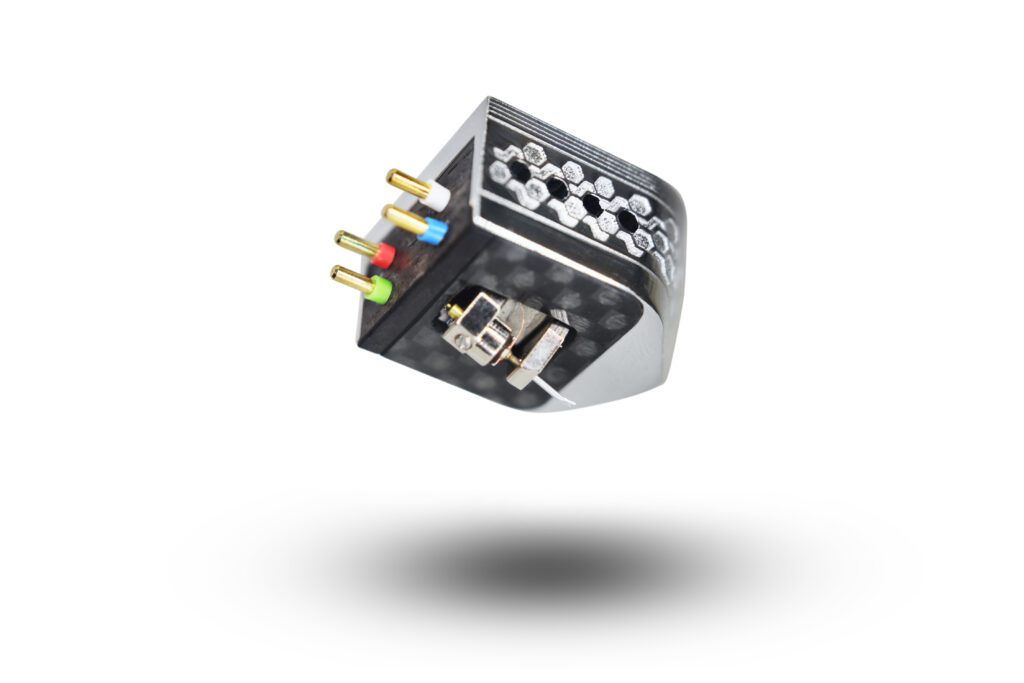 Titanic Audio claims the aluminium cantilever in its Model S cartridge, "was chosen for its exquisite musical characteristics." However, I would prefer the increased stiffness at any given mass that comes from a boron, ruby, or sapphire cantilever (the top Model G uses boron). Similarly, the Model S features a nude elliptical stylus, which is also a low mass design (the Model G ups the ante with a micro ridge stylus, while the Model A features a conical stylus design on an aluminium cantilever). Interestingly, the lightweight body is built around a carbon fibre monocoque frame for dampening and structural support.
First fit the pointy bit
The cartridge mounting holes are set back on the Model S body and are threaded. Mounting the cartridge is relatively easy; although the front of the cartridge overhangs the stylus (and in many cases, the headshell itself), the fact it's shaped like the prow of a boat means if you centre the pointy bit at the front of the cartridge body as a first-fit, you are well on the way to getting the alignment right. Where some might use a thin white line on the front face of the cartridge and others use, er, absolutely nothing, using the very body shape of the cartridge as a guide to installation is a unique feather in the Titanic Audio cap. I mounted it in the 3D printed unipivot arm of an original VPI Prime, and it sat happily there and tracked best at almost dead on the recommended applied 1.8g tracking force. It wasn't a fussy cartridge in terms of VTA setting, which may be a function of that stylus profile.
As a complete package, the Model S works well. The cartridge sits in a very protective hexagonal display case, which itself sits in a larger, square aluminium 'flight case' about a handspan across. There are foam inserts for a mounting kit, which was still a work-in-progress at the time of review. The layers of protection don't make it invulnerable to damage, especially as the top of the 'flight case' has been replaced with a clear plastic insert with the Titanic Audio logo embossed across the top. However, short of using it in a contact sport or playing the 'throwing a box down a six-story fire-escape for fun' game that couriers seem to enjoy, this is about as solid as it gets.
As it comes in a standard MM/MC phono stage with minimal adjustment, the Model S does have a forward balance; but one that is closer to 'clean' than obviously 'tilted'. Couple this with its fine ability to track record grooves well and not get too upset by those albums that are less than scrupulously clean and it becomes an obvious choice for those with a good classic album collection, rather than those wanting to add the latest and newest recordings. That being said, quality modern LPs – `Venice Bitch' from Lana Del Rey's Norman F***ing Rockwell! [Polydor/Interscope] for example – is articulate and detailed, and her breathy vocals are pitched perfectly. When the band kicks in, nothing is too deep anyway, but the bass, atmospheric synth and kick drum bop along with depth and elan.
It's those classic albums where the Model S shines. I busted out a 1960s Decca recording of Handel's Belshazzar (on the Turnabout label); this is an excellent and spatially wonderful recording that is a bit 'crispy' in terms of surface noise, but the Model S performed a good balance of information retrieval without being so unrelenting on highlighting the past life of the record. This recording is also rather dark-toned anyway, and that – combined with the directness of the Model S treble – makes for a very nice sound indeed. In particular, the Model S has an extremely natural and unforced dynamic range that comes across throughout.
Dialling in the correct impedance (I used a Primare R35; to change from 47kΩ to 150Ω required the flipping of four DIP switches on the rear panel) makes for a marked step in the right direction, though. The basses in the Handel opera (both vocal and bowed) take on a fuller, richer texture and depth. They are more spatially 'placed' in the soundstage and there is improved presence and articulation in those deeper tones. Meanwhile the treble reorients itself to be less forward sounding. While the tone of the Model S is never 'lean' the sound becomes more even and accurate.
Legato link
Out popped a few old favourites, including Zakir Hussain's Making Music [ECM] and Van Morrison's Moondance [Warner Bros]. In fact, these albums have a lot in common, as both the themes in the ECM album are as legato as Morrison's distinctive vocal style. Any disconnect in tonal balance quickly irritates on both albums too, but especially the former; Jan Garbarek's trademark soprano sax can quickly cut into Hariprasad Chaursia's flute playing and even John McLauglin's super-fast guitar lines, swamping them if the system is even remotely bright.
The difference in impedance setting was telling; the forward sound was just the right side to make Garbarek's sax sound clean and direct without oversaturation, but with the impedance dialled in just so, the sax just sat better within the mix. Neither is 'deal breaker' but I found the adjustment worthwhile to the point where I would recommend using the Model S with a phono stage with that degree of flexibility.
In truth, the Titanic Audio Model S sits in among some very strong contenders with decades of reputation behind them. But for some, that reputation is as much based on past glories as it is for high-performance new models in this price sector. I think the main strength of the Model S is its balance, as it's such a good tracker it seems to sideline surface noise while remaining a fluent and engaging sounding cartridge. It will probably never be the first choice for those seeking a soft and overly romanticised view of LP, but for those who want good, natural sounding dynamics and mid-to-treble transparency, send out a telegraph to Titanic Audio today!
Technical specifications
Type stereo moving coil cartridge
Body CNC Machined Aerospace-grade aluminium
Stylus Elliptical nude diamond
Cantilever Aluminium
Recommended Tracking Force 1.8g
Frequency Response 20Hz-20kHz ±1dB
Output Level 0.36mV (1kHz, 5cm/s)
Load Impedance ≥150Ω
Coil Impedance 10.5Ω
Height 17.5mm
Weight 10.5g
Price £3,500
Manufacturer
Titanic Audio
 Tel: +44(0)28 9072 6003