SOULNOTE D-2 digital converter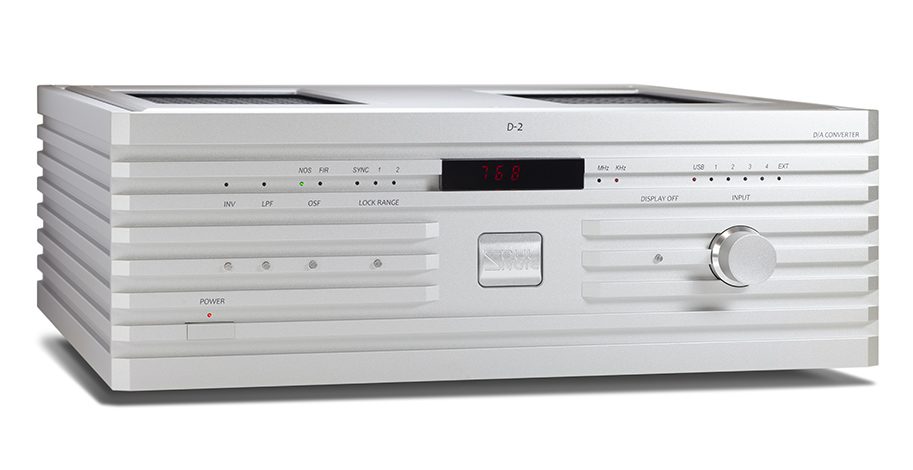 Based in Kanagawa Prefecture about 27km (17m) from Tokyo, SOULNOTE is a Japanese-manufacturer of high-end audio components. Part of the CSR group, SOULNOTE divides its products into three levels or tiers. The D-2 DAC is part of their middle range.
The D-2 has the same (43 × 40.5 × 16cm) dimensions as SOULNOTE's A-2 integrated amplifier tested in Issue 215 – and it needs to be this big. Just peer inside a D-2; you won't find much empty space. Due to the extensive use of discrete components, the D-2's circuits take up all-available room. Yet the D-2 is not SOULNOTE's flagship DAC – that honour belongs to the D-3 model. However, after reading the D-2's specifications, you might well conclude it's about as good as it gets in terms of technology and design. It's certainly a highly advanced, no-compromise product.
For starters, the clock used in the D-2 is claimed to have ultra-low jitter – around 45 femtoseconds. Despite this, further improvements in timing-accuracy are possible when the D-2 is partnered with SOULNOTE's X-3 10MHz external clock (£4,500). Another key design point worth noting is SOULNOTE's passionate advocacy for Non-Oversampling (NOS) filtering, though Finite Impulse Response (FIR) filtering is also offered to give users a choice.
NOS or FIR
SOULNOTE explain as follows… 'In addition to conventional FIR oversampling, the D-2 has adopted the NOS mode which operates without feedback in the digital domain. In this mode, the pre and post-echo observed in the impulse response with FIR oversampling do not occur'. Basically, a short-duration transient pulse reproduces far more cleanly using the NOS filter. The FIR filter introduces noticeable ringing before and after the pulse. While the FIR filter has less distortion and achieves better phase linearity, for SOULNOTE, getting rid of ringing is more important.
SOULNOTE's D-2 offers 32bit resolution (24bit USB) and is compatible with sampling rates up to 192kHz (768kHz USB) in PCM. DSD (64) is included, operating up to 22.6MHz (USB) and 2.8MHz (Coaxial/AES-EBU).
There are 5 digital inputs – 2 RCA/Coax, 2 XLR/AES-EBU, and 1 USB – with a choice of unbalanced (RCA) and 2.8v output, or Balanced (XLR) analogue and 5.6v output – both higher than average. As outputs are fixed, rather than variable, the D-2 cannot easily be used as a preamp.
The D-2 uses four highly regarded Sabre ES9038PRO DAC chips. According to SOULNOTE, "The ES9038PRO boasts an ultra-strong current output of 120mA. Using two per‑channel in Synchronous mode provides the highest sound quality."
The balanced analogue outputs sound best in terms of vividness and dynamics, so use these if you can. For USB sources, you can download Microsoft drivers going right back to Windows 7 from SOULNOTE's website. Macs are already covered.
Simple and Straightforward
Despite its internal complexity, the D-2 is very simple and straightforward to operate. It has five press buttons (plus power on/off) with a single rotary selector for the five digital inputs. The unit draws around 56W from the mains and gets mildly warm during extended use.
As mentioned, the D-2 matches SOULNOTE's A-2 integrated-amplifier in terms of size. However, you cannot stack the two. This is because they each have floating top-panels. Also the metal support feet have no rubber protection pads. This risks damage to the lower unit.
There's a visual display to indicate sampling frequency, but this only operates with USB inputs – not coax or AES/EBU – for sound quality reasons.
An intriguing feature is the stereo/mono switch on the back panel. This gives a normal stereo output through both channels, or just left channel through the left output, or right channel through the right output. But – why would anyone want this?
It seems SOULNOTE envisage a situation where two D-2's are used in a dual-mono arrangement. They say, "In MONO mode, stopping the ES9038PRO on the opposite channel doubles the power margin and makes the channel separation virtually infinite." So, there you are!
However, a less extreme (and less costly) option for D-2 owners looking to improve performance would be to add an X-3 external clock. Note that SOULNOTE's flagship D-3 DAC does not have a built-in clock; it is designed to work with the X-3 as standard.
SOULNOTE's goal is a vibrant vivid sound with explosive dynamics and great tonal brilliance. The D-2 certainly aims that and delivers impressive impact and luminous clarity. The result is vivid and detailed – hopefully, an arresting and intense musical experience.
Attitude
Like driving a fast sports car, the D-2 prioritises speed and excitement over smoothness. It engages your senses and makes you concentrate. SOULNOTE's D-2 will appeal to those who want music to show attitude – not something that just sounds pleasant and un-assertive.
I got a sense of playing a 1976 jazz album called The Three with Joe Sample (piano) Ray Brown (bass) and Shelly Manne (drums). The recording was originally made direct-to-disc in Los Angeles, with the CD released much later from analogue back-up tapes made at the sessions. Inevitably the CD did not compare to the original direct-cut LP. I recall being disappointed when I first heard it 20 or so years back. But via the A-2/D-2, it was clear, bold, and very dynamic, with notable depth and separation, a big soundstage and excellent transient attack.
I did most of my early listening with the filter set to NOS. This delivers crisper dynamics and a more vivid sound compared to either of the two FIR settings. On most Jazz and Rock/Pop material, I felt very happy with the results using NOS. But, on naturally recorded classical material, I sometimes preferred FIR. If, on choral and solo voice there was a hint of tonal hardness or a slight degree of congestion when using NOS, then switching to FIR reduced this. The sound became fuller and richer/warmer.
But while FIR sounded a tad smoother and less bright than NOS, it was also slightly muted – less vibrant and immediate. On direct comparisons, NOS was always a bit better in terms of vividness. However, long term, FIR seemed slightly more comfortable to listen to.
My preference varied from disc to disc. Some were better with NOS, while others suited FIR. I liked NOS very much. On good Jazz and Pop/Rock recordings it often sounded best; on classical music I was sometimes happier with FIR. How good to have options!
Placement
Both the A-2 and D-2 proved sensitive to placement. I put the D-2 on a spring-suspended wooden shelf, which was fine. But placing the D-2 on a steel equipment rack with tempered glass shelves was not such a good idea.
The D-2's hard metal feet on glass increased the brightness of the sound, which wasn't good. Putting it on an old Mission decoupling platform with Sorbothane feet helped reduce treble glare without losing bite or immediacy.
After making this change, I tried the Halle recording of Elgar's inspiring oratorio The Kingdom, and listened to the whole thing. It sounded great; still bright, but in a nice airy open highly-detailed way. Any hint of glassy-treble was gone, especially with the FIR setting.
There's some very deep organ pedals throughout The Kingdom, and I was impressed by the sheer heft and power of the bass. The effortless reproduction of deep clean bass is always a litmus test for good digital, and the D-2 passed with flying colours.

Comparing the SOULNOTE D-2 to the DAC in AURALiC's ALTAIR G2 was interesting. The latter costs £5,299 but includes a Streamer, MM phono stage, an analogue line input, and is usable as a preamp. The D-2 did sound slightly more dynamic, incisive, and detailed – though I had to listen very carefully.
Playing Mozart's Salzburg symphonies with Trevor Pinnock and the English Concert on DG/Archiv, the D-2 separated the individual sections of the orchestra better, portraying strings, winds, and brass with greater individuality and a clearer portrayal of the hall acoustic.
It wasn't a massive 'night and day' sort of difference, but given how good the Altair G2 DAC is, it's quite something to better it. The D-2 always sounded that little bit more dynamic and insightful, and made the music sound livelier.
To sum up; SOULNOTE's D-2 DAC is one hugely-impressive piece of kit that sounds vivid and vibrant. It gets the best from digital sources and is especially good when partnered with a responsive amplifier such as SOULNOTE's A-2 integrated. So do hear a D-2 yourself and see what you think. I have a sneaking suspicion that you'll come away impressed, and with a D-2 on order!
Technical specifications
Digital input USB (Type B), coaxial ×2 (S/PDIF), AES/EBU ×2
Input format (USB) PCM, DSD (DoP v1.1, ASIO native)
Input format (Coaxial, AES/EBU) PCM, DSD (DoP v1.1)
Supported sampling frequency (USB) Max. 768kHz (PCM)/Max. 22.6MHz (DSD)
Supported sampling frequency (Coaxial, AES/EBU) Max. 192kHz (PCM)/Max. 2.8MHz (DSD64 DoP v1.1)
PCM quantization bit rate (USB) 16bit, 24bit, 32bit
PCM quantization bit rate (Coaxial, AES/EBU) 16bit, 24bit
External clock input 10MHz (BNC50 ohm)
Analogue output XLR ×1, RCA ×1
Analogue output level (XLR) 5.6Vrms
Analogue output level (RCA) 2.8Vrms
Frequency response 2Hz-120kHz +0/-1dB
S/N ratio 110dB
Total harmonic distortion  0.008% (NOS/176.4kHz)
Analogue filter Two-dimensional passive
Power voltage 230V AC 50Hz
Power consumption 56W
Finish Black or SIlver
Dimensions (W×H×D) 43 × 16 × 40.5cm
Weight 17kg
Price £7,700
Manufacturer
SOULNOTE
www.soulnote.audio/soulnote-en
UK distributor
Kog Audio
+44(0)2477 220 650
Tags: DAC SOULNOTE D-2