Linn Klimax DSM network streaming preamplifier
But it's what's inside that counts, and it's here that Linn has distilled all of its recent work on digital audio design, and taken it to a new level. The headline 'new level' is the brand's new 'Organik' DAC. Hitherto, Linn's engineers were content with drilling down into the darkest recesses of a DAC, to ensure each sub-system within the DAC chip itself was carefully fed. This was called 'Katalyst'. However, where Katalyst took someone else's digital converter and made it as good as Linn thought it could take that chip, 'Organik' is a custom DAC, with the processor written in code and stored in FPGA chips (that's 'Field-Programmable Gate Array' and nothing to do with swearing at pro-golfers) and a discrete conversion stage.
According to Linn itself, this "powerful FPGA processing stage uses custom-designed algorithms to provide increased upsampling, more precise volume control, and distortion free modulation. Its partnering discrete conversion stage renders the analogue signal with extremely low levels of distortion thanks to a new ultra-low jitter oscillator and carefully designed clock distribution network."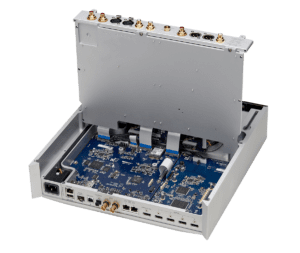 In fairness, this is mostly 'new to Linn' than a completely 'new' concept, but once again without seeming to wave the Union flag from the rooftops, why are so many top-line British companies willing to go that extra mile and develop their own DAC, rather than choose an off-the-peg design? With Linn joining a select list of UK-based digital brands who also write their own DAC, it shows the UK to be a true digital centre of excellence.
Of course, rolling its own digits provides the company with greater control over its digital destiny, and unlocks the brand from having to dance to the tune of the chip-maker. Given we saw the AKM chip-fabbing plant burn to the ground last year, and the previous version of the Klimax DSM used the AK4497EQ digital converter chip, not dancing to the digital chip-maker's tune sounds like a good idea.
More importantly, from a company perspective, making your own digital converter means you can shape the sound to suit your brand's requirements. In base terms, while Linn's boss Gilad Tiefenbrun was once extremely dismissive of DSD, the new Klimax DSM supports DSD256, alongside 24-bit, 384kHz PCM. MQA in all its guises is not on the Linn map, however. But it also allows closer integration with other digital sources and clever bits of Linn technology like Space Optimisation; this last allows the user to encode the speakers and basic parameters of the room into the decoding process, allowing the listener to dial out a significant portion of the room's acoustic influence in the digital domain, without the need for sonic measurement or more heavy-handed DSP found in some systems. While this is the kind of set-up function that could be performed by any end user, a trained and intelligent dealer who has had experience of installing the system in a number of rooms helps a lot.
There are two and a bit versions of the Klimax DSM now. The first is the all-audio version, the second is the AV version that comes with HDMI connections. As these are identically priced, I'd say go with the AV version as it adds flexibility without undermining performance or sacrificing inputs or outputs. However, while these sections are the most physically isolated inputs possible, there remain audiophiles around the world who respond to the inclusion of AV inputs with a case of hives, so if you fall into that group, go with the audio-only option.  Then there's the Klimax Hub option, which costs £15,000 and doesn't include any DAC option, because it's the preamp/hub for active Klimax 350 loudspeakers. The Klimax 350 speakers now include the Organik DAC as standard, and there is an upgrade for existing owners.