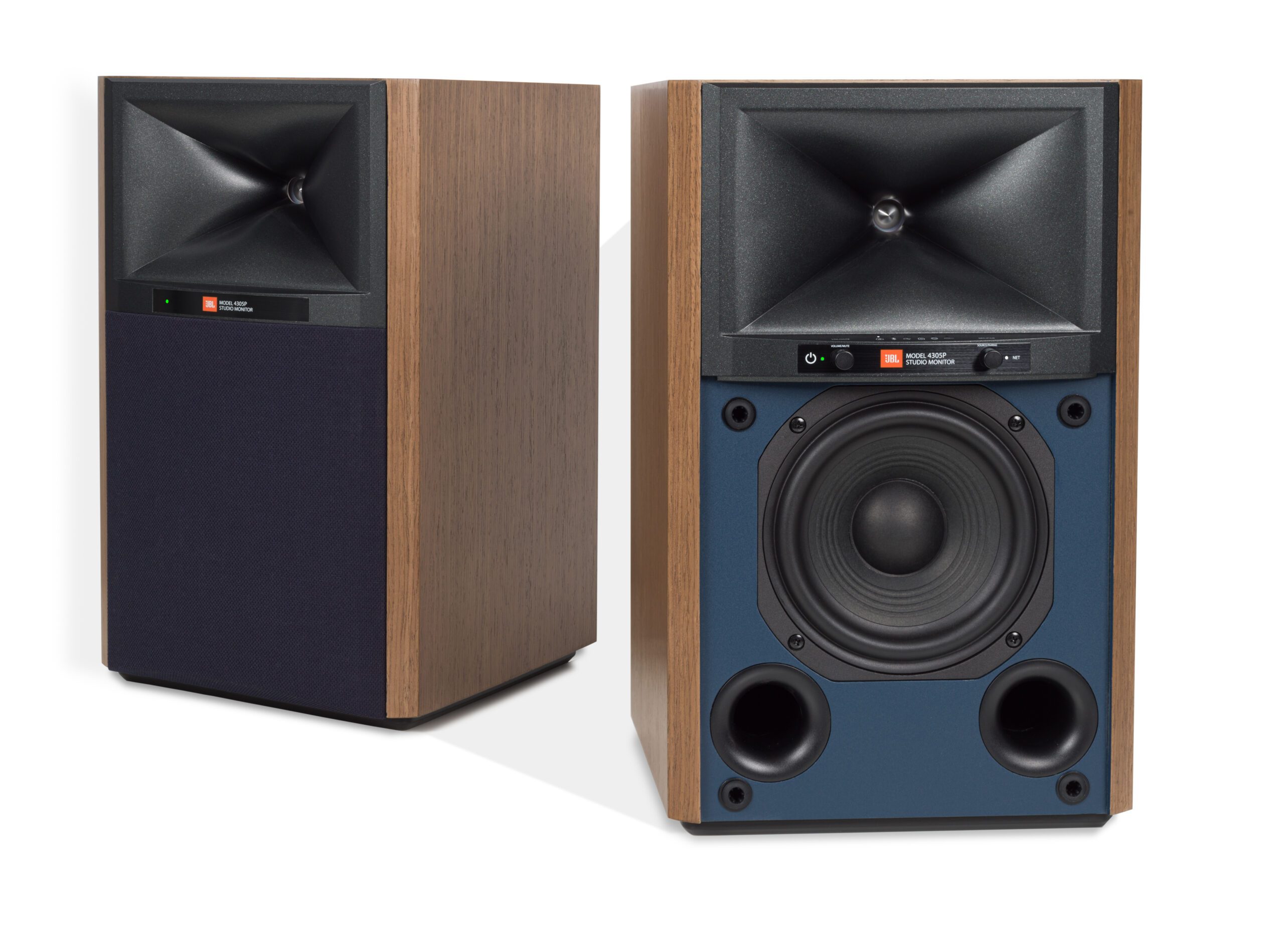 New ground can only be broken once, of course. After that it's just a land-grab.
Take, not entirely at random, the concept of the self-contained, all-in-one audio streaming system contained within a pair of seemingly conventional loudspeakers. It's been done, right? And now everything is just a variation on a theme.
For its 4305P powered loudspeaker streaming system JBL has chosen, both predictably and wisely, to play to its strengths. And the result, at least in visual terms, is a pair of loudspeakers the company might have turned out at any point in the last 60 years. Not only is no new ground being broken here, but it looks very much like we're firmly on the old ground.
Only JBL
The 4305P could only be a JBL loudspeaker. The cabinet is MDF, squared edged and finished in walnut veneer (that's our review sample, anyway. A black walnut veneer alternative is available). A dark-blue grille covers a 130mm pure-pulp black paper cone and a couple of bass-reflex ports. Up above, sitting in a housing that's meant to be black but instead is a species of very deep grey, there's a 25mm Teonex diaphragm compression driver with a ring surround sitting in the throat of a rectangular High Definition Imaging horn aperture. This arrangement, of course, is purely uncompromised and uncompromising JBL from back in the day – but the overall aesthetic is very 'studio oriented' for a domestic loudspeaker. It's likely more than just looks; alongside the passive 4349 and 4309, the 4305P is part of JBL's Studio Monitor line.
However, these aren't passive speakers. Far from it.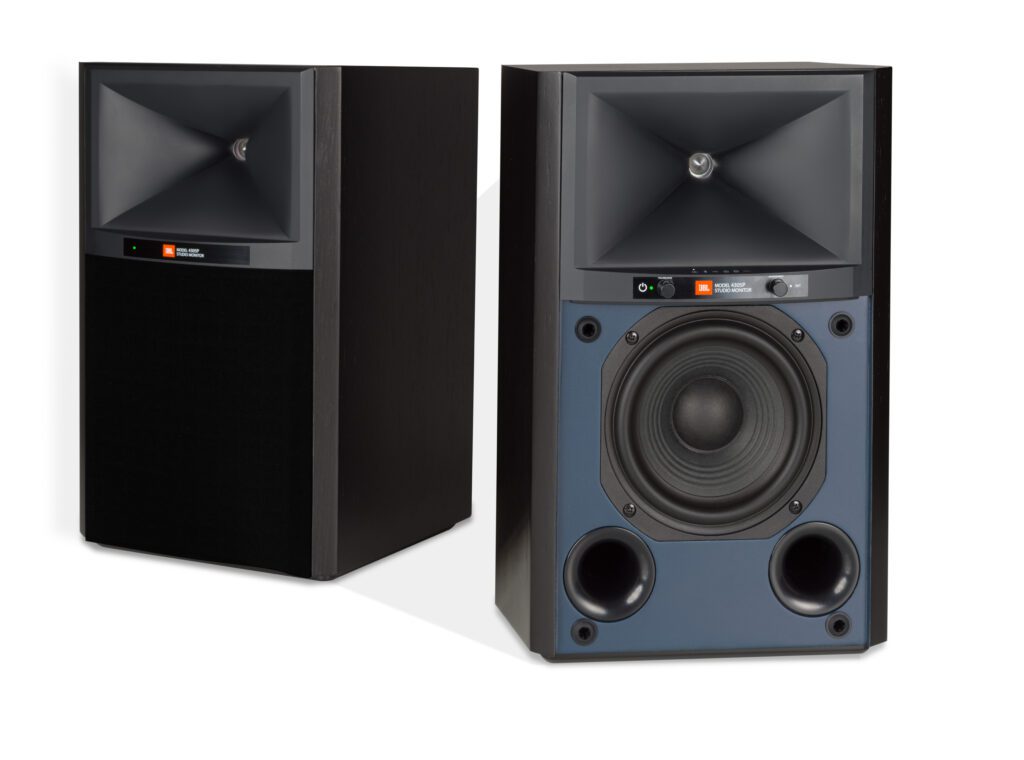 Each speaker is fitted with Class D amplification – 150 watts each, to be precise. It's divvied up at 25 watts per tweeter and 125 watts per mid/bass driver. And each speaker has a kettle-socket for mains power, a CAT5 socket to make a wired connection to its partner and a button to enable the same thing but wirelessly. They've both got a power switch. After that, one of the speakers takes control. It's loaded with additional socketry and some extremely small buttons.
Specifically, it's fitted with quarter-inch balanced XLR inputs with a switch to select either -10db or +4dB sensitivity. It has an Ethernet socket, and a USB-A input for servicing. It's got a 3.5mm analogue input, a digital optical input and a USB-B input (you know the one – it's the sort of USB your printer has). There's a pre-out for a subwoofer, a switch to assign the speaker as the 'left' or 'right' channel, and a switch to toggle between -3db and 0dB as a bass contour. Oh, and a 'reset' button in case something goes fundamentally wrong.
More going on…
As a consequence, this speaker also has slightly more going on at the front than its partner. Across the demilitarised zone that separates the horn-loaded tweeter from the grille covering the mid/bass driver there are two little 'turn/press' controls (one governing 'volume/mute', the other 'input selection/Bluetooth pairing') and a row of even smaller lights that reveal which input has been selected – if you get very, very close to them.
The speaker can be connected to your network wirelessly (if it's too far from your router for a physical connection) using Google Home. Once it's on there, Apple AirPlay is available, as is Google Chromecast – and there's also Bluetooth 5.1 wireless connectivity. This last tops out at 48kHz, while the maximum resolution if the speakers are wirelessly connected to each other is 24bit/96kHz. Join them together using the supplied CAT5-terminated cable and you can have 24bit/192kHz from your local network and the digital optical input. Every worthwhile digital audio file type is supported, including MQA, and it's Roon-ready.
The 4305P is supplied with a full-function remote control handset that looks and feels as prosaic as the speakers themselves. Control is also available via the third-party MusicLife app – here's where you can integrate your streaming service of choice (provided it's Amazon Music, Deezer, Napster, Qobuz or TIDAL), select the internet radio station or podcast you'd like to listen to, check for firmware updates and all the other usual stuff. There's no EQ adjustment here, though, and the volume control has no discernable effect.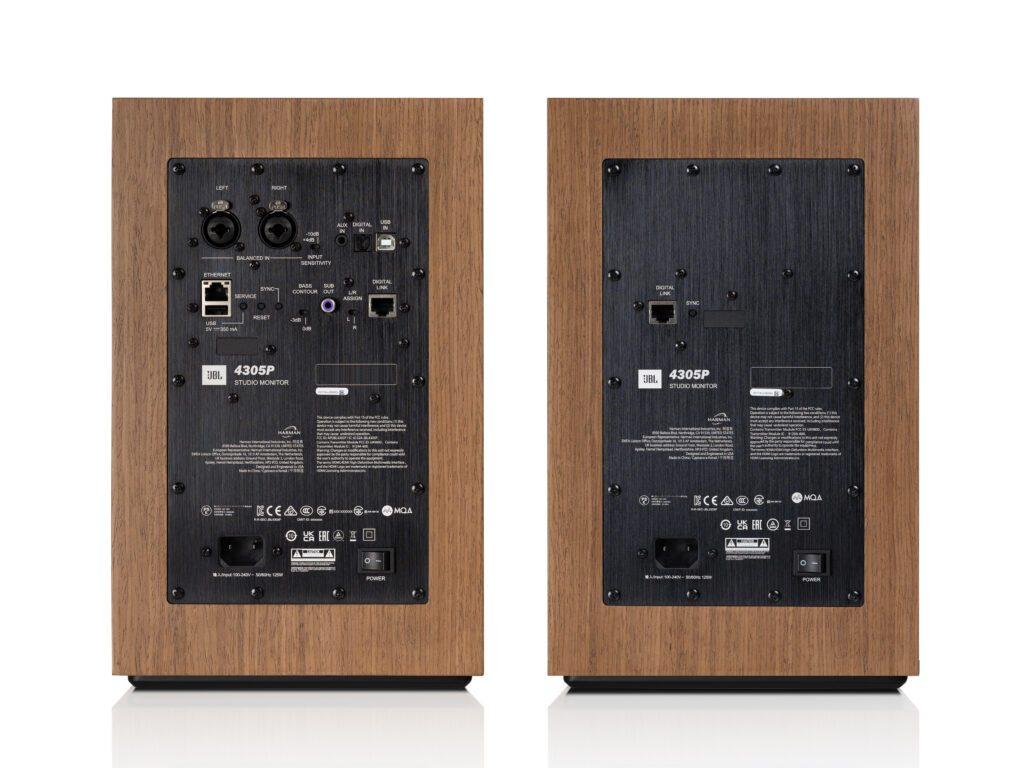 Set-up is painless, and for the purposes of this test the more overworked speaker is connected to a local network using an Ethernet cable, to a Clearaudio Concept turntable via a Chord Huei phono stage using the 3.5mm analogue input, to an Apple iPhone 13 using AirPlay and to a Rega Apollo CD player via digital optical. The speakers are positioned securely on a pair of Atacama Moseco 6 stands and we're in business.
Paris-based internet radio station FIP has long acted as a demonstration of just how discerning and tasteful the French can be when it comes to popular music – and its customary mixture of jazz, reggae, hip-hop and Leonard Cohen seldom fails to satisfy. Tuning in (if indeed that is what one does with an internet radio station) just as Sons of Kemet's The Hour of Judgement [Naim Jazz] kicks off allows the 4305P to reveal a little of what they're made of.
Texture and solidity
There's real texture and solidity to the tune's blown bass, a proper expression of the laborious input and singular output of the tuba player. The heated contributions of saxophone and clarinet are nicely controlled, with convincingly straight edges marking the attack and decay of individual notes. The integration of the frequency range is smooth (although this is hardly the best recording for showcasing the elaborate tweeter arrangement these speakers enjoy), the soundstage is unambiguously described, and the nuance of the dynamic and harmonic variations that result from musicians all bearing down on a piece of music as a single entity are given good expression too.
The rather more traditional charms of Simon & Garfunkel's Bookends [CBS] on vinyl grant the JBL even more freedom. This is painstakingly recorded music, 'musicianly' in the most demonstrative sense, and the 4305P enjoy it a great deal.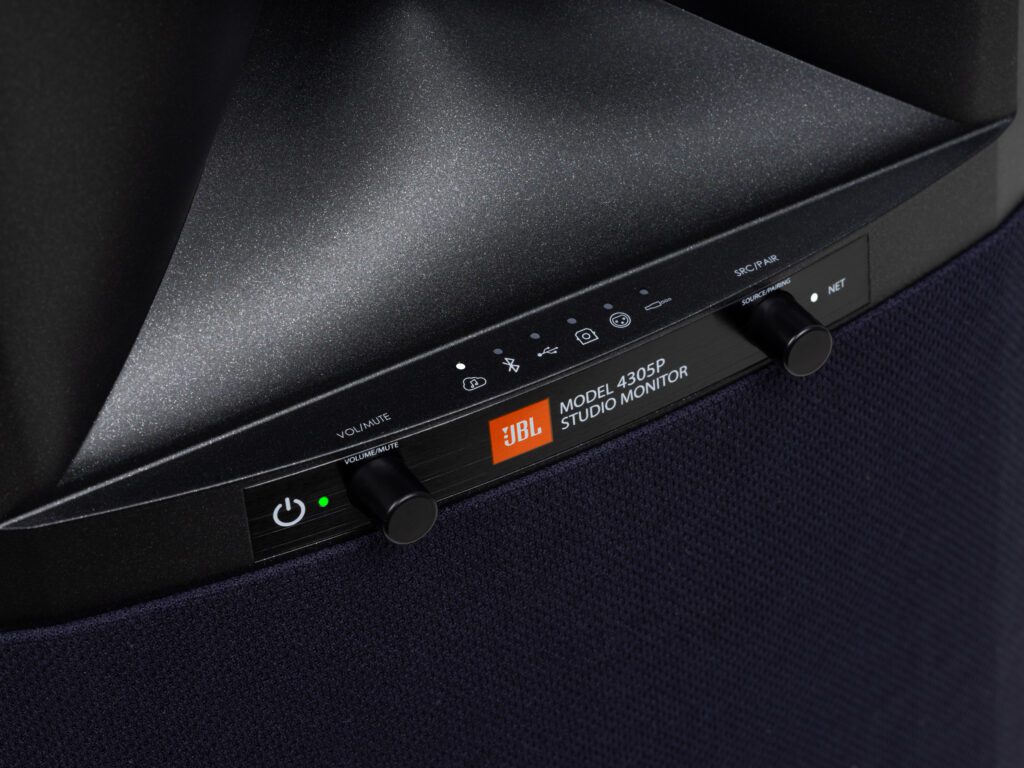 Low frequencies are confidently shaped, properly controlled and offer both underpinning and momentum in equal measure. Detail levels throughout the frequency range are sky-high, which as far as bass is concerned means everything from string-gauge to plectrum-weight is described. There's straightforward 'punch' available when a recording demands it, but the JBL are far from a blunt instrument and their insight into the specifics of low-frequency information is impressive.
The purity and character of the voices here allows the quality of the 4305P midrange reproduction to shine – and you can be sure there's no subtlety overlooked, no fleeting harmonic event left unidentified. All the warmth, all the technique, all the striving to communicate is fully expressed – and the voices enjoy a distinct pocket of space in which to operate. 'Explicit' is the most appropriate word here.
At the top end, the reasoning behind JBL's insistence on the relatively complex and expensive tweeter arrangement it's persevered with for all these years is made apparent. There's tangible substance and solidity to treble information, but it's accompanied by a deft airiness that eludes the majority of more prosaic tweeter arrangements. The sensation of rigorous focus combined with wide‑open dispersal of sound is far from common, and it's uncomplicatedly impressive.
A CD copy of Dreams by The Whitest Boy Alive [Service] allows the 4305P to demonstrate its facility with dynamics, and also highlight the remarkably direct and positive attitude it has to emptier, sparer records such as this. The overall presentation is full and robust, but the JBL pay proper attention to the gaps and spaces – so the album's clean 'superior demo-tape' vibe is adhered to without it sounding spindly or (heaven forbid) cheap.
A game of two halves
The JBL 4305P audio streaming system is a classic 'game of two halves'. The first half consists of perceived value, pride of ownership and all that stuff – and let's not beat around the bush here, the 4305P come up short in this regard. That '1970s studio' look might have some retro-appeal but it is not for everyone, and other, more modern-looking designs have greater tactility than this system. When the second half kicks off, though, and we start to consider the way the 4305P performs, well, it's a different story.
In every meaningful respect, the JBL 4305P is an enjoyable and galvanising listen. It gets all the technical aspects right, and it manages to do so without being in any way dispassionate or analytical about it. 'Meticulous' is not the same as 'emotionless', after all, and the way the 4305P looks and feels is not the same as the way it sounds.
Technical specifications
Type Bass-reflex loudspeaker system with integrated amplification, dsp, and wireless connectivity
Driver complement 130mm paper cone woofer; 25mm compression driver
Amplification power (w)/type 300/Class D
Frequency response 45Hz–25kHz
Crossover frequencies 1750Hz
Inputs Balanced 6.3mm XLR; unbalanced 3.5mm; digital optical Toslink; USB-B
Wireless inputs wi-fi; Bluetooth 5.1
Outputs subwoofer
Digital audio sample rates 192kHz (streaming and optical); 48kHz (Bluetooth)
File types AAC; AIFF; ALAC; DSD; FLAC; MP3; MP4; OGG; WAV; WMA
Dimensions (hwd, cm) 34 × 21 × 22
Weight (kg) 6.6
Finishes Satin walnut; black walnut
Price £1,999 per pair
Manufacturer JBL   www.jbl.com    0161 222 3325
Distributor
Harman International Industries
+44(0)161 222 3325