Innuos Statement 'Next Gen'
Leonardo da Vinci once remarked "Trifles make perfection and perfection is no trifle." While I'm partial to a nice sherry trifle at times, I don't think that was what he had in mind. However, I think da Vinci would approve of the changes made to the Innuos Statement. For while they read like they should be trivial upgrades, the improvement to the performance of this already potent music server puts the Innuos Statement even more squarely at the pinnacle of music streaming.
The big change to the Statement is the optional 'Next‑Gen' power supply, a retrofittable update that replaces much of the inner workings of the larger of the two Statement cases. This features two custom-designed special AC/DC modules (no, it doesn't play 'Thunderstruck' on boot up) given the codename 'ARC6'. Each module sports a new high-precision active power supply rectifier board, with a large 10mH DC Choke and almost four times more capacitance than the standard power supply, provided by six Mundorf caps. The ARC6 modules are also mounted on Innuos' new Adaptive Vibration Control (AVC) platform; a combination of Panzerholz wood with a specific density gel layer, which is claimed to be "highly effective at dampening high-frequency vibration coming from the chassis." There's also a hefty 540VA transformer.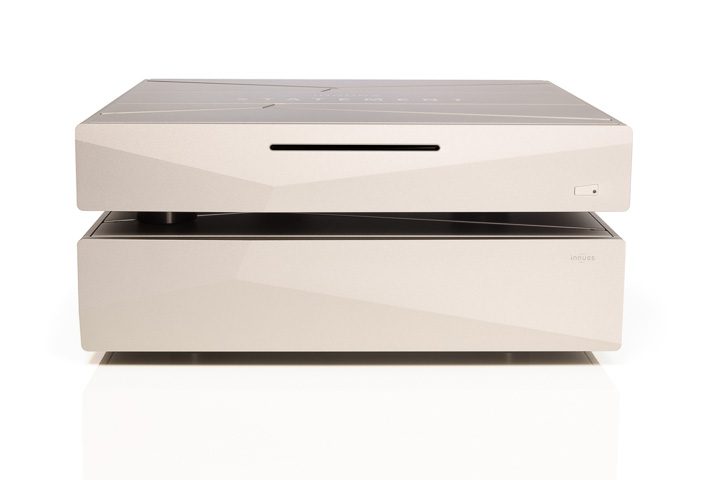 In the Server section power feed, the regulator modules include a dedicated 'CPU Booster' module, providing up to 15A of current to the CPU for faster transients. All power supply rails (for Motherboard, USB Reclocker, Ethernet Clock and internal SSD storages are further smoothed by the use of Audio Note KAISEI capacitors.
Plus ça change
The key to the Statement is a rejection of that burning desire to keep pushing the bleeding edge of chip-technology. This is based purely on observation and listening tests; while the fastest chipsets are great for working with Adobe Premier or Photoshop and rendering your sci-fi CGI masterpiece but seems to work against the harmonious presentation of streamed music. The best analogy is to see this as like using a Ferrari as a city commuter vehicle; while it notionally sounds like a good idea, spending all that time pootling around in a low gear does no-one any favours. Having slightly more than enough processor to perform all those music handling tasks effortlessly seems a better proposition than a lot of idle processor cycles.
Much of the Innuos Statement falls under the 'if it ain't broke, don't fix it' rule. It uses two short umbilical cables, which strongly suggests the user stacks the main unit on top of the power supply. This does make for a fairly tall shelf, however, and Innuos can supply longer cables on request. Fortunately, the 10mm thick aluminium case means there's very limited possibility for resonance issues emerging between the two boxes.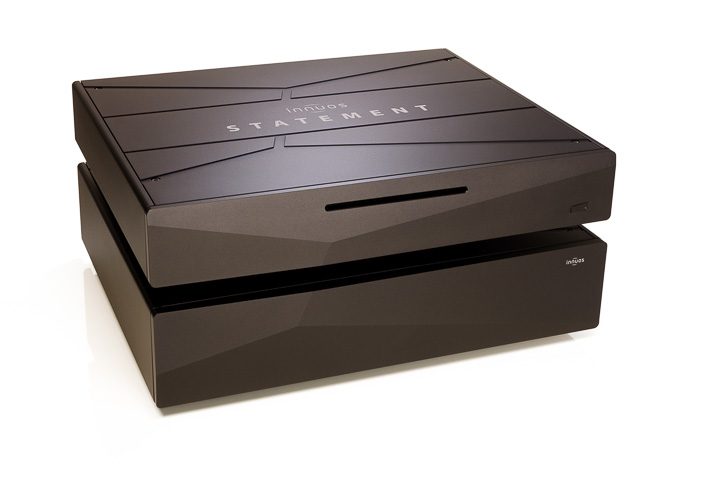 Statement talks to the outside world in a number of ways. You should connect it to the Ethernet through a RJ45 socket, if only because that's the best way to access Roon and Qobuz, and fast, reliable metadata for ripped discs. There are also a trio of USB connections; one for back-up, one as a dedicated USB music server output and a spare. Innuos is keen to stress that the USB output has one of the Statement's two OCXO clocks with three parts per billion accuracy (the other is on the Ethernet connection) and is arguably the best way to play music through the Statement.
However, a big change from the last time we looked at the Statement is the launch of the Innuos app. This takes away almost all the requirement for using the Innuos Statement's dedicated my.innuos.com online dashboard, and is extremely slick in its own right. In particular, it makes ripping CDs about as fuss-free as it's possible to get right now… if you are still ripping CDs. In day-to-day music wrangling, I'd still give Roon the edge because of all the rich metadata it accesses, but the app has the great advantage of being free and available to any Innuos Statement owner.
Noticeably better
For most of the test, I used the Statement sending signal via USB to a dCS Bartók DAC. I also experimented with using this via Ethernet… and I think Innuos are right here. The Statement sounds noticeably better when played through USB, rather than letting another product act as streaming front-end. Given this was using one of the best UPnP streaming platforms around (dCS Mosaic) it was noticeably better sounding, which came as a bit of a shock. Moving down a few notches to a more humble – but still excellent – Primare I35 Prisma, the difference was, if anything, even more pronounced. USB output can sometimes get a bit of a bad reputation thanks to mediocre 'Mac and DAC' set-ups, but when it's done properly (as it clearly is here) it is a cogent and musically insightful sound.
The new power supply transforms the Statement in ways I wasn't expecting. I've had some experience of the Statement first hand (although not in review) and it has always struck me as being a powerful and detailed performer with excellent soundstaging and great presence in the room. None of those things have changed, but now the Statement has even more precision and control, more dynamic range and energy. In fact, it improves almost every aspect of the Statement, and by no small margin.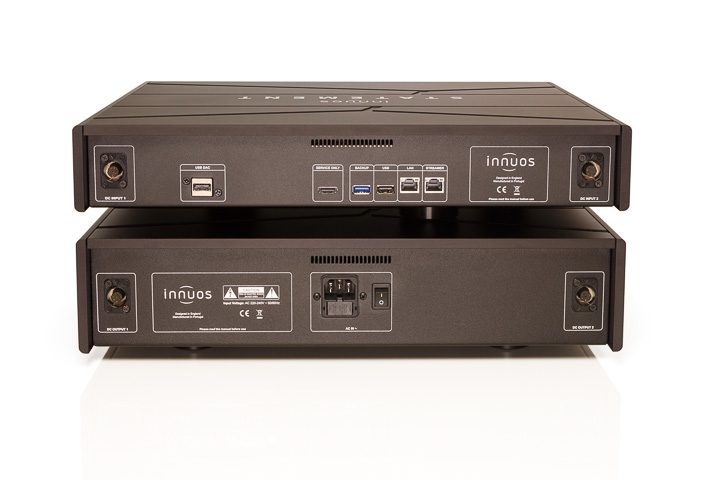 There's a real sense of hash-free, low-noise musicality to the Statement's sound; Joyce DiDonato's weaponised mezzo-soprano [Stella di Napoli, Erato] can easily sound flat and almost uninteresting when played through a streamed source, but here the sound had the sort of dimensionality and finesse normally associated with 'straight outta CD'.
It's no small change to the performance, and that is extremely impressive. The performance of the Innuos Statement has long been at the pinnacle of music server performance and the Next-Gen power supply pushes that performance into new and uncharted territory. In all the right ways. I've used Naim's UnitiServe and Uniti Core, and Melco's N10 for years and the Next-Gen Statement pushes them aside, thanks to a sound quality that combines the rhythmic intensity of the former and the grace and staging elegance of the latter. At the same time, there is a great sense of 'space around the notes' (both in terms of staging and in the playing of the musicians), an extension to bass and treble, with a noticable increase in smoothness to the already smooth-sounding treble. But perhaps the biggest change to the sound is in its dynamic range; this has got at once more intense and better controlled.
Ask Jeeves
Then there's the app. The Statement has always been a flexible source component – it's your invisible music helper, ripping and streaming its way around your collection. Now, thanks to the app, it moves from 'invisible music helper' to, essentially, Jeeves. It manages your music collection so elegantly and instinctually, your interaction with music becomes that bit more effortless. Yes, that interaction gets still more seamless when you move over to Roon, but the base-line Innuos control package went from a little too 'back office' and more about system administration than day to day handling, and has now become an easy to navigate Statement Master and Commander.
There are only two questions that drop out of this. The first is "is it a worthwhile upgrade for existing Statement owners?" Curiously, those asking that are probably not owners of Innuos Statement servers because 'reports from the front' suggest most Statement owners are already either the proud owners of a new power supply or are on the waiting list.
The second question is more nuanced; "should I buy a new Statement with or without the Next‑Gen power supply?" In fairness, the only nuance is "can I afford the full package now?" because if the answer is even remotely close to 'yes', you will buy the Statement+Next‑Gen package. If the Next‑Gen pushes the Statement past affordability, know Next‑Gen is gently ticking away at your psyche and it will happen. It's a case of 'when' not 'if'.
The original Innuos Statement set a standard that placed it squarely in among the best of the best, and the Next-Gen power supply raises its banner even higher. Digital's cynics will dismiss an upgraded power supply as a trifle, but we know how important trifles are now. By upgrading the power supply, the Statement more than keeps its seat at digital's top table… it offers what must be the best balance between performance and price for that absolute pinnacle of high-end digital streaming and music serving can currently provide. And the app helps transform your relationship with the Statement too, making it an even more powerful addition to your system. It's truly excellent!
Technical specifications
Type Music server with SSD storage, CD ripper and separate power supply with optional upgrade
Storage 1, 2, 4 or 8TB
Network connection RJ45 Ethernet
Digital Outputs Independently clocked RJ45 Ethernet, Reclocked USB
Back up connection USB/Ethernet
Formats supported WAV, AIFF, FLAC, ALAC, AAC, MP3, MQA (with supported DACs)
Sample rates Up to 32bit/768KHz PCM, up to DSD256 via DoP. Up to DSD512 via Native DSD with selected DACs
CD rip format FLAC (zero compression), WAV
Streaming services supported Qobuz, Tidal, Radio Paradise, Internet Radio
User Interface Innuos Sense App (Android, iOS, Kindle Fire), Browser (Google Chrome, Safari, Firefox, Microsoft Edge)
Other Features UPnP/DLNA server, , Roon Core and Bridge, HQ Player Endpoint, Sonos
Dimensions (H×W×D) server 70 × 420 × 320mm,
PSU 105 × 420 × 320mm
Weight server 11kg, PSU 15kg
Price £12,700–£14,600 (standard PSU) £16,500–£18,400 (Next‑Gen PSU)
Manufacturer
Innuos
+44 (0) 2475 200 210