Elipson P1F & A2700 preamplifier and power amplifier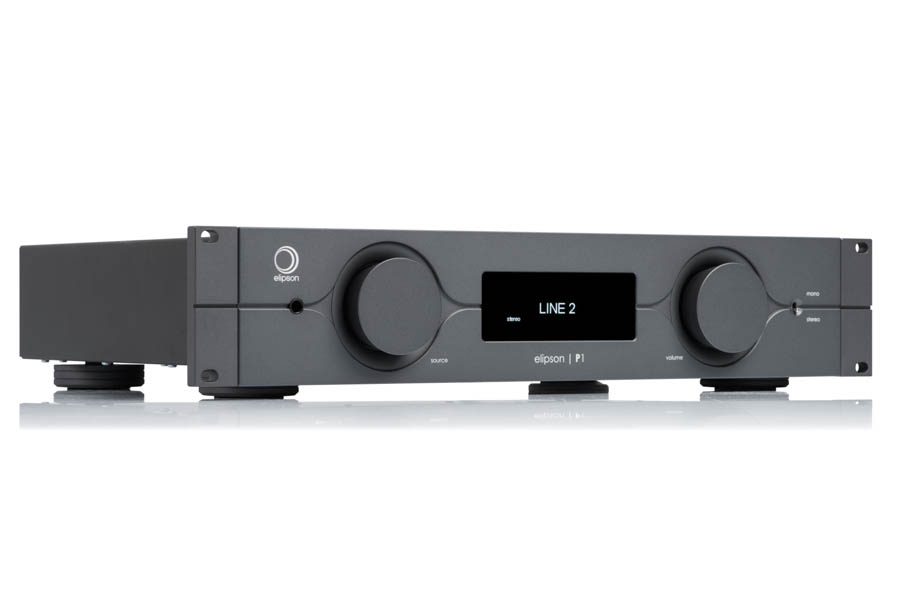 When AV Industry bought the Elipson name in 2010 it concentrated its efforts on modernising the classic French speaker brand's range and producing models with a broader variety of price points. Initially the curvy white shapes of the original designs were left in the cupboard but Elipson now have a retro BS 50 Tribute that looks very cool. Elipson branched out into turntables in 2015 and last year announced its first electronics components in the P1 preamplifier and A2700 power amplifier. These have distinctly gallic styling and are 'Fabriqué in France' in AV Industry's Burgundy factory.
The P1 is unusual inasmuch as it can be bought in some territories as a line only preamplifier with single ended and balanced in- and outputs plus remote control from a slightly idiosyncratic handset. It is a modular design with slots in the back that can be used for a DAC and a phono stage, in the UK the P1 is being sold as the P1F which means that both these modules are included, giving it a strong feature count atop the basic line amp construction. The modular aspect should be beneficial in future when Elipson develops better phono stages and DACs, and while the former are not likely to change dramatically, you never know what essential feature the digital world will be unveiling in the years ahead.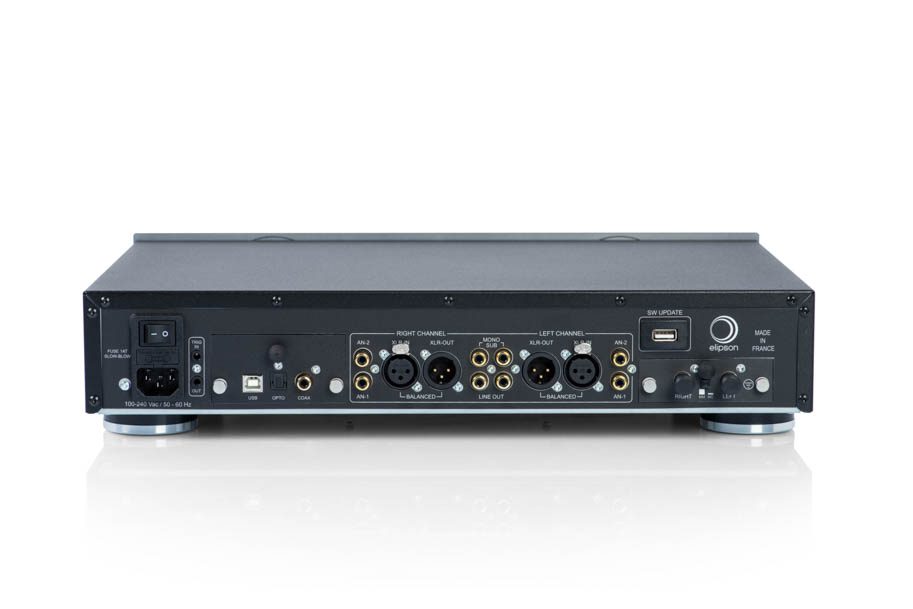 These modules are not token additions either, the phono stage has both MM and MC gain settings which can be changed via the front panel display, it's this aspect of the P1 that gives it the flexibility to be used with or without the modules of course. The MDAC 1 module offers the most popular digital inputs with USB providing for the highest resolution inputs, it contains an ESS Sabre DAC chip with support for up to 32-bit, 384kHz PCM and DSD256 (4×) data rates which covers the capabilities of most streamers and exceeds the resolution of 99.999% of all recorded music. So it should suffice. I was slightly mystified by the small metal knob sticking out of both modules until it was pointed out that this is what you grab when extracting the things, so I tried and decided that some sort of tool would be required as they are firmly fixed even without the thumbscrews to hold them in place.
Two levels of sensitivity
The MPH II phono stage has two levels of input sensitivity for the two types of cartridge, with amplification of 41dB for MM and 61dB for MC models. Input impedance is set at a standard 47 kOhm for MMs and 100 Ohms for MCs, which accommodates all variations of the former and most of the latter. The P1 has two line inputs on RCA and one on XLRs, almost the same connections are provided for the analogue outputs with the RCAs in the middle of the rear panel (and possibly too close together for some of the bigger boned RCA plugs). But the top pair are marked 'mono sub' and therefore are presumably not left and right channels.
One step at a time
I mentioned the remote handset being unusual this is because of the way it operates volume control on the P1F, it does so one step at a time rather than in a linear fashion where holding the button down provokes a continuous increase or decrease, which is not the most ergonomic experience. There is a mono/stereo button on the front panel which will be a boon for anyone that enjoys mono recordings, and a quarter inch headphone output atop a proper headphone amp should you need to keep things quiet.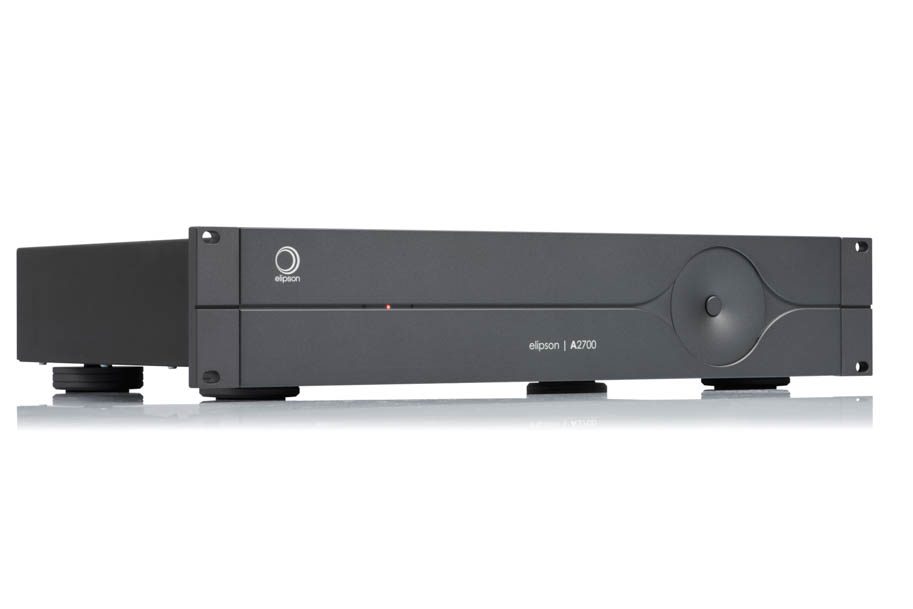 The A2700 power amplifier is fairly straightforward in appearance and connectivity, there are both RCA and XLR inputs and decent quality speaker cable terminals either side of dip switches to choose between input type and, more significantly, whether stereo or mono operation is required. It's a relatively small and lightweight box for the 400 Watt specified power and this along with minimal heatsinking (hidden underneath) is a clue as to its Class D operation. That power output is into 8 Ohms too, the 4 Ohm figure is a substantial 710W and it can be bridged to deliver 1400W as a monoblock, this Elipson may not look it but it's a beast. The Class D modules are not off the shelf units from Hypex or Icepower but were designed in-house by Philippe Penna with input from Micromega founder/engineer (but no longer owner) Daniel Schar. The Class D aspect of this power amplifier was fairly obvious from the off because the sound has a fast and explicit character that makes everything seem that much more exciting and lively. It also means you have to be a bit more selective with your sources and speakers, if there is anything untoward in the source in particular this will be very clear. I use an old AURALiC ARIES LE streamer which generally sounds good through the DACs that convert its output, but here it was a little too aggressive with the less polished recordings. It was connected to the P1F DAC by USB with a particularly revealing Network Acoustics Muon USB cable making the link, and this pairing while thrilling for its speed and attack was a bit too exposed for my tastes. The Vivid Kaya S12 speakers turning the signal into vibrating air were probably a bad choice too.
Compelling and immediate
Don't get me wrong, it was compelling and immediate, especially with Janis Joplin's 'Kozmik Blues' (a new Speakers Corner release of I Got Dem Ol' Kozmic Blues Again Mama!), which had impressive power and sounded really live via the P1F phono stage. Vinyl on a Rega P10/Aphelion 2 delivering better imaging and a smoother result than the digital source, the horns, psych guitar and that incredible voice coming through with real energy.
A change of loudspeaker seemed like a good idea so I wheeled in some PMC twenty5.26i floorstanders, which brought a welcome increase in bass extension that went some way to balancing out the energy in mid and treble, here the sound remained tight with impressive projection into the room. I really enjoyed the way that the snap of snare drum contrasted with mellow grooves from guitar and keyboards on Alfa Mist's Antiphon album, it brought to mind the sort of sound you get at better sounding concerts.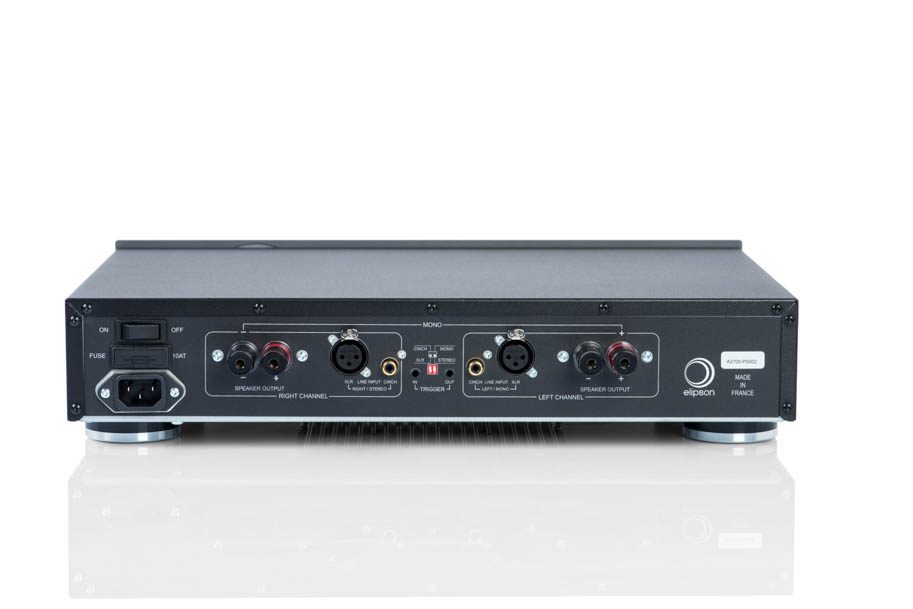 You get more of the energy from just about any recording with these amps than is typically the case, and this isn't because they are Class D specifically, this operation mode can be tuned to sound smooth and buttery by some or hollow and empty by others, albeit presumably not on purpose. Elipson have clearly chosen to use this tech to bring out the dynamics of music by giving the A2700 a combination of power and speed that elevates it above the crowd. The bass is equally fast but meaty with it when the right piece comes along. It can often find low bass where other amps fail to which is a good sign of broadband transparency, this must be at least partly because the high power gives it the control to stop midband sounds masking those at lower frequencies. But electric guitars do sound fabulous, every one I heard from Ryley Walker to ZZ Top had an electricity to them that was hard to put down.
Pleasently laid back
It eventually occurred to me that I have always found Elipson speakers to be pleasantly laid back and that perhaps this amp had been developed to inject a bit more life into them, so I persuaded the distributor to lend a pair of the XLS 11 standmounts to use with these amplifiers. This speaker looks like an homage to classic JBL designs with an white 8 inch bass cone, midrange dome and front firing port in a very trad cabinet. It proved a natural partner for the amplifiers with an easy yet precise presentation that revealed a deep soundstage and bass that not only had plenty of texture but also girth. The grip provided by the A2700 raised the XLS 11's game by several notches over my experience when reviewing them alone, now there was a precision to impulses, good scale and a good dollop of the immediacy encountered with other speakers. I also tried an Innuos PulseMini streamer via the DAC in the P1F and got a rather easier to enjoy result than with the admittedly vintage Auralic, this made it apparent that the latter was not well suited to this system.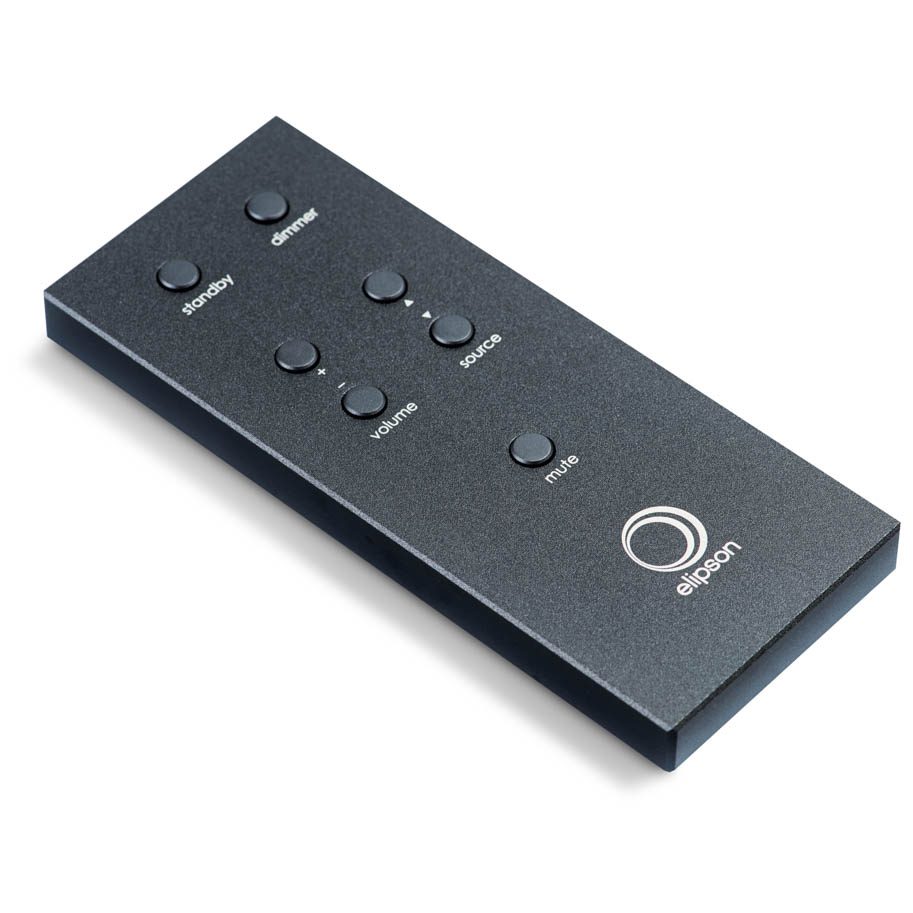 The Elipson P1F/A2700 pairing is a lot more exciting than its staid appearance might suggest, combine these amps with a sympathetic source and speaker, an Elipson speaker would be the obvious choice, and you have a well featured combination of power and control, the likes of which is not often found in European built amplification at this price.
Technical specifications
Type Transistor preamplifier with headphone output and modular phono stage and DAC
Analogue inputs One pair of balanced inputs (via XLR connectors), two pairs of single-ended inputs (via RCA jacks)
Phono stage MM/MC (via RCA jacks) on MPH II card
Digital inputs one USB A, one coaxial (via RCA jack), one optical (via Toslink)
Analogue outputs One pair of balanced outputs (via XLR connectors), one pair of single-ended outputs (via RCA jacks), one pair of L/R sub outputs (via RCA jacks)
Input impedance 500 kΩ balanced / 1 MΩ single ended
Output impedance Not specified
Bandwidth Not specified
Gain 18 dB balanced/12 dB single ended
Distortion Not specified
Signal to Noise Ratio 102 dB (A) @ 1 V; Dynamic 120 dB
Dimensions (HxWxD) 95 × 430 × 302mm
Weight 5.3kg (packed)
Price £1,899 (phono stage £499, DAC £699)
Type Class-D stereo power amplifier
Analogue inputs Two pairs single ended (via RCA & XLR jacks)
Analogue outputs One pair of speaker taps (via 5-way binding posts)
Power output 400Wpc @ 8 Ohms, 710Wpc @ 4 Ohms at 1% THD
Bandwidth 2 Hz–60 kHz @ -3 dB at 4 Ω
Sensitivity 9.5 dBu (XLR), 3.5 dBu (RCA) (2,3 V /1,15 V)
Distortion (THD) at 1 W @ 8 Ω < 0.003 % @ 1kHz
Signal to Noise Ratio 119 dB (balanced input) at Pmax in stereo
Dimensions (H×W×D) 95 × 430 × 302mm
Weight 6.5kg
Price £2,795
Manufacturer
Elipson
UK distributor
Avoke
+44(0)1628 857958
Tags: ELIPSON A2700 POWER AMPLIFIER ELIPSON P1F PREAMPLIFIER