CanJam NYC 2018 Show Report from Ultimate Headphone Guide: Part Three
This is the third of four illustrated descriptions of the new and exciting products seen at CanJam NYC 2018.
Part One: hifiplus.com/articles/canjam-nyc-2018-show-report-from-ultimate-headphone-guide-part-one-1/
Part Two: hifiplus.com/articles/canjam-nyc-2018-show-report-from-ultimate-headphone-guide-part-two/
Part Four: hifiplus.com/articles/canjam-nyc-2018-show-report-from-ultimate-headphone-guide-part-four/
HeadAmp
The wheels of change turn slowly at Headlamp, but for CanJam NYC the firm introduced its all-new Gilmore Late Mk2 headphone amplifier/preamp ($499), which was wowing show attendees and fellow exhibitors alike with the sheer level of performance per dollar it offers. The Gilmore Lite Mk 2 is an update of the classic Gilmore Dynamic Amp (this is contrast to Gilmore-designed electrostatic amps) and features discrete Class A circuitry, an outboard linear power supply, and switchable preamp outputs. This amp had many of the veteran headphonistas in attendance buzzing over the fact that a manufacturer had finally succeeded in creating a truly serious high-end headphone amp/preamp that managed to slide-in just below the magic $500 price point.
HiFiMAN
The Chinese firm had two (or perhaps three) major announcements for CanJam NYC: first, the production launch of the firm's exceptional and value-priced Sundara open-back planar magnetic headphone ($499); second, the introduction of a comparatively cost-reduced Shangri-La Jr. electrostatic headphone system (that is, an electrostatic amp and headphone offered as a bundle at $8000); and third, the quiet but highly significant announcement that HiFiMAN would consider bundling the Shangri-La Jr. amplifier with the full-fledged Shangri-La headphone(that is, the headphone from its $50,000 Shangri-La system) for the approximate price of $15,000.
The Sundara, which will replace HiFiMAN's well-regarded HE-400-series models, looks to be a sure-fire value-for-money winner.  The headphones sports all new drivers with diaphragms said to be 80% thinner than those used in the HE-400 models. Accordingly, the Sundara offers an exceptionally rich, nuanced, and expressive sound relative to most competitors in its price class. The Sundara also offers a revised headphone frame/headband system that—when properly adjusted—is extremely comfortable.
The $8000 Shangri-La Jr. electrostatic headphone system will come as a breath of fresh air for those still experiencing 'sticker shock' over the price of HiFiMAN's flagship Shangri-La system, which sells for wallet-bursting $50,000. As you might expect, the Shangri-La Jr. system features a simplified and more compact valve-powered electrostatic headphone amplifier and an also simplified electrostatic headphone. Together, the 'Junior-series' components give a substantial taste of what the big Shangri-La rig is like, but for less that 1/5th the price.
However, I inquired as to whether the firm might also consider pairing the full-fledged Shangri-La electrostatic headphone with the Shangri-La Junior amplifier and received "yes" for an answer. I briefly tried the Shangri-La headphone with the Shangri-La Junior amplifier and found the resulting system sound to be very impressive—surprisingly close to the sound of the big Shangri-La rig, but at a much more manageable $15,000 price. Why the jump up from $8,000 to $15,000? The short answer is that the Shangri-La headphone is more labour-intensive and expensive to build than the Shangri-La Junior headphone. While $15,000 is an awful lot to spend on a headphone system, it's not an insane price to pay for a system that offers near state-of-the-art performance.
iBasso Audio
The Chinese firm iBasso is perhaps best known for its very high quality portable high-res digital audio players and other personal audio-related electronics, although of late it has been garnering acclaim for it affordable, high performance earphones.
Reflecting these priorities iBasso's CanJam NYC demonstrations centred on the firm's flagship DX200 DAP ($869 – $899, depending on the amplifier module chosen) and on the IT01 ($99) and IT04 ($499) earphones.
The DX200 is not a brand new product, but it does arguably stand as the firm's best sounding and most versatile DAP ever.  The DX200 features dual ESS ES9028 Pro DAC devices, uses an ARM Cortex A53 8-core 64-bit processor, runs under Android 6.0, features 2GB of LPDDR3 RAM, 64GB of eMMC memory, uses dual Accusilicone femtosecond oscillators for low jitter, and high quality, low-noise parts throughout. Perhaps the most distinctive feature of the DX200, though, is its ability to accommodate a wide range of optional iBasso amp modules. The AMP 1 module is the default offering and provides one single-ended and one balanced output, plus a line out jack. Other options include the AMP 3 balanced output amp modules with a 2.5mm TRRS balanced jack and a line out jack, the AMP 4 balanced output module with Pentaconn connectors, and the AMP 5 single-ended only output module with 3.5mm and 6.35mm headphone outputs and a line out jack. Additional amp modules are sold separately for $199/each.
iBasso's value-minded earphone offerings are led by the IT01 ($99), which is fitted with a dynamic driver equipped with a graphene diaphragm. In turn, the model IT04 earphone ($499) uses a hybrid driver array consisting of three balanced armature-type drivers plus the same dynamic driver as used in the IT01. After a brief listening session with the IT04 I came away with the impression that it is a very evenly balanced earphone.
iFi Audio
The British firm iFi Audio had two major announcements for CanJam NYC. The first was the launch of the firm's most ambitious DAC/headphone amplifier to date: the Pro iDSD ($2,499). The Pro iDSD is an exceptionally full-feature DAC that can play DSD files at levels up to a mind-bending DSD1024, can handle PCM/DXD files at rates up to 32/768, that is fully MQA compatible, and that offers both networking and wireless Bluetooth connectivity. The Pro iDSD features a fully balanced circuit from end-to-end, and incorporates a good headphone amplifier as well (although iFi naturally hopes that end-users will pair the Pro iDSD with its excellent Pro iCAN headphone amplifier/preamp).
In addition to the rollout of the Pro iDSD, iFi also showed the first model in what will become an entire new range of 'x-Series' compact components, starting with the impressive new xDSD (projected price ~$400). The xDSD can be seen as a massively upgraded and functionality enhanced version of the iFi Nana iDSD Black label as recently reviewed in Hi-Fi+. Accordingly, the portable, wireless, aptX Bluetooth and AAC-enabled xDSD features essentially the same DAC as iFi's larger and more costly Micro iDSD Black Label, offering decoding capabilities for DSD files to DSD512, PCM and DXD files up to 32/768, and full MQA compatibilities (something even the Micro iDSD Black Label did not provide). What is more, though, the xDSD uses that same proprietary iFi 'S-Balanced' circuit topology as found in the Nano iDSD Black Label, but with an impressive 500mW power output—more than double that of the Nano iDSD Black Label. We can't wait to hear the xDSD in action and look forward to seeing what other x-models iFi will release over time.
JBL

JBL exhibited a brace of new headphones and earphones, most targeting the keenly contested sub-$200 market segment. Among these models were the JBL Free Wireless earphones ($149.95) with Bluetooth electronics embedded within the earpiece housings them selves, the JBL/Under Armour Sport Wireless Flex earphones with neckband-style BT module/amplifier ($129.95), the JBL Reflect Fit wireless earphones with neckband-style BT module/amplifier and built-in heart rate monitoring capabilities ($149.95), and JBL T450 BT children's Bluetooth headphones ($59.95).
JH Audio
JH Audio did not have any new earphone of CIEM designs to show at CanJam NYC, but what it did have were an extraordinary range of Signature Series custom finishes that can be ordered on any of the firm's CIEMs. Finishes include Luthier (Bocote wood shell and logo with titanium faceplate, $1000), Mosaic (black shell and logo with light blue and white pearloid faceplate top and sides, $600), Spotlight Red (black shell with red pearloid faceplate and black pearloid logo with chrome trim, $525), Spotlight Blue (black shell with blue pearloid faceplate with black pearloid logo with chrome trim, $525), Galaxy (swirled colour shell and logo with black faceplate and chrome trim, $525), The Founder (black shell and logo with abalone faceplate and trim rings, $525), Copper top (black shell and faceplate with copper trim rings and logo outline trim, $525), The President (blue pearl shell with zebra wood faceplate and inlaid abalone logo, $375), Rose (rose gold shell with brushed copper faceplate and chrome trim, $375), and Sunburst (black shell with sunburst-colour wood faceplate, $325). As a matter of personal taste, I was very fond of the Sunburst treatment, whose appearance is highly reminiscent of vintage sunburst-colour Fender guitars.
Klipsch
Klipsch has released to production its most ambitious full-size headphone to date: the Heritage HP-3 ($1,199), which is offered with the buyer's choice of solid walnut, ebony, or oak ear cups. The HP-3 is a semi-open-back or "rear vented" design that features 52mm dynamic drivers fitted with "free-edge biodynamic" diaphragms and a magnet assembly delivering more that one tesla of magnetic flux density per ear cup. Not surprisingly, the HP-3 is very easy to drive with rated sensitivity of 98dB. Many would say the HP-3 mimics the sound of higher quality Klipsch loudspeakers, meaning that it offers a highly expressive and dynamic sound with powerful bass and just a hint of emphasis in the 'presence' region, which serves to enhance the perceived clarity and articulacy of the headphone. The headphone features sheepskin-covered ear pads and a cowhide headband pad/cover; apparent build quality is very, very high.
M&O Electronics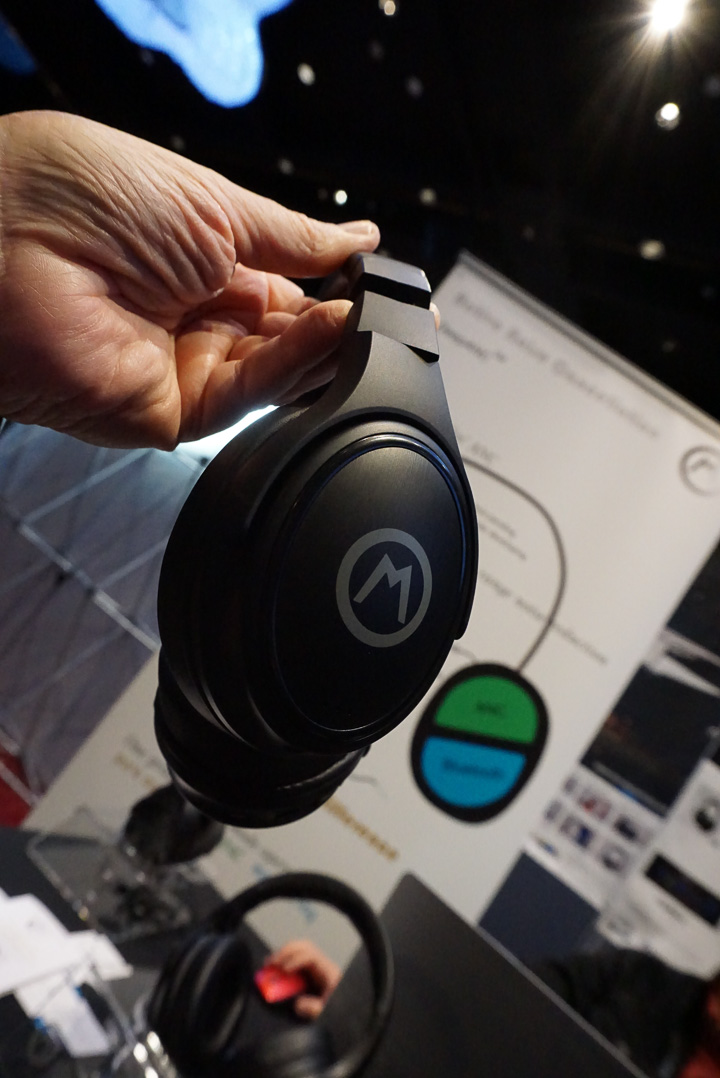 The San Jose, California-based firm M&O Electronics is a headphone technology development company with one product, called the MOOH-BE00BT Beryllium Acoustic headphone ($129), in completed form and another called the Deep ANC (projected price ~$200) under development.
In simple terms the MOOH-BE00BT Beryllium Acoustic is an affordably priced, but also very high-tech aptX Bluetooth-capable headphone that is fitted with dynamic drivers using Beryllium diaphragms. For travel convenience, the Beryllium Acoustic headphone features ear cups that can fold flat, plus a useful range of accessory cables and a hard shell carrying case. It's an uncommonly sophisticated design for its price class.
The Deep ANC, in turn, introduces a whole new concept in automatic noise cancellation in that it is really two devices in one. On one level, the Deep ANC is a pure, noise cancellation device that is worn like a conventional headphone, but whose sole purpose is to provide a stonking 45dB (!) of wide range noise reduction. However, within the ear cups of the Deep ANC device are two chambers: an "Anti-Noise" chamber and a "Music Driver" chamber that provides a built-in Bluetooth-enabled amplifier and connection sockets where listeners can plug in conventional earphones for purposes of listening to music. M&O's plans call for the Deep ANC to be supplied with a good basic set of earphones at the asking price of about $200, but in principal the Deep ANC device could be used to create ultra-quiet backgrounds for use with whatever high quality earphones or CIEM's the listener might choose.
Meze
The Romanian headphone specialists at Meze are perhaps best known for their high value/high performance Classic 99 headphones, but for CanJam NYC the firm pulled out all the stops to introduce a new cost-no-object flagship planar-magnetic headphone called the Empyrean (final pricing has not yet been determined, but is projected to fall in the mid-$3,000 range). The Empyrean uses a very distinctive and somewhat unorthodox planar magnetic driver developed by Rinaro Isodynamics—a firm headed by Paulo Shymanovych.
The Rinaro driver features a light but rigid diaphragm that is roughly teardrop-shaped, with a circular concentration of voice coil traces at the apex of the tear drop and with semi-circular curved segments of voice coil traces fanning out toward the broader end of the teardrop. According to Shymanovych the portion of the diaphragm with nearly circular voice coil traces acts as a mid/high frequency radiator that is directly aligned with and offers the shortest possible path to the wearer's ear canal. The portion the diaphragm that has broader semi-circular curved traces has a larger amount of surface area and acts a bass/mid driver.  Shymanovich adds that the upper frequency limit of the Rinaro driver is an astonishing 110kHz (!) and that the driver produces less the 0.1% distortion over the entire audio spectrum.
A brief listen to the Empyrean through the excellent Cayin HA-300 amplifier left me thoroughly impressed with the headphone's natural presentation and unforced expressiveness and nuance. We look forward to the full production release of the Empyrean headphone and anticipate reviewing it in the future.
MrSpeakers
One of the standout highlights of CanJam NYC had to be MrSpeaker's new Voce electrostatic headphone ($3,000)—a model that had previously been shown in various prototype iterations under the working title of ETHER ES. Happily, the Voce is now in full production and I feel confident in saying that it not only seems more robust than the pre-production prototypes did, but also sounds markedly better as well. I won't attempt a 'mini-review' on the basis of a brief listen, but suffice it to say that the Voce sounds extremely open, revealing, and expressive, but with virtually none of the drawbacks and artefacts that sometimes affect other electrostatic headphones. Specifically, the Voce offers robust bass plus remarkable freedom from the hints of artificial treble "sheen" that some electrostats exhibit. The Voce is so good that it immediately inspired debates among veteran listeners as to whether it was or wasn't superior to the iconic (and significantly more costly) Stax SR-009 electrostatic headphone. I won't try to answer that question here, but will say the Voce offers the sonic potential to be near the top of the top-tier class. We look forward to reviewing the Voce; without a doubt it delivered some of the finest sounds to be heard at CanJam NYC.
Mytek
With headquarters in Brooklyn, NY and manufacturing facilities in Poland, Mytek is a truly international company that specialises in high performance headphone amplifier/DAC/preamps, several of which were on demonstration at CanJam NYC. As a starting point the firm showed its MQA/DSD/PCM-capable portable Bluetooth-enabled Clef headphone amp/DAC, which sells for $300 and looks extremely cool in an almost sci-fi sort of way (as in "Is it DAC/amp or a miniature spaceship).
Next up in the range is the all-new Liberty DAC ($999), which draw heavily from the design of Mytek's original Brooklyn DAC, but is configured as a 1/3rd rack-width component that stands as a "baby Brooklyn" of sorts. The Liberty DAC is based on an ESS ES9018 DAC device and can handle PCM/DXD files to 32/384 levels, offers native DSD decoding up to DSD 256, and provides a certified MQA hardware decoder. The Liberty incorporates a 300mA/3W headphone amplifier and provides single-ended outputs only.
Standing as an updated and upgraded version of the original Brooklyn DAC is the new Brooklyn DAC+ ($2,200), which is a ½ rack-width, very full function headphone amp/DAC/preamp/phonostage in one neat package.  The Brooklyn DAC+ is based on an ESS Sabre9028Pro DAC device and can handle PCM/DXD files to 32/384 levels, offers native DSD decoding up to DSD 256, and provides a certified MQA hardware decoder. The Brooklyn DAC+ features a 0.82ps 'Mytek Femtoclock Generator™' for extremely low jitter and provides both single-ended and balanced analogue outputs as well as a set of single-ended analogue inputs in addition to a wide array of digital inputs. The Brooklyn DAC+ incorporates a 500mA/6W headphone amplifier, plus a very high quality MM/MC phonostage as standard.
Finally, at the top of pyramid is the Manhattan II headphone amp/DAC/preamp ($5,555), which is based on the ESS ES9038 DAC device and features a 500mA/6W headphone amplifier with optional balanced headphone adapter. Like the Liberty DA and Brooklyn DAC+ the Mannhattan II can handle PCM/DXD files to 32/384 levels, offers native DSD decoding up to DSD 256, and provides a certified MQA hardware decoder. The preamp section of the Manhattan II provides two single-ended and one balanced set of stereo analogue inputs and one pair each of single-ended and balanced analogue outputs.
The Manhattan II is offered with an optional MM/MC phonostage board ($1,495) that provides switch-selectable and tuneable nickel-core step-up transformers and provisions for selecting input impedances, transformer ratios, RIAA curves, and gain levels. Additionally, the Manhattan II can be turned into a network streamer with an optional Roon-ready network board ($995) that is compatible with Roon, Airplay, DLNA/UpnP, Spotify Connect, IOS, and Android.