CanJam at RMAF 2016 – Part 2 of 4
Part 2 of our report covers:  Cavalli Audio, Cayin, Clear Tune Monitors, Echobox Audio, E-Mu Systems, Empire, ENIGMAcoustics, Etymotic Research, Fender, FiiO, Final, FLC, Focal, and Fostex.
Find Part 1 our CanJam report here: http://www.hifiplus.com/articles/canjam-at-rmaf-2016-part-1-of-4/
Cavalli Audio
The Austin, TX-based firm Cavalli Audio is in the midst of a 'sea change', where many of the firm's legendary, hand-built, full-size headphone amplifiers are now in final production and a new family of models is just beginning to appear.
Leading the way is the new Spark portable headphone amplifier (USD $499), which represents a concerted effort to bring the vaunted 'Cavalli sound' to a smaller, more convenient, and lower-priced format than the firm has ever before offered. The angular, futuristically styled, chrome-finished Spark is nothing if not eye catching; indeed, it would not look out of place if it appeared on the set of the latest Star Trek film. But the Spark's sound is good, old-fashioned Cavalli—meaning that it is taut, transparent, muscular, and well defined. The Spark features fully discrete circuitry, offers two gain settings (1x or 3x), has very low output impedance, and produces an honest 350mW @ 50 Ohms. As a welcome touch, the battery circuit is set up to allow simultaneous charging and music playback—something not all portable units support.
At the other end of the price/performance spectrum, Cavalli again showed working prototypes of its upcoming, valve-powered Liquid Tungsten desktop headphone amplifier. Many who have heard this statement-class amplifier feel it is among the best of the best, so that the only questions remaining are A) what will the final production version of the amplifier look like?, B) when will it go into production?, and C) how much will it cost? The answer to the latter question is, says Cavalli, "about $6,000", but on the industrial design question the firm is much more close-mouthed, saying only that, "we have some design concepts in mind, but we aren't ready to show them to you yet." My best guess, then, is that the Liquid Tungsten will appear on the market early in 2017. Stay tuned.
http://www.cavalliaudio.com/
Cayin
 
The Chinese firm Cayin is well known in many audiophile circles for its full-size source component and both valve and solid-state powered amplifiers and preamplifiers. At the same time, however, the firm's range of personal audio-orientated electronics continues to grow by leaps and bounds, with the firm's cool new i5 Android-based digital audio player ($499) particularly capturing our attention at CanJam/RMAF. The i5 is an uncommonly versatile and beautifully made DAP that incorporates an AKM AK4490 DAC (the same device seen in DAPs carrying four-figure price tags), a PGA2311 volume control IC, dual crystal-controlled clocks, and a headphone amplifier that puts out a healthy 2 x 190mW @ 32 ohms. The DAC section of the i5 supports PCM/DXD decoding at up to 32/384 resolutions and also support native decoding for DSD64 and DSD128 files.
But that is only the beginning, as the i5 also provides WiFi, Bluetooth, and USB 3.0 connectivity, and supports apps such as Google Play, Tidal, and Spotify, while also offering playback from Cloud servers, LANs, DLNA sources, and from Dropbox. Further, the i5 provides 32GB of internal storage with support for up to 200GB of external microSD storage. Last but not least, the i5 provides a beautiful and highly intuitive graphical user interface that leverages the embedded  HiBy Music Player app. We hope to spend a lot more quality time with this high-sophistication/high-value DAP in the year to come.
Clear Tune Monitors
A new, or at least new to us, firm we encountered at CanJam/RMAF is the Orlando, Florida-based CIEM and universal-fit earphone maker Clear Tune Monitors. In broad strokes, the firm offers an extensive range of nine models of CIEMs, a smaller three-model range of Vintage-series universal-fit earphones, custom moulded earplugs, complete onstage monitoring systems, and accessories.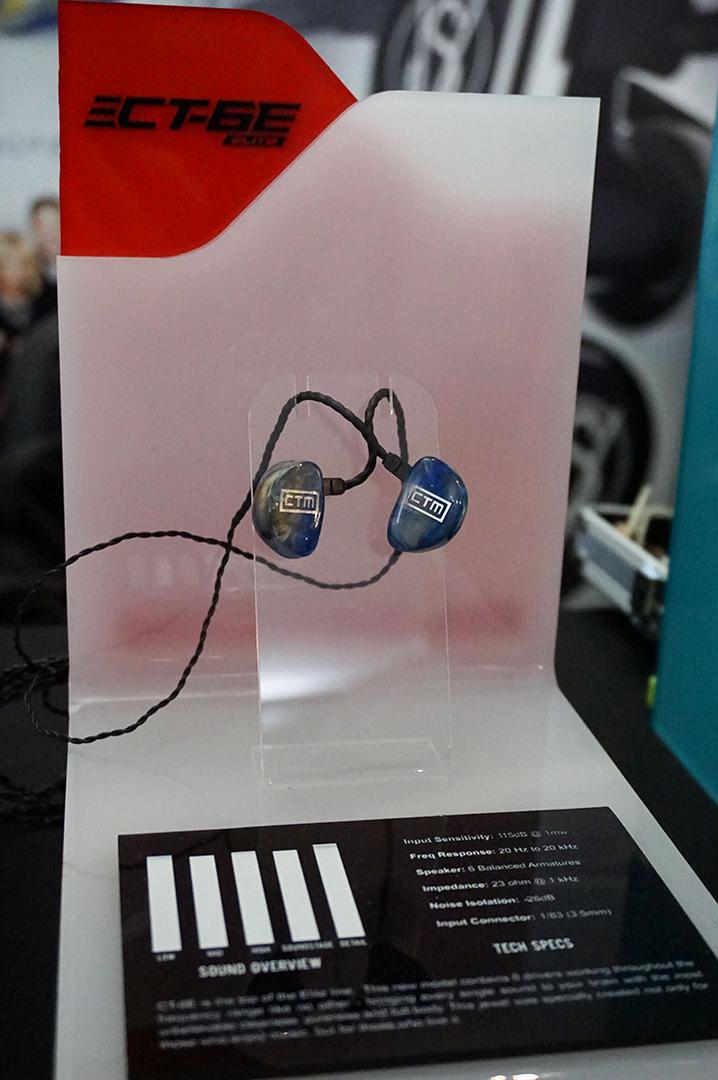 Perhaps of greatest interest to us and to Hi-Fi+ readers were the firm's CT-series CIEMs, which promise all the performance of premium-priced competitors, but at roughly half the price.  For example, CTM's entry-level CT-100 model features a single-balanced armature driver and custom moulded acrylic earpieces, yet is priced starting at just $300 (which is a very low price for any CIEM).
At the other end of the pricing spectrum is the CT-6E Elite CIEM, which has six balanced armature drivers, features custom moulded acrylic earpieces, and is priced from $1000 on up (depending upon finish options chosen). In terms of design and sound quality the CT-6?E is the most sophisticated model that Clear Tune Monitors knows how to build, and on the basis of a brief listen we found its sonic performance impressive indeed. The CT-6E is priced starting at $1,000, which is not bad at all when you consider that many top-tier CIEMs are priced anywhere from 1.5 to 2.5 times higher.  
I did not have time to investigate the firm's Vintage-series universal-fit models, but their marketing materials seek to evoke a retro vibe, while their tagline read, "The SOUL of the past; the SOUND of the future". The Vintage range comprises the dual balanced armature driver VS-2 ($399), the triple balanced armature driver VS-3 ($499), and the quad balanced armature driver VS-4 ($599). Best of all the VS models are offered in cool colours reminiscent of those used on late 1950's US automobiles. (UK and European readers might wish to note that, in the time period referenced, US automakers often went in for some rather daring hues, such as salmon pink, vivid aquamarine blue/green, etc.).
Echobox Audio
Echobox Audio edges ever closer to the long awaited release of its Explorer streaming DAP, which as many of you already know looks very much like a hip flask (only this one is full of fine music, not fine single malt whiskey). In keeping with this visual theme, the undeniably sexy Explorer is offered in a range of hardwood case options: mahogany, ebony, maple, or zebra (complete with optional, matching wood finish docking stations). Depending on finish and other options chosen, the Explorer sells for between $550 – $599.
The versatile Explorer is based on an Android 4.2 platform and uses a Rockchip RK3188 Quad Core processor, provides 2 GB of DDR3 RAM, 64GB of internal storages, and supports a microSD card slot for storage expansion. However, almost any discussion of the Explorer with the Echobox team reveals the firm's hope that users will use the DAP as intended: namely, as a true Wi-Fi, Bluetooth, and DLNA-enabled player that comes complete with a trial Tidal subscription.
The Explorer is based on a TI PCM1892 DAC device with support for up to 24/192 PCM files and for DSD, while the Explorer's amp section uses a TI TPA6120AS amp chip, delivering 30mW peak power output.   
Complement developments on the Explorer front, Echobox's range of Finder X1-series titanium earphones is also expanding, so that in addition to the original Finder X1 (as reviewed in Hi-Fi+ issue 139) there are now Finder X1i (Apple iDevice compatible) and Finder X1a (Android compatible variation. Finder X1 models range from $200 – $229.
Empire
 
A new-to-me CIEM and earphone-maker I discovered at CanJam/RMAF 2016 was the Buford, Georgia-based firm Empire Audio, which has recently teamed up with Asius Technologies—a firm that promotes use of the ADEL (Ambrose Diaphonic Ear Lens) technology developed by Asius founder Stephen Ambrose.
Empire, itself, is an aspiring manufacturer of no-compromise, exclusively USA-made CIEMs and universal-fit earphones, but the relationship with Asius adds an interesting new dimension. I say this because ADEL technology, which will soon be available as an option on many Empire offerings, promises to relieve the pneumatic overpressure conditions to which most CIEMs and earphones are prone. In the process, ADEL technology is said to promote better hearing health (and safety) while also enhancing sound quality.
Until recently, Empire's CIEM ranges comprised nine models ranging from the entry-level dual balanced armature-type driver equipped Supra II ($429) on up to a pair of flagship, 14 balanced armature-type driver-equipped models known as the Zeus XIV and the Zeus R (both priced at $2,099). The Zeus R (for 'Reference') features scrupulously neutral voicing, while the Zeus XIV deliberately offers slightly mid-centric voicing with noticeably more lush and full-bodied mids. Now, Empire has seen fit to offer a new flagship, called the Zeus XR, with  both the sound signatures of both the Zeus R and Zeus XIV models. In other words, the Zeus XR is intended as a true, best-of-two-world's design.
Empire's universal-fit model range exactly parallels its CIEM range with models that are identically priced.
In a brief listen to the Zeus R, I came away thoroughly impressed by both the earphone's admirably neutral tonal balance and remarkable top-to-bottom transparency and coherency. Clearly (no pun intended), further listening is indicated.  
E-Mu Systems
E-Mu Systems is perhaps best known for its Pro Sound-orientated studio-centric digital audio components, USB/MIDI interfaces and controllers, software packages, and keyboard instruments, and are  now offering a range of full-size high performance headphones, whose ear cups are—distinctively—made of wood.
There are two models in the range: the Audiophile Reference Headphones, which I gather sell for between $450 and $475, and the smaller Lightweight Audiophile Headphone, whose price I was not able to learn.
I could be wrong about this, but it appears to me that the Audiophile Reference Headphones are—in terms of look, feel, and overall specifications—patterned directly after the new Fostex TH610 model, but with a few significant differences. Specifically, the E-Mu Audiophile Reference feature gloss rather than matte-finished wood ear cups that are offered either in walnut (like the Fostex) or in teak wood. The yokes or frames of the E-Mu Audiophile Reference are finished in satin silver, where the Fostex TH610 features a satin black frame. Both headphones use 50mm dynamic drivers fitted with bio-cellulose diaphragms (Fostex calls its versions "bio-dyna" diaphragms), but the E-Mu model claims substantially higher sensitivity (106dB, in fact) vs. the TH610, whose rated sensitivity is 98dB. These sensitivity differences lead me to think there are likely voicing differences as well. It would be interesting, I think, to do a side-by-side comparison of the E-Mu Audiophile Reference with the Fostex TH610 upon which it appears to be based.
 
One interesting side note is that E-Mu can offer an extensive range of optional exotic wood ear cups to allow a degree of personalisation with the Audiophile Reference headphones.
http://www.emu.com/images/headers/topbanner/Woodseries.pdf
ENIGMAcoustics
ENIGMAcoustics teamed with the DAP-maker Lotoo to show, among other things, an interesting product bundle that incorporated ENIGMAcoustics' now iconic Dharma D1000 hybrid dynamic/electrostatic headphones (as reviewed in Hi-Fi+ issue 138) being driven by Lotoo's powerful and refined PAW Gold digital audio player (as reviewed in Hi-Fi+ issue 129). The combination sounded very nice indeed.
In a brief conversation with ENIGMAcoustics founder Wei Chang, we also learned that the firm's long awaited hybrid valve/solid-state Athena A1 headphone amplifier (long planned as the companion amp for the Dharma D1000 headphone) should be entering production very soon.
Etymotic Research
The Elk Grove Village, Illinois-based firm Etymotic Research enjoys a well-deserved reputation as one the first firms—if not first firm—to offer an accurate, neutrally voiced, high-precision audiophile-grade universal-fit earphone. The models that put Etymotic's name on the audiophile map so many year ago were the original ER4 microPro-series earphones (priced at $299), which are still being made and selling well to this day.
But at CanJam London and now at CanJam/RMAF, I have learned that there is now an enhanced series of ER4 earphones, comprising the ER4SR (for Studio Reference) earphones and the similar but very slightly bass-boosted ER4XR (for eXtended Response)—both priced at $349. What's changed? The new ER4SR and ER4XR feature rigid anodised metal bodies where the original ER4's had plastic bodies, the new models feature detachable and user-replaceable signal cables where the originals did not, the new models feature different and purpose built balanced armature drivers, and the new models offer, says Etymotic, "increased sensitivity for a more dynamic sound."
Speaking as a long-term ER4 user, I can state unequivocally that the new models both seem more responsive and nuanced than their predecessors—especially in terms of retrieval of low-level sonic details. And what of the differences between the SR and XR models? In keeping with longstanding Etymotic practice, one of the models—the ER4SR—features textbook-perfect neutral frequency response (which can be a blessing, or perhaps a slight drawback, depending upon your listening tastes and preference).
The other model—the ER4XR—offers almost identical response to the ER4SR above about 200Hz, but below that frequency the XR applies a slow, gentle degree of bass lift that eventually reaches a high point of about +5dB at 25Hz. This rise bass output is very gradual so that, in the listening, there is no sense of a bass 'bump' at all. Rather, there is the subtle sense that the ER4XR offers just a touch more foundational mid- and low-bass weight and gravitas. Strict neutrality mavens will likely favour the ER4SR (though some might find it potentially  a bit too neutral for its own good), while those who believe earphones need a bit of bass lift (to better match the response characteristics of monitor-type loudspeakers influenced by room gain) will likely prefer the ER4XR. Both are worthy successors to the original ER4 models.
 
http://www.etymotic.com/consumer/earphones/er4-new.html
Fender
The famous musical instrument manufacturer Fender acquired Aurisonic some time ago and has leveraged that firm's resources to create a new range of Fender-branded universal-fit earphones. The range comprises five models:
·      The entry-level DXA1 ($99) featuring a custom 8.5mm titanium dynamic driver and offering somewhat bass-enriched voicing,
·      The FXA2 ($199) featuring a 9.25mm micro dynamic rare earth driver and a "Groove-tuned" port for comparatively taut bass for a sound said to appeal especially to bassists and drummers,
·      The FXA5 ($299) featuring a dual balanced armature driver and fitted with a "Groove-tuned" port for a design which is said to offer flat frequency response,
·      The FXA6 ($399) featuring a hybrid driver array combining an HDBA balanced armature tweeter and a custom 9.25mm rare earth dynamic driver, a "Groove-tuned" bass port, and a zero-crossover design said to offer a powerful sound with pristine clarity, and
·      The flagship FXA7 ($499) featuring a hybrid driver array combing dual HDBA balanced armature tweeters and a custom 9.25mm rare-earth dynamic driver, the ubiquitous Fender "Groove-tuned" bass port, and a zero crossover design that is said to offer a highly revealing and linear sound.
 
Interestingly, all of Fender's new earphones come with patent-pending secure-fit, ambient noise-reducing ear tips. A Fender spokesman explained that the tips are made of a special temperature-reactive elastomer that become more pliable as it comes up to temperature, yielding a more secure, consistent, and comfortable seal within the ear canal.
http://shop.fender.com/en-US/audio/in-ear-monitors/
FiiO
FiiO had many of its well-priced compact digital audio players on hand at CanJam/RMAF, but two that caught our eyes and ears were the new entry-level X1 Gen2 model ($99) and the flagship X7 (ranging from $550 – $650 in price, depending on configuration).
The X1 Gen2 is a lovely little digital audio player that is equipped with a colour screen, with a touch-wheel for scroll and control functions, that incorporates a 32/192 capable DAC with built-in amp, is Bluetooth 4.0 compatible, and that provides a microSD slot for digital audio file storage up to 120GB (or possibly higher, capacities as the model evolves). Specifically, the X1 Gen2 is based on TI's CM5242 DAC chip and uses TI's OPA232 op amp chip, says FiiO, to "improve sound quality of the all-new X1, making better low-frequency quality and depth." The X1 Gen2 strikes us as offering uncommonly good value for money.
The X7, in turn, is an ultra full-featured, all signing, all dancing, Android-based digital audio player that offers a staggering array of features functions, and options.  Specifically, the X7 is based on a Rockchip RK3188 SoC processor with four Cortex-A9 cores, uses the eight-channel ESS ES9018S DAC device (allowing 135dB of dynamic range), incorporates 32GB of ROM storage, 1 GB of RAM, support for 128GB of microSD storage, and sports a 3500mAh battery. For maximum flexibility, the X7 is offered in five versions that are fitted with interchangeable amplifier modules to suit various listener requirements:
·      AM0 supplied with no headphone amplifier module,
·      AM1 with IEM amp module,
·      AM2 with a medium power headphone amp,
·      AM3 with a balanced-type headphone amp, and
·      AM5 with a high-power headphone amp.
·      (There is no AM4 model as the number 4 is thought to be extremely unlucky in Chinese culture.)
The X7 decodes PCM files at resolutions up to 32/384, DXD files, and DSD 64/DSD128 files. Better still the X7 has its own FiiO-designed music app that supports Bluetooth playback and will soon support advanced features such as play from NAS, play from/to DLNA, play from Dropbox, and play from cloud. There really wasn't enough time at CanJam to explore all that the X7 could do, but we hope to spend more time with the unit in the coming year.
Final
The Japanese firm Final enticed show attended with 'unobtanium-class' products past and present, plus three new universal-fit earphones that fall much more within the range of accessibility for normal mortals.
Representing the 'unobtainium' class was the firm's spectacular new Lab II dynamic driver-equipped, open canal-type earphone ($4000), of which only 200 pairs will be offered for the worldwide market. The Lab II features a purpose-built 15mm dynamic driver, an incredibly elaborate and beautiful open-mesh-type 3D printed titanium enclosure, and an extremely complex, internal, and also 3D printed mechanical equalizer. The result is one of the most open, transparent, and alive-sounding earphones I've ever heard.
Also representing the 'unobtainium' class was a sample of the firm's now out-of-production Lab I dual-balanced armature-equipped earphone, which when last available sold for $1,600/pair. The Lab I could be viewed as the absolute pinnacle of the firm's Heaven-series universal-fit earphones and it certainly sounds the part.
Stepping back to the world of down-to-earth budgets, though, Final showed three recently released and closely related new ultra-compact universal-fit earphones: the F7200 ($479), the F4100 ($279), and the F3100 ($189).  All three models use a single-balanced armature-type driver per earpiece, where the earpiece enclosures are almost unimaginably short and slender (picture slim cylindrical earpiece enclosures not much larger in diameter than the sound outlet tubes of most earphones and you've got the general idea). Final says that this design brings the driver closer than ever before to the wearer's ear drums and that, "bringing the driver unit closer to the ear drum achieves and even more realistic, vivid sound quality."  Expect to see a review of the F7200 (and possibly the other models in the group) in an upcoming issue of Hi-Fi+.
 
FLC Technology
As had been the case at CanJam London, the Chinese firm FLC technology used CanJam/RMAF to show its universal-fit FLC8s universal-fit earphone ($355) and especially to preview its upcoming flagship Celeste universal-fit earphone (price TBD).
Both the FLC8s (and its CIEM-version sibling, the FLC8c, $596) use a patented FLC system to provide 36 user-selectable sound signature combinations. Plainly the firm's view is that, with so many divergent opinions as to how in-ear transducers can or should be voiced, the most desirable option of all is to give users a very, very high degree of tuning flexibility to allow users to adjust the sonic character of their earphones over time.
Following along this same train of thought, the flagship Celeste model is intended to provide no less than 108 (!) possible sound signature combinations, complete with an externally adjustable gear-driven tuning system. The Celeste prototype on hand at the show were "locked" into sound signature settings that have proven popular with listeners thus far and I thought they showed great promise. I suspect, however, that perhaps the greatest single obstacle to the release of the Celeste involves its necessarily complex gear-driven sound tuning control system. In discussions with the FLC team, I learned that it has been difficult to create a miniature gear train that is at once sturdy, relatively friction free, and well damped, yet also free of undue 'play' or 'gear lash'. So the good news is that the multi-voice tuning system works well in principle, but the not-so-good news is that we may have to wait a while longer for miniature gear-drive mechanism to catch up with otherwise sonically sophisticated Celeste. Watch this space for further developments.
Focal
The French loudspeaker specialists at Focal have, in the past several months, got high-end headphone 'religion' in a major way. Focal's earlier headphone efforts were thoroughly respectable, workman-like mid-fi efforts, but they were certainly nothing to challenge the state-of-the-art in world-class headphones. With the advent of the firms new Elear ($999) and Utopia ($3999) headphones, however, everything has changed—in large part because Focal's formidable engineering team was charged with researching the exact technical requirements of top-class headphones and then with pulling out all the stops to build the finest headphones they possibly could.
The results are, in a word, spectacular—so much so that Focal claims its new headphone drivers are among the most sophisticated drive units it has ever created for any class of product (loudspeakers included, which is saying a mouthful). The Elear is so good, so nuanced, and so inherently musical that, if heard in isolation, it would surely and rightly strike most listeners as one of the finest dynamic driver-equipped headphones they had ever encountered. However, one then encounters the even more upscale Utopia model and finds that everything one liked in the Elear has more or less been 'turned up to 11', and then some. ­Hi-Fi+ is in the process of doing a full-length review of the Utopia, which will be coming soon
Some key differentiators between the Elear and the Utopia are the Elear features a driver diaphragm made of an aluminium/magnesium alloy?and uses a motor with a ring-shaped Neodymium magnet, whereas the Utopia features a driver diaphragm made of exotic beryllium and a motor fitted with a powerful and distinctive 6-segment Neodymium magnet array. Other more visible differences include the fact the Elear features an aluminium yoke/frame, where the Utopia features a carbon fibre yoke/frame.
Fostex
For CanJam/RMAF Fostex showed a wonderfully updated version  of its classic headphone models, introducing North American audiophiles to its new TH610 model, which is the successor to the firm's original TH600. The new TH610 is priced at a sensible $599, yet features matte-finished black walnut ear cups (trust us, they're gorgeous), and 50mm dynamic drivers featuring motor assemblies with 1 tesla (1,000 gauss) magnetic circuits and that use so-called 'bio-dyna' diaphragms said to offer "rich lows, natural mid range, and smooth highs". Finally, the TH610 offer new detachable signal cable connectors that are shared with the firm's flagship TH900mk2 model. Based on a brief listen, we felt the TH610 offered the elusive combination of an uncommonly accessible and inherently musical sound, with fit and finish almost certain to inspire pride of ownership.
Alongside the TH610, Fostex also showed its keenly priced new HP-A4BL balanced output headphone amp/DAC, which sells for $399. The HP-A4BL DAC section is based one the BurrBrown PCM1792A DAC device and supports decoding for PCM files at resolutions up to 24/194 or DSD material up to DSD128. The amp, in turn, features user-selectable Hi/Lo gain settings, user selectable digital filer settings to control both roll-off characteristics and cut-off frequencies, and that provides both balanced and single-ended outputs. Our sense is that the HP-A4BL represents a lot of amp/DAC for the money.
Tags: FEATURED