Audio Analogue Bellini Anniversary and Donizetti Anniversary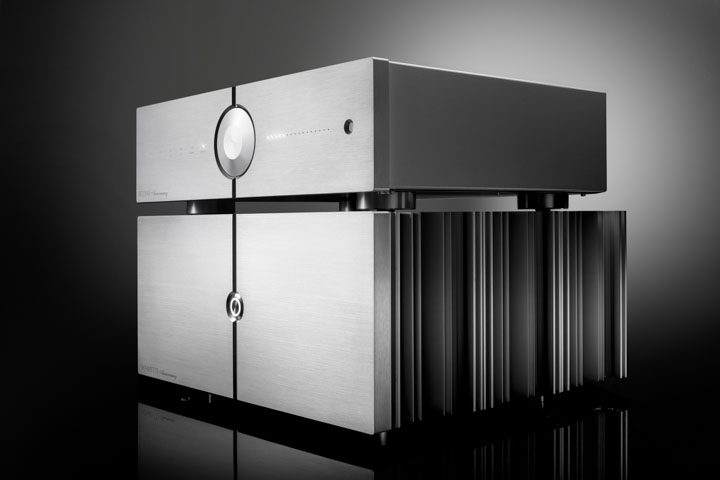 This took a long time. During the lockdowns of 2020, we got the Audio Analogue Bellini Anniversary preamp and Donizetti Anniversary stereo power amp. And during those lockdowns, it got completely overlooked, in the way you can easily overlook a stereo power amp that comes in a box that Ikea might use to flat-pack a whole kitchen. It's a shame because these two are a fine paring.
Let's get the rant bit out of the way first; Audio Analogue came to fame in the mid-1990s thanks to its excellent Puccini integrated amplifier. That product does not define the brand; the Italian company makes a whole range of audio electronics from half-sized digital products (the excellent AAdrive and AAdac that we tested in Issue 193) as well as phono stages, integrated amps and these fantastic separate preamp and power amplifier. And yet, when talking about this upcoming review to audio-adjacent friends, it was always, 'ah yes… the Puccini!' That said, being known as 'the Puccini brand' is better than 'Audio who?'!
Happy 27th Birthday!
The introduction wasn't simply to fill space; the Puccini was Audio Analogue's first product back in 1995. Twenty years later, Audio Analogue produced a version of the Puccini to celebrate that anniversary. That formed an Anniversary line of products (all designed in Airtech's laboratories), including the more powerful Maestro Anniversary integrated amplifier, and Bellini Anniversary preamplifier and Donizetti Anniversary power amplifier.
Like Puccini and Maestro, Bellini and Donizetti are well-known names in Audio Analogue's history and, like the Puccini Anniversary and Maestro Anniversary, the Bellini and Donizetti Anniversary models share little more than the name with their predecessors. The Bellini Anniversary is closer to the Maestro Anniversary, as it shares the same basic preamplifier circuit. However, the Bellini Anniversary adds an inductive-capacitive filtering system to the main power supply, designed specifically for the preamp. This filter is suggested to significantly reduce 'disturbance' from the mains in terms of ripple and potential EM interference.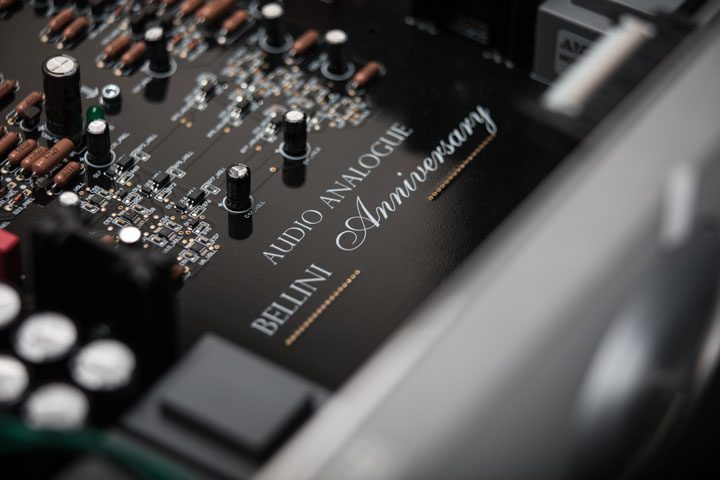 The four-layer circuit board uses Audio Analogue's own SeGeSTA (Single Gain Stage Transconductance Amplifier) circuit to keep the noise floor low. The fully-balanced, dual mono preamp has no global feedback, and the board layout is designed to minimise potential noise and crosstalk ingress by reducing crossing points between input and output and between digital control sections and analogue inputs. What's – pleasantly – surprising about the Bellini Anniversary is the extensive use of traditional components over surface-mount designs. This allows the amplifier to specify very high-grade components and affords the Bellini Anniversary owner better long-term repair options (if a resistor needs replacing, it's a lot easier to do so with a discrete component than it is trying to unpick and replace a surface-mounted equivalent).
For a balanced design, there are a lot of single-ended inputs; the Bellini Anniversary has two balanced XLR and three RCA single-ended inputs, with two XLR and two RCA outputs. I think this is a good option for a domestic industry that has never fully embraced the joys of balanced inputs, but in listening, the balanced option used throughout sounds better.
The Bellini Anniversary's basic functionality needs a bit of a run-up, as it's perhaps not the most instantly intuitive design around. Having one control to drive standby, input selection and volume can take some time to understand, and until you get the knack of operating it… use the remote. Once you do get that knack, you'll probably still want to use the remote because switching inputs involves pressing the button for the correct length of time and moving majestically in sequence through the inputs. Fortunately, these inputs are clearly marked with white LEDs on the front left of the preamp, while the volume is displayed through 22 white LEDs on the right-hand side. These are dimmable… from the remote.
Bring on the brute!
The Donizetti Anniversary (which also shares nothing but the name with its predecessor) is an absolute unit, a friendly brute of a 250W power amplifier that doubles to 500W into four ohms and 950W into two-ohm loads. There's nothing out there in loudspeaker land that will trouble it; two beefy 1200VA transformers designed specifically for the amp help. Because the amp is a pure dual mono design, the two transformers stack one on top of the other, which gives the amp an uneven weight distribution. When coupled with some spiky heatsinks that run the length of the sides of the amp, this forward-tilted weight distribution makes the amplifier approximately 1.35 standard metric pigs to move; but once sited and the blood flow is staunched, it becomes the most docile of amplifiers unless provoked by music!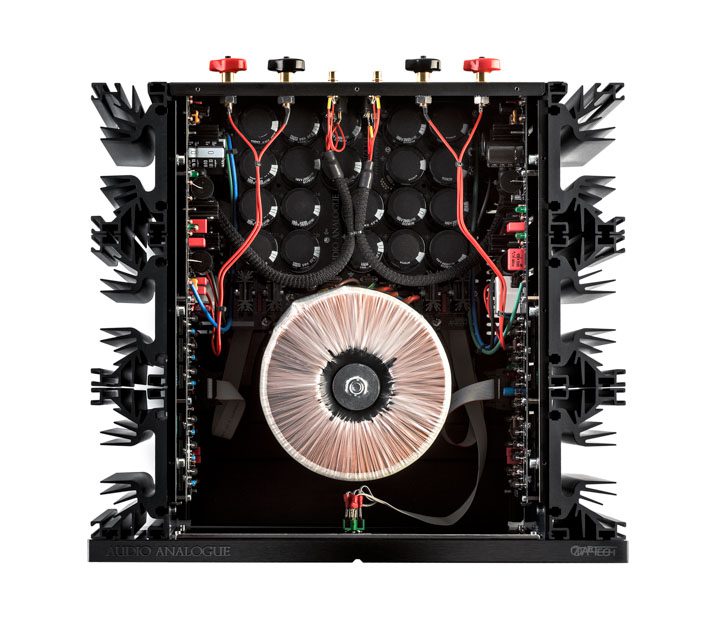 All that heatsinking does push for an observation about the Donizetti Anniversary. It takes a while to come on song. Not just in terms of its initial conditioning phase (I can't speak about that as it all happened long before the amplifier arrived), but in terms of starting the amp from standby. It really only comes on song when the heatsinks are warm to the touch, which can take anything up to half an hour or more. It's worth the wait, but those who demand instant gratification from their amplifiers will not like that their first few tracks played will lack the satisfying musical integrity they will experience later in the session.
As with the Bellini Anniversary, the no-global feedback Donizetti Anniversary uses Audio Analogue's SeGeSTA configuration, which in the Donizetti's case is followed by a group of four transistors per side to deliver the requisite current without influencing the gain stage. It also has the same 'minimal crossing points' layout seen in the Bellini Anniversary, uses high-quality discrete components on four-layer boards, and sports 7N OCC copper case wiring throughout. With both balanced and single-ended inputs and high-grade speaker terminals at the rear and a single soft-start push button on the front, it's likely all the amplifier you need. If it isn't, there's also an option to run two Donizetti Anniversary in dual mono… presumably if you want to use a pair of loudspeakers as a foghorn.
Sound quality
Within about 20 seconds into the listening, my notes read 'mailed fist in a velvet glove'. It's a cliché, but one that holds a lot of water when listening to the Audio Analogue Bellini and Donizetti Anniversary duo. The overall sound is refined and effortless… but with a lot of speaker-gripping control and sheer grunt in reserve should you decide to play it loud.
A sign of a good amp combination is that controlled power, where it doesn't tip over into brightness or showy deep bass rumbling unless it's called for. If that is the case, the Audio Analogue pairing is an extremely good amp combination. That first track was 'Englishman in New York' by Sting […Nothing Like the Sun, A&M] and it sounded extremely fine. The shape and texture of the music played had great flow and some force when called for and had plenty of grace and charm throughout. Sting's odd diction is not the best test of vocal articulation, but I'd say it works well; perhaps the 'refinement' part of the sound makes him more 'Mild Skin Irritant' than 'Sting', but the combination paints the recording with all the right shades.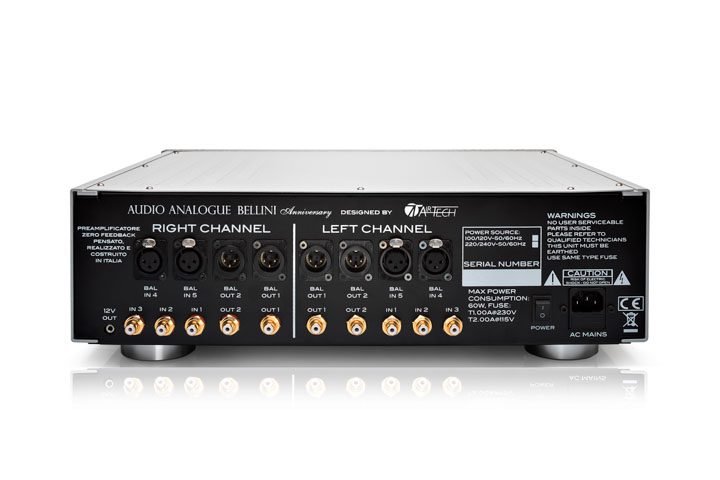 Swapping from this to 'Insomnia' by Faithless [Reverence, Cheeky/BMG] showed the space and power this duo has in abundance. I'm frequently shocked that this classic of Progressive House music is getting on for 27 years old but played loud it sounded fresh and exciting through the Audio Analogue pairing. That famous 'drop' is powerful and expressive and when the drums kick back in, you are back in the clubs again. That drop needs a system that is both sophisticated (it can sound too toppy) and dynamic enough to make it seem like it's 1995 again.
Another telling sign of the quality of the Audio Analogue pairing was how happy they were when things changed. Swap over loudspeakers and the amps change their character to suit (up to a point… it's still the same refined, warm balance with a holographic soundstage and lots of fluid midrange detail). Swap sources and the amps react accordingly. Even changing preamp and power amplifier shows their basic refined/warm/neutral sound shines through. They are at their best when you keep the amps in the Audio Analogue family, however.
Again and again, I found myself drawn into a wide, near holographic soundstage filled with instruments that have a sublime midrange, a subtly underpinning of bass, and a refined, never once brash treble. OK, so maybe the soundstage wasn't so pronounced when playing some 1970s pub-rock recordings ['She Does It Right' by Dr Feelgood, Down By The Jetty, UA] but here it's all about managing raw charm. You get to hear Wilko Johnson ripping through a Telecaster at a ferocious pace, and loses none of ferocity of that bridge pickup and its tweeter-shattering intensity. But what the Audio Analogue duo do so well is give this recording a sense of its own place in history. You can almost smell cheap beer, cheaper aftershave, and Canvey Island's finest whelks when playing this record through the Audio Analogue duo, so natural is the sense of space and energy.
There's always a trade-off somewhere in audio. Here it's between absolute fidelity and wider musical approachability. Those sublime recordings – not just test records, but the ones you use to show off a system, like 'Babylon Sisters' from Steely Dan's Aja [MCA] ­ are reproduced extremely well, but lack a little of the top-end sparkle and vividness you hear through the very best audio electronics. On the other hand, records that are all-but unlistenable on top-notch audio systems – like the stupidly compressed 'I Bet You Look Good on the Dancefloor' from Arctic Monkeys Whatever People Say I Am, That's What I'm Not [Domino] – sounded, well, OK. The compression was still apparent, the dynamic range of the recording paper thin, but the pace and fun of the track was retained and not so undermined by the sheer detail retrieval of the system.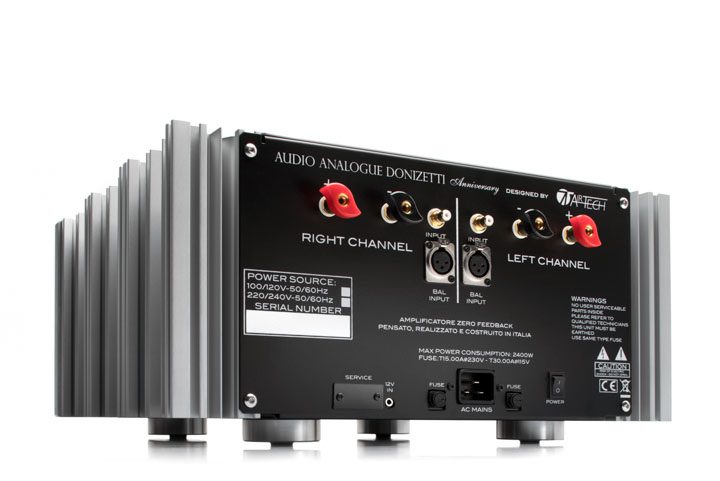 I am in two minds about that trade-off. It renders a lot more music listenable but those recordings that don't need a helping hand are less well presented.
Conclusion
The spectre of audio's rose-tinted view of the past should be exorcised. We sometimes prize those classic big pre/power combinations from the 1980s, but if we listened to them today on a level playing field, I suspect a few of the Anointed Ones of audio wouldn't hold a candle to this Audio Analogue pairing. It's gentle, refined and sophisticated touch with music – that not only rolls with the punches but can also deliver a neat haymaker when required – is extremely alluring, especially for those who do not simply choose audiophile-approved recordings. The Audio Analogue Bellini Anniversary and Donizetti Anniversary is the pre/power combo that puts a smile on your face.
Technical specifications
Bellini Anniversary line preamplifier
Inputs 3x RCA single-ended stereo pair, 2x XLR balanced stereo pair
Outputs 2x RCA single-ended stereo pair, 2x XLR balanced stereo pair
Input impedance 47kΩ
Output gain 5dB (single-ended), 11dB (balanced)
Frequency response (attenuation 0.5dB) 0Hz–200kHz
Unbalanced output noise (Band 0 Hz–8kHz) 24µV, 9µV (A-wtd)
Balanced output noise (Band 0 Hz–8kHz) 37µV, 14µV (A-wtd)
SNR(0dB/A weighted/ref. 2Vrms) -107dB (single-ended), -103dB (balanced) – unbalanced output
Finish Black or silver
Dimensions(H×W×D) 140 × 450 × 380 mm
Weight 12kg
Price £6,000
Donizetti Anniversary stereo solid-state power amplifier
Inputs 1x RCA single ended stereo pair, 1x XLR balanced stereo pair
Input impedance 47Kohm
Power on 8Ω load 250W (1,000W mono)
Power on 4Ω load 500W (1,700W mono)
Power on 2Ω load 950W (2,200W mono)
Power Amp gain 26db
Sensitivity (8Ω output nominal power) 2.3Vrms
Frequency Response 0Hz 110kHz +0dB, -3dB
SNR; >110dB
Output resistance (rated power on 8Ω at 1kHz); 0.15Ω
Noise reported at the input (0Hz-80kHz); 10µV, 4µV (A-Wtd)
Finish Black or silver
Dimensions(H×W×D) 221 × 450 × 428 mm
Weight 41.2 Kg
Price £11,000
Manufacturer
Audio Analogue
URL: audioanalogue.com
UK Distributor
Decent Audio
Tel: +44(0)1642 263765
URL: decentaudio.co.uk
Tags: AUDIO ANALOGUE BELLINI ANNIVERSARY AUDIO ANALOGUE DONIZETTI ANNIVERSARY POWER AMPLIFIER PREAMPLIFIER