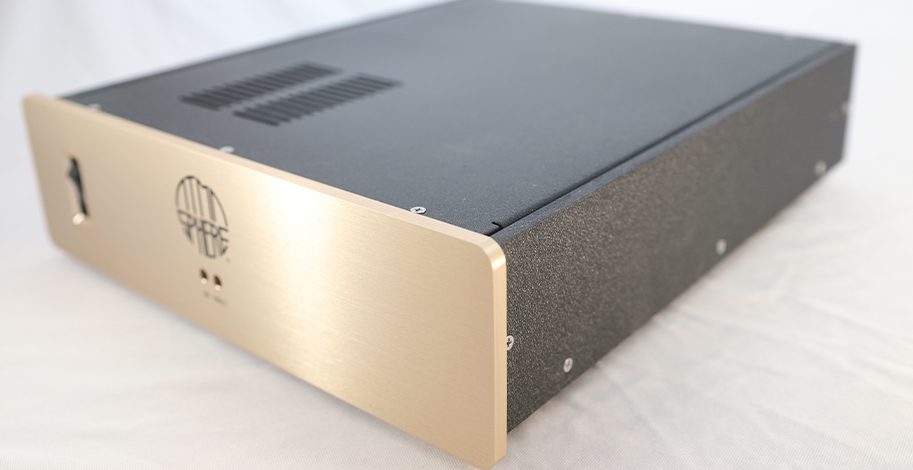 Atma-Sphere Music Systems is the audio company I have known the longest personally. Going on forty-two years from when I first met Ralph Karsten in St. Paul, Minnesota. During that time, I have enjoyed both listening to and looking at his gorgeous tube focused, class A, OTL creations. I thoroughly enjoyed reviewing the M-60 amplifiers in issue 192. I also have a definite soft spot for his Novacron monobloc's. Imagine my surprise when in our conversation at the inaugural Florida Audio Expo he mentioned he was working on a new Class D amplifier! No tubes? Class D!!?? What a departure from the tube-based history of the company.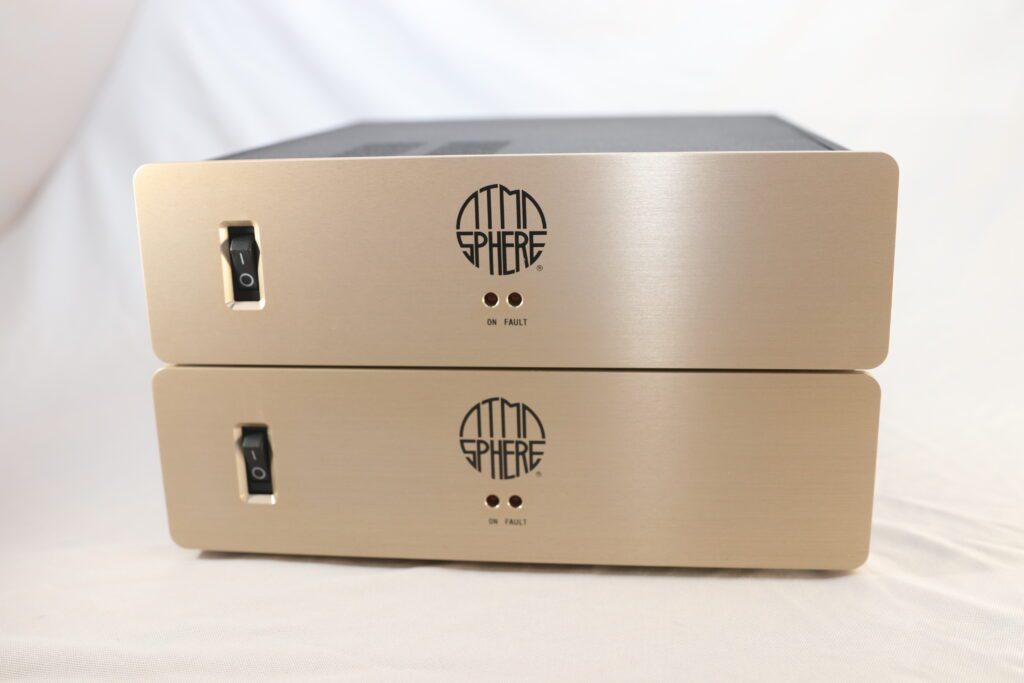 It took a couple of years, but the new amps finally arrived in one very manageable box. Unpacking them, a couple of things were evident. First like all Class D amps, the new Atma-Sphere's were a much lighter affair at only 6.35kg per monobloc. Indeed, they measured only 33 × 28 × 8 cm, so placement was a breeze. I stacked them and they were still shorter than a typical Class AB Monobloc. The second thing was they are still physically very attractive with their champagne coloured front plate and classic Wrinkletex chassis finish. Each amplifier has both single ended and balanced XLR inputs with one unit offering a red Single Ended and the other a white to differentiate the pair. I hooked them up to a Pass Labs preamp and my DeVore O/93 speakers. My sources were the Cary DMS-800PV Streamer/DAC and my venerable Denon DP-60L turntable with an Ortofon Cadenza Bronze MC cartridge.
Making Modules
I had asked Ralph whose class D modules he was going to use. His own, he replied. "I am an engineer. I can design my own modules." And so, he did, using GaNFET output transistors. In fact, all aspects of the Atma-Sphere Class D amplifiers are exclusively developed and manufactured in house. One goal was to develop an amp that was stable at all current loads and for all input conditions yet still deliver that first watt to equal the tube goodness of a classic Atma-Sphere OTL. If that could be done while producing less noise so much the better. In fact, the new module produces much less noise than tube amps. And what noise it is producing comes primarily from the op amp input buffer, so it is a practical amplifier to use with horns.
One interesting aspect of the Atma-Sphere Class D is that it is not a massive watts per channel Class D amp. 100 watts is modest compared to the typical Class D in the marketplace. Another design goal was to have minimal distortion rather than max power. Often Class D amps produce as much as 10% distortion at full power. Lots of watts is impressive but the distortion is generally too high. Distortion is the source of the amplifiers' sonic signature. You need some to create its sonic identity, however too much and it is not what you would want to listen to for a nice evening's listening session. In this case there is just enough to sound like a great OTL and join the sonic legacy of other Atma-Sphere amplifiers.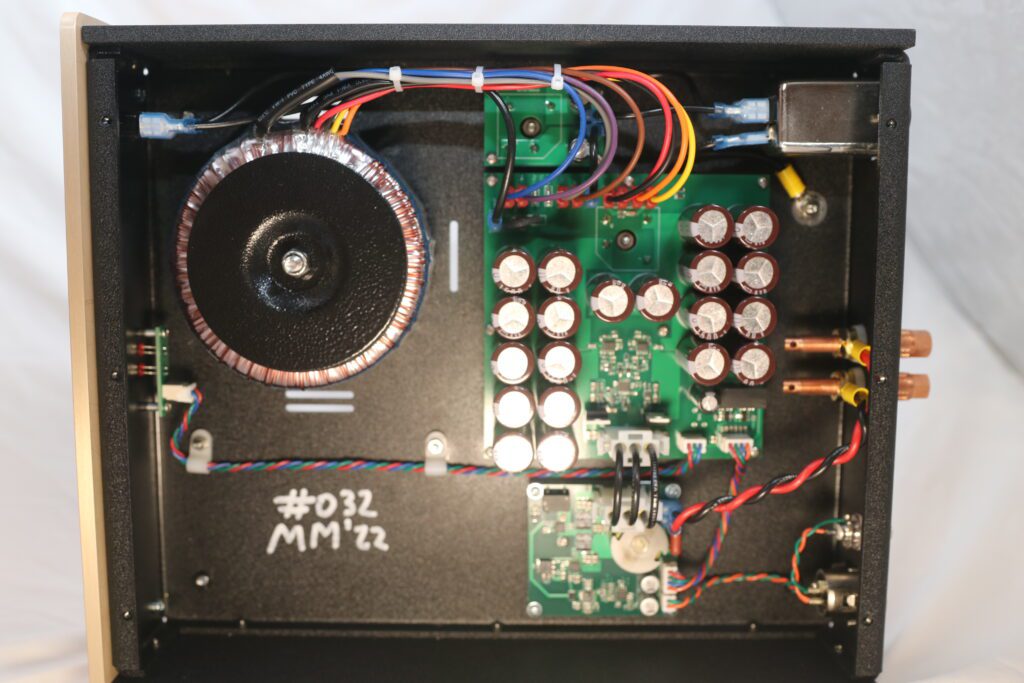 In Atma-Sphere's Class D circuit, there are two sources of non-linearity. The encoding scheme and then in the output section there is a certain amount of dead time. When you have two output devices one is on, and one is off simultaneously. With any semiconductor or tube there is a finite amount of time to go from fully on to off. That is a very measurable amount of time. GaNFET's are really good at this because they are so fast. There is a moment where both devices are partially on and off. So a Dead Time circuit is also in the chain. Dead Time is a circuit that causes the transistor to wait so both circuits are completely on or off, so resistance does not form and build up heat. This causes the on and off pulses to be not as wide as they are supposed to be. This results in distortion. It turns out in a Class D amplifier the resulting distortion is a lower order 2nd or 3rd harmonic which is not readily distinguished by the ear. That is also a distortion spectra that is very similar to Atma-Sphere OTL's.
Put to the test
This was a design I was keen to put to the test. The M-60's had paired beautifully with the DeVore's, and I was hoping the new Class D could uphold its family's tradition in tone. My first selection for this session was the same one I started with for the M-60's. Pink Floyd's Dark Side of the Moon SACD. I had to give the whole SACD a listen but what was really striking was comparing notes from 'The Great Gig in the Sky'. Once again, the raw emotion of Clare Torrey's voice was startling. What had me chuckling was my comment that using the M-60's. "A more visceral presentation that I enjoy from a high-end tube amp." I chuckled because I was receiving that same visceral presentation from a Class D amplifier. The comparison was somewhat spooky as Ralph had managed to transport the classic Atma-Sphere OTL presentation to a Class D amplifier! I certainly appreciated the technical explanation. This was wonderful.
What I was enjoying were several aspects of the sonic presentation that were favorites. First the carry through of the singers' emotions was terrific. Moving from Clare Torrey and Pink Floyd to Led Zeppelins' 'Whole Lotta Love' I got the same energy from Robert Plant. Raw and powerful the vocals flowed with a terrific sense of dimensionality. Sound staging was broad but distinct and there was an uncanny 3D depth. What I was experiencing was also very clean.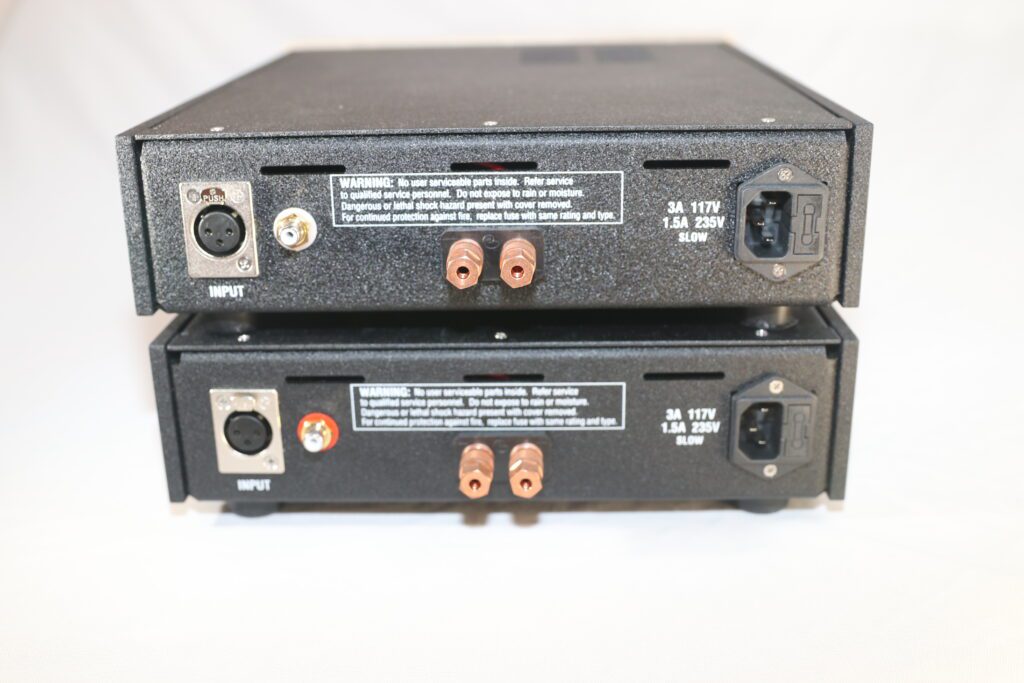 The Class D's have a Total Harmonic Distortion of 0.1% with Intermodulation distortion of 0.04% at full power. I was getting the soul of the OTL voicing with even less noise. Some people will say distortion is bad. In Ralph's words, what is important is for the distortion and for the distortion spectra to be benign. This is, in Ralph's words why there is an Objectivist vs Subjectivist camp. An amp may have low distortion and measure well, but its distortion spectra is not benign, so it does not sound good because the ear is keenly sensitive to the distortion spectra. This is the best explanation I have heard to bridge the Objectivist vs Subjectivist debate and it answers the question if it measures great but does not sound good why is that?
Moving to vinyl I queued up Vanessa Fernandez's 180-gram 2-disc 45 RPM LP Use Me. The title track is my favorite version of the Bill Withers classic. The smooth back beat and support of her band lent great PRaT to the song. Vanessa's cool vocals put you at the front table in the dark and smokey club. You could point to each member of the band and Vanessa materialised in front of me as the song unfolded. The quality of this presentation equalled any I have had in the room including sessions with tubes or solid state with significantly more expensive pieces. One side note. The fantastic M-60's had one real world accommodation to consider. They raised the temperature in my room by 8℃. No such issues with the Class D Mono's. They barely got warm after hours of listening.
Back to Birds
Moving back to streaming I selected Dominique Fils-Aime' song 'Birds' from the Album Nameless via Qobuz and upsampled the file via the Cary DMS-800PV to 176.6 kHz 24 bit. The hands clapping were crisp and real sounding. Dominique's lovely voice was centreed in the sound stage and was incredibly clear. Once again, the dimensionality was striking. Her breathy phrasing was seductive as I took in every word. It was a masterclass in sound, and I was pleased to spend an evening with this quality of amplification.
Atma-Sphere has been producing award winning amplifiers since 1974. Almost fifty years later the company not only still build them well but it has added a new modern wrinkle that fans of solid-state devices should explore. And forget that old mantra that Class D sounds digital. What these monoblocs sound is like music, regardless of amplifier class. Move over Class A, there is a new flagship in town, and you will want to use it year-round, no air conditioning required.
Technical specifications
Features Single-ended and True Balanced input; GaNFET output transistors; rugged chassis; Monoblock; No adjustments needed; Exclusive Atma-Sphere class D module; Precision components used throughout; Low-noise even on horn speakers; Over-current protected; Stable with all input and load conditions; Classic Wrinkletex™ finish; Three-year general coverage warranty
Output power 100 watts per channel into 8 Ω; 200 watts per channel into 4 Ω
Input Impedance 100 KΩ balanced/single-ended
Output Impedance ~0.010 Ω
Input 2.15 Vrms for full output
Gain 22dB
Power Bandwidth 1Hz–20KHz
Frequency response 1Hz–20KHz
Distortion Total Harmonic Distortion less than 0.1% at full power. IM distortion less than .04% at full power
Feedback 35 dB
Power consumption 5 watts at idle (per channel)
Dimensions & Weight 13" deep × 11" wide × 3" high (33 × 28 × 8 cm) per chassis 14 lbs. (6.35 kg), per chassis
Warranty Three-year general coverage
Price $5,700.00 USD
Manufacturer
Atma-Sphere
URL: www.atma-sphere.com
Tel: +1 651-690-2246