Munich High-End 2022: The Highlights Part One
After a two-year absence, Munich High-End has finally returned, complete with a new brand ambassador in studio legend Alan Parsons. What has become the largest and most important show on the audio enthusiast calendar is back at last, at the MOC exhibition centre to the north of the Bavarian city. Before the enforced break, Munich High-End was the largest show of its kind, with hundreds of exhibitors taking all four halls, two atria, and the dozens of glass-fronted demonstration rooms on the two upper flights of Atrium 4. Despite soaring temperatures in those glass-fronted rooms (with outside temperatures reaching 34°C/93.4°F at times, sitting in a room filled with hot-running audio electronics and sweltering audio enthusiasts was often 'challenging'), the weekend public days were packed, and people are clearly keen to be back!
In total, the show organisers registered 19,767 visitors across the four days, comprising 9,472 trade visitors from 80 countries, 9,878 consumers from 69 countries, and 417 media representatives from 36 countries. These visitors encountered 450 manufacturers with 800 brands from 40 countries. These figures compare favourably with the numbers from 2019.
However, the 2022 world is different and the show reflected that change. recent and significant supply chain issues meant many products expected to be 'on demonstration' at Munich were 'on show' or even 'coming soon', with either an empty box prototype or even little more than a computer graphic. A handful of companies even decided not to exhibit despite booking an expensive booth because they were beset by shipping problems, supply chain problems, and manufacturing problems due to COVID-19 putting members of their workforce out of action in the run-up to the show.
In addition, while the COVID-19 pandemic is decreasing in force worldwide, many Asia-Pacific countries are still imposing lengthy quarantines on travellers, and it seems few are willing to spend weeks in self-imposed isolation for a couple of days in Germany. Factor in the absence of visitors, manufacturers, distributors and press unable to attend due to the Ukrainian conflict, and many Americans chose AXPONA 22 as their lone Spring 22 expo, and the show felt quieter during its two trade days.
To make the show more actively 'business' the two trade days included the new IPS (International Parts + Supply) event, which allowed OEM trade manufacturers to ply their wares to audio companies. This is a good idea because few members of the public are particularly interested in talking about PCB stand-offs or having conversations with the manufacturer of feet for amplifiers, but such conversations are a gift to audio makers. The show also featured a 'start-ups' section and the lower halls were, as ever, broadly divided into zones (headphones, vinyl, etc).
This year, perhaps understandably, the usual moments of wild excess were few and far between, there were a few cars on display at the show (perhaps most notably, Dynaudio's own display… of a pristine condition DeLorean), but none had been crane-lifted onto one of the atriums. This was also not a show to spot trends in audio, although in very broad terms this was the show where wireless loudspeaker streaming became more accepted even in audiophile circles. But new products were still abundant.
Here's our list of some of the best new products we saw at Munich High-End 2022. Such a list is never going to be exhaustive, as even a top 200 would be cutting a lot away:
Aavik Acoustics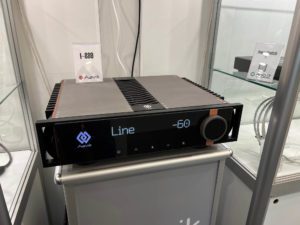 The latest integrated amp from the already distinctly high-end Aavik brand goes for the stratospheric. It features 200W of surprisingly cool-running Class A power, thanks to an innovative high current driver stage. The industrial design of audio legend Flemming Rasmussen to bring some gravitas to the look and feel of amp, too. Alongside the I-880, the group presented Børresen's new M1 loudspeaker that takes the iron-free magnet technology to new levels, and new Gold Signature cables from Ansuz. This all represents a new high point for the brands… with anticipated prices to match!
Ambitious Audio Design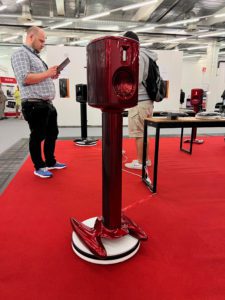 Shown in several forms across the years at Munich, Ambitious' A1.1 two-way stand-mount more than lives up to the name, with every aspect of loudspeaker technology – from the construction of a cabinet to the Linear Lossless Suspension drive units are all designed like no other, using extensive amounts of aluminium and carbon fibre in unique, cabinet-eliminating designs. The two way is designed to work with a subwoofer (an Ambitious Audio Design sub in early prototype form was also on show). The A-Series loudspeaker is in its last phases of pre-release development. The price is Ambitious too… at €95,000 per pair.
Audiobyte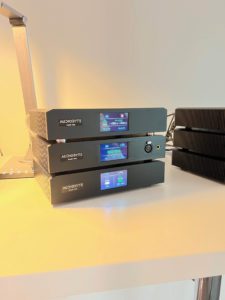 Still in early prototype form, Audiobyte's excellent trio of streaming transport, DAC, and power supply are proving popular among headphone enthusiasts and audiophiles alike, but the Romanian brand showed its work-in-progress Super trio, that improve on each aspect of the existing trio, including better DAC, improved firmware and the addition of balanced headphone output. These products will likely make it to market sometime in 2023, but you heard it here first!
AudioQuest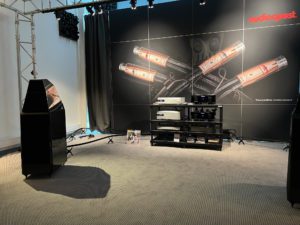 One of the most poised-sounding high-end systems at the show, the combination of dCS Rossini Apex digital front-end, Einstein Audio The Preamp and Integrated amplifiers, Wilson Audio Sasha DAW loudspeakers and AudioQuest's Niagara 7000 power conditioner and the company's excellent new Mythical Creatures cable line. Where some systems emphasised a forward or bright sound and others overcompensated with too dark or laid-back a presentation, this one really hit the Goldilocks spot.
Audio Research
The new flagship power amplifier from Minnesota's amp experts is scheduled to arrive later this year and its price is still to be confirmed, but the 320W balanced and single-ended input KT150-powered mono power amp is expected to be a real superstar, especially as it takes advantage of Audio Research's new in-house finishing. This allows a greater range of colours first seen in the company's I/50 integrated amplifier.
Audiovector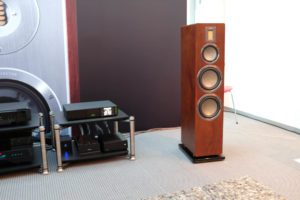 At 40kg a piece, and with a pair 200mm in the bass and an AMT driver in the treble, the new QR7 from Audiovector looked and sounded like one of those fine tower loudspeakers in the €10,000-€20,000 price range. Except it costs €5,700/£4,995. This was one of the stars of the show, delivering a sound with punch and refinement in equal measure and really filling a room, both with music and listeners, despite being in one of the pressure cookers of the baking hot top floor of the Munich MOC.
Boulder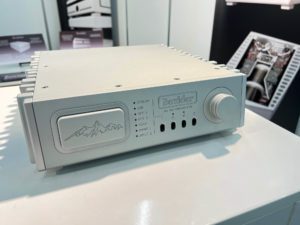 The latest design from the Colorado-based high-enders, the $8,850 Boulder 812 DAC Preamplifier is a high-performance headphone amplifier, but one that can its balanced and single-ended personal audio connections behind a magnetic plate for those who simply want a digital converter or digital preamp. Styled to match the 880 integrated amplifier, this is a perfect stand-alone device for high-end headphone users.
Burmester
Unlike many companies in the audio business, Burmester doesn't change its products too often. This means the company saying a fond farewell to one of its range is a big thing – especially when the farewell is to the evergreen 911 power amplifier, now in Mk 3 form but still based on the circuit from 1991. The replacement isn't one power amplifier, but two, the 216 for the company's Top Line and 218 from the Reference Line; both based on a new circuit design drawn from the current Signature Line 159 flagship mono amps. Both can be used in stereo and mono form with the 218 (shown) selling for €35,000. These are said to deliver 909 or 159-grade performance but in a chassis closer to the 911 Mk 3.
Chord Electronics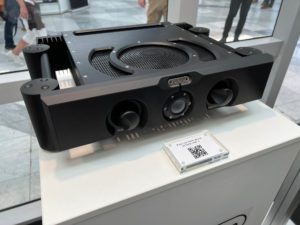 At the last Munich Show, Chord Electronics surprised everyone by announcing its first wholly new range of power amplifiers in years… the Ultima series. This year, the new £6,000 Ultima Pre 3 analogue preamplifier joins the line. The five balanced/three single-ended design has individually buffered and selectively filtered inputs and a brightly-lit central sphere aesthetic that matches well with the company's digital designs and the Ultima range of power amps.