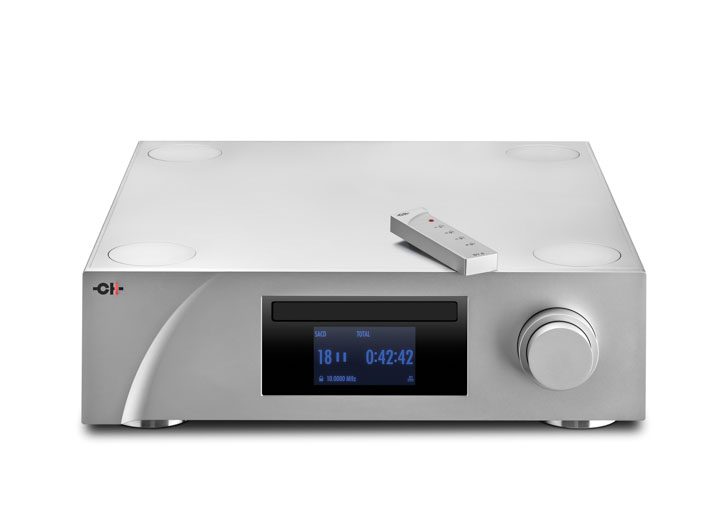 Even by the already 'husky' standards of high-end audio, the CH Precision D1.5 is an absolute unit of a CD/SACD player. And yet, the closer you look at the player, the more you realise that none of that heavy build is 'filler'; it's a solidly built and designed player, with genuine 'future proofing' written into the very fabric of both this player and the company itself.
At its core, the D1.5 shares a modular approach common to all CH Precision designs, using a mother/daughter circuit board arrangement. If you cast your mind back to the computer world of the early 2000s (or are a 'power user' computer gamer today), the idea of placing every device on one circuit board was a nonsense; graphics, sound, network connections, even connections to external hard-drives and printers were all placed on separate daughter boards, with the main motherboard tasked with the heavy-lifting of memory and processing.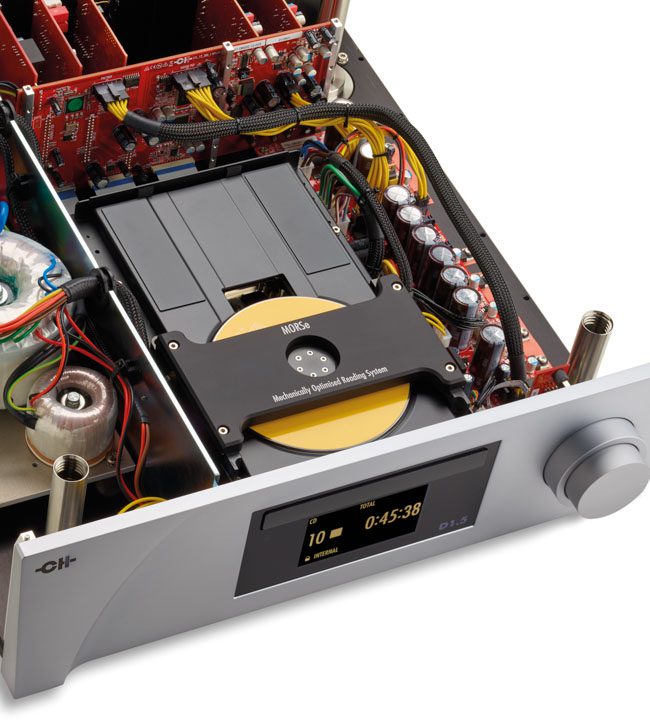 This not only means each subsystem could have its own dedicated processing, but it allows for easy upgrading of those daughter boards should the need arise. Of course, in the computing world where a two-year old motherboard is so old that it might as well use Latin as its assembly language, the idea of upgrading a computer over time is pointless, but when it comes to a digital source device that costs as much as a nice Mercedes, longevity is important and the modular nature of the CH Precision D1.5 guarantees that longevity. This isn't just an empty statement and might apply as much to the listener as the machine; you can specify the D1.5 purely as a CD/SACD transport, but if later you decide to add analogue outputs and turn it into a player instead (getting MQA on enhanced CD as a bonus) then you can add a pair of dual-mono DAC cards with the twist of a TORX driver. There's the option to add an X1 external power supply and with the appropriate SYNC-IO board, you can add a T1 Time Reference master clock. If a new digital standard or connection appears, the option cards can be updated to accommodate it. And, if some time in the future, the D1.5 becomes the D1.6, those upgrades are baked into the CH Precision chassis.
Major upgrades will require the player taking a trip to either the local distributor or to Switzerland itself, but periodic firmware upgrades can be applied through a USB thumb drive… I prefer this approach to the potentially hackable online firmware update.
That all being said, owners of the original D1 cannot upgrade to the D1.5. This is because the changes to the transport mechanism are too great to be able to retrofit into the D1's chassis. But true to CH's 'upgradable and expandable' doctrine, the company offers D1 owners a generous trade-in if they trade-up.
A case of quality
A core part of the CH Precision design is the case itself. Sure, there's the simple aesthetics of the design, from the power indicator embedded into the 'CH' logo, through to the curve of the front panels, the simple two-layer rotary control that does everything and the magnetised small remote handset… it's all extremely elegant, solid and clean. 'Clean' extends to having a front, top and sides in the same smooth brushed finish with no visible screws or vents. Meanwhile, 'solid' means a rear panel and baseplate that feel as thick as the front. Finally, 'elegant' must include the kit supplied to mount the feet, the clever mounting for those feet, and the potential for stacking CH Precision builds into its units.
It's 2022 and any review of a digital disc-spinner notionally needs a healthy dose of justification to warrant its existence. This varies from country to country, but many go with the populist 'CD is dead' view. However, while there have been significant advances in streaming, CD is still proving extremely popular with collectors and there is even talk of a revival, although to a great many high-enders CD never went away. Perhaps more importantly though, this is not some rehashed relic from the 20th Century; the CH Precision D1.5 adds both SACD and MQA support, as well as being able to adapt its architecture to respond to further disc development. If there is a CD fight back, the D1.5 is the tip of the spear.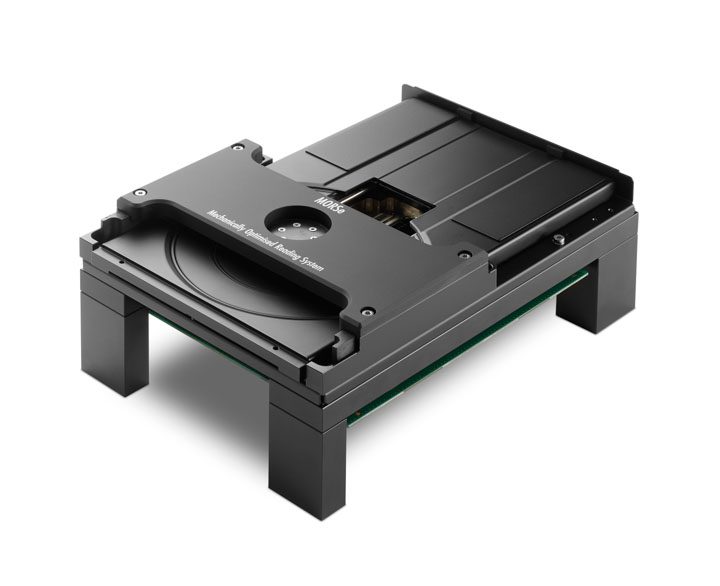 A big part of the reason for the D1.5's significance in 21st Century top-notch disc-spinning comes down to the transport. That high mass transport mechanism (MORSe to its friends) is a thing of beauty. There are two parts of a transport that are ludicrously expensive to fabricate for a company that isn't making transports by the millions; the laser eye and the spindle. Technically, a company could even fabricate the spindle if it went a little crazy, but even in the highest of high-end there's a degree of pragmatism that holds when facing vast tooling costs to make something that is already well-designed and engineered elsewhere. The laser eye… well, that's simply outside of the wheelhouse of almost all companies in the audio world. In making its transport mech, CH Precision used the spindle-housing and laser eye from top-end Denon/Marantz CD/SACD players and engineered the rest. In other words, this is a massively engineered, 3kg transport mechanism that uses two parts from another company's CD/SACD sled. The cynics in audio – of which there are many – will doubtless claim this means the D1.5 'is built around a Denon or a Marantz' but that's like saying a gin and tonic that's in the same room as a bottle of vermouth is a martini!
While the CH Precision D1.5 won't accept a streamed audio input, the Ethernet socket on the back enables owners to run a complete, networked CH system via their excellent Android-only app. Around about now, the iDevice Police will get jolly batey, but buying a dedicated Android tablet (or similar) to act as a remote handset is no big deal. Especially as I'm pretty sure most dealers will include one as a deal sweetener. Load up Roon and Qobuz et voila, a dedicated tablet for all your audio system requirements.
The DAC chip in the D1.5 is a WM8742 delta-sigma design by the Wolfson arm of Cirrus Logic. However, CH Precision only uses the conversion stage of the chip, primarily because this stage can process datastreams at DXD rates. Sample-rate conversion, MQA decoding, CD upsampling and filtration are all performed within the DSP daughter board, using programming from CH's own codesmiths and their 'PEtER' filtration algorithms. This interpolation filter uses a form of polynomial known as a 'spline' that significantly reduces pre- and post-ringing, thereby limiting time-domain distortion. Digital theory gets a bit 'Heisenberg Uncertainty Principle' here, in that you can either have outstanding time-domain or frequency-related performance, but you can't have both as they are related variables. By using the PEtER spline filter algorithm, CH has chosen 'time'. The resulting DXD stream is then fed to the core of the WM8742.
It's a set-up!
The key to getting the most out of the D1.5 is getting it extremely level during set-up. The four large screw-threaded spikes that fit into each corner of the CH Precision D1.5 (and can be used to stack CH Precision devices one atop the other… if your rack is capable of holding that kind of mass) are adjustable and should be used to make a perfect fit. A tip here is to use some lubricant in the threads as they have close to interference fit; this was a tip I discovered after trying to adjust these spikes for levelling. If you use a good lubricant (ask a cyclist, but steer clear of silicone lubricants) levelling allows you to equalise the weight distribution of the D1.5 through some very fine tuning. Skipping this fine set-up won't destroy or even drastically undermine the performance of the D1.5, but if you want the last and best from a top-end player, both the player and the hole in your bank balance deserve the time spent getting every last iota of performance from the player.
High-end digital audio has two schools of thought; either convergence toward incredibly close compliance to what is effectively the Platonic form of ideal measured performance, or a conscious effort to abandon that goal in favour of a euphonic musical ideal. Both have their merits and downsides; 'compliance' is more universal, but can sound a touch sterile, 'euphonic' sounds excellent until you play a recording that doesn't gel with that kind of sound. In general, I think the high-end is trending toward 'compliance' designs and has done for some time, but the question then becomes 'compliant to what'? High-end digital is a broad enough church for there to be multiple 'right' answers to this, albeit one 'right' will likely fit your listening requirements closer than others. That's definitely the case here, and despite the potential for digital zealots to grind down their teeth about why one set of 'excellent' results are 'more excellent' than the others, the CH Precision's time-domain based performance makes a very strong case for its inclusion in the absolute top-tier of digital audio.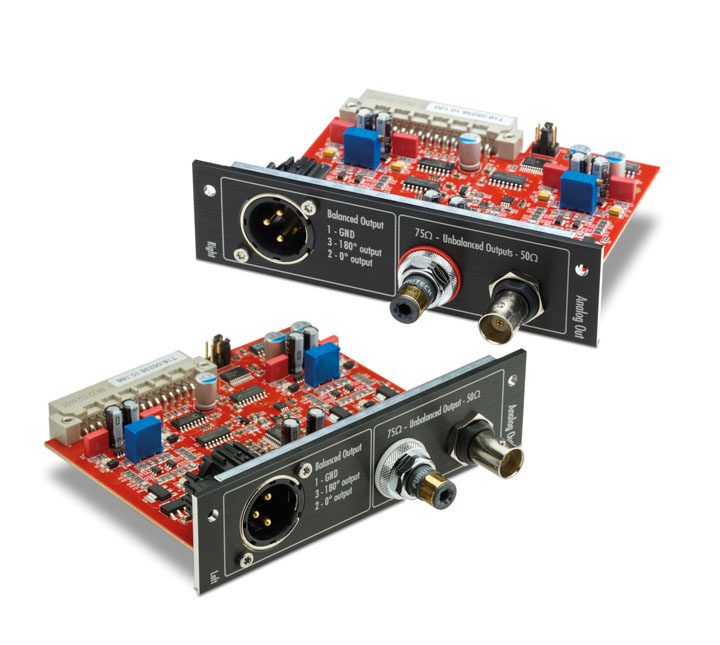 I've noticed a change in my listening notes across several products that those rare 'ne plus ultra' products. Normally, there might be badly scrawled proto-lines from the review with terrible mixed metaphors ("in terms of dynamic range, it pushes the envelope over the edge") or Newspeak-esque gnomic information ("bass… double-plus good"). But when it comes to the handful of without parallel products, I find music reviews where there should be descriptions of audio performance. Every time I try to focus on what the product does, my mind draws me toward the music.
This inability to describe the performance of the CH Precision D1.5 without the description purely being a reflection of the music played is telling. It speaks of a digital replay system that actually does what all claim and so few achieve; neutrality. Through the player, I can hear the difference between PCM and SACD files, or between these and their MQA equivalents, but those differences in resolution come across in terms of the music, not the sound it makes. I strongly suspect this comes down to that time-domain approach to musical replay; we are acutely aware of transient response in audio and as this player is directed toward limiting the impact of the digital replay process on transient response, you end up drawn to the music instead of the audio performance.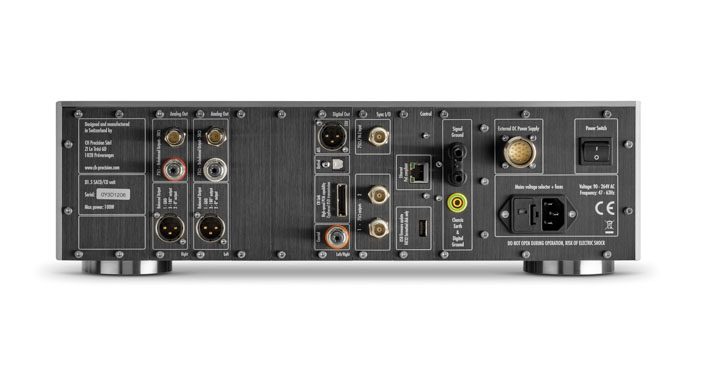 When you can finally drag yourself away from the music itself, the CH Precision D1.5 acquits itself on all fronts really well and does so irrespective of the type of music or format played. One of my go-to test recordings – Joyce DiDonato [Stella di Napoli, Erato] covers all the ground here. Her vocal range is excellent and beautifully articulate (as always) and unsullied by even the slightest peak or trough in the frequency domain. That ability she has to go from fff to ppp and back again almost within the same breath is powerfully exciting and the D1.5 performs precisely no changes to that dynamic range. The orchestra sits in a perfect sphere behind her, gradually fading into near silence save for plucked bass strings and a lone French horn, all presented in a three-dimensional space that you feel you could walk into. And then the sound has a fluid coherence and grace that is so cat-like, you almost expect Sir David Attenborough to be narrating. However, above all this is always that sense of losing yourself in the music because you are not constrained by the temporal limitations of digital audio.
Conclusion
We're truly spoiled at the cutting edge of digital audio, and CH Precision D1.5 is very much at that cutting edge. I feel that any review that fully covers what this player does would probably run longer than a Proust novel, so this barely scratches the surface of what the player does and how it does it. Regardless, the sound it produces is so ineffably musical I can't help but be drawn into listening to the D1.5 every time I walk past it. I just wish we had the vocabulary that matches its sublime performance.
Technical specifications
Type modular CD/SACD player/transport with MQA support
Supported discs CD, CD-R, CD-RW stereo PCM 16 bits, 44.1kHz (redbook), MQA-CD
SACD single layer and hybrid stereo, DSD 1bit, 2.8224MHz (scarletbook)
User control Dual concentric rotary knob with push function (control knob), infrared remote control and CH Control Android app
Frequency response 0Hz–20kHz for CD, 0Hz–50kHz for SACD
Full scale analogue outputs level 4V RMS balanced, 2V RMS single-ended
Dynamic range > 96dB for CD and >120dB for SACD
Signal to Noise Ratio >120dB for both CD and SACD
THD+N < 0.002% for CD < 0.0015% for SACD
Dimensions (W×H×D) 44 × 44 × 13.3cm
Weight 22kg
Price D1.5 SACD/CD Transport £31,500
D1.5 SACD/CD Player/Transport £36,900
Trade-in deal for existing D1 owners
Manufacturer
CH Precision
URL: ch-precision.com
Tel: +41 (0)21 701 9040