Apple Music Classical – Saint or Sinner?
Apple began its Apple Music Classical service today. It uses technology developed by Primephonic following Apple's buying of the Amsterdam-based streaming service in 2021. The app runs on iPhone iOS 15.4 or later and needs an Apple Music (but not Voice) subscription. At the time of launch, the service is not in China, Japan, Korea, Russia, Taiwan and Turkey.
Apple Music Classical links with Apple Music. It recognises how classical music fans access music differs from other audiences. It can search by artist or even catalogue number and includes curated playlists. The service provides expert filters such as 'period', 'choir', 'ensemble' and others under a 'Catalog' tab. Apple claims to stream over five million classical albums in up to 192kHz, 24-bit Hi-Res Lossless format. Also, those with Dolby Atmos-enabled headphones and IEMs can hear albums in spatial audio.
Apple Music Classical: no shuffle, no problem
Apple turned off the shuffle function. You cannot download albums directly but add them to a playlist. You can download albums on that playlist to Apple Music.
Primephonic's custom information about artists, composers, conductors and recordings is here. The service includes profiles and other information about crucial works, creating a less 'surface' environment than other services.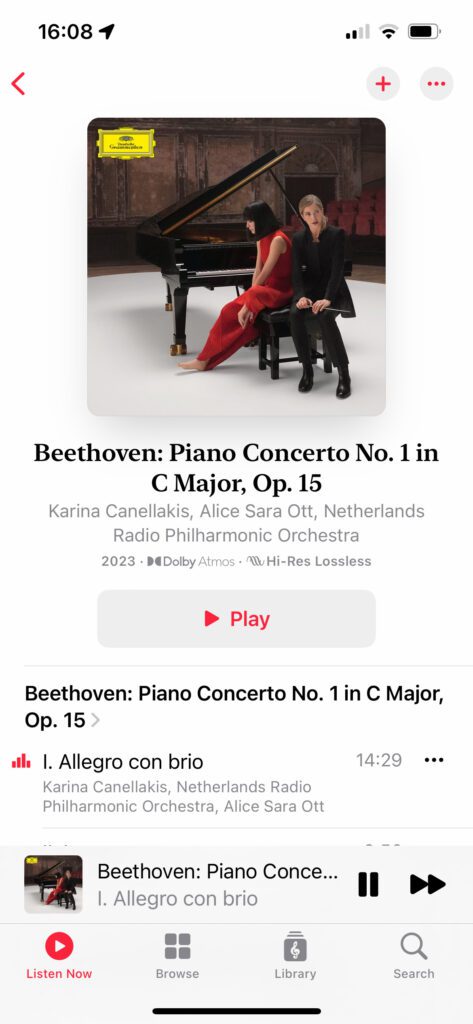 Classical music will still appear on the standard Apple Music app. The Apple Music Classical support document claims, "Recordings, works, and composers won't appear in the Apple Music app and can be accessed only in the Apple Music Classical app." While both apps work together, this might isolate classical music from its regular audience. Many will not download the app and are now at one remove from Apple's classical inventory. This could create a 'walled garden' of classical music.
iPhone only
In addition, the iPhone-only nature of the service is a worry. Many older listeners will not – or cannot – view classical music on a smaller screen. Users with Apple Music on other devices must use an iPhone to access many classical recordings. The larger iPad is an obvious choice; the service can run on an iPad. However, it does so with an iPhone-like screen size and aspect ratio.
Apple Music Classical (like Primephonic before it) 'gets' music in a manner a classical audience understands. The terrible state of streamed classical music shows why this service must happen. However, as it stands, this will not force other streaming services to improve.
Enter the ecosystem
Apple Music Classical must play on more devices, including those within Apple's ecosystem. However, I applaud Apple for not simply burying the services provided by Primephonic. It's good that the music is in Hi-Res, Lossless from the outset. Making the service a part of Apple Music rather than another subscription service is excellent.
Make this work, Apple; it is so nearly there.