Shunyata Research announces ALTAIRA Ground System
Shunyata Research announces ALTAIRA Ground System
*From the Shunyata Research news release
After years of intense development, we are proud to introduce Shunyata Research's most consequential system of products: the ALTAIRA Ground System.
The ALTAIRA Ground System is comprised of two discrete ALTAIRA Ground Hubs, a wide selection of custom-designed Ground Cables with interchangeable connections, and an array of innovative Ground Tail adapters that offer the best performance and connector selection in the industry. It's an integrated system of finely calibrated components designed to work seamlessly to achieve a profound performance result.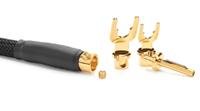 We are asking dealers and distributors interested in representing the ALTAIRA Ground System to contact us directly to discuss training. Authorized dealers will undergo training and must demonstrate an understanding of the principles and process that accompanies an ALTAIRA system audition and integration. We will provide a suite of support materials for in-store and customer support. This System cannot be sold or demonstrated without specific training and all of the system components in place.Availability will be limited as we prioritize training and support through this release.
When properly applied, the system will yield jaw-dropping results that can be achieved in no other way. We would liken the benefit to replacing older, very affordable commodity power product with an Everest/Omega XC combination. In other words, the improvements are dramatic.
We have a low-cost dealer audition kit available for all interested, trained dealers.