Line Magnetic LM-512 CA preamp/LM-845 Premium integrated/power amp
Greg Chapman at VAL Hi-Fi is a brave man. He became a dealer and distributor when the industry is thick with others doing the same thing and took on a marque sold directly by the manufacturer at prices a distributor/dealer could not hope to match. Line Magnetic is a Chinese company specialising in valve amplification. It has a substantial range of products on the market, many of which are also available on eBay at what appear to be silly prices. There is at least one catch with such apparent bargains, and that's the line in the small print that goes, "International postage of items may be subject to customs processing and additional charges." And that is on top of pretty steep postage prices. As anyone buying from Europe has discovered this year, "customs processing and additional charges" can add up significantly, with both VAT and import duties adding in the region of 40% to the cost at your door.
What Greg has in his favour is the ability to demonstrate the product; a bargain isn't a bargain if it doesn't work with your system. He also offers a two-year warranty (six months on the tubes); saving a few quid importing an amplifier from the other side of the world doesn't seem like quite the bargain if it comes with a whole heap of grief should something go wrong with it. On top of that, you've got to hope that what you buy isn't counterfeit, something that Line Magnetic warn about on their site. These factors favour buying from the official source, and all of which add up to buying added peace of mind.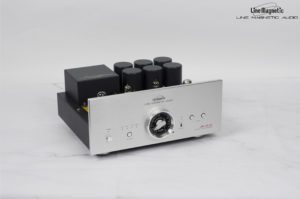 The LM-512 CA preamplifier is the top model in Line Magnetic's range, and it's a substantial beast with a very distinctive volume pointer that can be used as a knob or controlled with up/down buttons. In most instances, you will use the neat aluminium remote for this and input selection. It's essentially a tube preamplifier with an RCA 22DE4 for rectification, 6922 (ECC88 equivalent) valves in the driver stage and Mullard 6KZ8 triode/pentodes providing gain. It counts Jensen and Mundorf MCap capacitors among its components and includes a solid-state bridge rectifier, a job done with tubes in some preamplifiers. Construction internally uses point-to-point wiring. Although a circuit board is exposed when you lift the tube cover, this is mounted on springs to provide a degree of isolation to the smaller tubes. There are large rectifier tubes fixed to the main chassis below. External build and finish are to a high standard, and only the styling gives away this preamplifier's geographic origins. I like using chunky connectors and switches on the back panel where there are three RCA inputs and one pair on XLR, the latter provided with a rare hot pin switch to suit different arrangements within the connecting cable. Output is on both connectors, although the XLR connections do not provide a balanced signal that requires extra transformers.
The LM-845 Premium is a real gas guzzler of an amplifier built on two chassis, with the main one alone weighing 40 kilos and the 'smaller' unit coming it at over 20kg. The latter houses the output transformers, which gives you an idea of the manufacturer's ambitions and how little the company is prepared to compromise. As you might be able to tell from the array of controls on the front panel, the LM-845 operates as both an integrated amplifier or as a power amp, and there are four line inputs (one on XLR) plus a preamplifier input and a control to choose between operational modes. There's even a remote handset for volume. The array of knobs and meters on the front would suggest that it's a measurement device for good reason as it can also measure the bias on the various tubes sprouting from the top.
There is also the option to adjust negative feedback between minimum and maximum. I listened in its full-on mode because that was how it arrived and would lend itself to less sensitive speakers than are generally chosen for 30 Watt amplifiers. However, I gave the minimum feedback option a try and got a more ethereal and soft sound that worked well with classical pieces but less so in situations where rhythm is crucial. The tube array consists of 12AX7 triodes in the input stage, pairs of 310A and 300B drivers, and the eponymous 845 triodes in single-ended mode, providing the loudspeakers' power. The latter usually looks pretty significant, but on an amplifier of this scale, they don't seem extreme in the least.The output transformers in the second, Premium, chassis connect to the amp with a pair of chunky umbilical cables, and speaker cabling connects to one of three impedance taps (4, 8 and 16 Ohms) on the back of this unit. Fit and finish are once again excellent, but the styling is more restrained than the main amplifier.
Listening commenced with the 845 Premium as an integrated driving Bowers & Wilkins 802 loudspeakers that are strong on sensitivity if not easy to drive. Still, the pairing worked well, unusually so for a single-ended triode. The critical tube quality of tonal colour was immediately apparent on Arve Henriksen's trumpet and the atmospheric electronica that surrounds it. There was good depth to the soundstage too, and not too much midrange forwardness. The latter is all too common with SETs when they struggle with a heavy load, but there wasn't much struggling going on here. I loved the depth of tone it pulled out of the basses on 'Magnet Pulls Through' [Tortoise, Thrill Jockey], and the weight behind the kick drum was round and deep. When the snare comes in, you can feel its snap and the pulse of the soundfield produced by the bass, which is tactile music reproduction with lots of nuances. Immediacy is a classic triode characteristic, one of the reasons for this ancient technology's appeal, and you get plenty of it with the Line Magnetic, which brings Leonard Cohen and Herbie Hancock's version of 'The Jungle Line' to life [River: The Joni Letters, Verve]. The amplifier enhances the gravelly-voiced description of Rousseau's painting, making the imagery that much more vivid and lush.
Adding the LM-521 CA preamplifier to the system significantly enhanced all-round transparency; the low-level resolution was clearly increased, which meant that even simple pieces of music took on a far stronger sense of realism. One such being 'Grandma's Hands' [Bill Withers, Just as I Am, Sussex], where the voice gains depth and shape as you might expect, but the rhythm section comes into full focus as well, now you can feel the groove as well as follow the tune. The preamplifier brings precision and definition of the quieter elements that, while it's more revealing, is also beneficial to the musical flow. There often seems to be a trade-off between resolution and musicality, but this pairing brought a balance to these key qualities that were extremely rewarding. Allowing you to play jazz, classical, rock, you name it… and feel emotionally and intellectually involved with every piece.
Voices are a speciality, of course, each one offering up so much of its distinctive flavour when Van Morrison sings 'Who was that Masked Man' [Veedon Fleece, Warner Bros]in a falsetto, it strikes you to the core in a way that rarely happens. With more up to date recordings, the effect was equally provoking; the sheer presence of notes in the room giving the music a power to captivate that was inspiring. Out of interest, a pair of PMC twenty5.26i speakers were harnessed to this amplifier; these showed that the 845 Premium is no slouch when it comes to timing, letting the groove shine through on whatever was played.
The balance here was more mid-forward, which meant that voices and brass were more prominent but not to the detriment of the musical whole. The quiet atmospherics at the start of Michael Chapman's 'Aviator' [Fully Qualified Survivor, Harvest] seemed so natural and intriguing with lots of depth in the violin and bass, the amp raising this song up and revealing its sad beauty in full effect.
Good tube amplification puts back what the recording, mastering and pressing process leaves out. It may do this thanks to what are in essence subtle colorations to the sound that can be picked up on the test bench, but they are not perceived as distortions by the ear, and the effect is more of an enhancement. This Line Magnetic pairing is a lot of amplifier for the money, even at the official price, definitely one to hear if you want to get to the heart and soul of your music collection.
TECHNICAL SPECIFICATIONS
LM-512 CA
Type: Valve-driven line-stage preamplifier
Valve complement: Two RCA 22DE4, two 6922, two Mullard 6KZ8 valves
Analogue inputs: Three pairs of single-ended inputs (via RCA jacks), one pair of balanced inputs (via XLR connectors)
Analogue outputs: One pair of balanced outputs (via XLR connectors), one pair of single-ended outputs (via RCA jacks)
Input impedance: 600kOhms (RCA)
Output impedance: Not specified
Bandwidth: 17Hz–100kHz (–3dB, RCA)
Gain: 24dB
Distortion: 0.5dB (1kHz)
Signal to Noise Ratio: 90dB
Dimensions (H×W×D): 196 × 430 × 383mm
Weight: 20kg
Price: £8,499
LM-845 Premium
Type: Valve-driven stereo integrated/power amplifier
Valve complement: Two 12AX7, two 310A, two 300B, two 845 valves
Analogue inputs: Three pairs single ended (via RCA jacks), one pair balanced (via XLR), one preamplifier input (via RCA jacks)
Analogue outputs: Two sets of speaker taps for 4, 8, and 16 Ohm loads (via 5-way binding posts)
Power output: 30Wpc
Bandwidth: 15Hz–35kHz (-1.5dB)
Sensitivity: Line 250mV, pre in 1V
Distortion: 1% THD
Signal to Noise Ratio: 87dB
Dimensions (H×W×D):
Control Chassis: 460 × 435 × 456 mm
Output Chassis: 165 × 435 × 410 mm
Weight: 40kg + 20kg
Price: £9,999
Manufacturer: Line Magnetic Audio Co. Ltd
URL: line-magnetic.eu
UK Distributor: VAL HiFi
Tel: 0333 577 2005
URL: valhifi.co.uk
Tags: INTEGRATED AMPLIFIER LINE MAGNETIC LM-512 CA LM-845 PREMIUM POWER AMPLIFIER PREAMPLIFIER